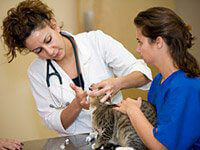 Most people who pursue a veterinary career do so because they want to care for and help animals. However, many are surprised to learn that veterinary schools and veterinary-technology programs often expect their students to perform painful and medically unnecessary procedures on live animals as a requirement for graduation. This can mean performing surgeries on—and then killing—healthy animals, dissecting cadavers of animals killed specifically for this purpose, and performing countless other invasive procedures.
For example, Ross University School of Veterinary Medicine, which is owned by the New Jersey–based DeVry Corporation and located on the Caribbean island of St. Kitts, currently requires its students to perform a variety of procedures on healthy sheep, donkeys, and goats. Students sever the nerves in donkeys' toes, cut animals' ligaments, insert plastic tubes through their noses and into their stomachs, surgically puncture their abdomens, cut their tracheas, and remove fluid from their joints. It was only after intense pressure from PETA and the group's supporters that the university announced an end to unnecessary surgeries on dogs, sparing at least 100 dogs per year from suffering.
It is possible for students to realize their dream of a career in veterinary medicine without having to compromise their compassion for animals. Not all programs are like Ross University's; students can acquire the skills necessary to become a veterinarian or a veterinary technologist without harming a single animal.
For example, the Cummings School of Veterinary Medicine at Tufts University and Western University of Health Sciences College of Veterinary Medicine have developed humane and effective curricula for students, proving that it is not necessary to harm animals in veterinary training.
Programs such as these are dedicated to humane education and take advantage of simulation technology, which allows students to hone their skills without harming anyone. Such technology ranges from highly sophisticated virtual-reality simulators to relatively simple devices, such as suturing boards, which allow students to develop dexterity and perfect their skills through repetition. Many non-animal teaching tools provide advantages that the use of animals cannot offer, such as repeatability, the capacity to offer detailed feedback to the student, and adaptability to students' particular learning styles. You can read more about the effectiveness of humane veterinary teaching methods and specific products available here.
But humane veterinary programs rely on more than technological advancements. Just as medical students need contact with human patients, veterinarians-in-training need contact with live animals, and humane programs can provide these opportunities. Students often learn through clinical experience in which they have the opportunity to observe and assist experienced veterinarians in treating animals who have legitimate medical problems and will benefit from the treatment. Some institutions, such as Ohio State University's veterinary school, have even developed relationships with nearby animal shelters, allowing students to meet the veterinary needs of the facility's animals as well as assist with spay-and-neuter services.
For veterinary-technology programs, the American Veterinary Medical Association (AVMA) has accredited several distance-learning programs that allow students to complete their coursework online as well as obtain the necessary hands-on experience by working with local veterinarians or veterinary clinics. Because these distance-learning programs are accredited in the same way and by the same organization that traditional classroom-based programs are, there is no need to worry about their credibility or how they are viewed by the profession. Multiple schools, including Purdue University, operate both traditional and distance-learning programs. Traditional classroom-based programs in veterinary technology are also an option for those who prefer this learning method. Harcum College is just one example of an institution that offers a traditional classroom-based veterinary-technology program and does not require students to harm animals.
Some veterinary schools and veterinary-technology programs also allow students to opt out of performing animal-based procedures that they find objectionable.
Individuals considering pursuing a career as a veterinarian or as a veterinary technologist should research schools and programs thoroughly before applying and ask very specific questions about the teaching methods employed. With sufficient research ahead of time, compassionate individuals who refuse to harm animals should be able to find a veterinary program that will not require them to compromise their principles.