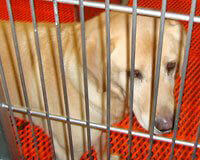 For more than eight months in 2009, a PETA investigator worked undercover inside the laboratories of the University of Utah (the U) in Salt Lake City and documented miserable conditions for and terrible suffering of the dogs, cats, monkeys, rats, mice, rabbits, frogs, cows, pigs, and sheep confined there.
Our investigation revealed that mice and rats were caused to develop enormous tumors and painful, deadly illnesses. Rats and monkeys had holes drilled into their skulls in invasive brain experiments. The monkeys were locked in steel cages by themselves, kept constantly thirsty so that they would do what experimenters wanted just for a sip of water, and regularly immobilized in restraint chairs for experimental sessions. Sick and injured animals were denied veterinary care and left to languish and die.
Following our investigation, PETA filed a formal complaint with the U.S. Department of Agriculture. As a result, the facility was cited for nine violations of animal protection laws, including causing a kitten to die from dehydration, failing to provide adequate pain relief to a monkey after surgery, and failing to treat injuries in pigs.
Our investigator also learned that a mandatory state "pound-seizure" law had compelled local animal shelters to hand over hundreds of homeless dogs and cats to the U for use in invasive, painful, and often deadly experiments.
One pregnant cat who had been obtained from the Davis County animal shelter gave birth to eight kittens the very day she arrived at the U's laboratories. When the kittens were just 7 days old, a chemical was injected into their brains to cause fluid to build up. After the surgery, the distressed cat—who had shown great affection for her kittens before they were taken away for the experiment—stopped nursing her babies, and they all died. In another experiment, a cat named Robert, who had also been bought from the Davis County animal shelter, had a hole drilled into his skull and electrodes attached to his brain. A PETA lawsuit compelled Davis County to release records for more than 100 other animals like Robert who had been sold to the U's laboratories in 2009. On the heels of PETA's investigation, Robert was removed from the U's laboratories, rehabilitated, and placed for adoption.
After PETA released this shocking information, Utah legislators voted by an overwhelming majority to amend the state's pound-seizure law so that animal shelters would no longer be forced to sell dogs and cats to laboratories for use in experiments. Almost immediately after this became law in March 2010, Davis County announced that it would no longer engage in the practice after decades of doing so.
Only one shelter—North Utah Valley Animal Shelter—continued to voluntarily provide the U with animals like Sunny for use in experiments. PETA and its supporters responded with protests, phone calls, e-mails, and a billboard urging the shelter director and the administration of the U to end this shameful practice. PETA helped rescue one lucky dog named Sheena from inside the U right before she was to undergo a cruel experiment.
Following PETA's vigorous campaign, in March 2011 the U announced that it would no longer obtain animals from shelters, effectively ending pound seizure in the state of Utah.
The end of the shelter-to-lab pipeline in Utah was an enormous victory for animals. Vulnerable animals in Utah shelters are no longer at risk of ending up tormented and killed in cruel experiments, and according to The Salt Lake Tribune, some experiments on animals at the U have been "completely halted" now that the U is longer exploiting animal shelters as cheap and easy sources of test subjects. In one case, the U had been purchasing cats from shelters for use in crude and archaic intubation training exercises at an annual conference. Now that obtaining homeless cats from shelters is no longer an option, the conference has ended this cruel animal laboratory and now exclusively uses humane and superior simulators for this training.
PETA continues to fight for the thousands of animals who are still imprisoned at the U. In October 2011, as a result of continued problems that were first uncovered during PETA's investigation, the federal government issued an official warning to the U for repeatedly violating federal animal welfare laws. We are also working to compel the school to release public documents about what goes on in its taxpayer-funded laboratories and to push it to replace the use of animals with modern and humane alternatives.