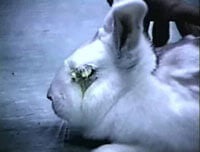 Imagine living inside a locked closet without any control over any aspect of your life. You can't choose when and what you eat, how you will spend your time, whether or not you will have a partner and children, or who that partner will be. You can't even decide when the lights go on and off.
Think about spending your entire life like this, a prisoner, even though you have committed no crime. This is life for an animal in a laboratory. It is deprivation, isolation, and misery.
On top of the deprivation, there are the experiments. U.S. law allows animals to be burned, shocked, poisoned, isolated, starved, drowned, addicted to drugs, and brain-damaged. No experiment, no matter how painful or trivial, is prohibited – and pain-killers are not required.  Even when alternatives to the use of animals are available, the law does not require that they be used—and often they aren't.
Animals are infected with diseases that they would never normally contract, tiny mice grow tumors as large as their own bodies, kittens are purposely blinded, rats are made to suffer seizures, and primates' skulls are cut open and electrodes are implanted in them. Experimenters force-feed chemicals to animals, conduct repeated surgeries on them, implant wires in their brains, crush their spines, and much more.
After enduring these terrifying, painful procedures, animals are then usually dumped back into a cage without any painkillers. Video footage from inside laboratories shows animals who cower in fear every time someone walks by their cages. They don't know if they will be dragged from their prison cells for an injection, blood withdrawal, a painful procedure, surgery, or death. Often they see other animals killed right in front of them.
No animals are safe from experimentation—cats, dogs, fish, mice, pigs, primates, rabbits, and  rats are just a few of the species routinely used in these tests.
Check out PETA's interactive timeline, "Without Consent," which features almost 200 stories of twisted experiments from the past century, including ones in which dogs were forced to inhale cigarette smoke for months, mice were cut up while still conscious, and cats were deafened, paralyzed, and drowned.
You can help stop this. Sign PETA's pledge to be cruelty-free, request alternatives to dissection, and support only charities and companies that don't torture animals in cruel experiments.