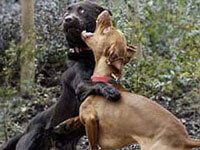 When former Atlanta Falcons quarterback Michael Vick was convicted on federal charges related to dogfighting in 2007, this cruel underground blood sport was thrust into the public spotlight. Vick's indictment revealed the sickening abuse of dogs who are pitted against one another and encouraged to rip each other to shreds in a fight to the death while spectators cheer and gamble on a "winner." When dogs on Vick's property were not being forced to fight, they were kept penned and chained to buried car axles. When they were no longer useful to fight organizers, they were wet down and electrocuted, hanged, beaten, drowned, shot, slammed against the ground, or killed in some other atrocious manner.
Vick's case is one among many—experts estimate that tens of thousands of people are involved in professional dogfighting, while hundreds of thousands might be participating in so-called "streetfighting," or informal dogfights. All 50 states now consider participating in dogfighting to be a felony offense.
Forced to Fight and Left to Die
The dogs who are most commonly bred for fighting are generally known as "pit bulls": Staffordshire terriers, American Staffordshire terriers, American bulldogs, and American pit bull terriers. Dogs who are used for fighting are usually kept penned or chained (often with heavy logging chains), and many are taunted and starved in order to trigger extreme survival instincts and encourage aggression.
Some dogfighters train dogs by forcing them to tread water in pools; run on a treadmill while a caged rabbit, cat, chicken, or other terrified animal is dangled in front of them; or hang on with their jaws while dangling from a chain baited with meat. Many dogs are injected with steroids, and some dogfighters even sharpen their dogs' teeth, cut off their ears (to prevent another dog from latching on), and add roach poison to their food so that their fur might taste bad to other dogs.
Dogs who "win" fights are forced to fight again and again and are used to breed puppies for profit. One dog who was described as a particularly successful fighter generated $100,000 in stud fees in a single year. Female dogs are strapped down on "rape stands" to prevent fighting while males impregnate them. Many of the dogs who do not fight or who lose fights are used as "bait" animals.
What Happens at Dogfights
The "pit" where these bloody events take place usually consists of a dirt or carpeted floor measuring 8 to 16 square feet, surrounded by a wooden enclosure that is about 3 feet high. Dogs are taken to either end of the ring and released at the "face your dogs" command. Sticks are used to pry apart the dogs, who clamp down so fiercely that it is not uncommon for dogs to "fang" themselves (i.e., bite through their own lips). Dogs are encouraged to fight to the death, and the fight can go on for hours—until both dogs are exhausted and at least one is seriously injured or dead.
A federal prosecutor recalls a case in which one of 18 dogs found in a raid had 70 open wounds and was missing half a jaw, while another dog's body was 75 percent covered in scar tissue. A Louisiana state police officer who conducts dogfighting investigations says, "When you go to where these fights have happened, you'll find a couple of dog corpses or a pit full of blood."
The Tip of a Criminal Iceberg
Like other forms of cruelty to animals, dogfighting is often linked to other crimes, including illegal gambling, drug activity, and murder. In a Texas home, three intruders bound the wife and children of a well-known pit-bull breeder and killed him for the $100,000 that he had won at a fight. Another infamous breeder planted "directional mines" on his property in an attempt to keep people away; a land surveyor was injured when one of these devices exploded.
A detective told the New York Daily News that "you can get more drugs and guns off the street by breaking up dog rings than you would breaking up drug rings." An Ohio sheriff says that "just about every dogfighting search warrant we've done, we've found drugs."
Young children are sometimes present at dogfights. Baltimore's health department lists dogfighting as a child welfare issue on its Web site and cautions parents that "[c]hildren are exposed to exhibits of extreme brutality, illegal gambling, drugs, and guns associated with these cruel events."
What You Can Do
If you suspect that dogfighting is happening in your neighborhood, contact local law enforcement authorities.
Since dogfighters typically keep their dogs chained, you can help deter dogfighters by pushing for an anti-chaining ordinance in your community.