For nearly 60 years, the failing, archaic, disease-ridden Washington National Primate Research Center (WaNPRC) at the University of Washington has tormented thousands of monkeys in painful experiments that have failed to improve human health. PETA is calling for the immediate closure of the facility—and you can help.

Shrieking 'Monkeys,' Rolling Billboard Make Splash on Rain-Soaked First Day of Classes
September 28, 2022
Students trekking between the Quad and Red Square on their first day of fall semester stopped in their tracks to gawk at a shrieking transport crate of "monkeys" and a massive banner demanding the closure of UW's Washington National Primate Research Center. Accompanied by "rhesus macaque" Dorothy, a troop of human primates from PETA and the Northwest Animal Rights Network shared information about the gruesome fates that monkeys endure at the abysmal facility. Elsewhere on campus, PETA's mobile billboard blasted video footage of monkeys imprisoned and tormented in UW laboratories to other curious students and faculty streaming by.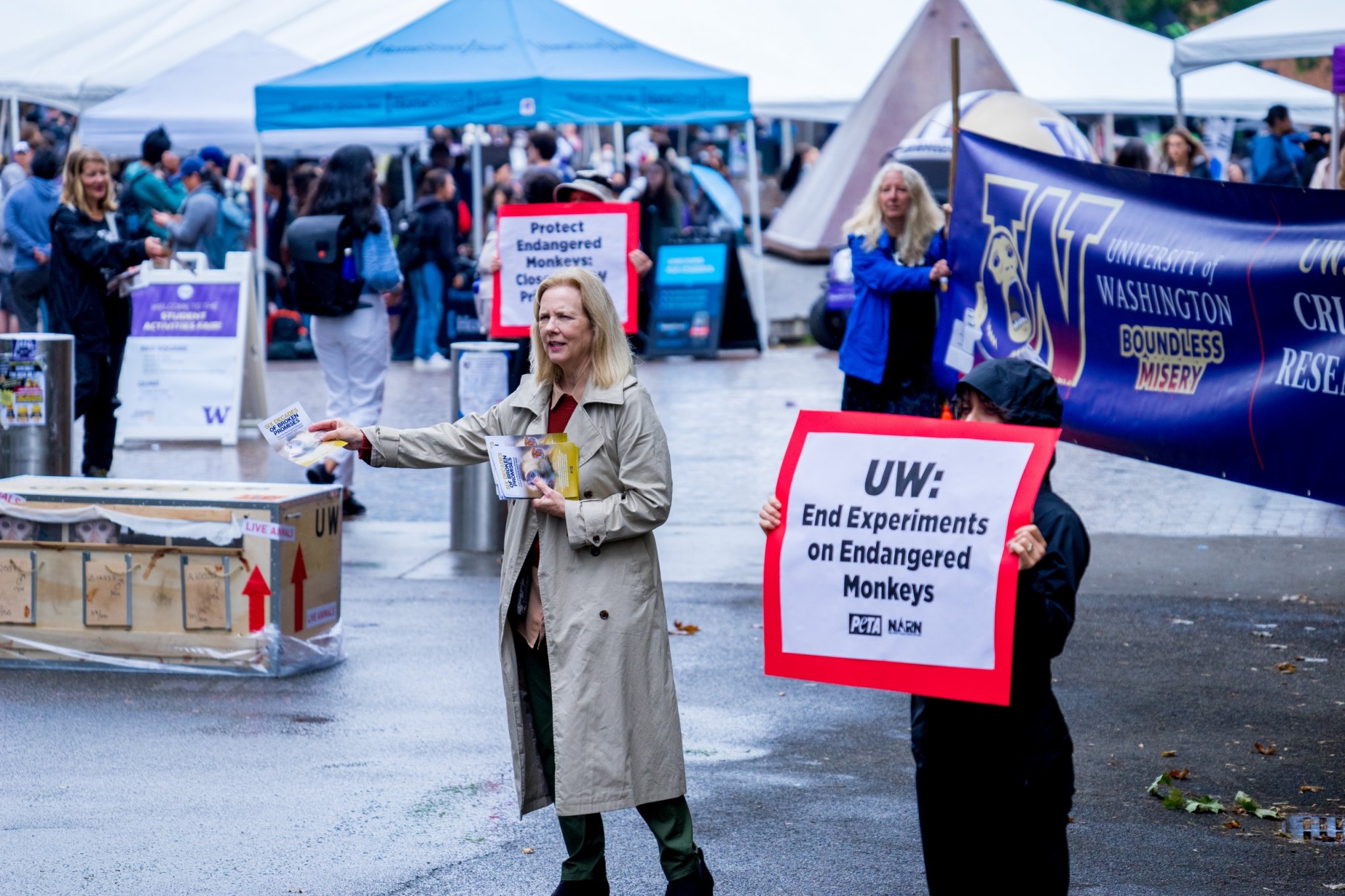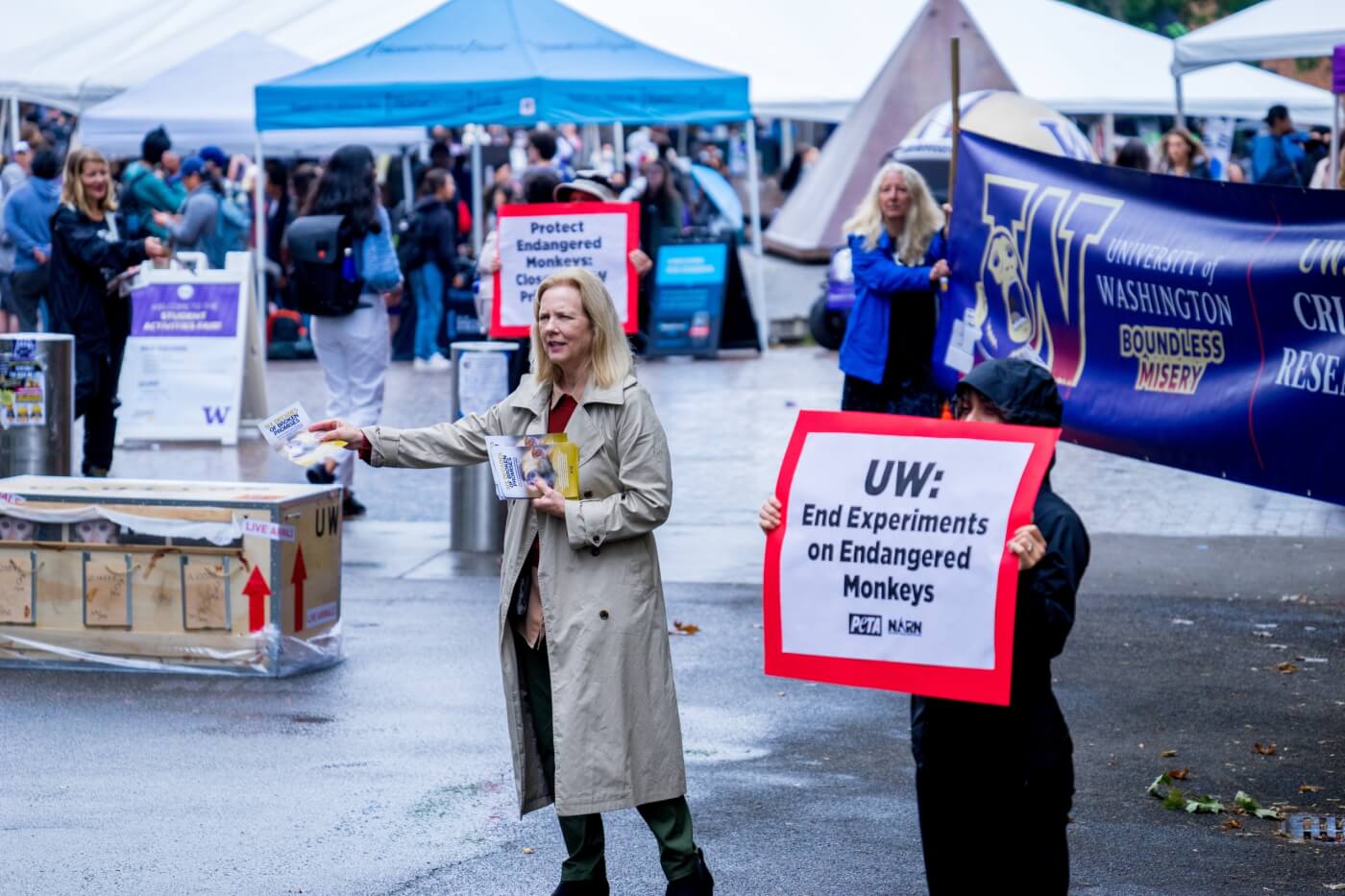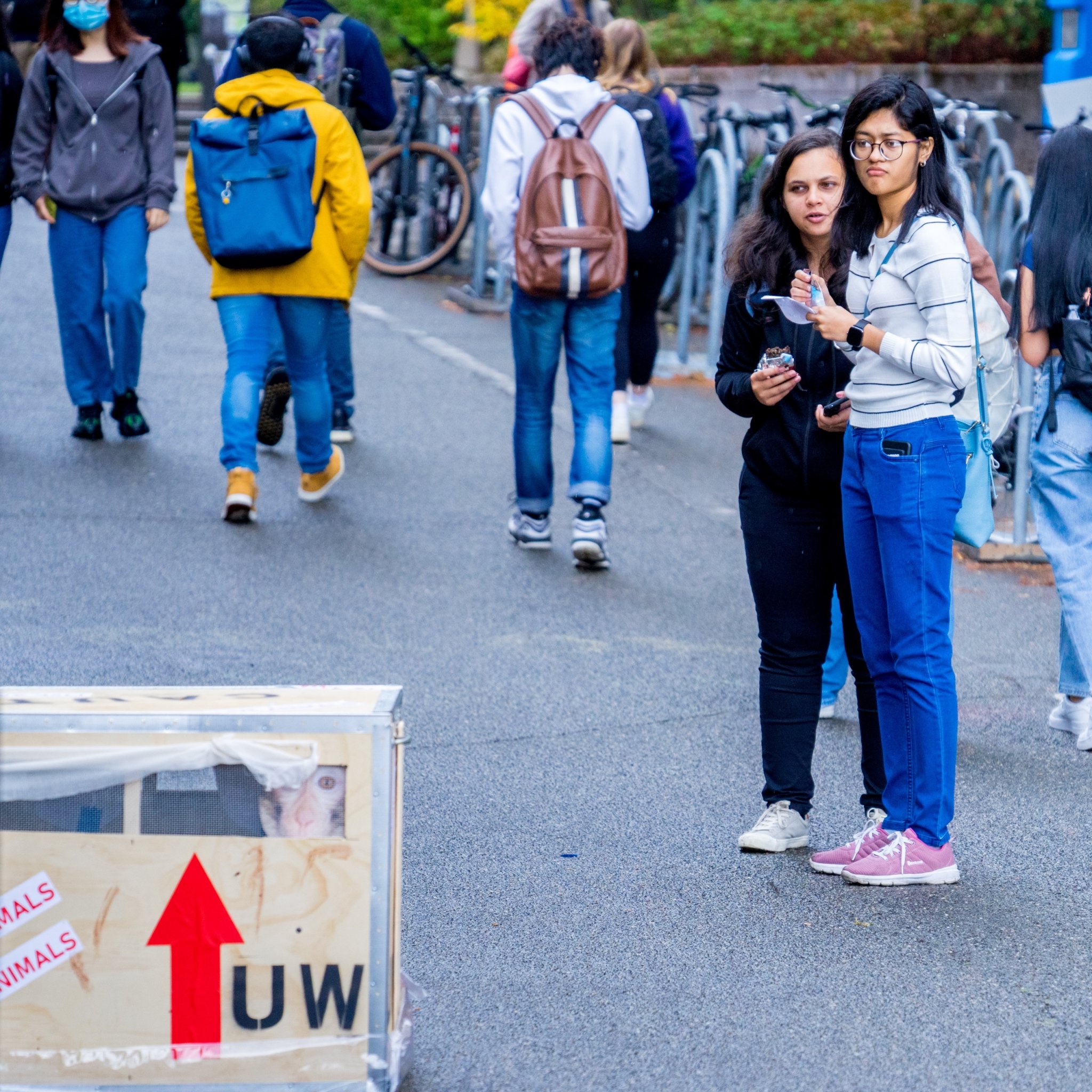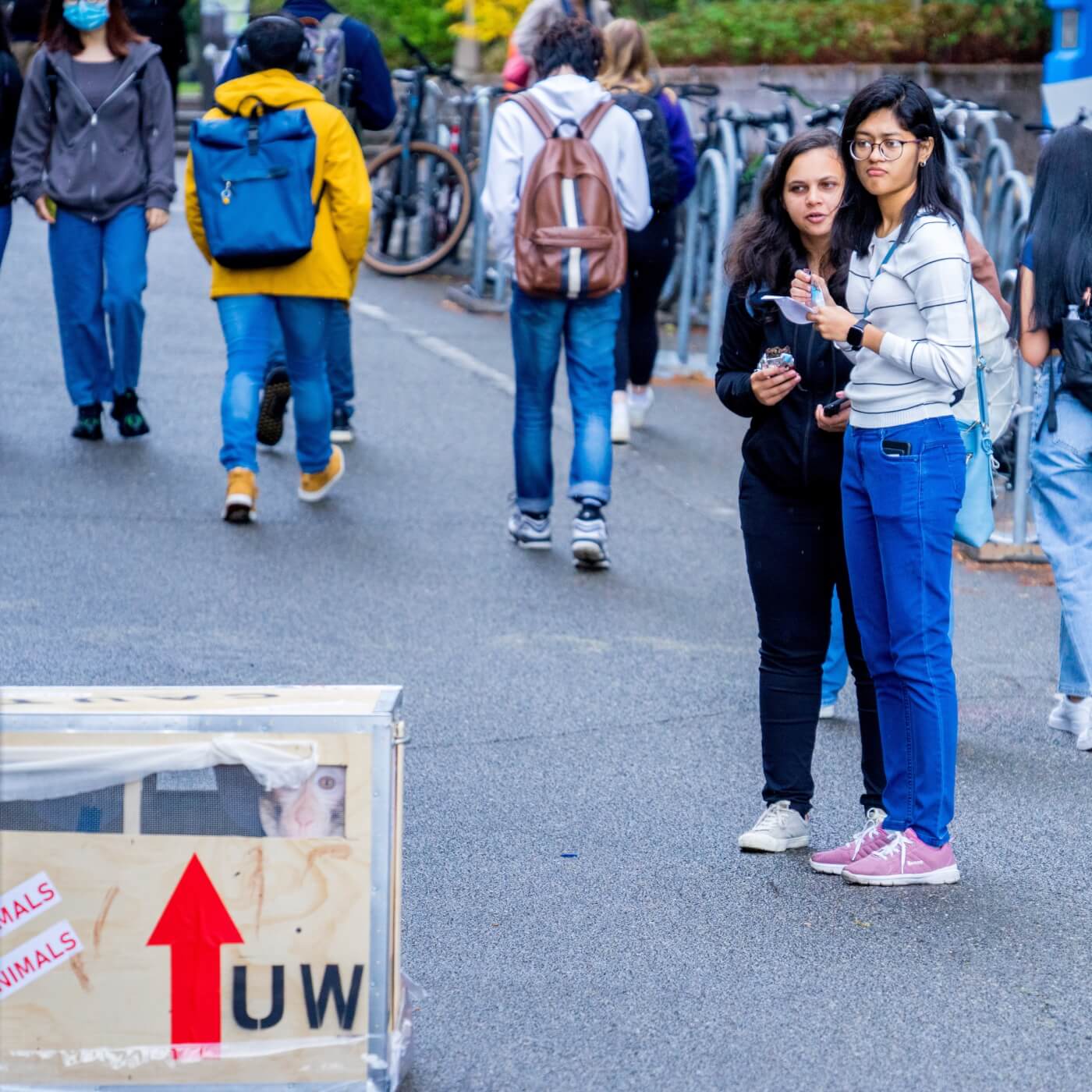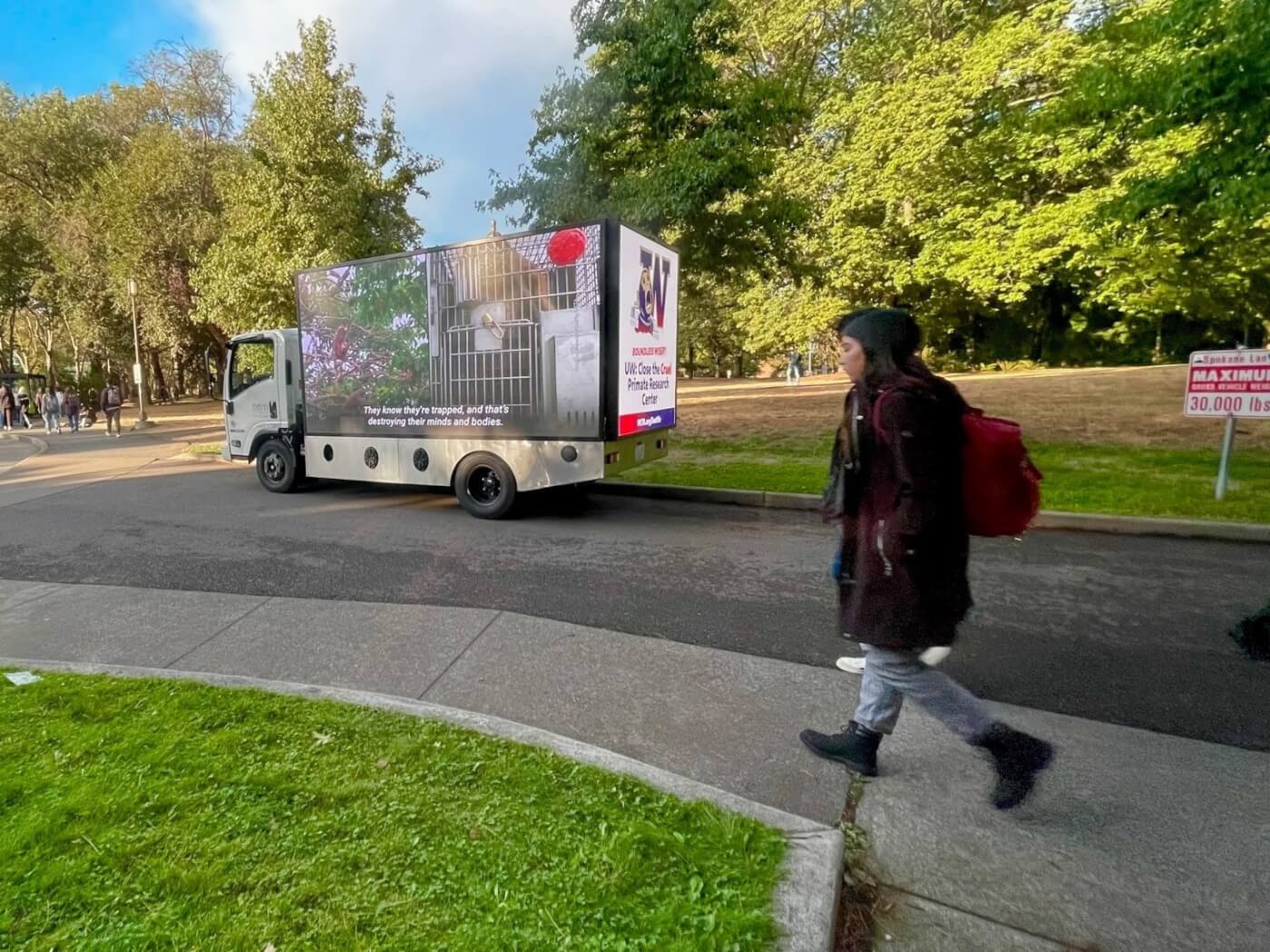 ---
Moonlit Misery: Activists Shine a Light on Monkeys' Plight With Nighttime Projection at UW
September 26, 2022
Although UW has repeatedly refused to heed the calls of concerned citizens to close down its grisly primate center, Seattle's monkey defenders are refusing to let their activism hit a wall—except with the light from their projector. Clever activists took advantage of the dark sky and the side of a UW building to share information about monkeys like Dorothy, who spent her final years frail and sick in a desolate cage at the Washington National Primate Research Center.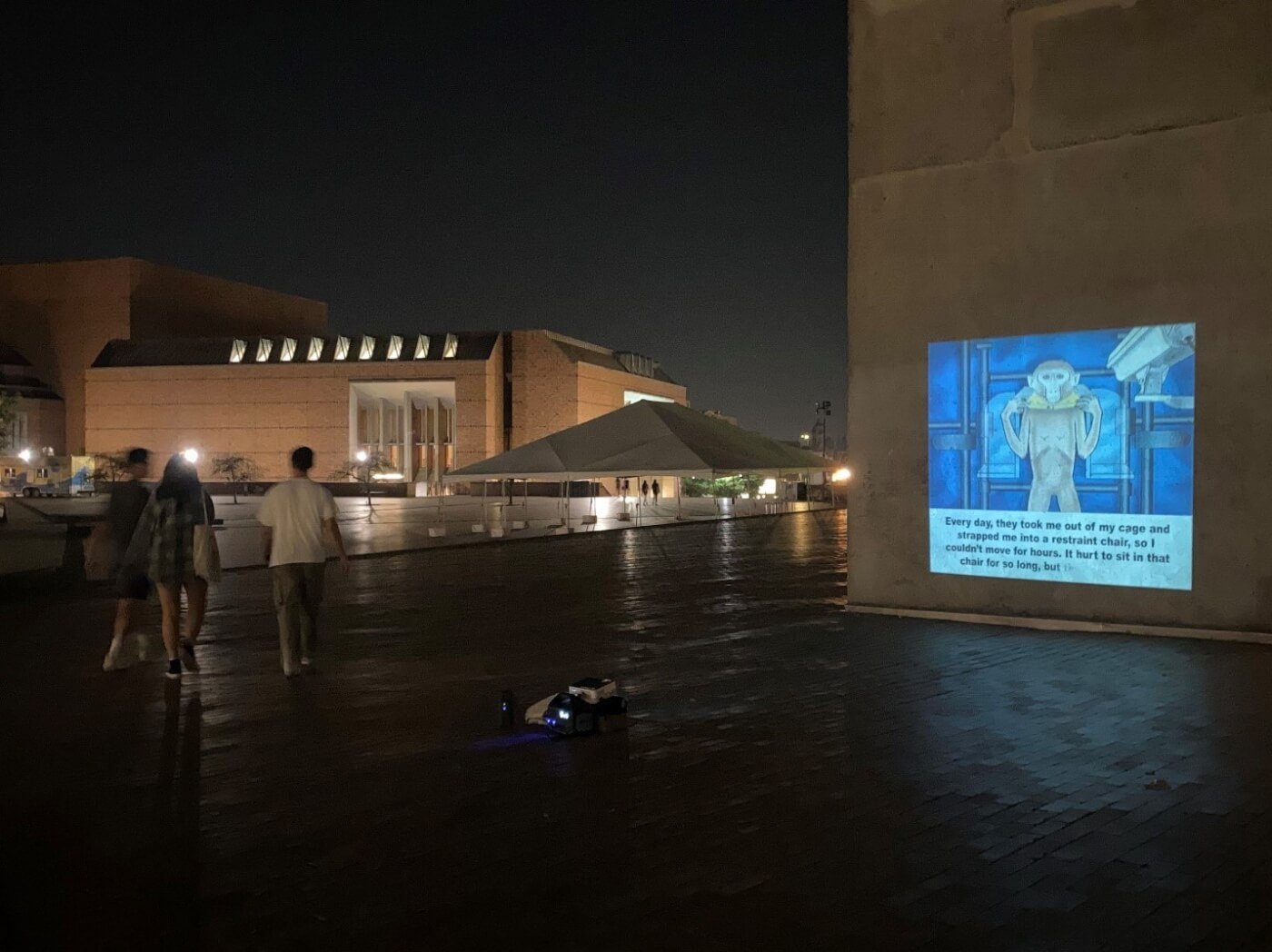 ---
Screaming 'Special Delivery' Haunts Convocation Attendees Outside Alaska Airlines Arena
September 25, 2022
A wooden shipping crate of shrieking "monkeys" turned heads in front of UW's Alaska Airlines Arena as first-year students and their families piled into the building for New Student Convocation. Concerned attendees were disturbed to learn from activists with PETA and the Northwest Animal Rights Network that among UW's primate victims are endangered macaques who have been hauled halfway around the globe to be tormented in painful and deadly experiments.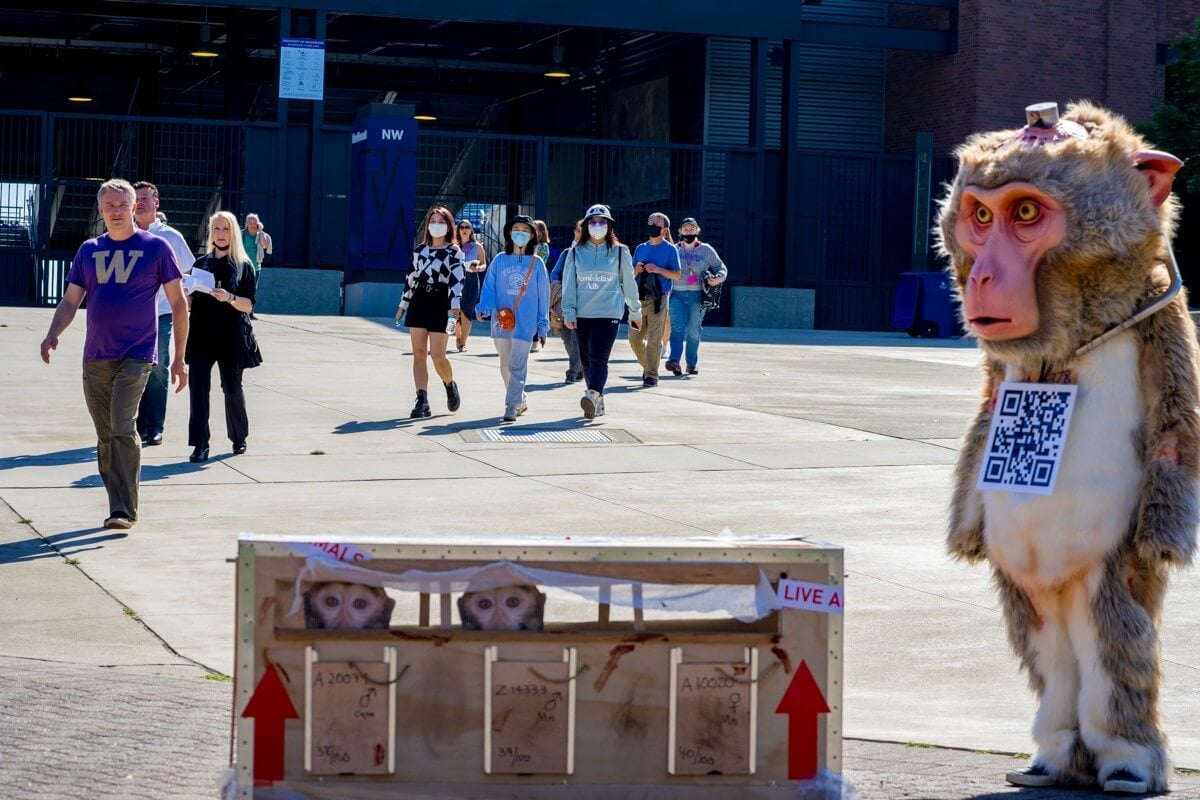 ---
Ad: 'Monorail Monkeys' Pressure UW to Put the Brakes on Cruelty
August 16, 2022
Late summer sightseers aboard the Seattle Center Monorail are getting an eyeful of more than just the Space Needle. Following recent news that animal experimentation is largely to blame for two species of macaques' new endangered status, 10 displays at Seattle Center station are blasting a can't-be-missed message: Experiments on primates—including those conducted at the Washington National Primate Research Center—must end.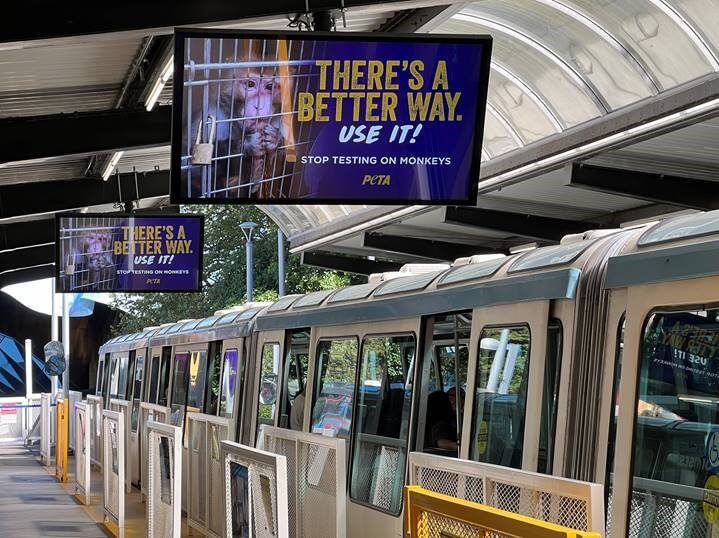 ---
'Boundless Misery': Activist Floods UW Campus With Scathingly Reimagined Logo
July 31, 2022
While UW trumpets its slogan to "be boundless," the university churns out boundless misery for monkeys imprisoned at its Washington National Primate Research Center. PETA's straight-shooting take on the UW logo, which an activist has spread all over campus, injects some much-needed reality into the university's out-of-touch advertising.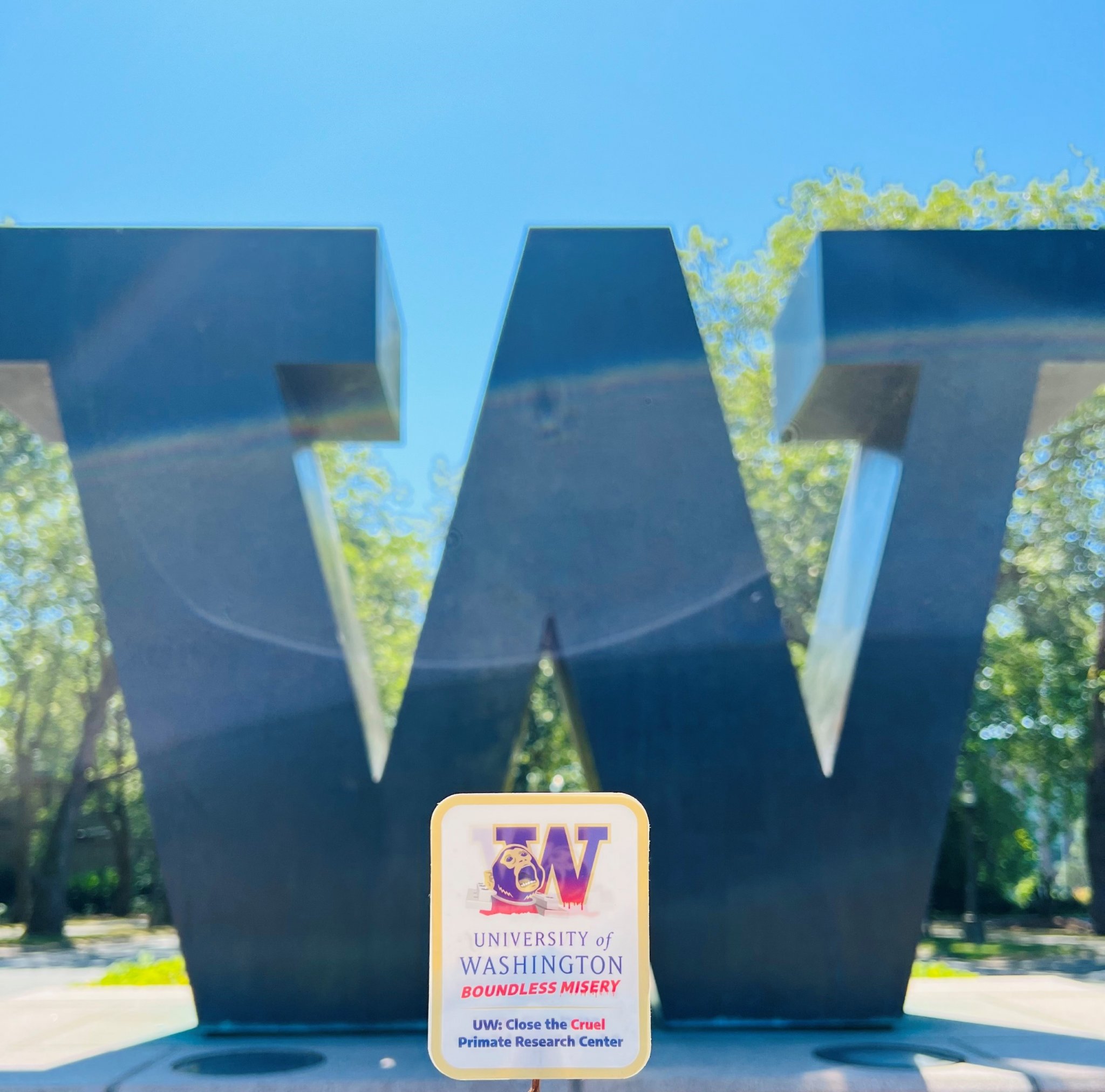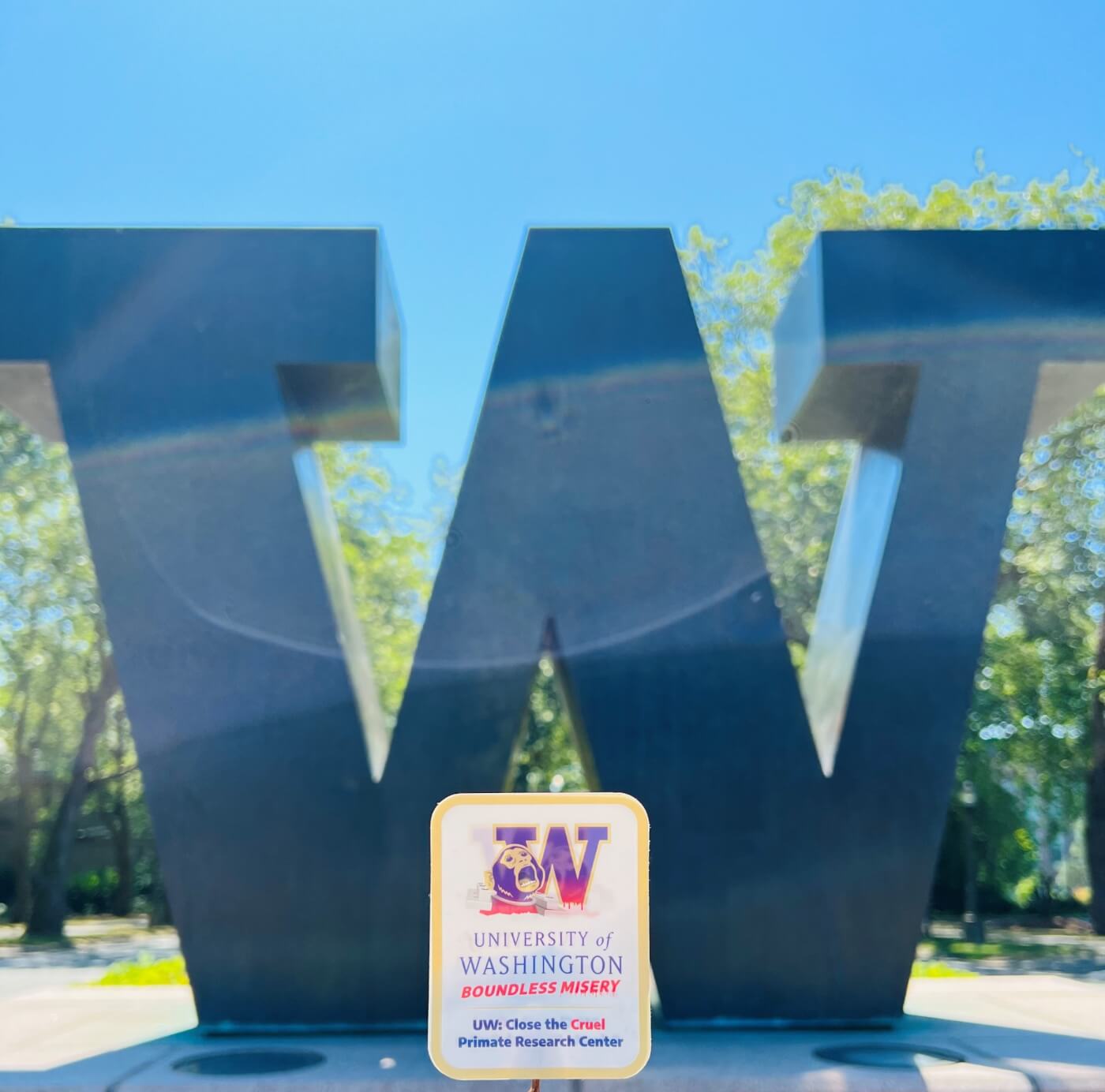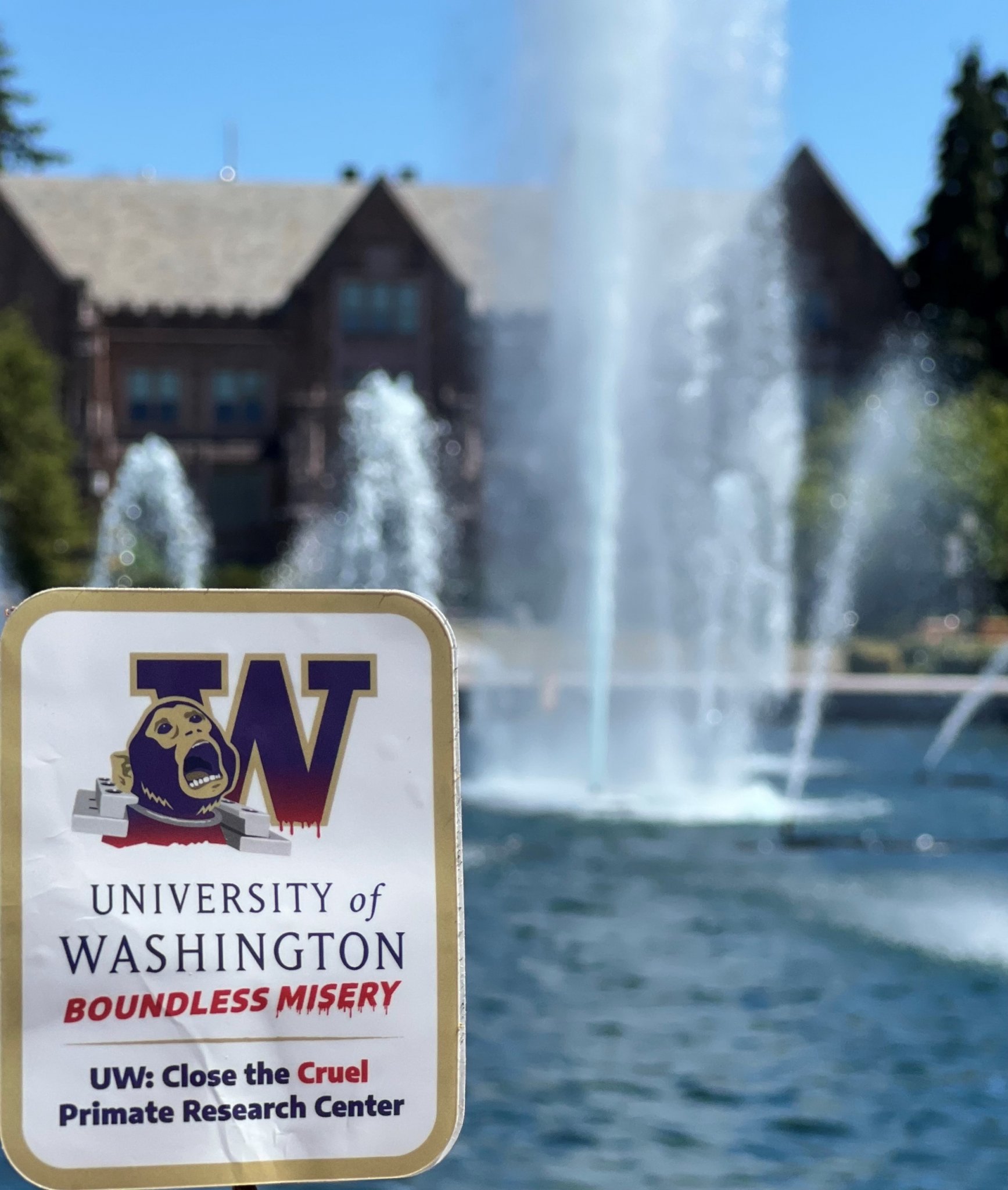 ---
Massive 'Spider,' Dead 'Monkeys' Expose UW's Dirty Secret in Commencement-Weekend Blitz
June 10 and 11, 2022
The University of Washington may prefer to hide the grisly reality of its torture of monkeys in a dusty, cobwebbed corner, but PETA is bringing the school's web of lies out into the open—and right into the middle of Red Square. Thousands of visitors crisscrossing the plaza came face to face with our enormous "spider" as a weekend of graduation festivities kicked off across campus. Flanked by mounds of dead "monkeys," PETA's "primate" mascot returned the next day to spread the word to even more students, families, and friends pouring into Husky Stadium for commencement ceremonies.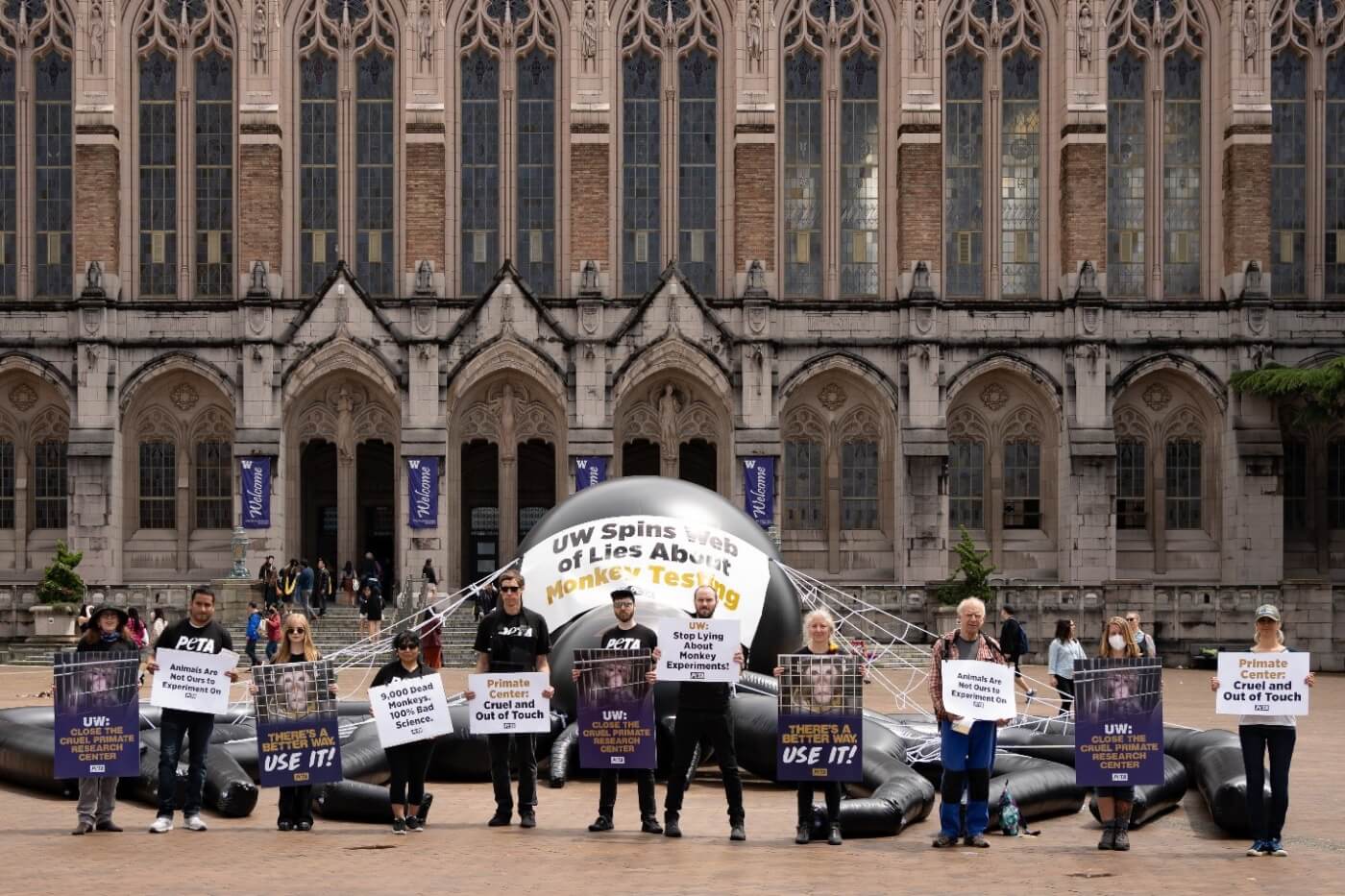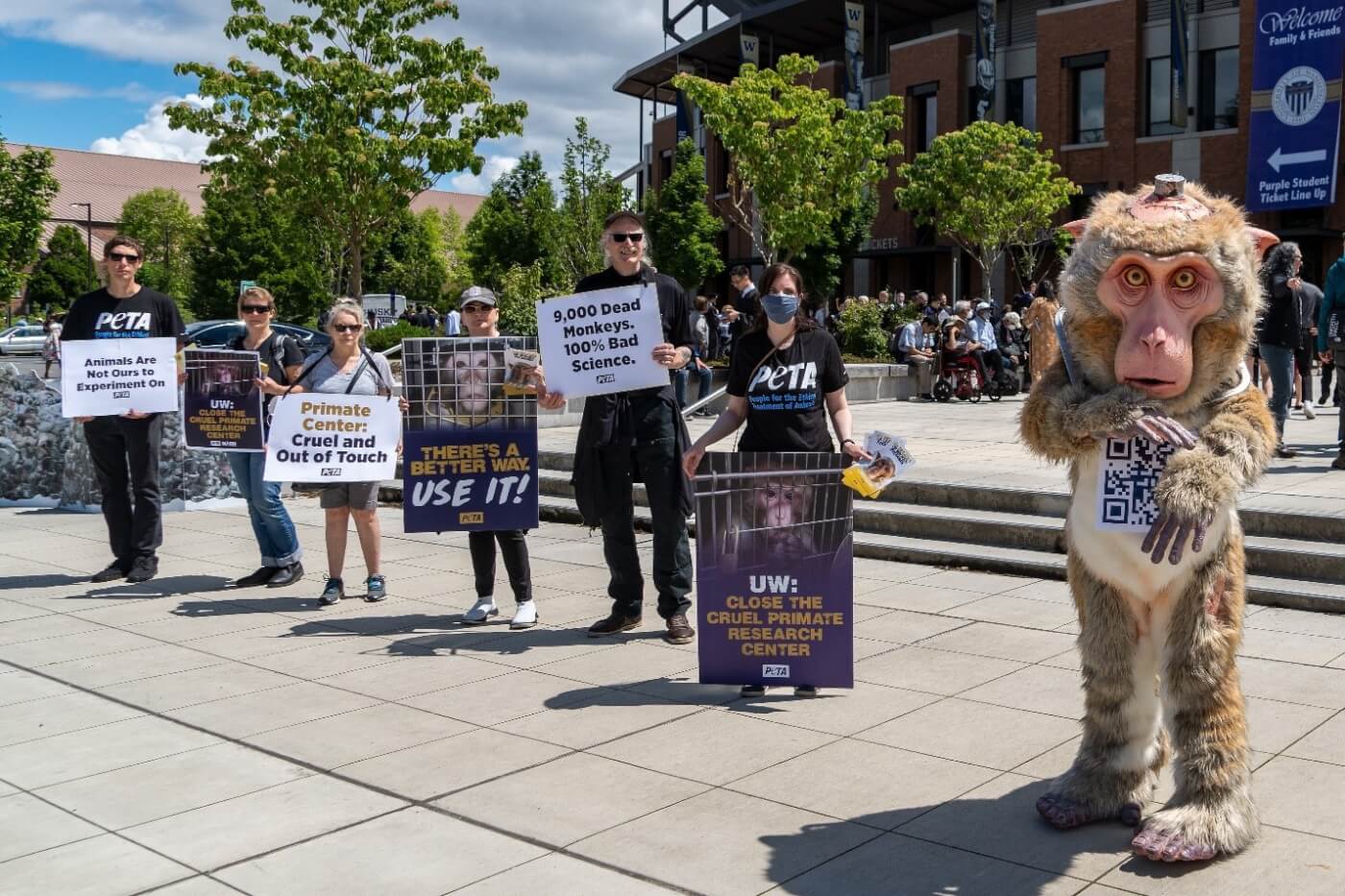 ---
Broken Promises, Wasted Resources, and a Mountain of Dead Monkeys: Flyposters Slam UW's Failed Primate Research Center
April 21, 2022
The U.S. government has poured billions of taxpayer dollars into the national primate research centers since the 1960s. In that time, the facilities have produced an ever-growing mountain of dead monkeys—more than 9,000 at the Washington National Primate Research Center (WaNPRC) alone—but none of the promised vaccines for HIV, tuberculosis, or malaria. Plastered on walls, windows, and doorways around the University of Washington's campus, PETA's flyposters offer a sobering visual reminder of the WaNPRC's grisly legacy of suffering and death.
---
Activists Skewer UW for Destroying Public Records, Sweeping Suffering Under the Rug
February 23, 2022
With a spirited protest during an animal testing and security conference in Seattle, PETA and the Northwest Animal Rights Network put the Washington National Primate Research Center on blast for destroying public records that reveal the disturbing extent of its hideous abuse of monkeys.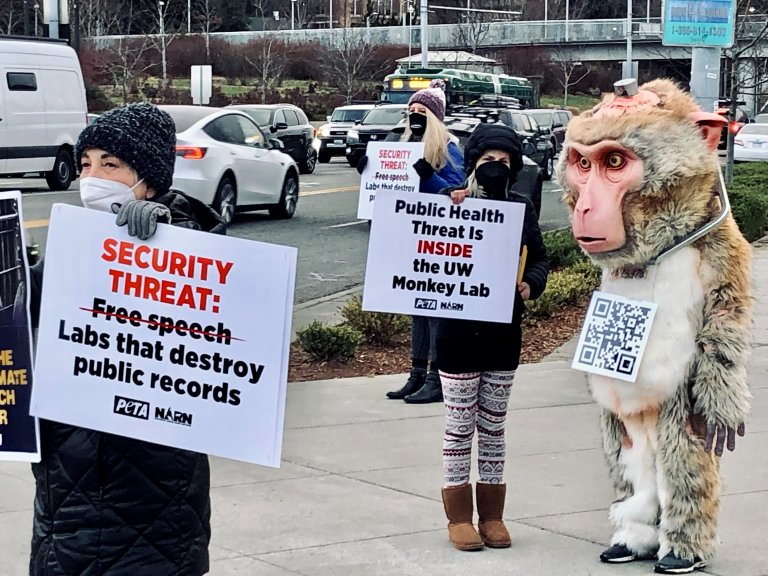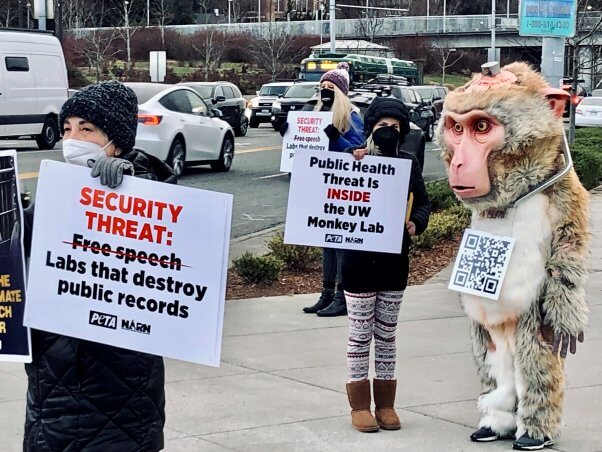 ---
Never Be Sidelined, Never Be Silent: 'Monkey' Hits the Basketball Arena to Advocate for Fellow Primates Imprisoned at UW
February 12, 2022
Turning the heads of basketball fans packing into the University of Washington's Alaska Airlines Arena, PETA's larger-than-life "rhesus macaque" Dorothy urged the university to score a slam dunk for animals by closing its abysmal primate research center.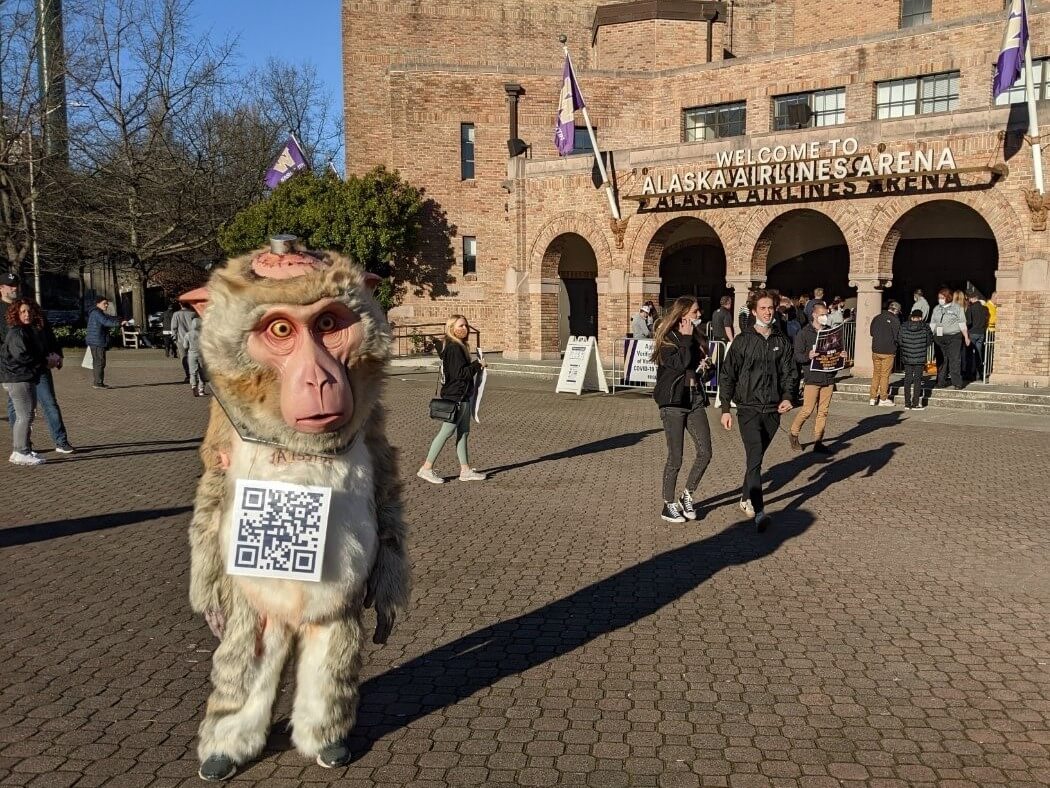 ---
Mobile Billboard Blasting Gut-Wrenching Monkey Footage Wheels Through Seattle Streets
January 31, 2022
The Washington National Primate Research Center (WaNPRC) may want to keep the public in the dark about the grim reality inside its primate prison, but PETA is driving the truth out of the shadows—literally. Our mobile billboard circled the University of Washington campus to shed light on the WaNPRC's grisly experiments.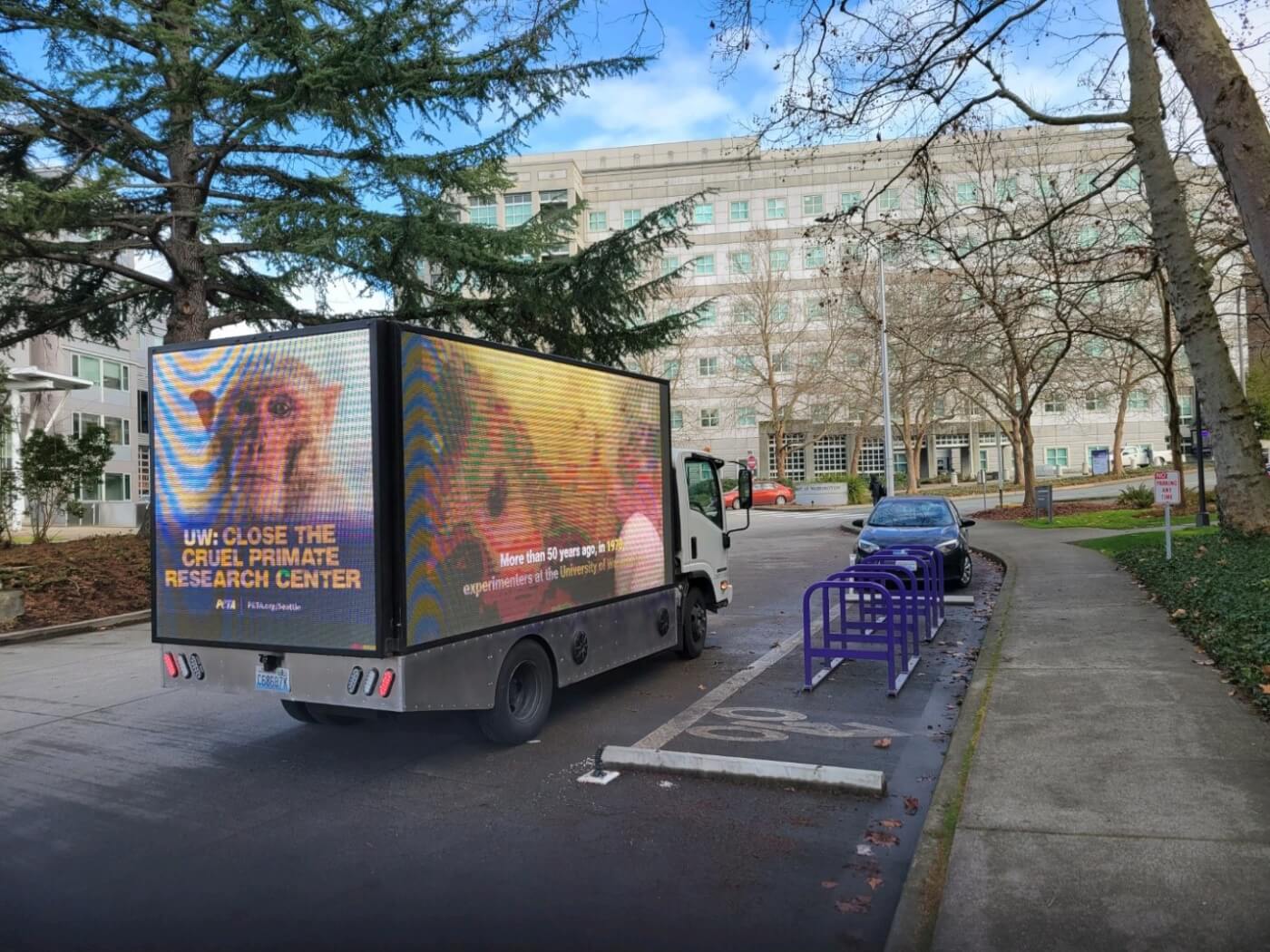 ---
PETA's Roving 'Monkey' Mascot Rides the Rails Through Seattle
December 16, 2021
Dorothy the "monkey" hopped aboard Seattle's Link light rail and rode through the city to spread the word about the University of Washington's hideously cruel primate center, where her real-life namesake and thousands of others like her have been imprisoned, mutilated, and killed in painful experiments.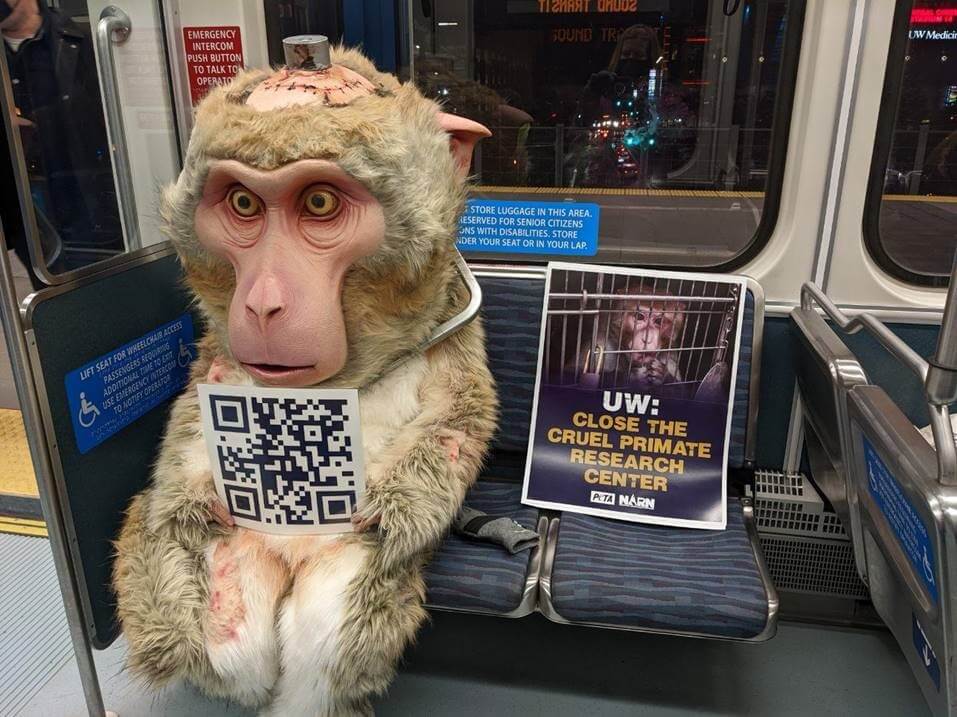 ---
Bold Colors, Bolder Message: Provocative Street Art Blitz Targets Washington National Primate Research Center
November 24, 2021
Plastered throughout Portland, Oregon, and Seattle, impossible-to-miss artwork by the street artist Praxis vividly depicts the terror of monkeys ripped away from their families to be exploited in painful and deadly experiments at the national primate research centers, including the Washington state facility.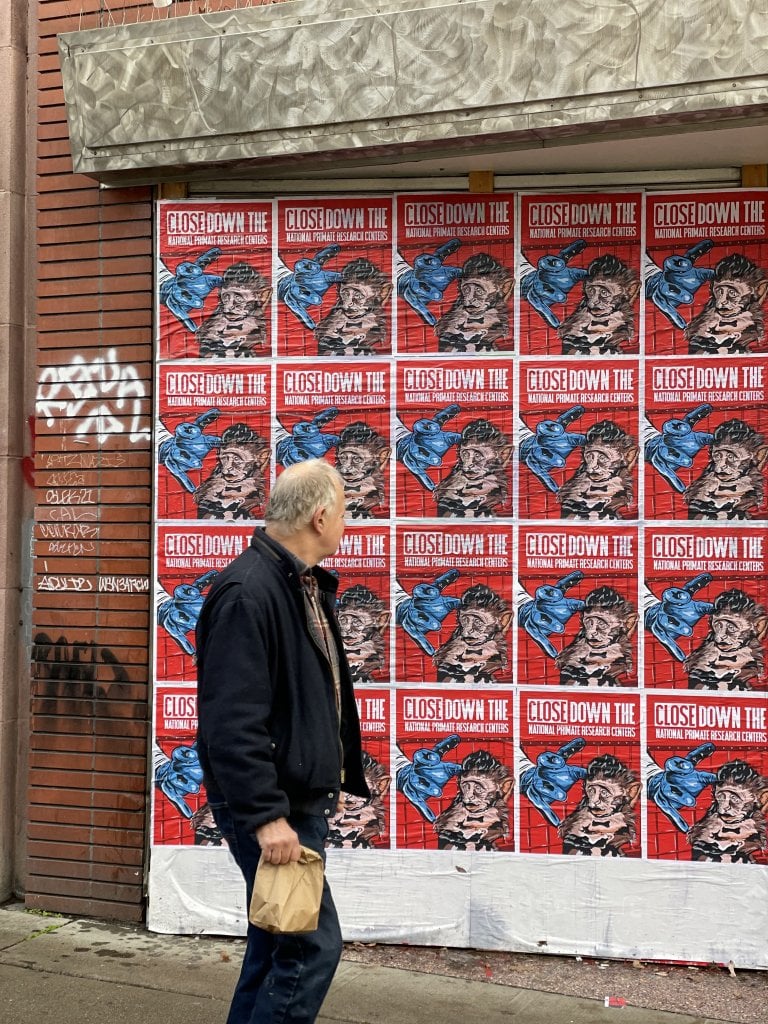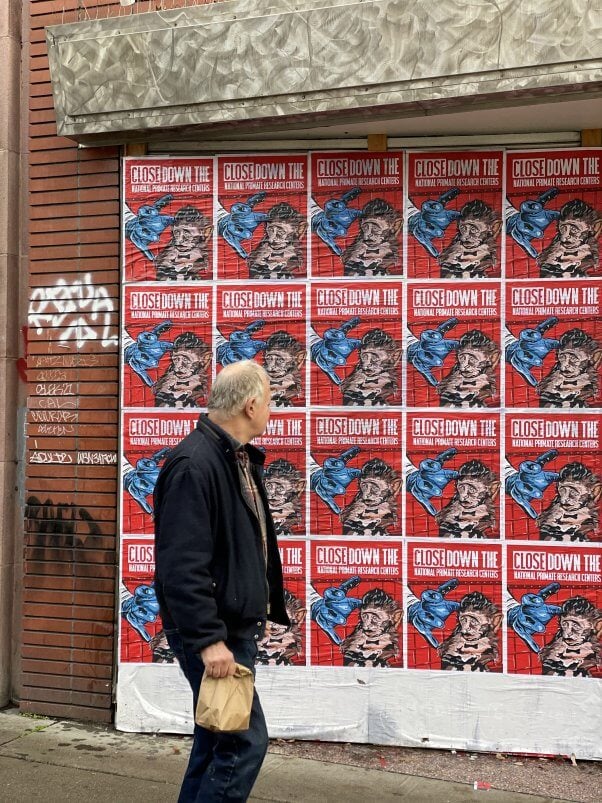 ---
Ad: For Monkeys at UW, the Terror of Being Probed by 'Aliens' Is All Too Real
November 10, 2021
Imagine that you've just been beamed up into a UFO, strapped onto a hard operating table, and slashed open by strange, menacing beings who won't release you no matter how much you struggle. Sound horrifying? Scrap the part about the UFO and we've nearly described the experience of thousands of monkeys trapped at the Washington National Primate Research Center. PETA's storefront ad near the state capitol in Olympia, Washington, hammers home the point to legislators and other passersby.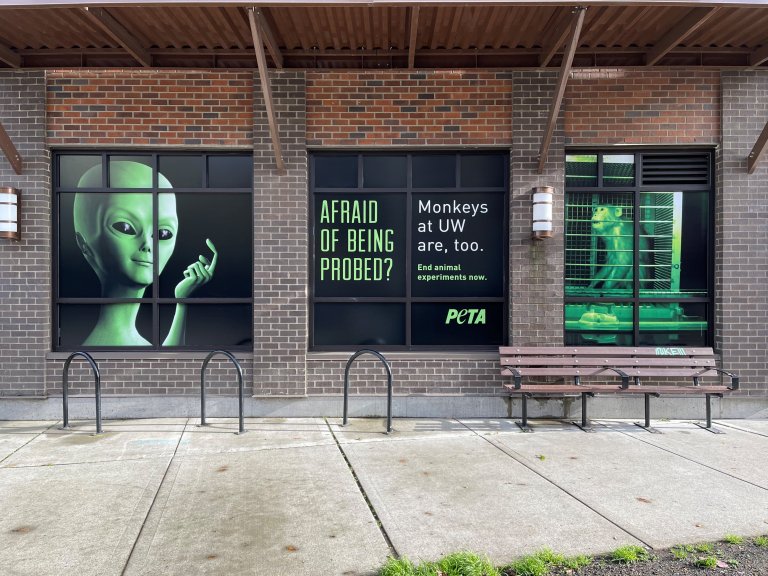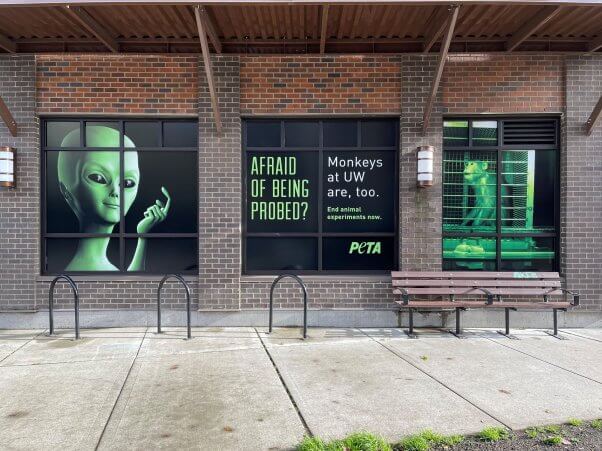 ---
Ad Blasting UW's Disgraced Monkey-Breeding Operation Makes a Splash in UW Student Paper
October 28, 2021
Toxic water, dead monkeys, and dirty science: That's all the University of Washington (UW) has to show for the years that it's spent breeding monkeys at its Mesa, Arizona, facility, located next to a toxic waste site. UW staff and students browsing The Daily, UW's student paper, for the latest on-campus news spotted PETA's full-page ad demanding that the university shut down its shameful operation and release the monkeys there to reputable sanctuaries.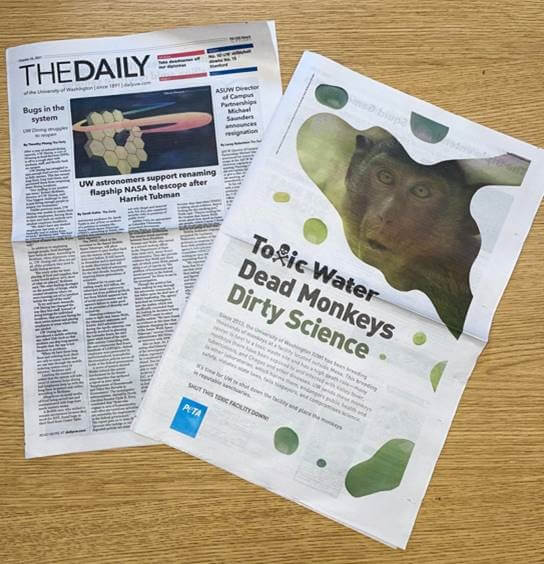 ---
Arizona Republic Shreds UW Monkey Labs and Breeding Mill in Sizzling Four-Part Exposé
October 5, 2021
PETA worked for two years to uncover the appalling truth: Deadly pathogens run rampant at UW's supposedly pathogen-free pig-tailed macaque breeding facility in Mesa, Arizona. Now, after working with us, The Arizona Republic revealed this and more in its shocking 10,000-word exposé of UW's primate prisons in Arizona and Washington state. The series also exposes that runoff from a nearby toxic waste site contaminates the breeding facility's water supply with dangerous compounds like perchlorates, which can disrupt hormone production and harm the delicate developing brains of baby monkeys. Even though sick monkeys produce unreliable experimental results, the facility ships some of the animals to UW's Washington laboratories to be tormented in deadly tests. Get the dirt here.
---
PETA Urges UW to Start Fresh, End Monkey Tests at First-Day-of-School Demonstration
September 29, 2021
It may be just the beginning of the fall semester, but UW's primate torture chamber has already earned the school an F. Accompanied by Dorothy the vivisected "monkey," nearly two dozen activists descended on UW's bustling Red Square to demand the closure of its wretched primate center. Students were shocked and horrified to learn of the despicable cruelty occurring right under their noses.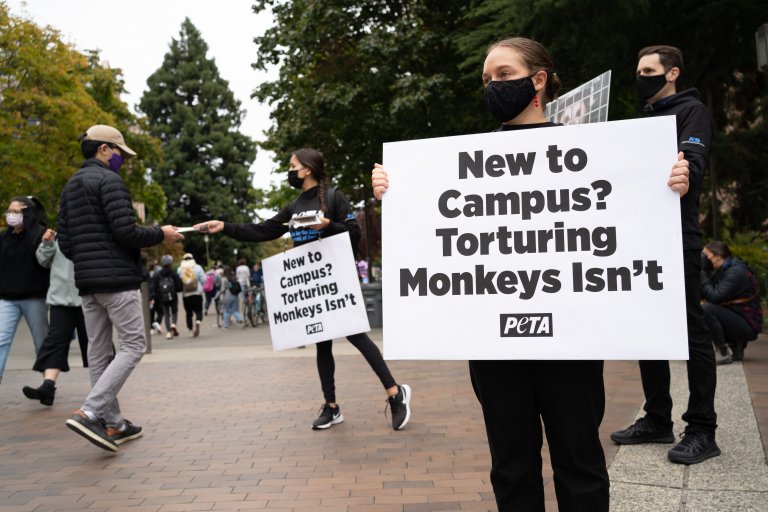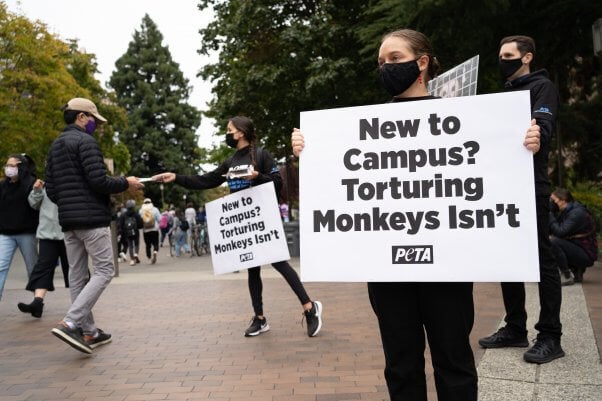 ---
Dorothy the 'Monkey' Drops By Board of Regents' Office to Demand Closure of UW's Primate Prison
September 16, 2021
Monkeys trapped in UW's secretive underground laboratory can't pay a visit to university administrators to demand their freedom—but Dorothy can. The plucky "primate" stopped by the Office of the Board of Regents to urge board members to shut down the school's shameful monkey torture chamber.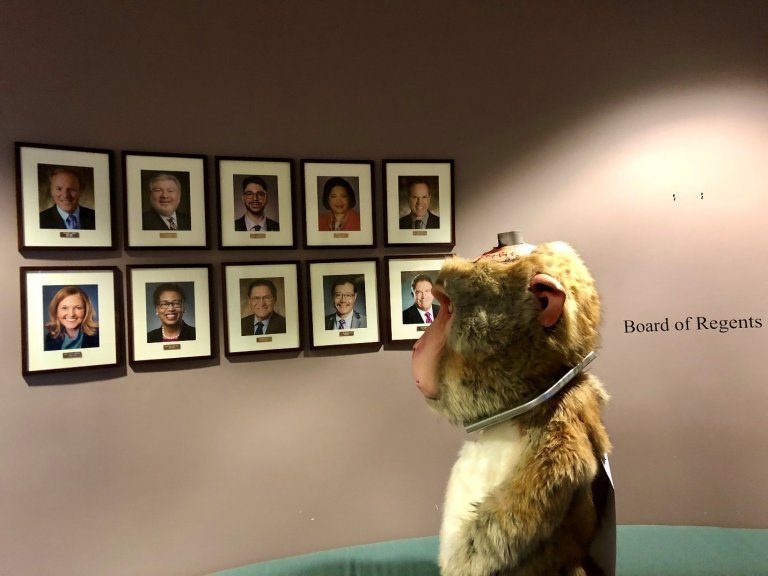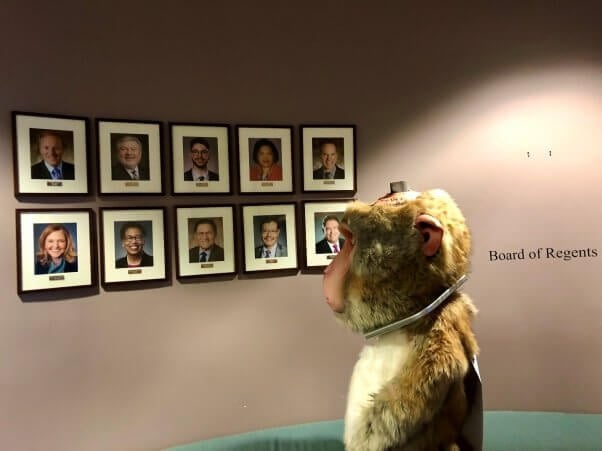 ---
Larger-Than-Life 'Monkey' Turns Heads on UW Campus
August 18, 2021
Prospective students touring UW's tree-lined campus were greeted by the unexpected sight of PETA's giant "monkey" mascot, Dorothy, whose real-life namesake, like thousands of others, was imprisoned for years in UW's secretive primate center while her body and spirit deteriorated. Dorothy the mascot was accompanied on her first public outing by activists from the Northwest Animal Rights Network, who handed out informative literature to curious passersby.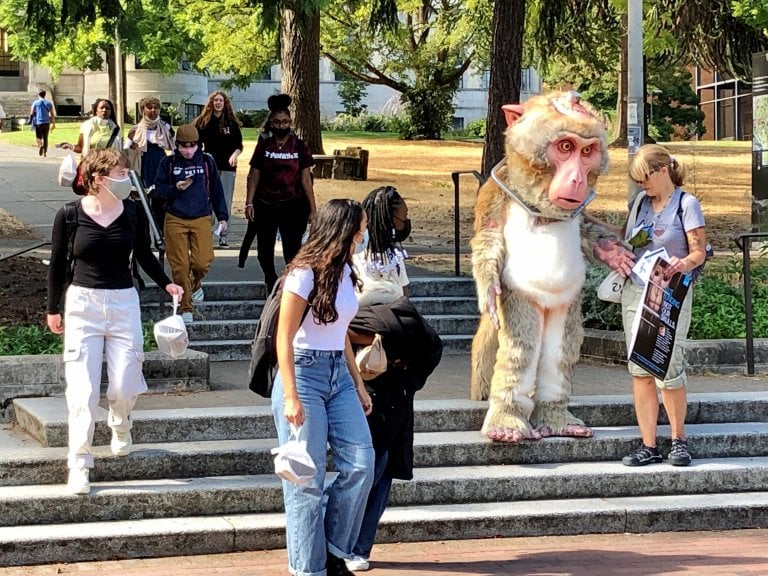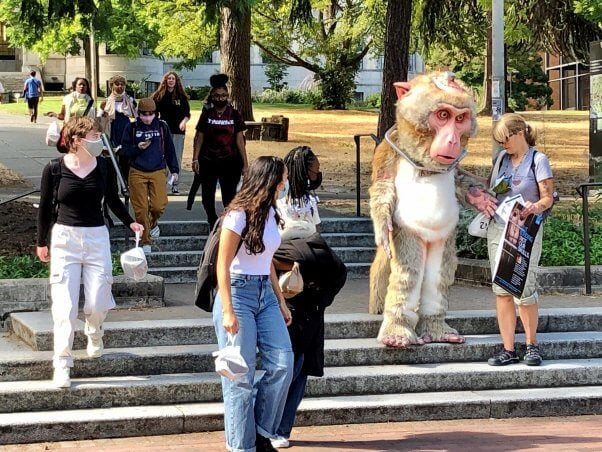 ---
Monkey Defenders Plaster Posters Across UW Dean's Neighborhood
August 6, 2021
Activists bedecked trees and signposts in UW School of Pharmacy Dean Sean Sullivan's neighborhood with a message in behalf of monkeys imprisoned, cut open, restrained, tormented, and killed at the WaNPRC.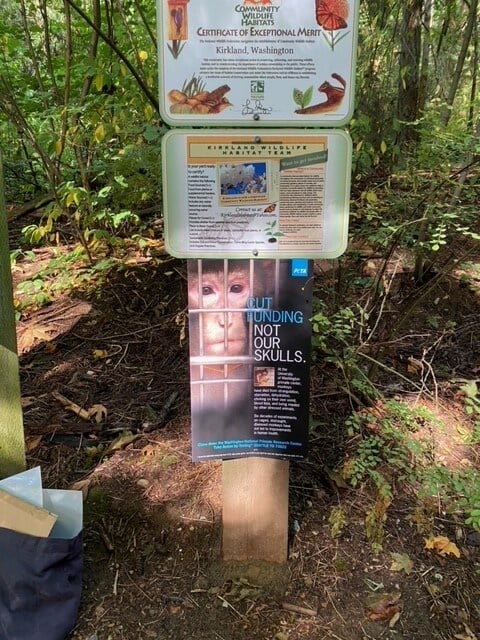 ---
Video: UW, Monkeys Belong in Nature, Not a Laboratory
July 19, 2021

This video says it all: While their free counterparts in nature spend their days grooming one another, devouring delicious fruits and seeds, and exploring new territories, stressed and frustrated rhesus macaques at the University of Washington turn in endless circles, desperately shake the bars of their cages, and even rip out their own hair.
---
USDA Rejects UW's Attempt to Cover Up Dangerous Monkey-Escape Violations
July 9, 2021
Stating that the school's long and sordid history of offenses was "not indicative of a facility that is demonstrating success at preventing critical animal welfare issues," the U.S. Department of Agriculture (USDA) rejected UW's brazen 54-page appeal to get recent citations for critical violations of the federal Animal Welfare Act erased. Among these was a citation for an incident in which WaNPRC staff failed to notice that a pigtail macaque went missing for up to two days—she was found dehydrated, having had no access to food or water. PETA had uncovered this violation in documents obtained through an open records request and filed a complaint with the USDA about it in September 2020.
---
With a Protest and Papier-Mâché, Activists Send UW a Graduation Day Message for Monkeys
June 12, 2021
Carting a larger-than-life monkey statue bearing the signatures of more than 236,000 concerned PETA supporters, protesters descended on UW's Red Square on the day of the school's virtual graduation ceremony to urge the university to close its pit of primate despair. After spreading their message to the hundreds of graduates and their families snapping photos around campus, the activists and their papier-mâché primate headed to the home of UW Dean Sean Sullivan to continue the peaceful demonstration.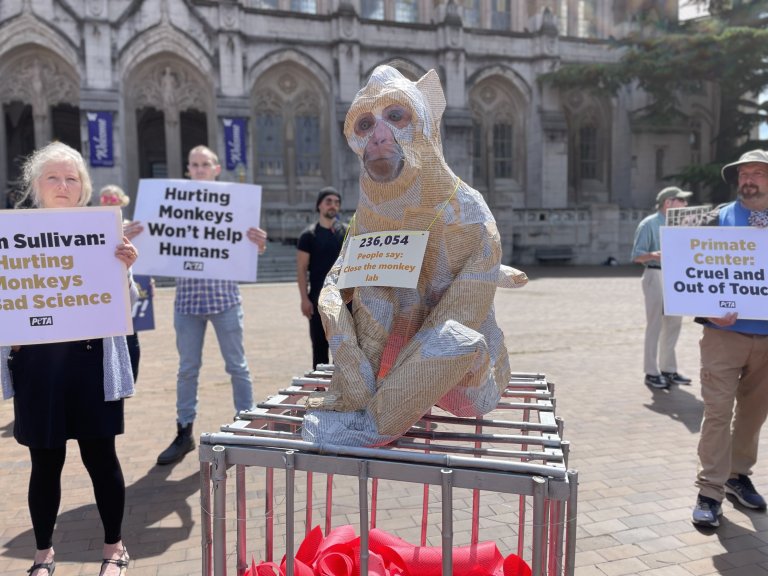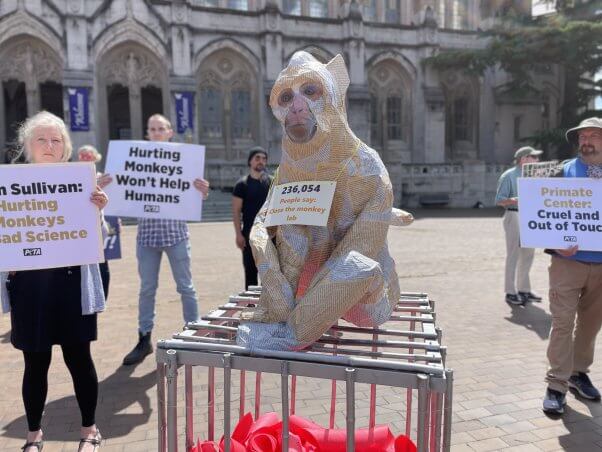 ---
Former WaNPRC Employee: 'Monkeys Are Not the Pathway to Human Health'
June 6, 2021
Calling on the University of Washington to follow the lead of Harvard University and shut down its failing primate center, primatologist Dr. Lisa Jones-Engel explains in the The Seattle Times why she felt compelled to leave her position at the Washington National Primate Research Center (WaNPRC) to advocate for the monkeys whose suffering she had witnessed firsthand. "I have looked into the eyes of the monkeys, and I have seen what it does to their bodies to be confined for years to a metal cage that is no bigger than a kitchen cabinet," she writes, noting that monkeys at the WaNPRC have died from strangulation, dehydration, choking on their own vomit, and more.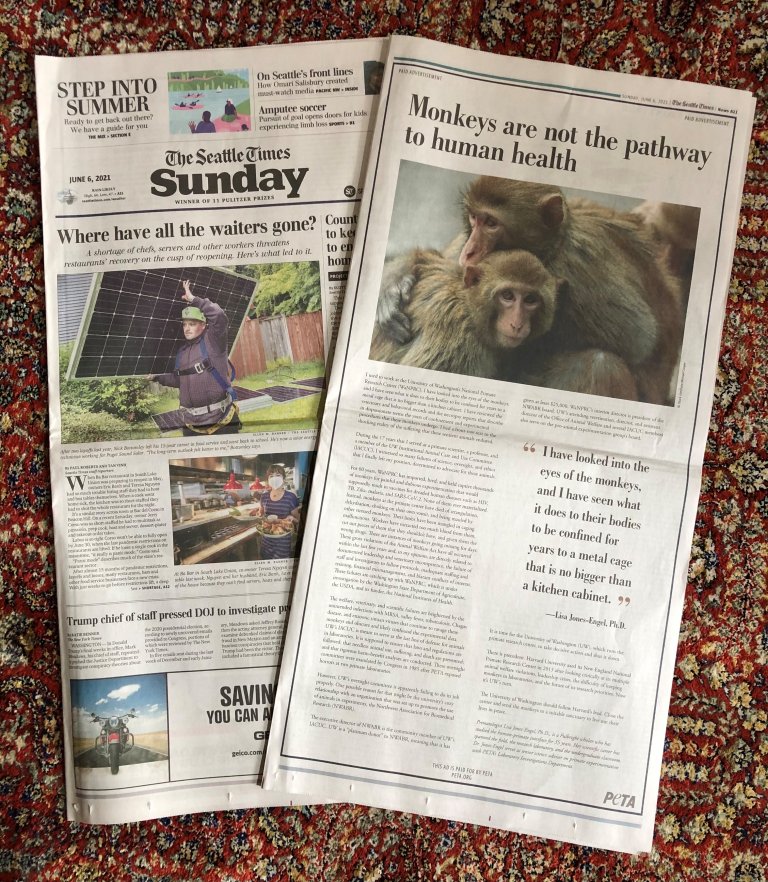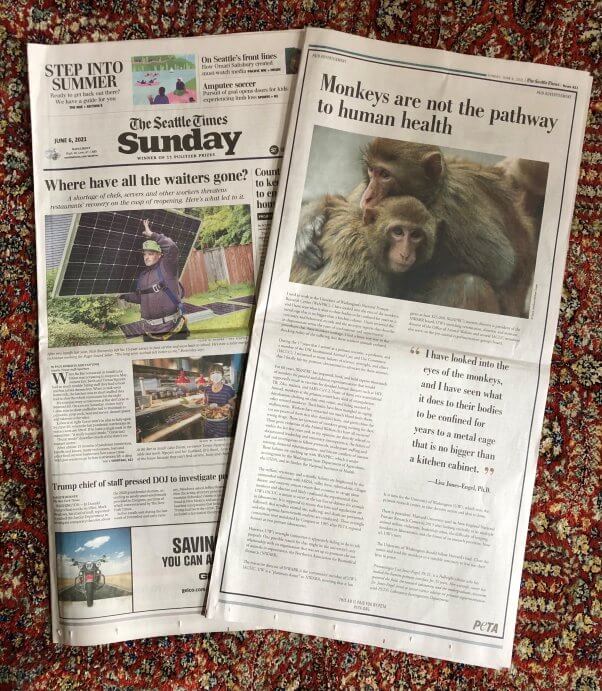 ---
'The Sopranos' Star Edie Falco Slams the WaNPRC in Straight-Shooting Radio Ad
May 31, 2021
Seattleites tuning in to KOMO NewsRadio got a news flash from The Sopranos and Nurse Jackie star Edie Falco about the University of Washington's secret underground monkey-torture chamber. "Monkeys continue to die … [a]nd you are paying for it," says Falco, urging listeners to take action to shut down the wretched facility, which has racked up multiple violations of federal animal welfare laws during its six decades of operation.
---
R.I.P.: PETA's Graveyard Memorializes 9,000 Monkeys Who Suffered and Died at the WaNPRC
April 8, 2021
PETA's somber display of 90 tombstones—each one representing 100 of the 9,000 monkeys killed at the Washington National Primate Research Center over the last 60 years—blanketed the hill concealing the barren underground facility where monkeys trapped inside cramped cages pace endlessly, bite at their own limbs, and tear out their own hair in distress.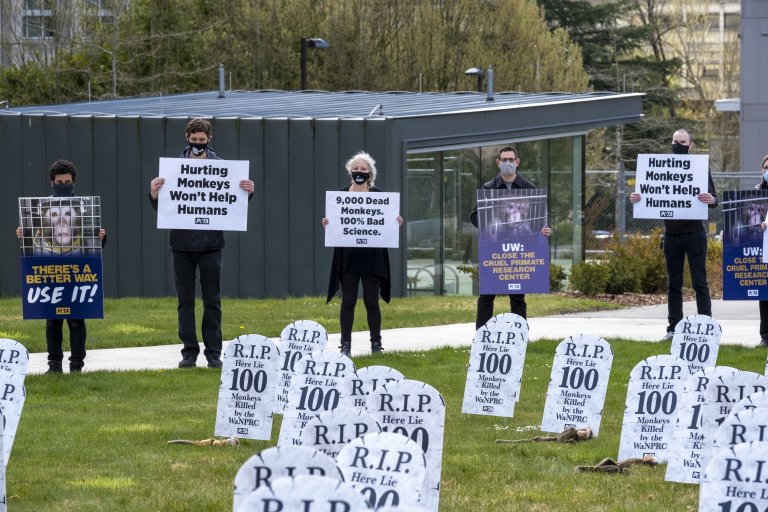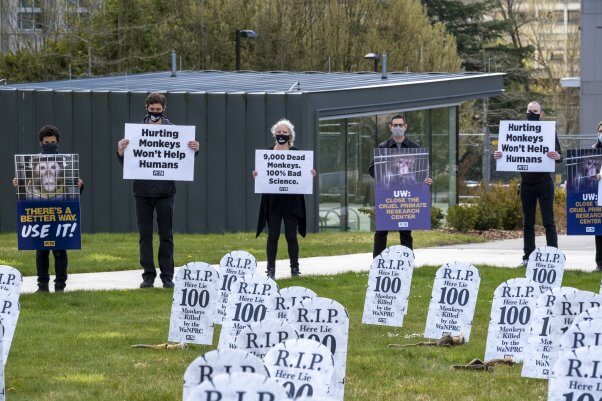 ---
PETA Calls On UW to Retract 'Knowingly False' Statement Taking Credit for Moderna's COVID-19 Vaccine
February 25, 2021
After PETA told federal officials that the chair of the University of Washington's (UW) Institutional Animal Care and Use Committee (IACUC) had made the dishonest claim that a Washington National Primate Research Center experimenter's tests on pigtail macaques were directly responsible for the development of Moderna's COVID-19 vaccine, the U.S. Department of Health and Human Services' Office of Research Integrity contacted the university about the statement, which it called "knowingly false." In an e-mail obtained by PETA, the agency told UW that while this did not constitute research fraud, UW could take "any administrative actions" internally. PETA is calling on UW to retract the statement publicly and to remove any individuals involved from their positions.
---
Monkeys Die From Choking and Heart Attack at University of Washington
February 16, 2021
It's tough to imagine that the Washington National Primate Research Center (WaNPRC) at the University of Washington (UW) could top its record for appalling deaths: Monkeys there have died of strangulation, starvation, dehydration, and veterinary error.
PETA has just learned that experimenter Chuck Murry removed an elderly 15-year-old monkey from the breeding colony and stuck her in his laboratory. Her reward for years of giving birth and watching her babies be taken from her one by one? Murry induced a heart attack in her. Days later, she was dead.
Perhaps we shouldn't be surprised by this abuse. A federal report obtained by PETA reveals that arrogance and impatience apparently led to the death of a monkey who had been used in an experimental surgery. He hadn't been fasted the night before, as he should have been, and rather than following standard operating procedures, Murry refused to wait or reschedule. The monkey went into respiratory arrest, vomited undigested food while a tube was thrust down his throat and he was given CPR, went into respiratory arrest again, and then died.
In 2020, Murry—now a "Core Staff Scientist" at the WaNPRC—received more than $3.1 million from the National Institutes of Health (NIH) to cause heart attacks in young and elderly monkeys. The WaNPRC has repeatedly demonstrated that it can't—or won't—comply with legally required minimum animal welfare standards. It's time for NIH to take definitive action and stop wasting taxpayer dollars by funding the abuse, neglect, and killing of monkeys in worthless experiments at the WaNPRC. 
We are demanding that UW shut down its primate center and end its horrific animal tests. Take action now.
---
Seattle Billboard Urges UW to End Monkey Experiments, Embrace Better Research
January 26, 2021
PETA's eye-catching billboard in Seattle—featuring the University of Washington's colors and the wistful face of a monkey peering out from behind cage bars—urges the university to stop its tests on primates and switch to a better way of conducting research.

---
Caged 'Monkeys' Call For Closure of UW's Cruel Primate Center
January 14, 2021
Donning lifelike monkey masks, more than two dozen protesters—some of them confined to cramped, barren cages much like those in which monkeys at the WaNPRC spend their entire lives—chanted and held signs demanding the closure of UW's underground primate laboratory. Just steps away from the protest, the more than 1,000 monkeys currently at the WaNPRC continue to be ripped away from their mothers, restrained for hours at a time, subjected to full-body irradiation, and more in painful experiments that don't help humans.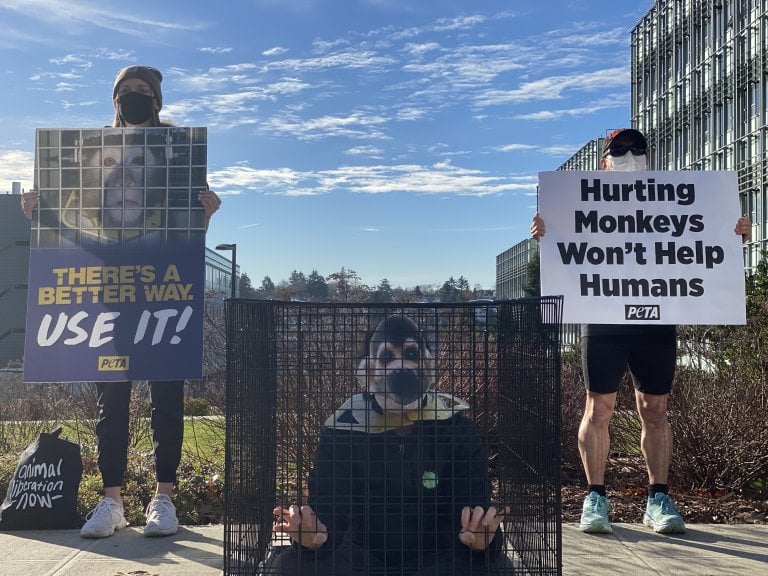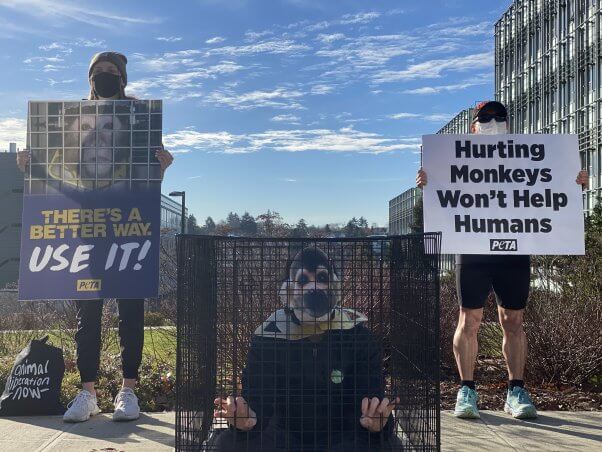 ---
Activists Pepper University of Washington Campus With Posters for Monkeys
January 7, 2021
Monkeys at UW's primate center have died from strangulation, choking on their own vomit, being mauled by other stressed animals, and more, as pointed out on PETA's poster, which popped up at various locations on UW's campus.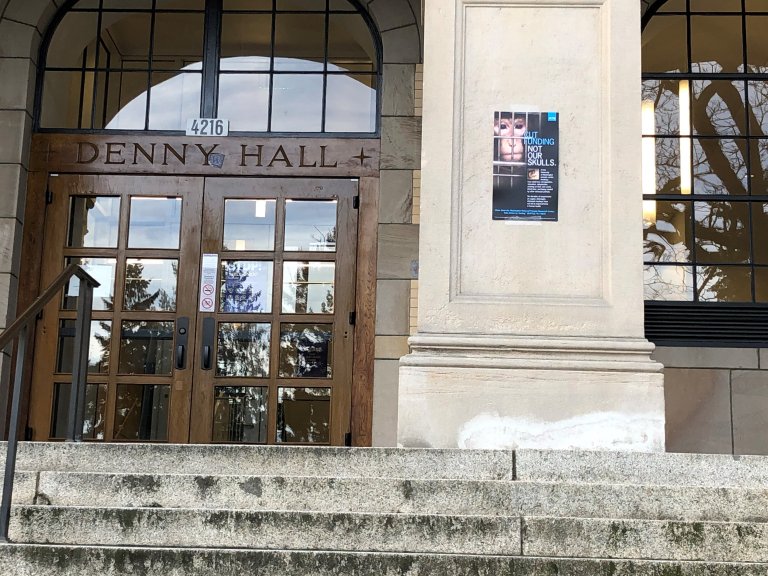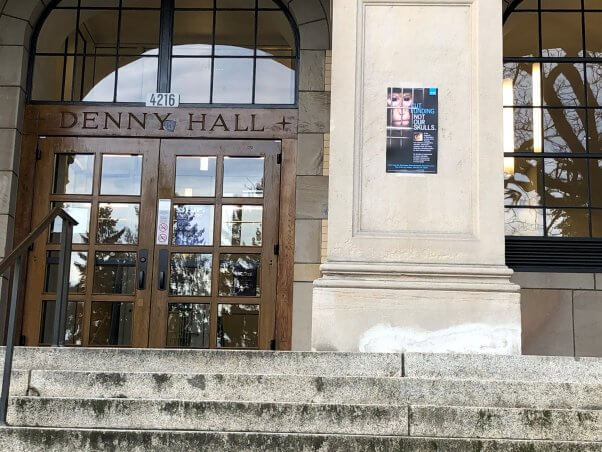 ---
Monkey-Masked Activists Bring Home PETA's Call to Close the WaNPRC With Protest Outside UW Officials' Houses
December 17, 2020
They say home is where the heart is—and activists wearing monkey masks urged the UW dean and the WaNPRC interim director to find theirs and close the cruel primate center, with a peaceful, silent, socially distanced protest at both of their homes. Monkeys at the WaNPRC spend their days and nights in barren metal cages, far away from their natural home in lush forests, grassy savannahs, or high mountains.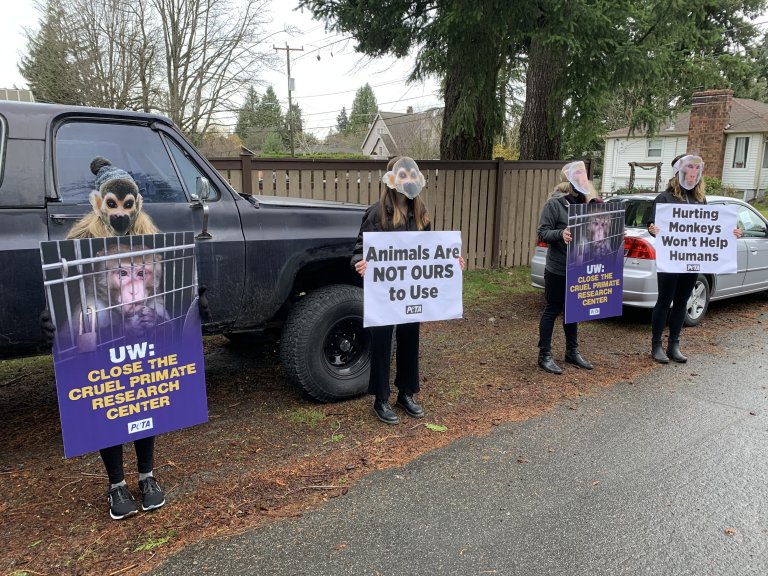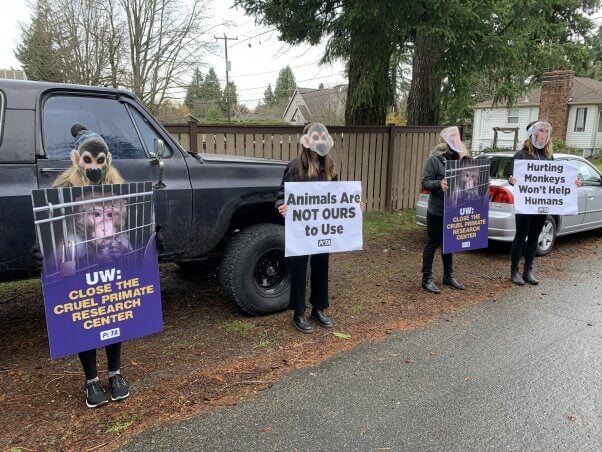 ---
PETA's Mobile Billboard Takes the Campaign to Close UW's Primate Center to the Streets
November 27, 2020
PETA's mobile billboard urging the University of Washington to shut down its cruel and archaic primate research center wheeled down Seattle streets and through busy strip mall parking lots on Black Friday.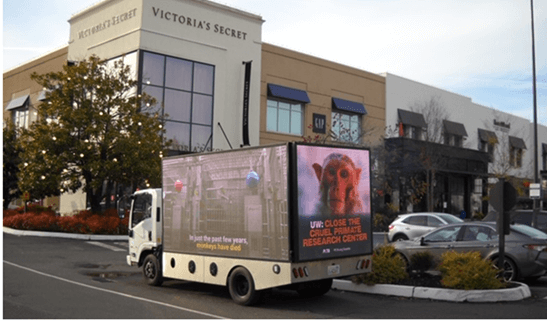 ---
With Gas Topper Ads, PETA Calls On UW to Stop Fueling Its Cruel Primate Research Center
November 20, 2020
PETA's gas topper ads are spreading the word to drivers filling up their tanks: It's time for the University of Washington to cut the gas to its cruel primate research center! The center's barbaric experiments are fueled by millions of dollars of wasted taxpayer funds.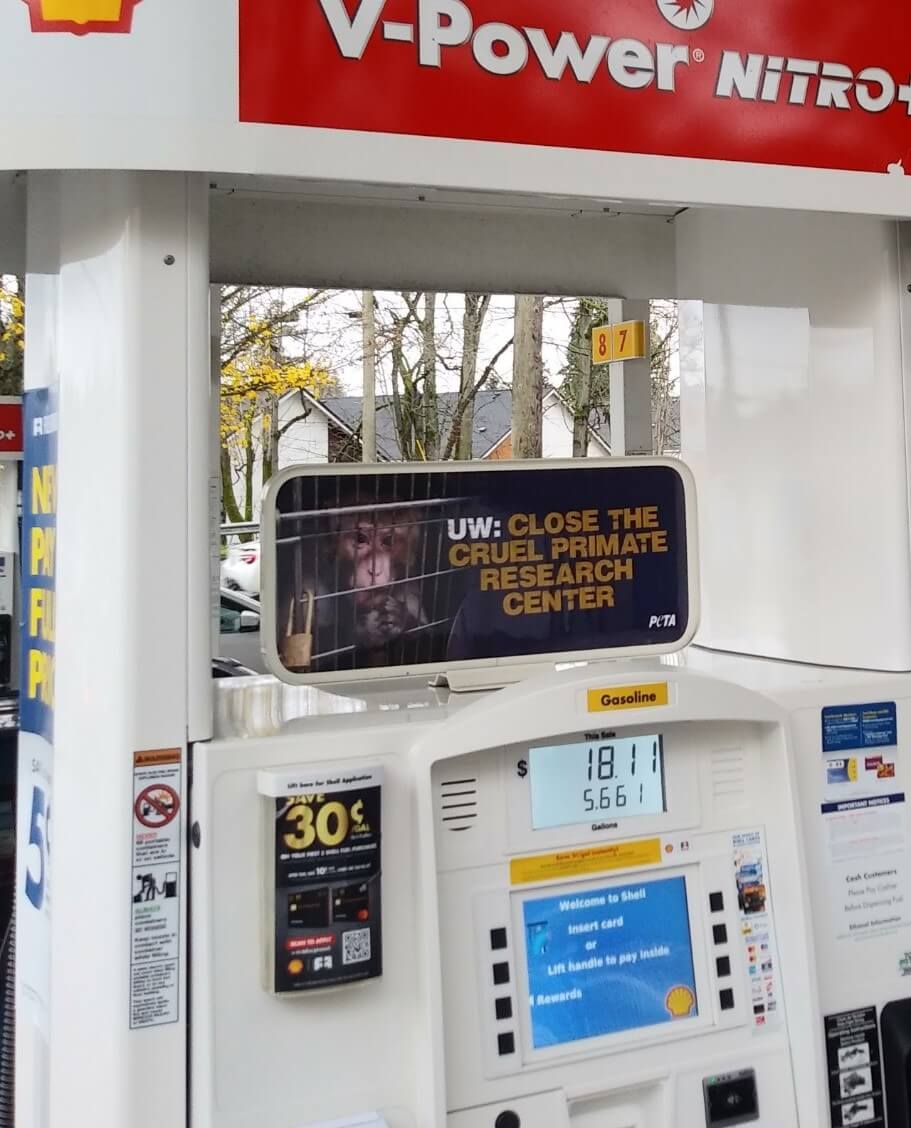 ---
PETA Slams 'Six Decades of Scientific Failure' and Cruelty at the WaNPRC in Full-Page Ad
November 18, 2020
If the hundreds of monkeys used in grisly, money-wasting experiments every year at the Washington National Primate Research Center could speak English, they'd tell the University of Washington (UW) to "cut funding, not our skulls"—and PETA's ad in the school's student publication The Daily does just that. It urges UW to refocus its resources on human-relevant, 21st century science instead of barbaric and useless monkey experiments.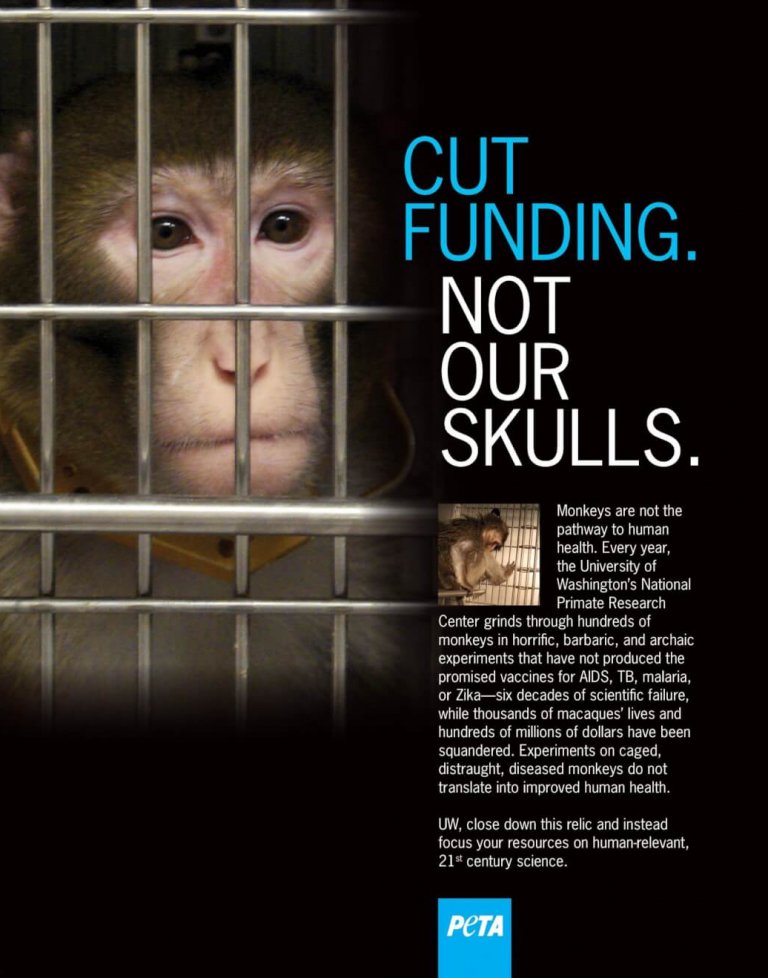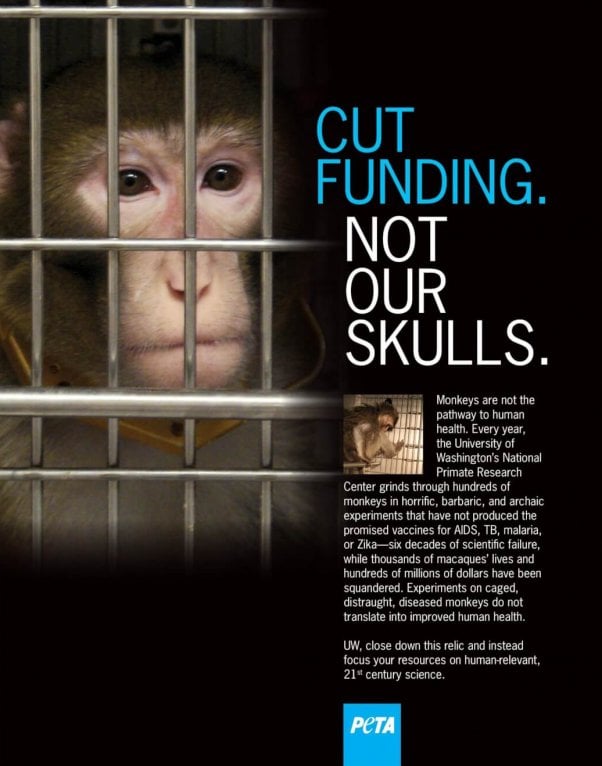 ---
PETA Scientist Shares Why She Left the WaNPRC and Joined PETA's Fight to End Primate Experimentation on The PETA Podcast
November 18, 2020
After spending 14 years working with primates at the Washington National Primate Research Center (WaNPRC), Dr. Lisa Jones-Engel found that she couldn't continue in good conscience. In an episode of The PETA Podcast, she describes some of the transformative experiences that led her to become a senior scientist at PETA, where she now advocates for the closure of the WaNPRC and the six other national primate research centers.
---
PETA Unfurls Massive Banner Calling For Shutdown of University of Washington's Primate Center
November 12, 2020
PETA's bold 30-foot-long banner urging the University of Washington to shut down its cruel primate center grabbed the attention of passing motorists from overpasses in Seattle. The banner featured the face of a monkey just like the tens of thousands who have been imprisoned and tormented in cruel experiments at the facility.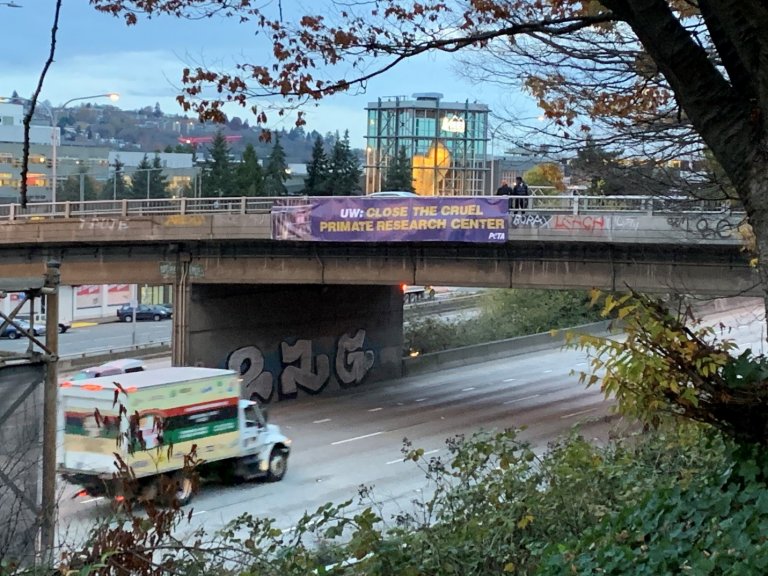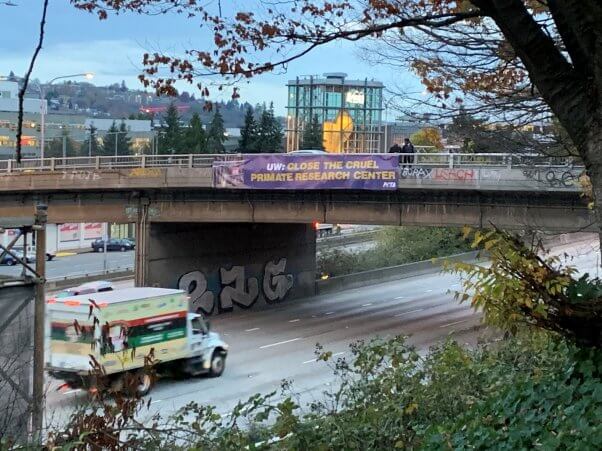 ---
Footage Reveals 'Dread, Despair, and Disease' for Monkeys at Washington National Primate Research Center
November 12, 2020
Obtained via a public records request, never-before-seen footage released by PETA shows profoundly distressed monkeys pacing endlessly inside barren steel cages in dark and mostly underground rooms on the University of Washington's campus and in a concrete building in downtown Seattle. Nearly 60 years of experiments on monkeys at the Washington National Primate Research Center on the UW campus have failed to produce any significant medical advances.
---
PETA Denounces Failing, Archaic, Disease-Ridden WaNPRC in Seattle Times Ad
November 7, 2020
In an arresting full-page ad in The Seattle Times, PETA exposes failures at the University of Washington's primate center: "Public records show that the primate center is deep in debt, is hemorrhaging scientists and other staff, and, by its own admission, is unable to keep the monkeys healthy … Monkeys have died from strangulation, starvation, dehydration, choking on their own vomit, bleeding to death, and being mauled by other stressed animals."
---
PETA Files Complaint With Feds Alleging Violations of Federal Animal Welfare Laws, Conflicts of Interest
September 2, 2020
PETA has submitted a formal complaint to the U.S. Department of Agriculture after uncovering evidence of Animal Welfare Act violations at the University of Washington's primate center. It also alleges serious conflicts of interest on the university's Institutional Animal Care and Use Committee, which is responsible for ensuring compliance with all animal protection laws in the institution's laboratories. Read more.
---
PETA Exposes Incompetence and Negligence at the WaNPRC
June 25, 2020
In just the latest example of incompetence and negligence at the WaNPRC, a monkey imprisoned at the facility was somehow left locked in a trapping run. Two staff members noticed that the animal was missing but didn't bother reporting the incident. The monkey went without food and water for as long as two days. Read more.
---
PETA Demands That the WaNPRC Be Transparent About COVID-19 in Workers and Monkeys
March 31, 2020
Humans aren't the only primates who can be infected with the novel coronavirus that causes COVID-19. That's why PETA is calling on the WaNPRC to suspend all experiments and to provide documentation that the 1,200 monkeys housed there, as well as its staff, have not been exposed to or infected with the virus. Because the virus affects monkeys differently from humans, they are not good "models" for studying the human form of the disease—and if any of the monkeys are infected, future studies involving them would be compromised. Read more.
*****
What You Can Do
Text* SEATTLE to 73822 and call 206-543-5010 or 206-543-2580 to urge the University of Washington to close down the WaNPRC and transfer the animals to sanctuaries.
*U.S. only. Message and data rates may apply. Periodic messaging. Text STOP to end or HELP for info. Full terms are at PETA.vg/txt.