The Washington National Primate Research Center (WaNPRC) is one of seven remaining "flagship primate centers" established in the early 1960s and continuously funded by the National Institutes of Health (NIH). The WaNPRC is located on the campus of the University of Washington (UW) and has satellite facilities in downtown Seattle and in Mesa, Arizona. As of 2022, 1,194 monkeys were imprisoned, warehoused, and abused at its facilities. In fiscal year 2022, UW received more than half a billion dollars from NIH, including nearly $13 million in funding for the basic operations of the center.
PETA is calling on UW to shut down the WaNPRC. Internal documents obtained by PETA and insider information reveal that the center is killing thousands of monkeys in meaningless experiments, wasting taxpayer money, and violating federal animal welfare laws and that it is mired in financial and leadership crises. When Harvard's New England National Primate Research Center faced similar issues, the university did the right thing and announced in 2013 that it was closing the facility. UW must follow suit.
Experimenting on Babies
A distinguishing feature of the WaNPRC for the past 45 years has been its 8,000-square-foot Infant Primate Research Laboratory (IPRL), tucked into the bowels of UW's Health Sciences building. As the name suggests, the facility is dedicated to conducting experiments on baby monkeys. UW faculty member Thomas Burbacher is the director of this dingy, antiquated laboratory, where he has used pregnant monkeys to study shellfish toxicity by exposing their unborn babies to a toxin in utero among other disturbing experiments.
Burbacher takes newborn monkeys from their mothers and, just like infamous monkey experimenter Harry Harlow, sticks them in a cage all alone with only a cloth "mother" to cling to. Rearing infant monkeys in isolation is the single most important risk factor in the development of severe forms of abnormal behavior. Few monkeys leave the IPRL alive, and those who do spend their remaining years biting at their own limbs, pulling out their hair, and pacing back and forth in cramped cages.
Burbacher conducted another experiment at the IPRL in which he cut into 35 pregnant monkeys one week prior to delivery and intentionally blocked their umbilical cords in order to prevent the flow of blood and oxygen to the fetuses and induce asphyxia in the babies at delivery. Five of the infants died soon after birth, either as a direct result of this asphyxiation or by euthanasia because of severe complications from the procedure. The remaining infants were kept in solitary confinement in the basement laboratory.
Experimenters Implant Electrodes in Monkeys' Brains or Irradiate Their Entire Bodies
The WaNPRC prides itself on its neuroscience experiments using monkeys. Experimenter Eberhard Fetz has spent more than 50 years conducting experimental surgeries on monkeys in which he cuts a hole in their skulls, inserts electrodes into their brains, and surgically implants wire coils in their eyes. He then straps them into a restraint chair for hours, with their heads bolted in place so that they remain immobile during the tests. He deprives them of food or water so that they'll comply in order to receive a sip of juice or a bite to eat.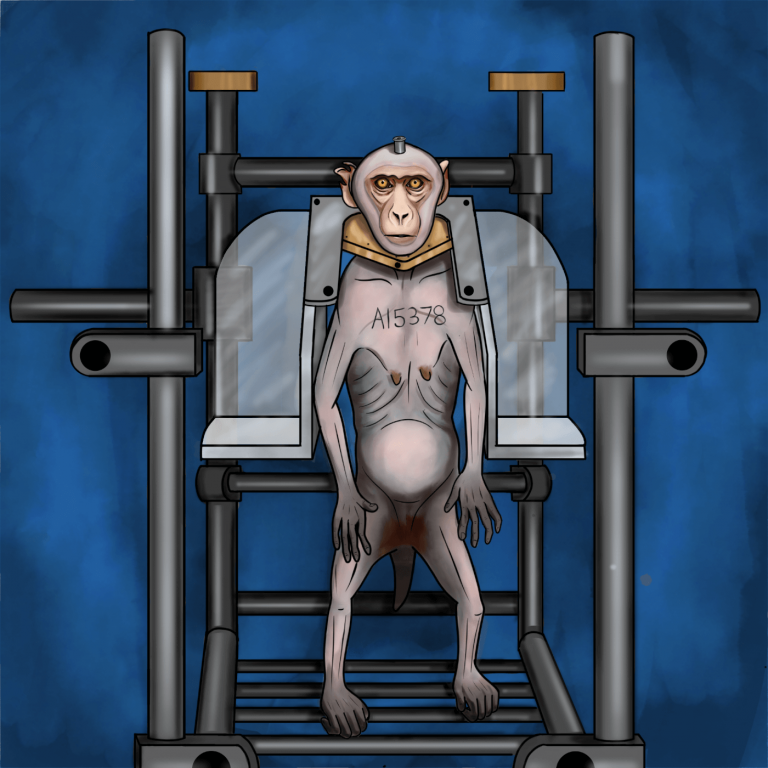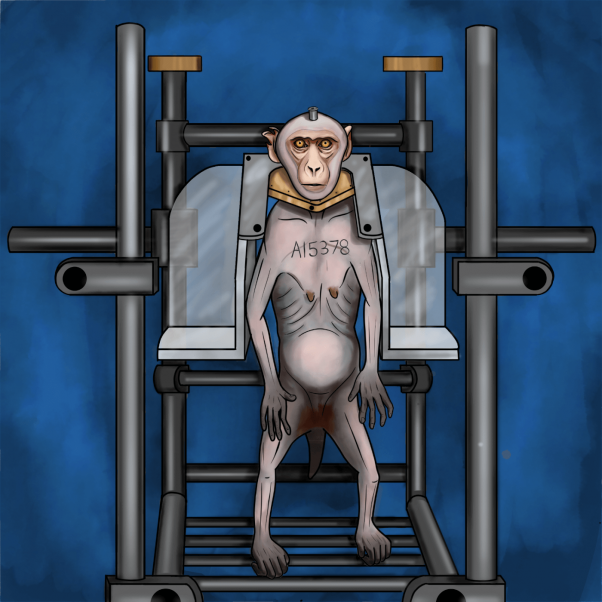 Fetz likes to consider himself a pioneer in connecting machines to monkeys' brains, but his laboratory on the fifth floor of the UW Health Sciences building is cluttered with 1960s technology. It seems that he can't even remember to make sure that the distressed monkeys in his facility get fed. A couple of years ago, one of the monkeys used in his "Brain-Computer Interface" project was fed only on weekends for seven weeks. Fetz claimed that it was simply a "miscommunication" between staff members. He's the one who needs to have his brain examined!
Other experimenters at the WaNPRC have subjected monkeys to total body irradiation. The impact on them was so horrific that nearly half of them died before the study was completed, which caused one of the experimenters—who was frustrated at the lack of timely veterinary support—to quit the project and leave the university.
Michael Katze wasn't nearly as squeamish about what he did to monkeys. After infecting them with Ebola, he watched as they succumbed to hemorrhagic fever, whose symptoms include severe muscle pain, headaches, vomiting, diarrhea, and internal and external bleeding. His torture of monkeys at UW ended only when he was dismissed following years of sexual harassment complaints.
Breeding Misery and Disease
In 2013, the WaNPRC established a breeding colony at its Mesa compound using imported endangered pigtail macaques. The facility holds more than 300 monkeys and was intended to be "specific pathogen–free," meaning that the monkeys are guaranteed to be free of certain infectious agents. However, the colony has been rife with pathogen problems. PETA has documents detailing that the monkeys have been exposed to and infected with valley fever on site and that the colony included animals brought in from a facility where a tuberculosis outbreak had occurred.
Monkeys aren't good models for human disease, so the findings of studies in which they're used are always questionable. And the problems are further compounded by using monkeys who may be sick or have compromised immune systems, particularly when investigating infectious diseases such as COVID-19.
Additionally, documents obtained by PETA through a public records request pull back the curtain on the horrific conditions at this facility, where stillbirths, injuries, and traumatic deaths are the norm. It appears that the facility is understaffed, has a failing infrastructure, and has fungus-contaminated soil.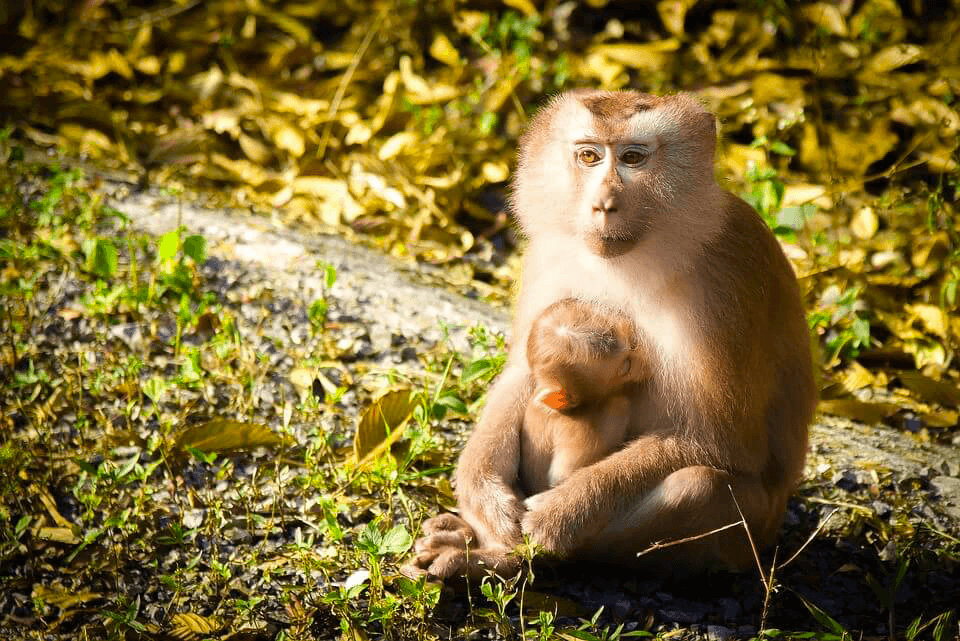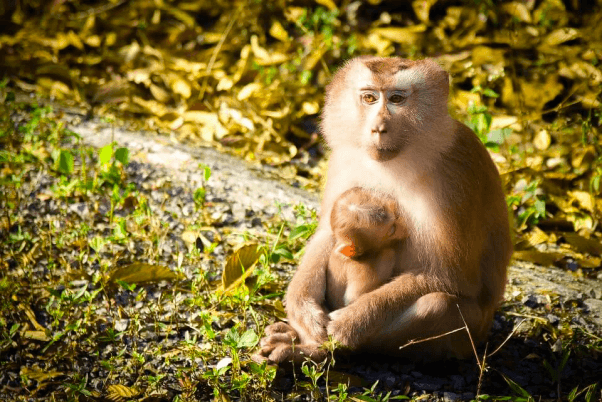 Violations of Federal Law: Neglect, Incompetence, and Failures of Oversight
Federal inspection reports reveal that primates at the WaNPRC also suffer because of incompetence and neglect. Monkeys have strangled to death, died of thirst, been mauled by other monkeys, and choked to death on their own vomit, and experimenters have taken too much blood and tissue from some animals.
Internal documents obtained by PETA reveal that in one recent eight-month period, the federally funded center, including its breeding facility in Arizona, had to treat a staggering 332 traumatic injuries (such as broken limbs and teeth), more than 200 cases of gastrointestinal problems, 149 cases of significant weight loss, 19 cases of rectal prolapse, and a dozen implant abnormalities.
In 2019, an experimenter insisted that experimental surgery proceed on a monkey who had not been properly fasted the night before. Afterward, the monkey went into respiratory arrest. As workers attempted to revive him with CPR and thrust a tube down his throat, he vomited and aspirated some food. He then went into respiratory arrest a second time and died.
In another 2019 incident, a monkey who was subjected to a painful procedure was given an opioid analgesic that had been diluted, likely resulting in inadequate pain relief. It was later discovered that a drug cabinet had been left unlocked, and it appeared that someone at the center had stolen the opioid. A few months later, when the U.S. Department of Agriculture (USDA) investigated this incident, another drug cabinet was found open.
In 2018, a monkey strangled to death in UW's new underground laboratory when he became entangled in a chain attached to his cage. His cagemate witnessed the death and had to be sedated with Valium. In 2017, a monkey died while undergoing an MRI—but the cause of death could not be ascertained, as the facility had failed to maintain appropriate records. That same year, another pigtail macaque was observed to be lethargic and severely dehydrated. It was determined that the watering line to her cage had not been connected, and she died approximately 40 minutes later.
In 2015, inspectors found that UW's Institutional Animal Care and Use Committee (IACUC) had acted like a "rubber stamp" committee, approving proposals that weren't even properly filled out. The inspectors determined that in an experiment in which "incisions would be made in the skin over leg muscles" of primates, there "was no description of the length of the incisions or which leg muscles would be used." The IACUC had also approved "multiple major operative procedures including skull implants, arm implants, and vertebral implants" in another protocol—but there was "no description of the size of incisions for any of the activities," "no description of the size or locations of defects created in the skull or the instrumentation to be implanted," and "no description of which specific vertebrae" would be affected by the proposed experiment. Three monkeys used in these surgeries suffered from "significant health issues" following the experiments and were killed.
IACUCs are considered the last line of defense for animals in laboratories, and when they fail to carry out their responsibilities, the whole oversight system collapses.
In three separate incidents in 2013, baby monkeys were attacked, sustained extensive traumatic injuries, and were either euthanized or died from their injuries.
In 2011, the USDA fined UW nearly $11,000 after a pigtail macaque was found dead in her cage, having lost 25% of her bodyweight. She had starved to death. In 2008, UW was ordered to pay $20,000 to the federal government for conducting unauthorized surgeries on primates. These fines pale in comparison to the many millions of dollars that UW receives from the federal government, thanks to the WaNPRC, and are thus unlikely to deter further unlawful abuse.
As of September 15, 2020, UW is under investigation by the USDA for additional violations of the federal Animal Welfare Act.
Join thousands of PETA supporters in calling for the immediate closure of the WaNPRC and the release of the monkeys to reputable sanctuaries where they'll be afforded the safety and dignity that they deserve for the rest of their lives.