Toxic Waste, Disease, Dead Monkeys
Update (July 9, 2021): It seems that the University of Washington (UW) is more concerned about its reputation than about preventing the suffering of the animals in its laboratories.
PETA had filed a complaint with the U.S. Department of Agriculture (USDA) after we obtained evidence of an egregious animal welfare violation in which staff at the school's Washington National Primate Research Center (WaNPRC) failed to notice that a dehydrated pigtail macaque went missing for up to two days—during which the monkey was without food or water. (Please see details below.)
The USDA cited the school for that incident as well as another at the WaNPRC in which a macaque broke locks on a set of cages and escaped along with his cagemate. The monkeys sustained injuries to their hands and fingers, and other monkeys incurred facial lacerations. To top off the list of UW's screw-ups, it was also cited for failing to check on caged rabbits for an entire weekend, in violation of federal regulations.
Rather than hanging its head in shame, UW sent the USDA a brazen 54-page appeal, complaining that it had taken "corrective action" after the incidents occurred and requesting that the citations be erased.
The USDA was having none of it. In what is best described as an understatement, its director of animal welfare operations noted that UW's long and sordid violation record was "not indicative of a facility that is demonstrating success at preventing critical animal welfare issues."
As much as UW would like to hide the suffering of animals in its publicly funded primate center and other labs, we're not going to let it.
Add your voice to ours by taking action below
Original post:
There's an open secret at the Washington National Primate Research Center (WaNPRC) that monkeys imprisoned there frequently escape from their cages—a blatant violation of the federal Animal Welfare Act (AWA)—and sometimes go missing for days. Worse, documents obtained by PETA show that not all the escapes are reported to university authorities, as required.
PETA has filed a complaint with the U.S. Department of Agriculture (USDA), but we need your help to turn up the heat on this federally funded monkey prison, located at the University of Washington. Please take action below.
Our complaint also alleges serious conflicts of interest on UW's Institutional Animal Care and Use Committee (IACUC), which is supposed to ensure that all animal protection laws are enforced in the school's laboratories. IACUCs were mandated in 1985 after PETA exposed horrors at two other primate laboratories, one at the University of Pennsylvania and the other in Silver Spring, Maryland. Congress wisely decided that experimenters could not be trusted without oversight, and IACUCs are supposed to provide that. UW's is apparently failing.
The documents obtained by PETA show multiple monkey escapes at the WaNPRC, the latest of which took place in April. A monkey went missing for two days before she was discovered trapped in a tunnel cage, dehydrated and hungry. Staff failed to report that she was missing. The IACUC was told a month later, in May. And then for the next two months, IACUC members, some of whom work in the primate center, couldn't agree on the facility's punishment. Instead, they did nothing—not even issue a reprimand.
Escapes at the WaNPRC are apparently so common that the facility's then–associate director, Sally Thompson-Iritani, complained in a December 2018 internal memo, "There are currently six different styles of cages, it is not in the best interests of the staff and animals. There have been a number of 'out of cage' incidents. Last week, there were a lot of incidents." (For those who do not speak "Euphemism," "out of cage incidents" means "escapes.")
Escapes are a clear violation of the AWA. But not only are they clearly routine at the WaNPRC, there is also no threat of consequence when they occur.
There may be a reason for that.
In what appears to be a patently obvious case of mutual back-scratching, one of the members of UW's IACUC is Ken Gordon, executive director of the Northwest Association for Biomedical Research (NWABR), an organization that promotes animal experimentation. The university is a "platinum donor" to the NWABR, meaning that it has given at least $25,000.
Wait, there's more: Thompson-Iritani, who acted as the WaNPRC's interim director, is president of the NWABR board.
And just when you thought it couldn't get worse, the primate center's newly-named director is infamous for being one of the few university experimenters ever to be suspended from using animals as a result of serious welfare violations
All monkeys deserve to live in their natural environment, free from harmful experiments and away from cruel, speciesist imprisonment camps like the WaNPRC, where they're tormented and killed.
Monkeys are living beings who experience pain, suffering, joy, and fear, just as we do. In nature, they live in large family groups, forming strong bonds with one another. They play, eat, explore, and hang out together. They're also empathic, often risking their own lives to help others.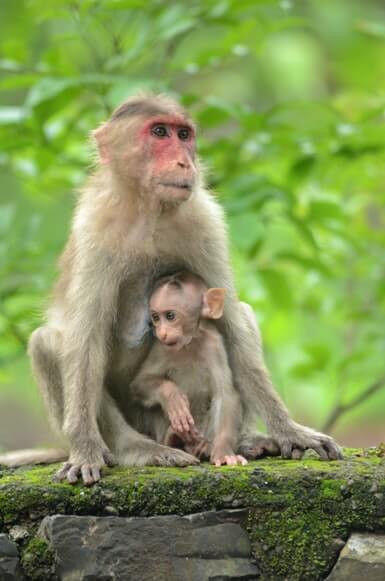 Harvard University shut down its New England National Primate Research Center in 2013 after looking critically at its multiple animal welfare violations, the difficulty of keeping monkeys in laboratories, and the future of its research priorities. UW needs to follow Harvard's lead and shut down the WaNPRC immediately.

Join thousands of PETA supporters calling for the immediate closure of the WaNPRC and the release of the monkeys to appropriate sanctuaries to live out their lives with the safety and dignity that they deserve.
Please send polite comments to:
Mari Ostendorf
Vice Provost for Research
University of Washington
[email protected]
Ana Mari Cauce
President
University of Washington
[email protected]
Please feel free to use our sample letter, but remember that using your own words is always more effective.