PETA has been shouting it loud enough for the people in the back to hear, and now the International Union for Conservation of Nature (IUCN), the world's most comprehensive information source on the global conservation status of animals, has joined our chorus: Animal experimentation has pushed two species of monkeys to the brink of extinction.
The IUCN today upped the classification of two monkey species—long-tailed macaques and pig-tailed macaques—from "vulnerable" to "endangered." This classification lands both monkey species on the IUCN's Red List of Threatened Species among the most endangered species on the planet. The IUCN says that these monkeys' numbers in nature will decline by 50%—half!—over the next three generations, if the current threats are not mitigated.
It's no coincidence that these two species are also favorites of animal experimenters, who have spawned a whole cruel industry of extracting monkeys from their homes in Asia and Mauritius in order to sate the appetites of U.S. experimenters. Snatching monkeys from Asia is faster and cheaper than breeding them in the U.S., so a monkey-abduction pipeline pours thousands of them into the U.S. from overseas every month.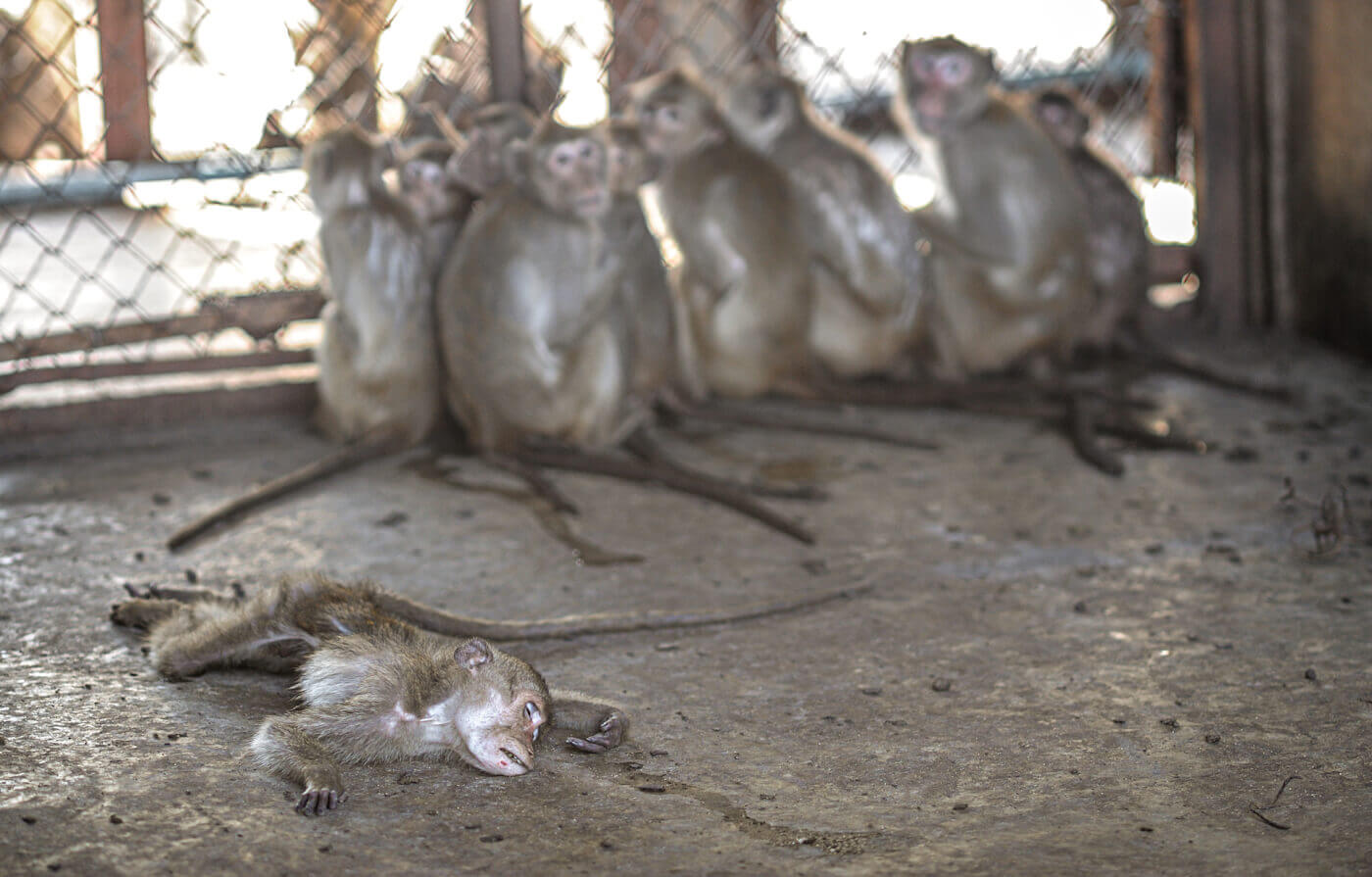 © Jo-Anne McArthur / We Animals Media
That pipeline is steeped in violence. Hunters in Cambodia, Indonesia, Lao PDR, Mauritius, and Vietnam trap mother monkeys, pry their babies away and stuff them into bags, and cram the mothers—along with any of the other troop members who have survived being captured—into crates. Some will be sold directly to U.S. laboratories, while others will end up on commercial monkey factory farms first, where the mothers will be forced to live and breed in filthy, barren conditions. Injury and sickness are frighteningly common at these facilities, and many of the monkeys die. All the babies are torn away from the mothers shortly after birth.
More than a million of these monkeys have been ripped from their homes and shipped to the U.S. over the past four decades. Those are the survivors. Many more die before they can be boxed up and flown to the US.
While the country's national primate research centers and other laboratories continue to whine about a made-up shortage of monkeys, the full toll of their gluttony for monkeys to poke and prod in pointless experiments—that for decades have left patients still wanting for treatments for cancer, HIV/AIDS, and other horrible human maladies—has finally been revealed. Despite causing monkeys pain and suffering, experimenting on them has done little to forward scientific research, but it has succeeded in nearly wiping two species of monkeys off the face of the planet.
It. Must. Stop.
---
Please take a minute to take action today by adding your voice in opposition to the Centers for Disease Control and Prevention allowing the importation of monkeys for laboratory experimentation. Tell the agency to shut down the monkey-abduction pipeline.