What's wrong with elephant painting and elephant bathing? True sanctuaries don't force animals to perform tricks, and they don't use "training" methods that involve weapons. To make elephants learn demeaning tricks, handlers beat, shock, and punish them. Through pain and fear, elephants are forced to learn confusing routines that have no connection to their natural instincts and conduct. Enduring stress and trauma can lead these animals to exhibit abnormal and harmful types of behavior, such as constant swaying and increased aggression. Sadly, most captive elephants die decades short of the natural life expectancy of their species.
Here's what goes on behind the scenes at 9 American roadside zoos where elephants are forced to give rides, paint, and perform other confusing tricks:
1. Hill Country Elephant Preserve, Texas (formerly Have Trunk Will Travel)
Notorious elephant exploiter Have Trunk Will Travel, known for this shocking undercover video of trainers hitting, jabbing, chaining, and shocking elephants under the guise of "training," moved from California to Texas following the enactment of California's bullhook ban and rebranded itself as Hill Country Elephant Preserve or "The Preserve."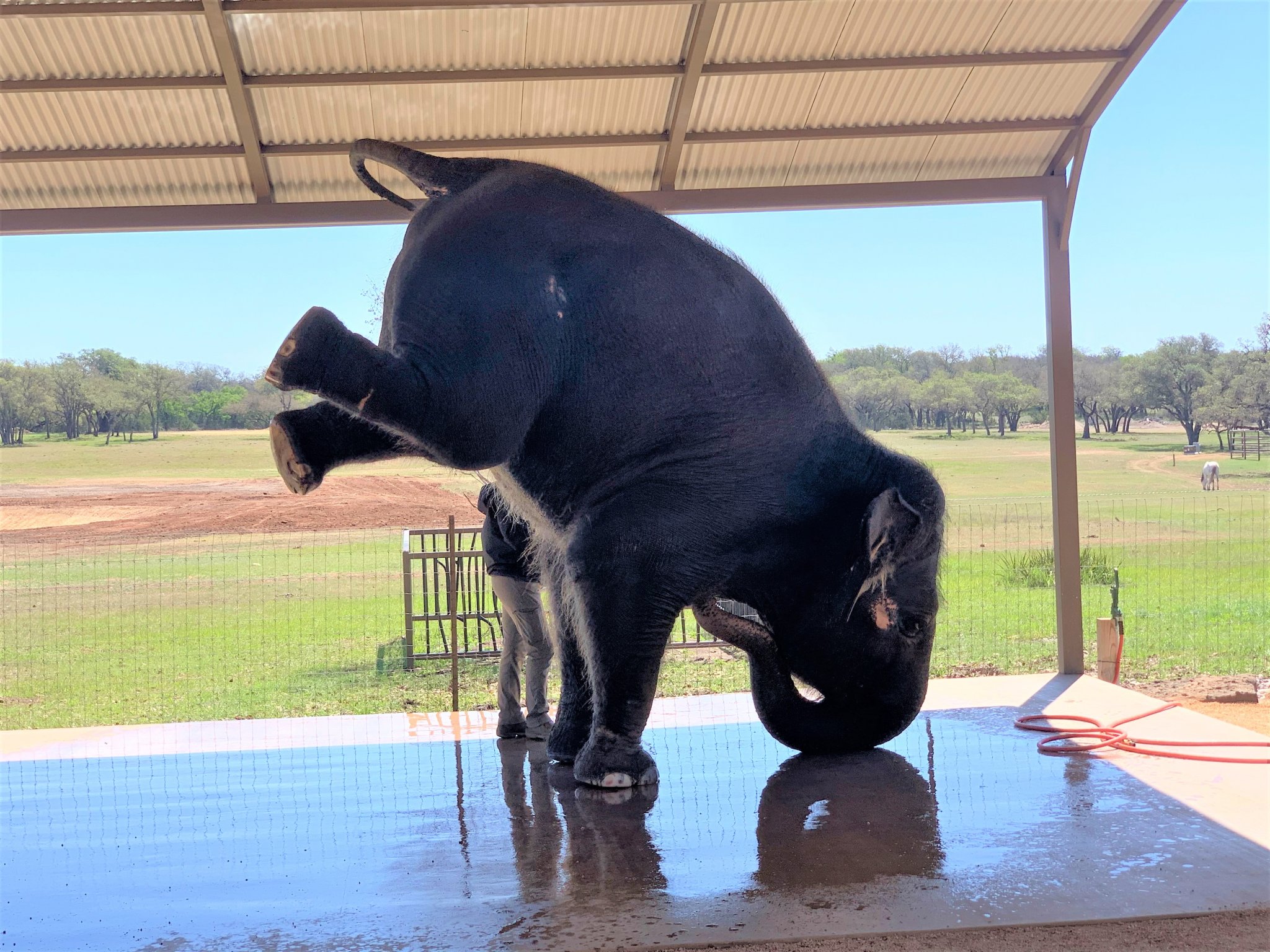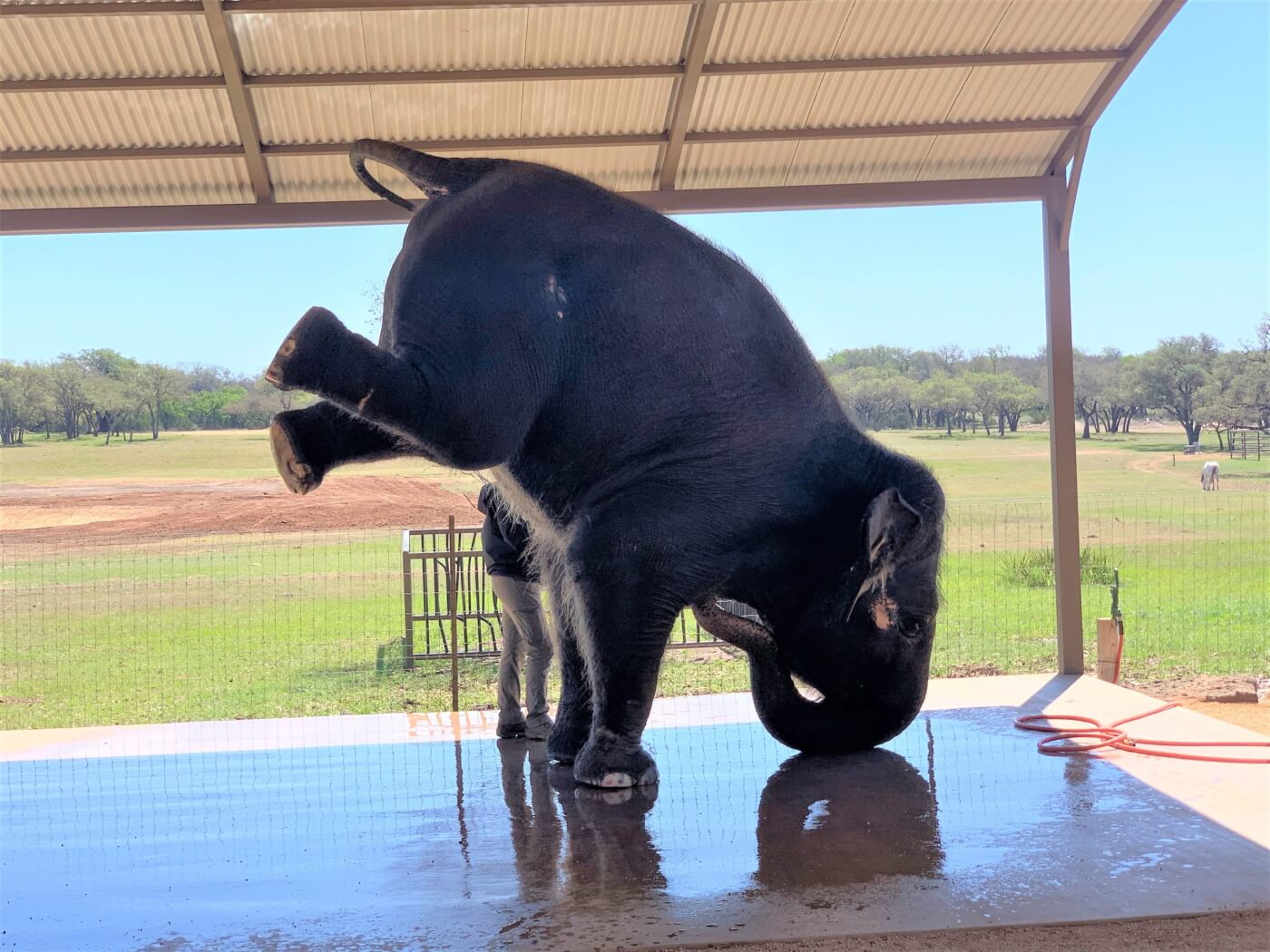 Don't be fooled—this is no refuge, as the elephants, who have been rented out for film and TV, are now used for stunts such as bathing, painting, standing on their heads, and playing instruments, all while being prodded by trainers wielding bullhooks.
In 2021, elephants Tai and Dixie died within months of each other at The Preserve. The two had spent their lives being forced to give rides and perform demeaning tricks. Both elephants were taken from their homes and families in Asia as infants, then chained, beaten, and exploited for human entertainment as adults.
Instead of giving the three remaining elephants—Becky, Kitty, and Rosie—a peaceful retirement, The Preserve is still using them as moneymakers, forcing them to do headstands, paint, and perform demeaning tricks.
2. Two Tails Ranch, Florida
Elephants are used for rides, photo opportunities, and "extreme encounters" at $200 a pop at this roadside zoo operated by Patricia Zerbini, which also sends elephants to perform in the Tarzan Zerbini Circus, run by her father, Tarzan Zerbini.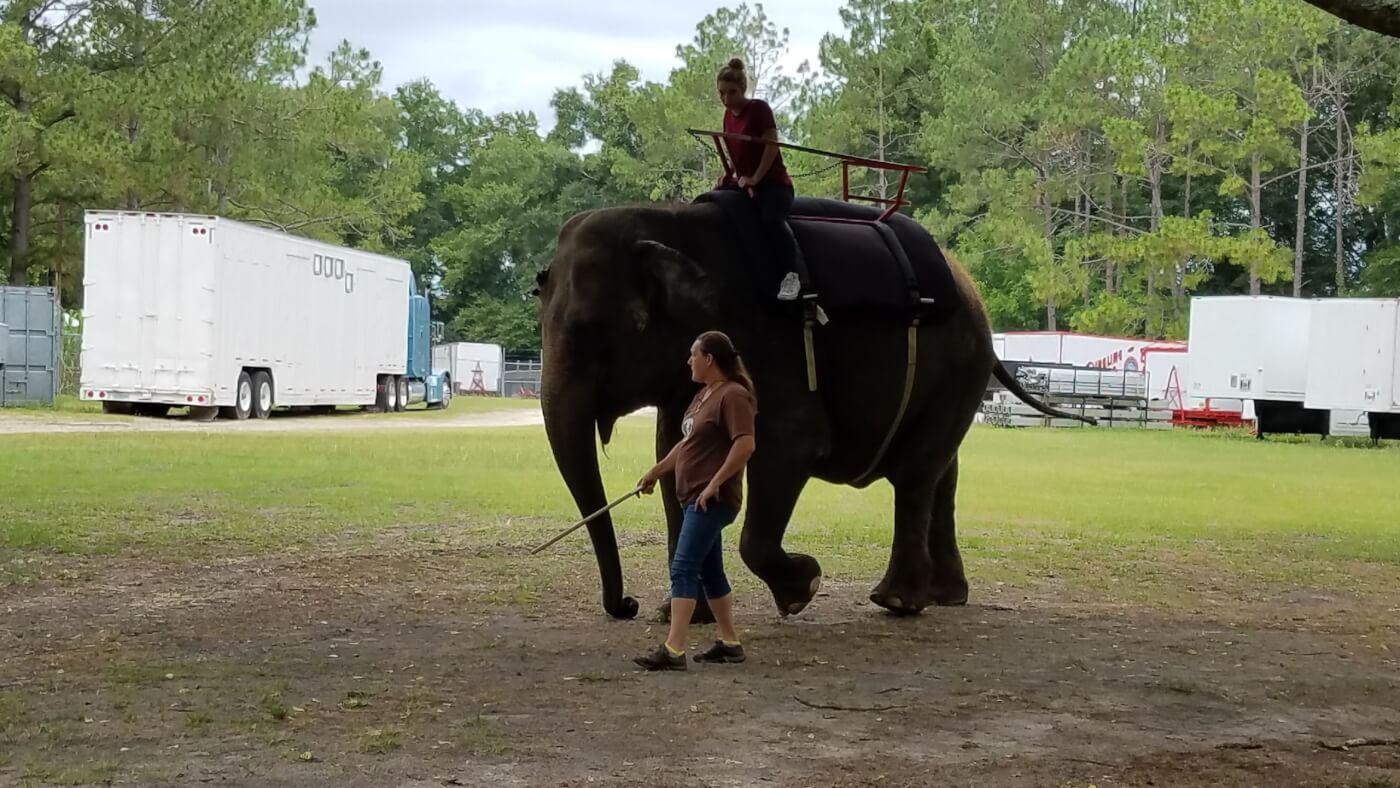 A visitor to the ranch was nearly killed in 2013 by Rajah, a male elephant who was so aggressive toward humans and other elephants that he was kept in chains for weeks after his arrival from Ringling Bros. This visitor approached Rajah's unattended enclosure through an open gate, and the elephant pulled her against the bars with his trunk, causing a collapsed lung, spleen damage, broken ribs, and degloving wounds—a serious skin injury.
The Zerbinis have a long history of dangerous elephant attacks involving serious injury and at least one human death, yet they are still allowed to operate. An elephant named Roxy has been used for rides at Two Tails Ranch, even though she once stepped on a circus worker outside a Tarzan Zerbini Circus performance and broke his pelvis.
Multiple elephants exhibited by Two Tails and Tarzan Zerbini have been quarantined because of tuberculosis infection or exposure, and the U.S. Department of Agriculture (USDA) has cited both exhibitors for failing to meet the federal Animal Welfare Act's (AWA) minimum standards of care.
3. Endangered Ark Foundation, Oklahoma
This breeding facility and home site for Carson & Barnes Circus misleadingly claims to be a "retirement ranch" for elephants, yet it still sends elephants on the road to perform in circuses and uses them for painting, bathing, feeding, and photo ops.
Carson & Barnes is infamous for the mistreatment of the animals in its care, having racked up more than 100 AWA violations as well as fines, lawsuits, and animal-abuse incidents stretching back to 1975. In this horrific undercover video, handlers can be seen shocking elephants with electric prods and hitting them with bullhooks until they scream, all in the name of "training."
In 2016, Carson & Barnes paid a civil penalty of $16,000 to the USDA for improper handling of elephants on two occasions, one of which involved three elephants escaping, injuring themselves, and damaging property. It has an abysmal record of failing to provide elephants with adequate veterinary care or necessary foot care, perform valid tuberculosis tests, treat skin problems, or furnish shade in 89-degree weather.
Court records show that in 2021, a woman sustained life-threatening injuries from being attacked during an encounter with an elephant at the Endangered Ark Foundation.
In 2022, Endangered Ark backed an insidious bill called the Endangered Ark Foundation Preservation Act that was designed to protect trainers caught abusing elephants from prosecution under the state's cruelty laws. The bill failed, but if a roadside zoo can only stay in business by getting a free pass to abuse animals, that zoo shouldn't be in business in the first place.
4. Wilstem Wildlife Park, Indiana
At this roadside zoo, elephants Cindy and Vickie—most recently exploited for Carden International Circus—are forced to participate in bathing, feeding, toenail painting, "walk encounters," and photo interactions during the summer.
It's standard industry practice for circus trainers to beat elephants with bullhooks to force them to obey out of fear of punishment. Joey Frisco, Carden's elephant trainer who also exploits Cindy and Vickie at Wilstem, was caught on video violently hooking and yanking elephants when he worked for Ringling Bros. circus.
The Carden family has employed other abusive workers, including two who were hit with five cruelty-to-animals charges in Canada in 2000 for infliction of unnecessary pain and suffering on three elephants. In another incident, a handler reportedly jabbed a bullhook into an elephant's mouth to punish her, causing her to urinate in distress. This abuse and Carden's repeated failure to provide adequate veterinary care and handle elephants in a safe manner has landed it on PETA's list of the top six worst circuses in the U.S.
5. Myakka Elephant Ranch, Florida
Don't be duped by Myakka Elephant Ranch's bogus claims that the elephants there are "retired" from the entertainment industry. The Barreda family, which runs the ranch, used an African elephant named Lou in circuses for many years before pivoting to using her for hands-on encounters. They then bought Asian elephants Carol and Patty from the Carden International Circus in 2019.
Myakka misleadingly describes itself as a "conservation center." In reality, elephants there are forced to interact with guests in bathing, feeding, and photo ops. Tourism is one of the leading threats to wild elephant populations. As long as tourists are taught that feeding, bathing, riding, or touching a captive elephant is acceptable, these animals will continue to be torn from their families and natural homes.
It's risky for members of the public to stand near any elephant's powerful tusks and trunk. But it's particularly alarming that Myakka Elephant Ranch allows interactions with Carol, who once crushed a trainer to death—an eyewitness said that she "had him going like a rag doll."
A whistleblower from the Barreda family's circus days reported that they routinely kept elephants on short chains for 24 hours a day, and the exhibitor received an official warning from the USDA in 2011 after failing to maintain a program of adequate veterinary care. They were again cited in 2013 for failing to provide Lou with adequate veterinary care after she was observed with a large lump on her face that was secreting bloody discharge.
6. Natural Bridge Zoo, Virginia
Natural Bridge Zoo is one of the worst roadside zoos in the U.S. and has been cited for almost 150 violations of the AWA and fined nearly $64,000 by the USDA. Both the Virginia Department of Game and Inland Fisheries (now the Virginia Department of Wildlife Resources) and the USDA have previously suspended Natural Bridge Zoo's exhibitor's license.
The facility holds one elephant, Asha, who is used for giving rides. She was captured in nature and has lived alone for years in unnatural isolation from others of her kind. She is forced to carry guests on her back for hours in the summer, walking in small circles in the hot sun, and is confined to a cold concrete-floored barn in the winter.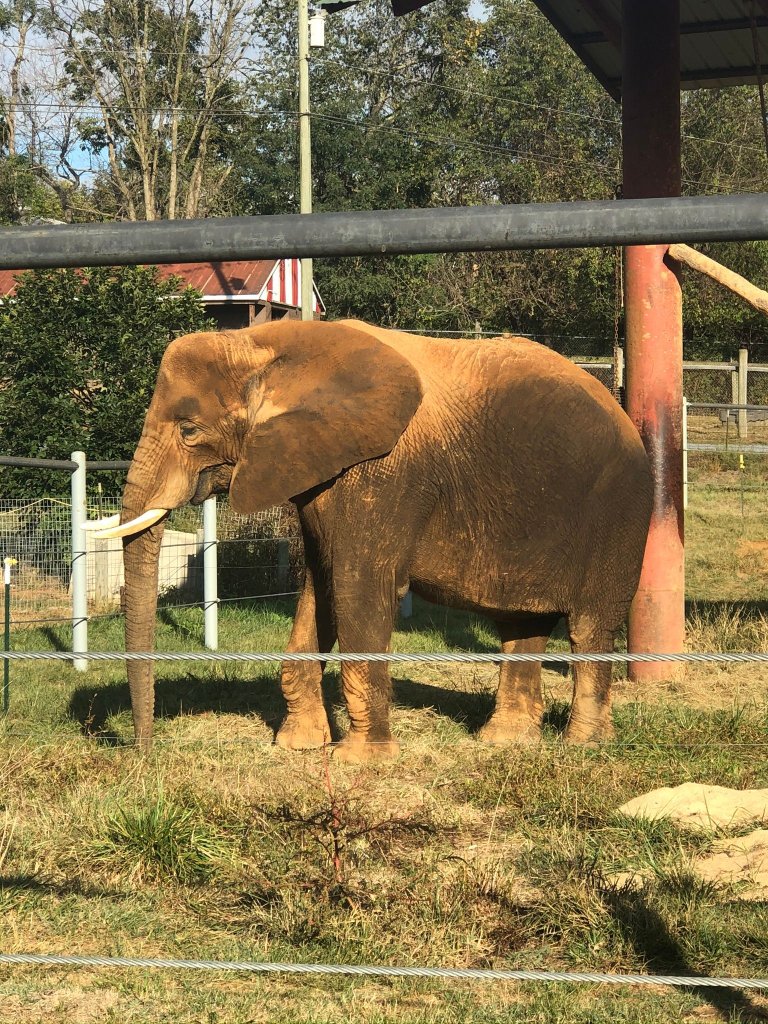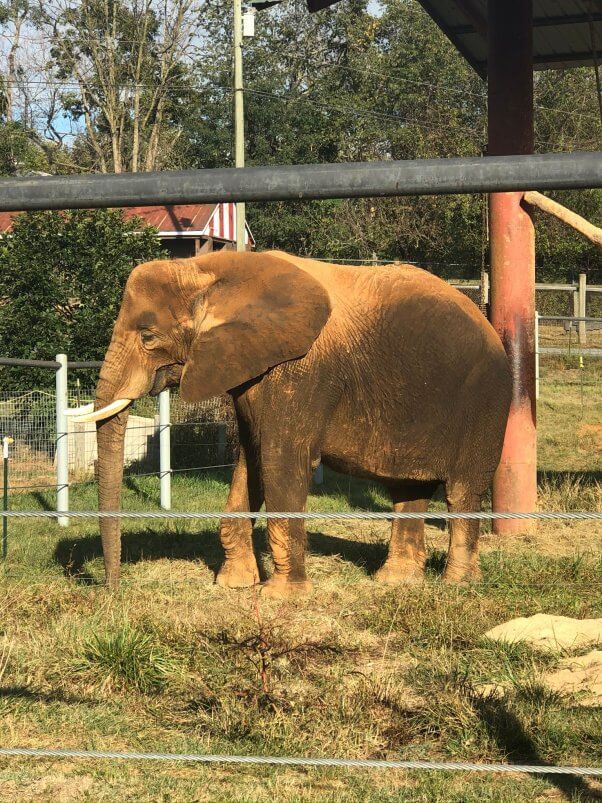 In 2022, the USDA cited Natural Bridge Zoo for its failure to have direct control of Asha when she was being forced to give rides to visitors. The inspector noted that photographs revealed Asha's "handler" standing far away from her—at times, not even visible in the frame. The roadside zoo was previously cited in 2015 for failing to provide Asha with adequate veterinary care for overgrown footpads, broken toenails, and dry, thickened skin.
7. Myrtle Beach Safari, South Carolina
Bhagavan "Doc" Antle, one of the abusers highlighted in the Netflix docuseries Tiger King, runs Myrtle Beach Safari (aka "T.I.G.E.R.S"). He's a key player in the exploitative big-cat cub-petting network that included the now-incarcerated Joseph Maldonado-Passage (aka "Joe Exotic"), who claimed that Antle maintains an on-site crematorium for incinerating tiger cubs too big to use for photo ops. In June 2022, Antle was detained by the FBI and indicted on 10 federal charges, including money-laundering charges and six counts of wildlife crimes for allegedly engaging in wildlife trafficking. He's also facing wildlife-trafficking and cruelty-to-animals charges in Virginia.
Antle also exploits Bubbles the elephant for feeding and photo encounters in pricey "safaris" and publicity stunts. She hasn't seen another elephant for over 30 years. Meanwhile, the USDA has repeatedly cited Antle for an extensive list of AWA violations, including failing to provide animals with adequate veterinary care, water, uncontaminated food, and clean, safe enclosures.
8. Trunks and Humps/East Texas Elephant Experience, Texas
Trunks and Humps is the elephant supplier for the biggest Renaissance fairs in the country—it carts elephants Krissy, Jean, and Paige all over the U.S. and forces them to give rides under the threat of punishment from a bullhook. There's no rest at their home site, either, which Trunks and Humps calls the "East Texas Elephant Experience." There, elephants are made to perform demeaning tricks and make footprint paintings.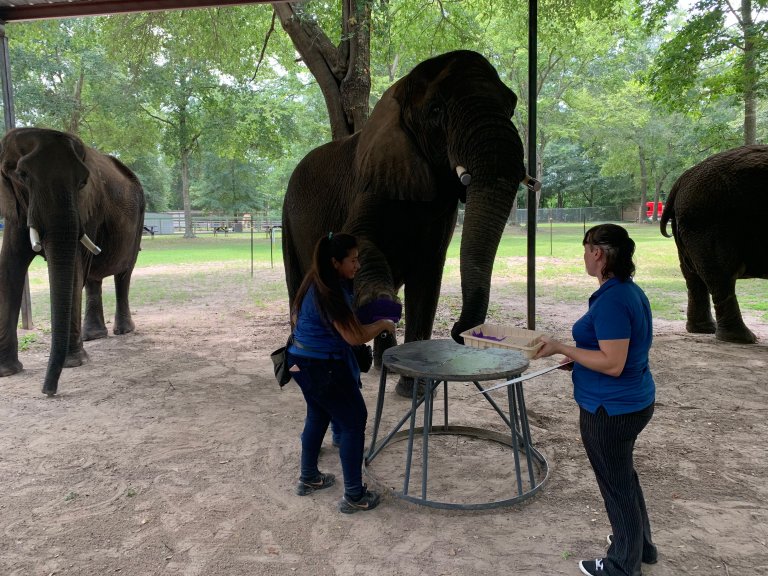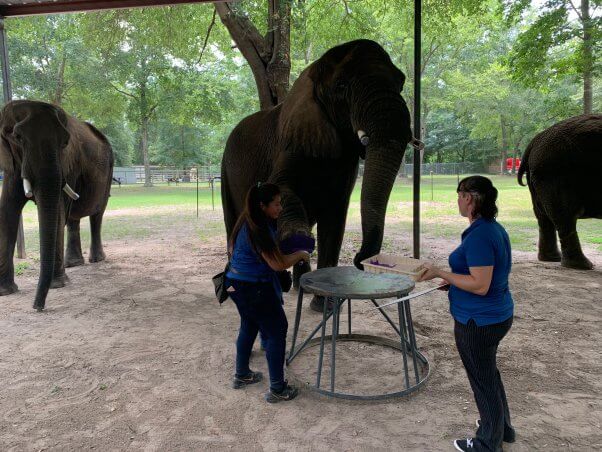 Mike Swain—who runs Trunks and Humps—used to work in the circus industry and was caught on video kicking and beating Krissy in the face as well as dragging her to the ground with a bullhook at a circus.
https://www.facebook.com/watch/?v=10155044640719358
9. Elephant Walk/Elephant Oasis, Florida
Frank Murray and his daughter Lauryn have been exploiting elephant Essex (formerly Annette) for years, forcing her to perform in circuses and give rides at the Maryland Renaissance Festival and the Bay Area Renaissance Festival. Now, they have rebranded as "Elephant Oasis" and are using Essex for pricey private experiences and photo shoots at their home in Florida. Essex has lived alone since her sole companion died in 2014, a solitary existence completely at odds with an elephant's social nature. PETA has even documented that the Murrays have made her give rides while lame.
The Murrays actively work to oppose legislation that would protect captive elephants from being hit with bullhooks or exploited for rides. Frank Murray was charged with four counts of cruelty to animals in New Jersey in 1996 and evaded justice for 16 years—he was finally arrested in 2012 when he returned to the state with the Piccadilly Circus (now called Garden Bros. Circus).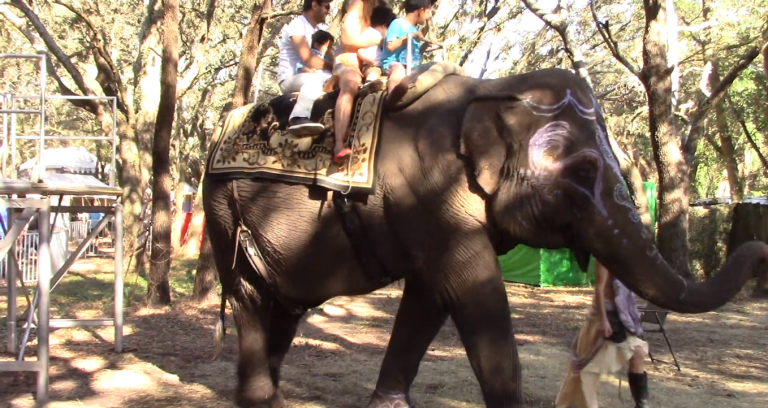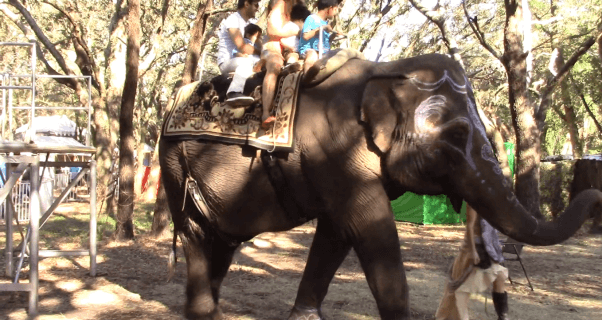 ---
Elephants are highly social animals who form strong, lasting bonds with their family members. They work together to solve problems and rely on the wisdom, judgment, and experience of their eldest relatives. In their natural homes, elephants spend their days socializing, swimming, browsing, and playing.
Take Action to Help Elephants
Please, never visit roadside zoos or any other venue where wild animals are exploited for human profit.