It may be over for Ringling Bros. circus, but animals are still being used in circuses around the country—and they need your help.
Shrine circuses don't have their own animals. Local chapters could easily put on a circus by using all willing human performers or choose from the multitude of other types of fundraisers. Instead, they continue to hire abusive animal exhibitors. For instance, a big-cat exhibitor with a Shrine circus in Springfield, Missouri, was cited for five animal-welfare violations, including endangering the public, denying tigers adequate space and exercise, and transporting animals in a filthy vehicle with a "foul odor," flies and maggots, and a build-up of what appeared to be hair, food waste, and excreta.
Loomis Bros. Circus
An elephant at Loomis Bros. Circus struggled to stand after she was forced to perform in deep, slippery mud. One of the circus's animal exhibitors, Brian Franzen, has been caught striking elephants in the face with a bullhook and repeatedly whipping and jabbing a tiger.
The Carson & Barnes Circus animal care director was videotaped viciously attacking elephants with a bullhook, shocking them with an electric prod, and instructing trainers to embed sharp metal hooks into the animals' flesh until the elephants screamed in pain.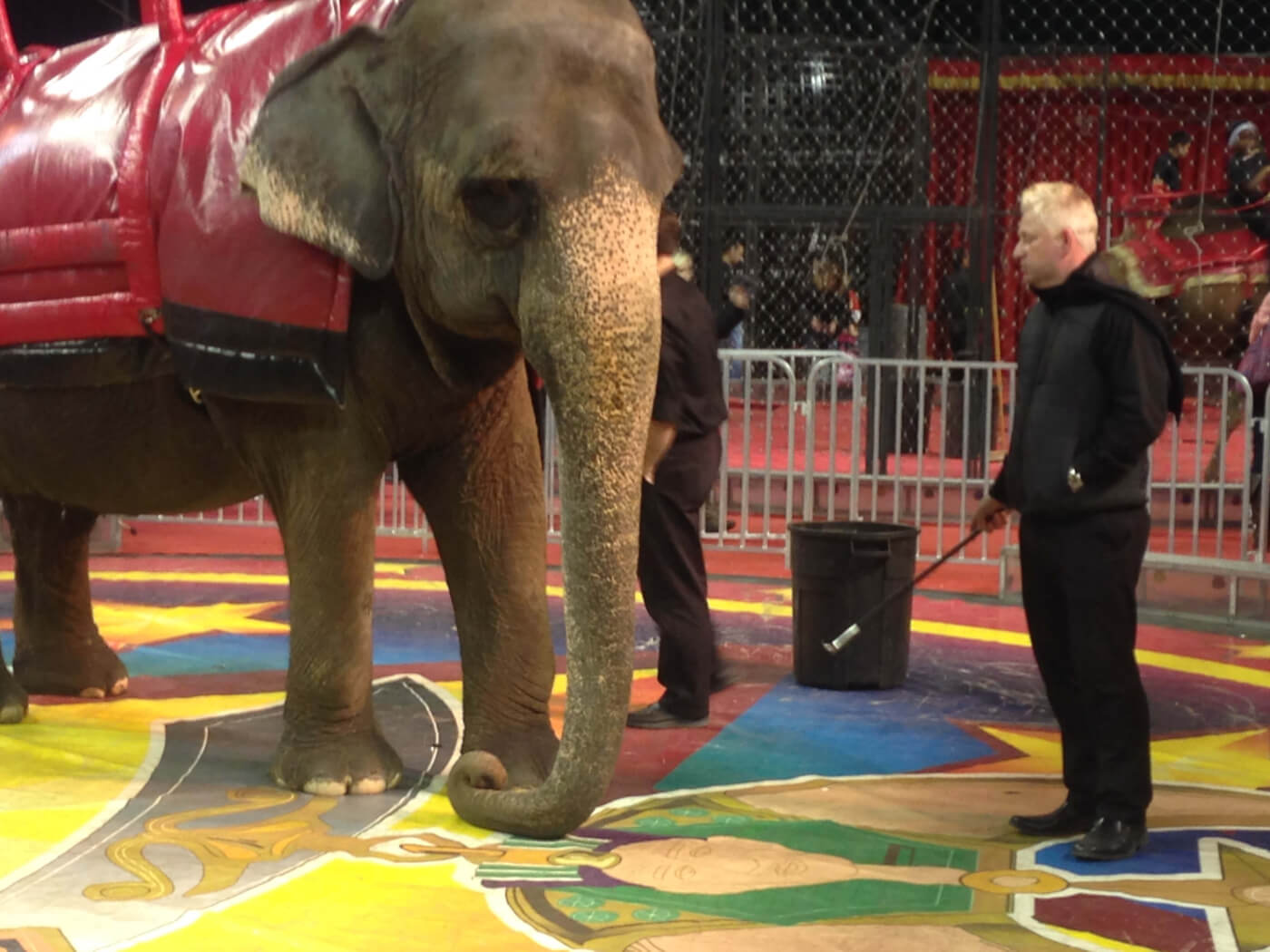 Carden International Circus, Inc. has been cited numerous times for failure to provide animals with shelter from the elements, inadequate and unsafe enclosures, failure to provide proper veterinary care, and failure to handle animals properly.
Jordan World Circus waited a month to seek treatment for a malnourished tiger with a fractured leg and left tigers and lions in small travel cages for up to 11 days without any exercise.
Garden Bros. Circus is still working with disreputable exhibitors that force animals to perform confusing and often painful tricks. A former Garden Bros. employee described frequently seeing elephants with blood dripping from behind their ear. The whistleblower also reported that a camel used by Garden Bros. was kicked and punched and that other camels were whipped. Another whistleblower reported that Zachary Garden, the manager of Garden Bros., habitually beat animals, withheld food from them, and refused to provide injured and dying ones with adequate veterinary care.
What You Can Do
The saddest show on earth for animals—Ringling Bros.—has ended. Thirty-six years of PETA protests, of documenting animals left to die, beaten animals, and much more, has reduced attendance to the point of no return. Thank you to everyone who picked up a protest sign, passed out leaflets, wrote letters, shared videos, called legislators, spoke to family members, and been part of an unwavering pursuit of freedom for animals. Ringling's demise wouldn't have happened without you.
#RinglingBros may be closing down, but it's time for ALL circuses to stop using animals! pic.twitter.com/hVUbEhwZvl

— PETA (@peta) January 21, 2017
But there's still work to be done. Animals continue to be used in circuses around the country, and they need your help. Tell the Shrine, Carson & Barnes, and Garden Bros. circuses to end all cruel animal acts, and click the button below to pledge never to go to a circus that uses animals. Please, speak up now for all animals being abused in the entertainment industry.