Ever craved that warm, end of year satisfaction of having made a meaningful difference for animals? Ever wanted to take action for a compassionate cause that helps liberate animals from exploitation? Ever longed to see a blog post that'll inspire you to do just that?
We're delighted that you're reading this, because it's time to review some top victories by PETA supporters from 2022! We'll also reveal how we get things done when people like you take action using our innovative systems and how we increase our core of consistent animal defenders.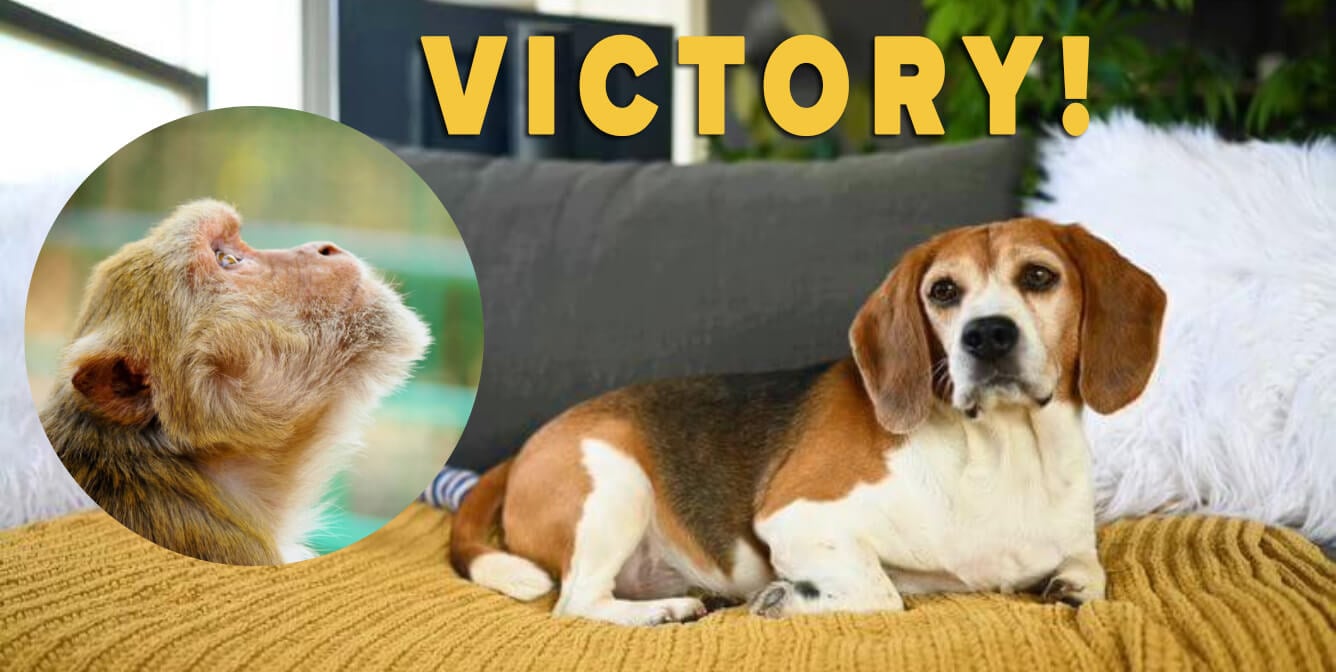 Learn About and Get Involved in Our Animal Advocacy Program
Before we celebrate what our supporters have achieved this past year, here's a brief introduction to the branches of PETA's animal advocacy program. We accomplish many victories via our action alerts, which are an easy and powerful way for people to get active online for animals. Contacting companies, universities, legislators, government agencies, and others helps advance PETA's most pressing campaigns.
Every year, nearly 1 million people like you come together to target abusers and help animals who are suffering when used for experiments, food, fashion, or entertainment. All of our blog posts and features include links to our action alerts. Once you complete any action, you can share the alert with friends, family members, and social media followers, encouraging them to join you in taking a stand for animals.
PETA's advocacy program also employs our cutting-edge mobile "Reply Y" feature. We send texts to around 50,000 supporters each week, asking them to take action by replying "Y." After supporters do this, an e-mail is sent from them to an animal abuser. The innovative tactic only requires a phone number and an e-mail address from participants, and it's easily one of the fastest ways to help animals.
Here are some of our other modes of advocacy:
Relying on our social media crew and online video lab to make content promoting PETA campaigns
Showcasing our protests and demonstrations on Facebook, Instagram, and Twitter
Using a "sticky bar"—a text pop-up on our site—that includes asking supporters to text a keyword that sends an e-mail to an animal abuser
Asking supporters to make phone calls
Engaging everyone possible via our iPhone app with live action alerts
Celebrations via Action Alerts: End of Year List of 10 Victories by PETA Supporters
1. After an undercover investigation revealed desperate dogs warehoused by a Jack Russell terrier breeder who mutilated puppies, over 53,100 PETA supporters took action. This resulted in major victories. Eventually, a Michigan judge ruled that 39 dogs seized from the breeder's unlicensed kennel in January could be placed for adoption.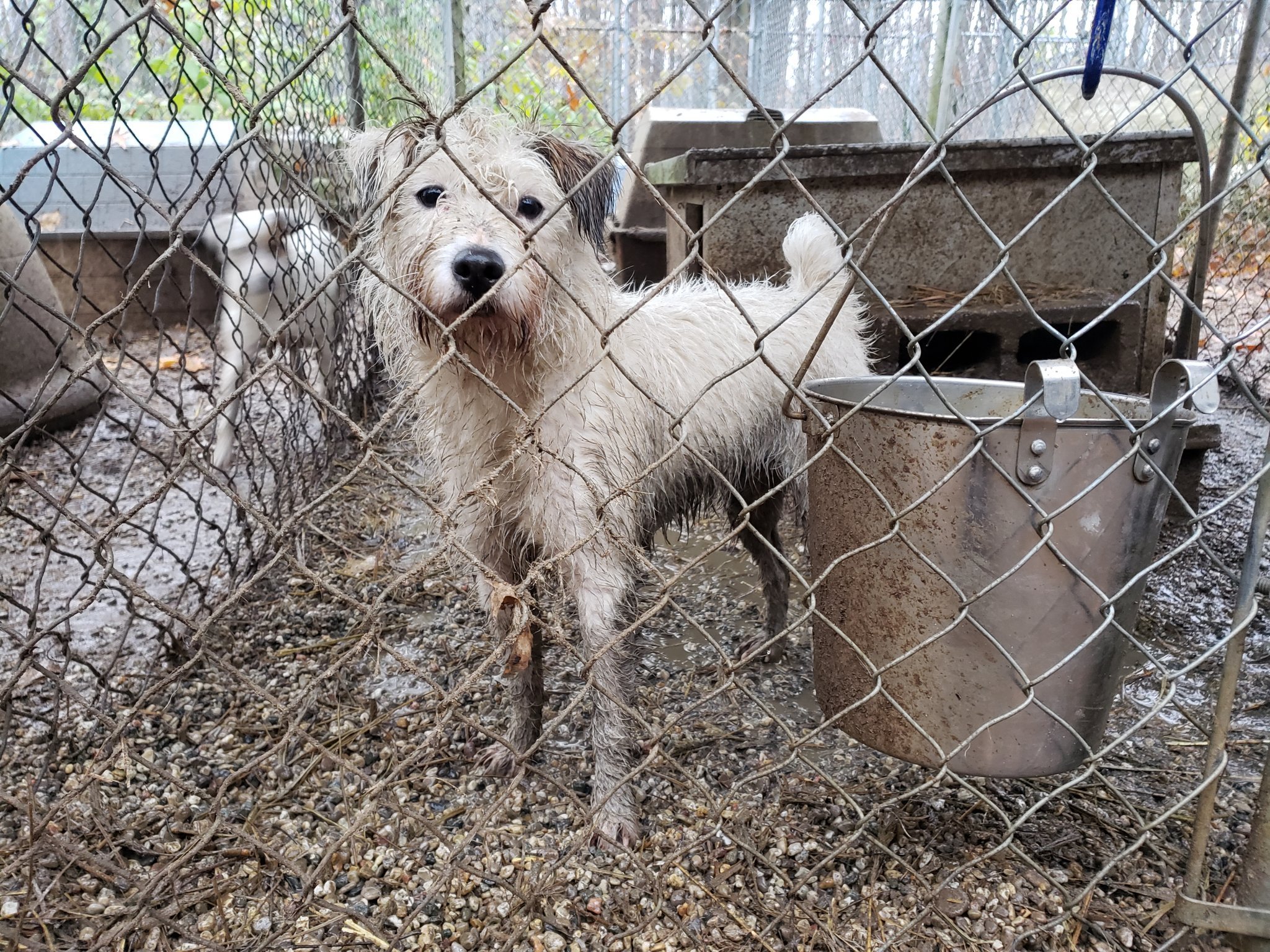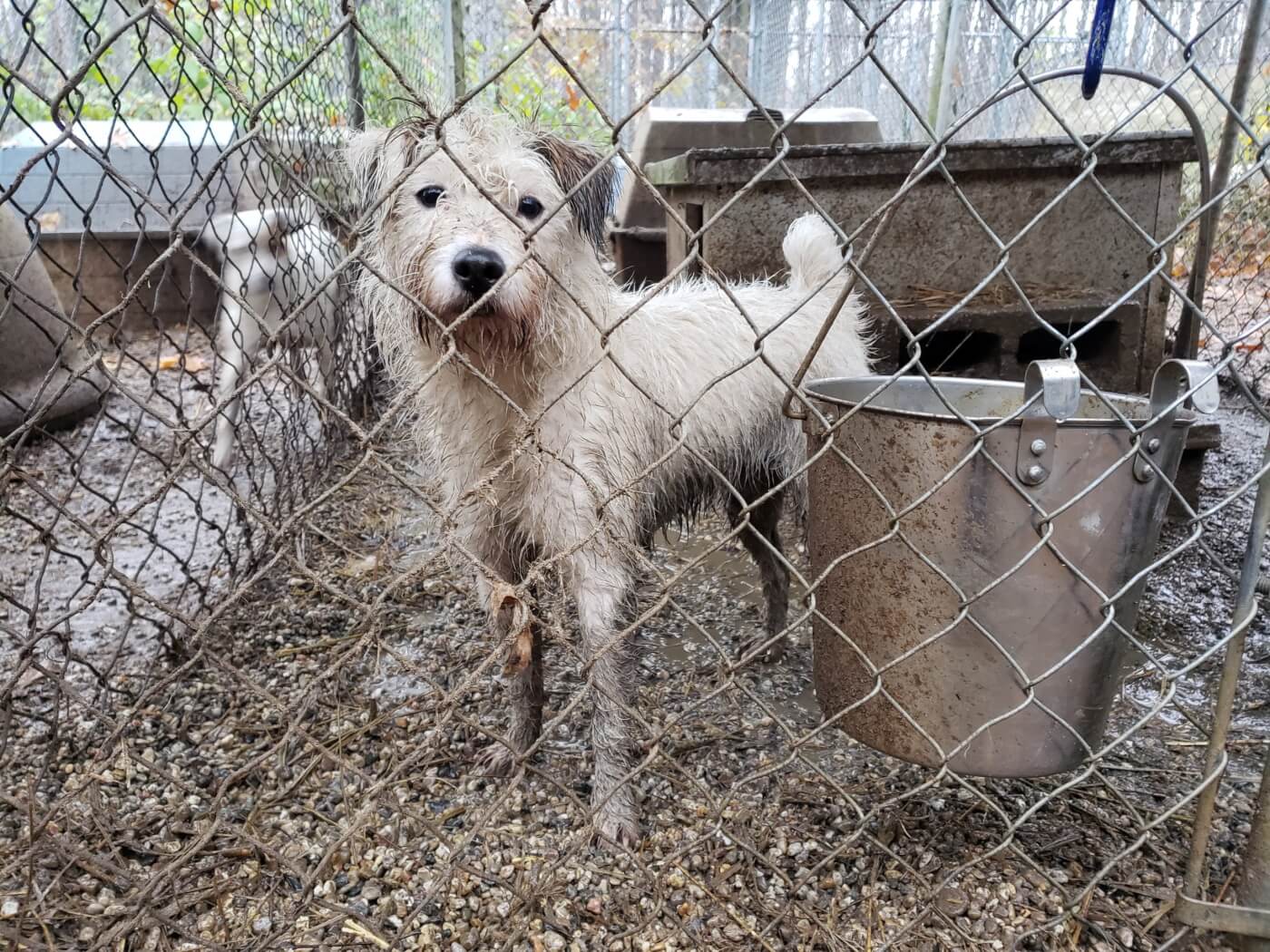 These long-suffering dogs finally found loving homes, and the urine-soaked boxes, the freezing-cold barren outdoor cages, and the breeder's chronic neglect of their basic needs can fade from their memories. PETA celebrated the dogs' new beginning, which was only possible because of our supporters!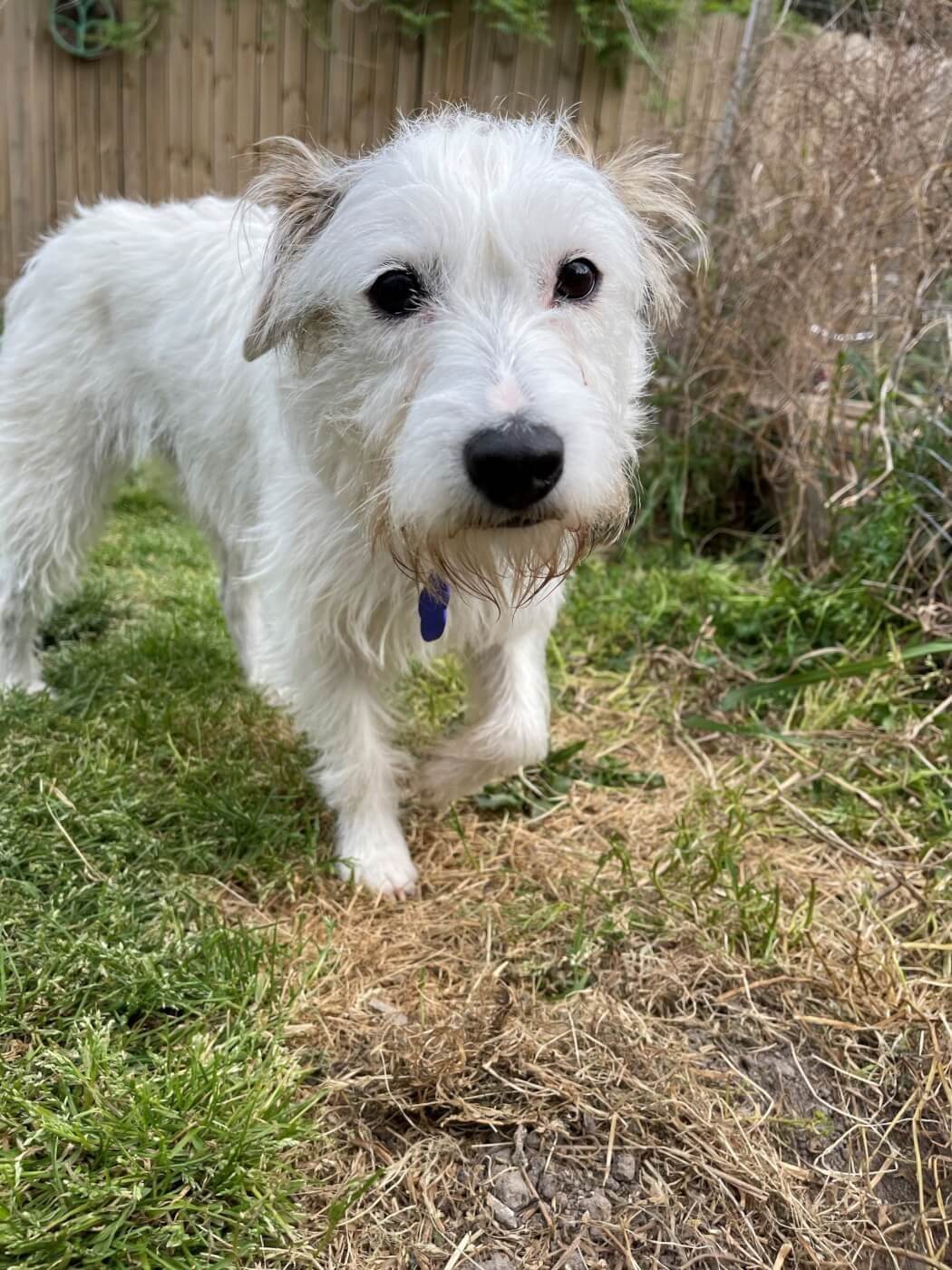 2. Our "Tell Millennium Hotels and Resorts to Stop Sponsoring the Deadly Iditarod" action alert inspired nearly 476,700 actions that led to success in February. Millennium Hotels and Resorts—one of the Iditarod's last major sponsors—confirmed that 2022 was the last year it would sponsor the death race.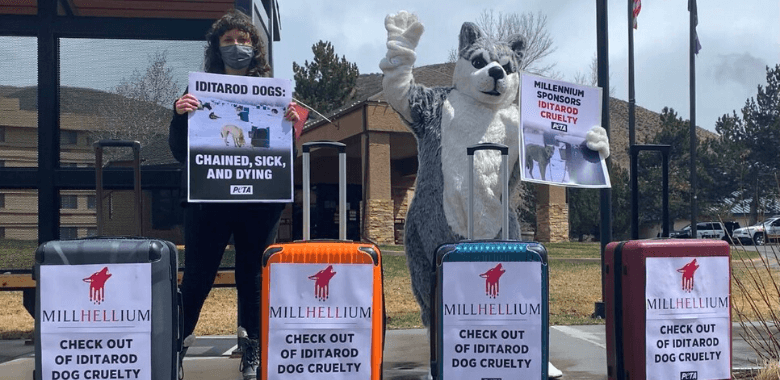 This huge victory for dogs, who deserve better than being run to death for mushers' prize money, followed a tenacious worldwide PETA campaign that we couldn't have won without our devoted supporters, to whom we're beyond grateful.
From worldwide protests & ad campaigns, to emails & phone calls from supporters, the hotel chain couldn't ignore our voices.

Thank you @Millennium_USA for ending your sponsorship of the cruel #Iditarod. pic.twitter.com/tLIAOEOUJc

— PETA (@peta) February 9, 2022
3. Due to the effective response to our Action Team e-mail informing supporters that fireworks terrify animals and explaining how to get them banned from cities, we achieved another encouraging victory. Phoenix, Oregon, banned fireworks from June 22 through December 30, 2022, prohibiting the sale or use of any fireworks in the city during that time.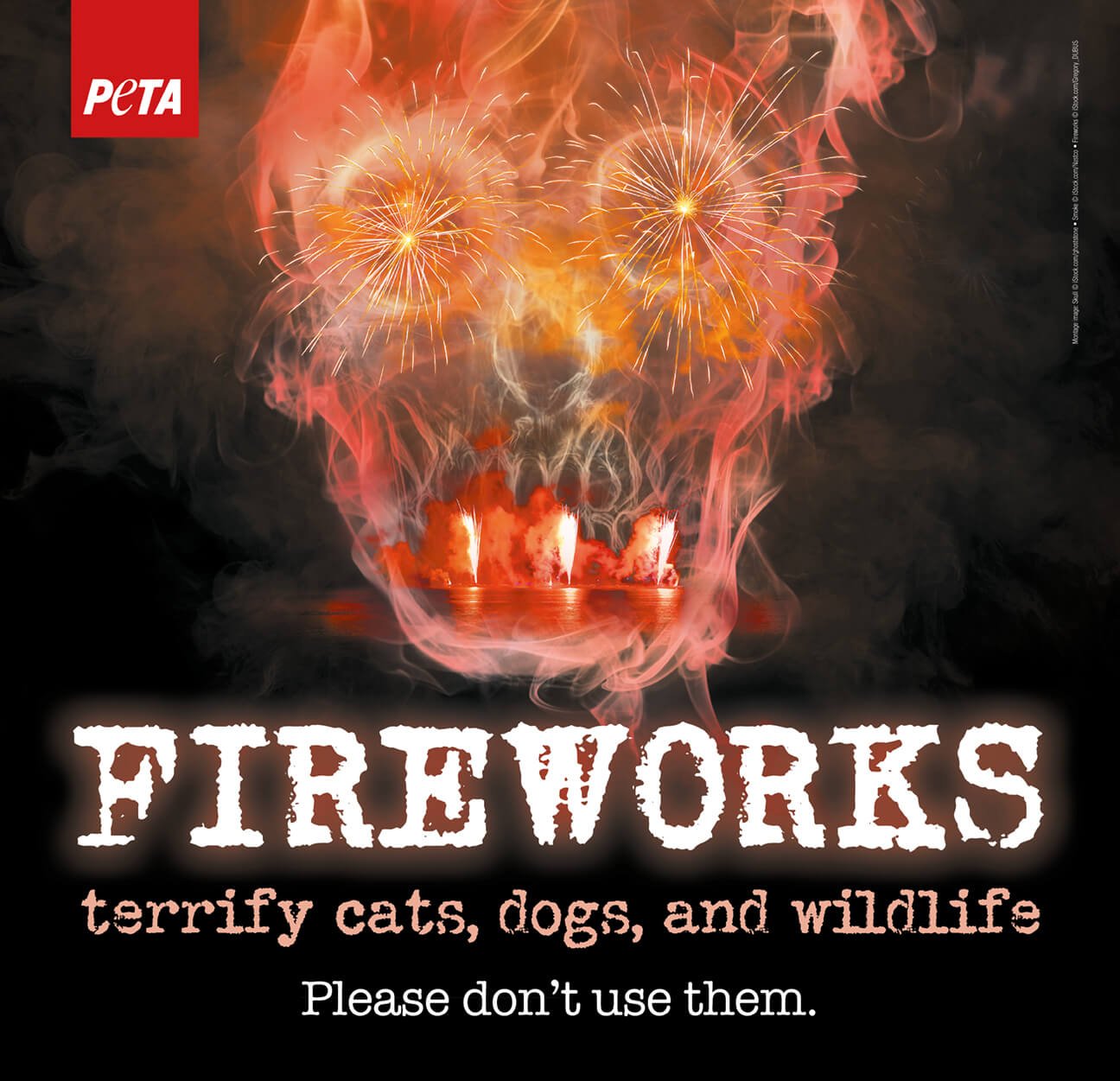 4. Following pressure from PETA and over 95,000 supporters who sent messages, Dollar Tree Inc. banned the sale of glue traps at its more than 8,000 Dollar Tree Canada and Family Dollar stores!
This ban will prevent countless small animals—who are capable of experiencing fear, pain, and stress—from enduring prolonged suffering. A huge thank-you to every PETA supporter who took action on our alert and made this victory possible.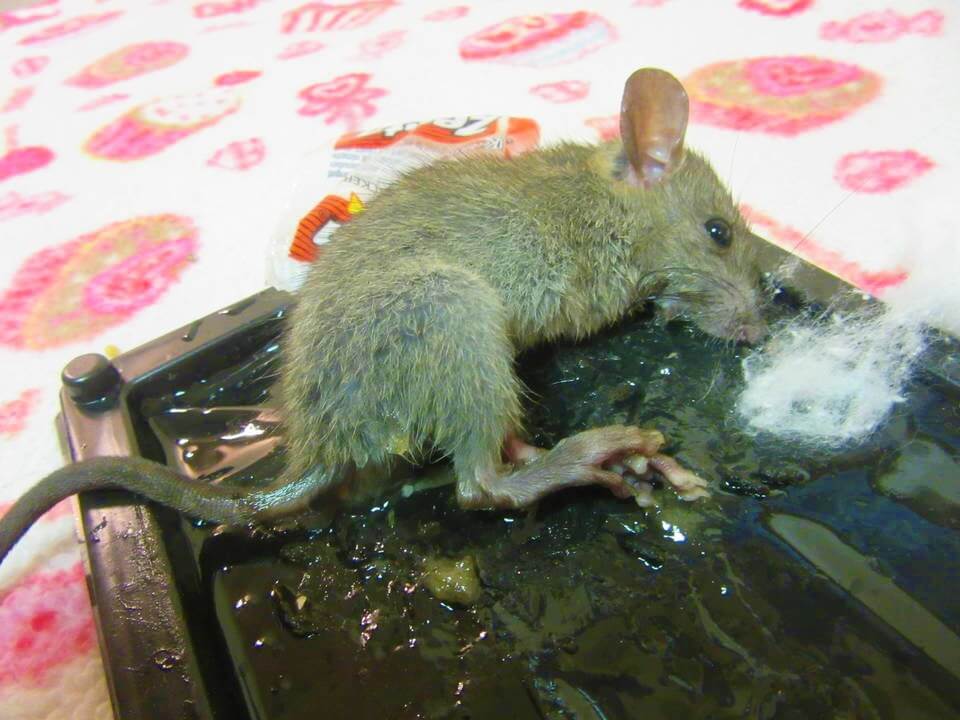 5. With PETA supporters' help via our e-mail alert, declawing cats is now banned in Maryland.
Declawing has already been banned in many countries as well as in some U.S. cities and states. In Europe, it's recognized as a cruel and unnecessary amputation, and as widespread conversation about it flourishes in North America, the list of places where declawing is illegal keeps growing. We appreciate the help of everyone who acted to help keep cats safe from harm in Maryland.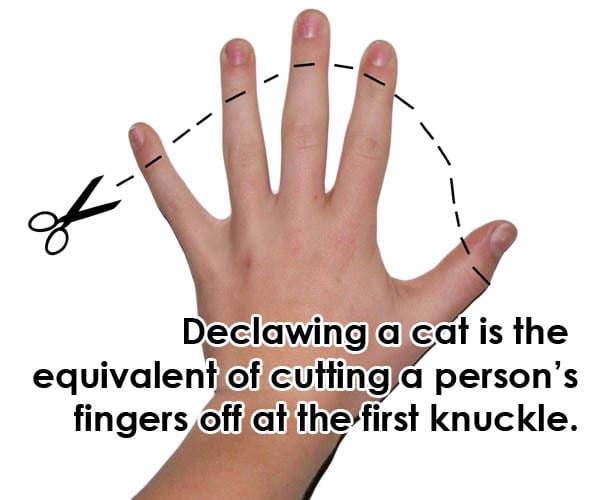 6. In May, due in part to PETA supporters who took action on our urgent e-mail alert asking Dallas residents to help end the sale of dogs and cats, the city now bans pet stores from selling these animals. The ordinance went into effect in November.
This bill passed in the Dallas City Council, and stores like Petland are expected to close in the city. Meant to promote adoption of companion animals and put a stop to puppy mills, the legislation is largely thanks to our e-mail subscribers.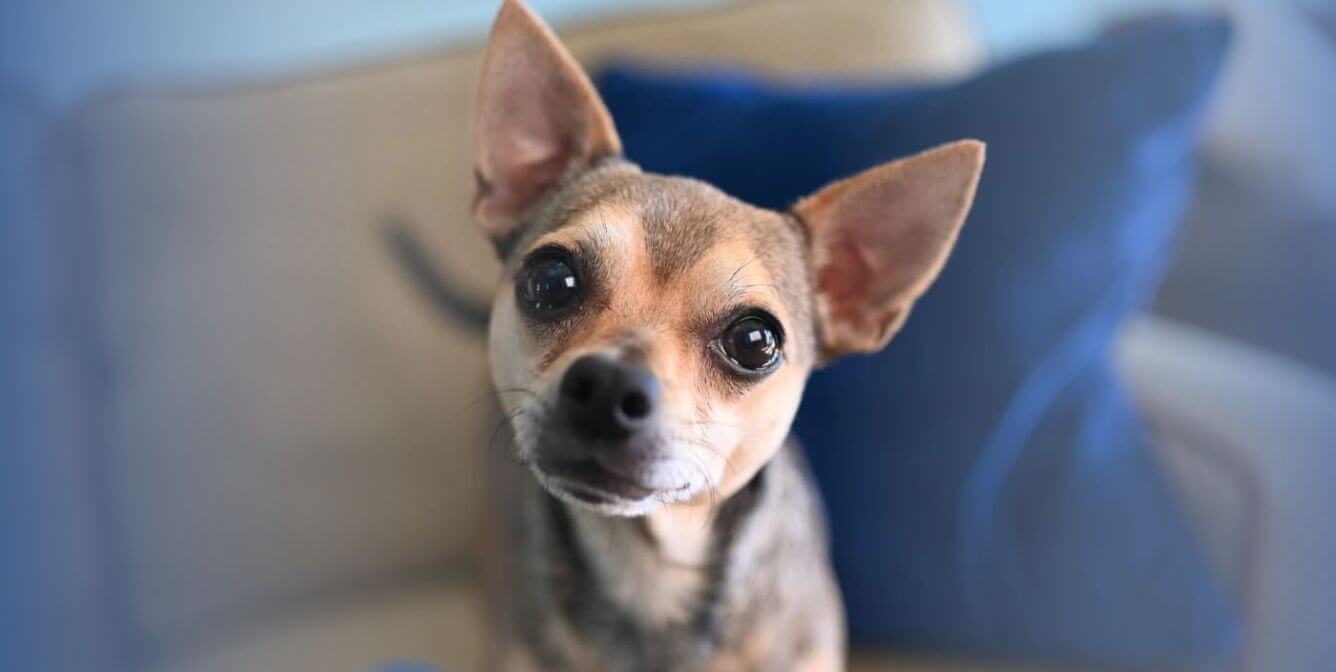 7. Victory in June! After hearing from nearly 86,000 PETA supporters, Walmart cut ties with Chaokoh brand coconut milk. PETA Asia investigators first visited farms in Thailand where monkeys—typically pig-tailed macaques—are forced to pick coconuts, including for Chaokoh, in 2019. Thousands of monkeys have been captured in their natural homes to be used for this labor. They're fitted with rigid metal collars and kept chained or tethered for extended periods. Two more subsequent investigations found that monkeys are still being used by the Thai coconut industry.
Because of our supporters' commitment to action, monkeys in Thailand have a better chance at liberty. Walmart's decision follows our March victory in which supermarket chain Jewel-Osco ended sales of Chaokoh after more than 200,000 e-mails from our supporters and a PETA campaign against its parent company. Despite these victories, action on this issue is still needed!
PETA Asia's 2022 investigation has confirmed that rampant abuse of primates is still going unchecked—and that Thai coconut industry insiders are deliberately hiding monkey labor in their supply chain. Speak up for abused monkeys now.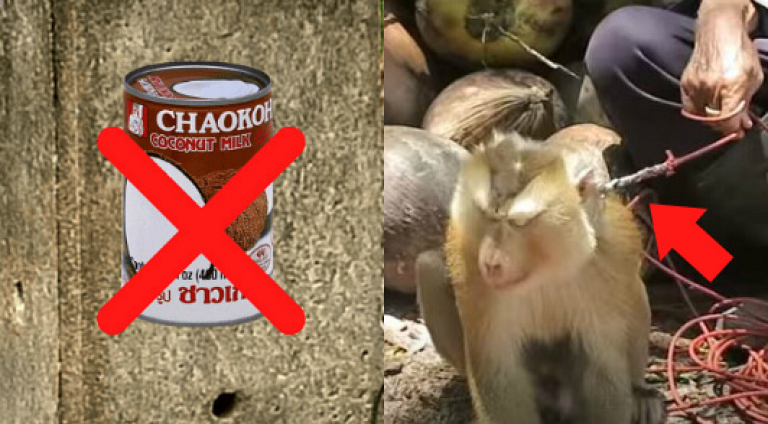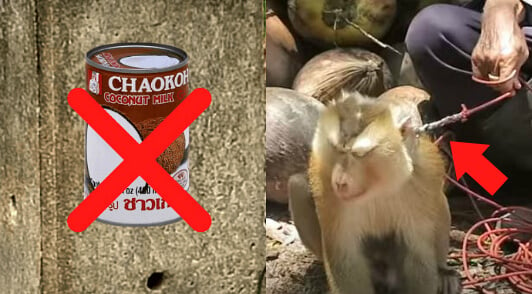 8. After years of pressure from PETA—including more than 300,000 messages from our supporters—American Express removed crocodile-skin bags from its Membership Rewards program in July. As a result of this victory, cardholders will no longer have the option to redeem their points for bags made of crocodile skin.
Although American Express' decision to ditch crocodile-skin products as rewards is a great step toward ending the exploitation of animals used for clothing and accessories, our work must continue. Urge LVMH, Gucci, and Hermès to ban exotic skins from their lines.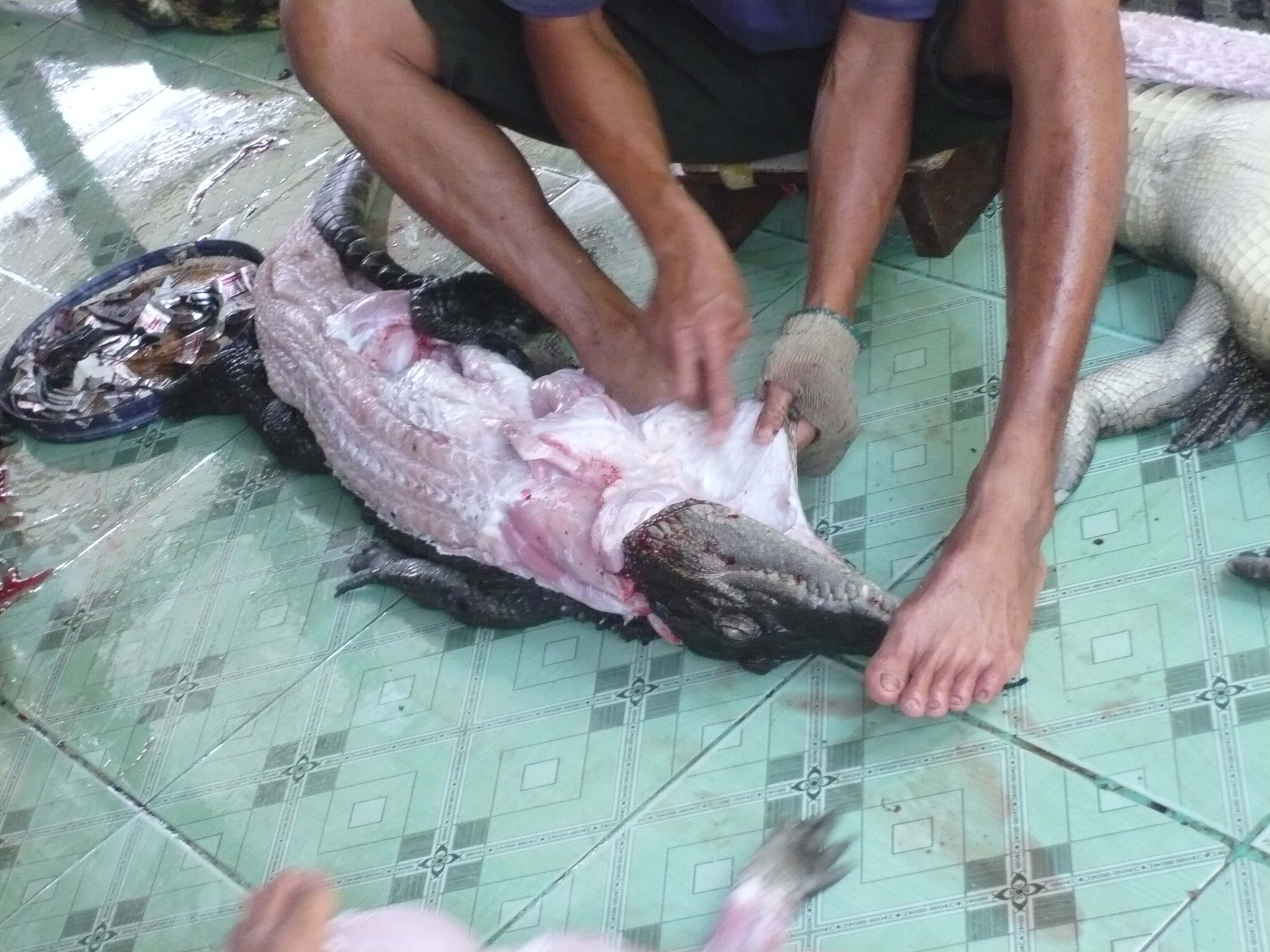 9. Also in July, The Alamo Mission Museum of Franklin County in Mount Vernon, Texas, canceled its annual Turtle Derby & Cookout after more than 17,800 PETA supporters spoke out in behalf of these shy, reclusive animals.
This museum used to encourage folks to remove turtles from nature, decorate them, and then "race" them at the event. Because of our supporters' help, we can now revel in this victory for turtles in Texas!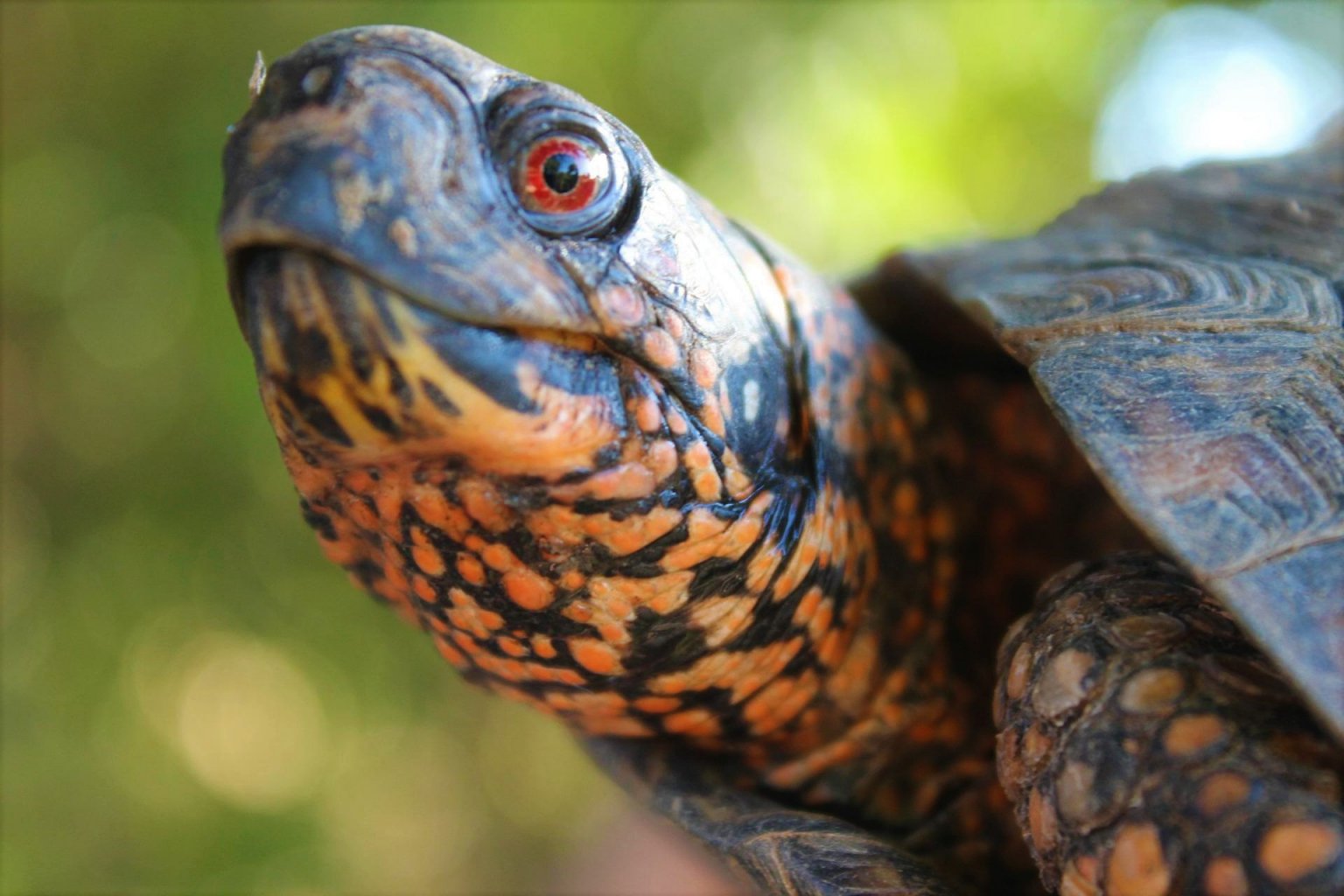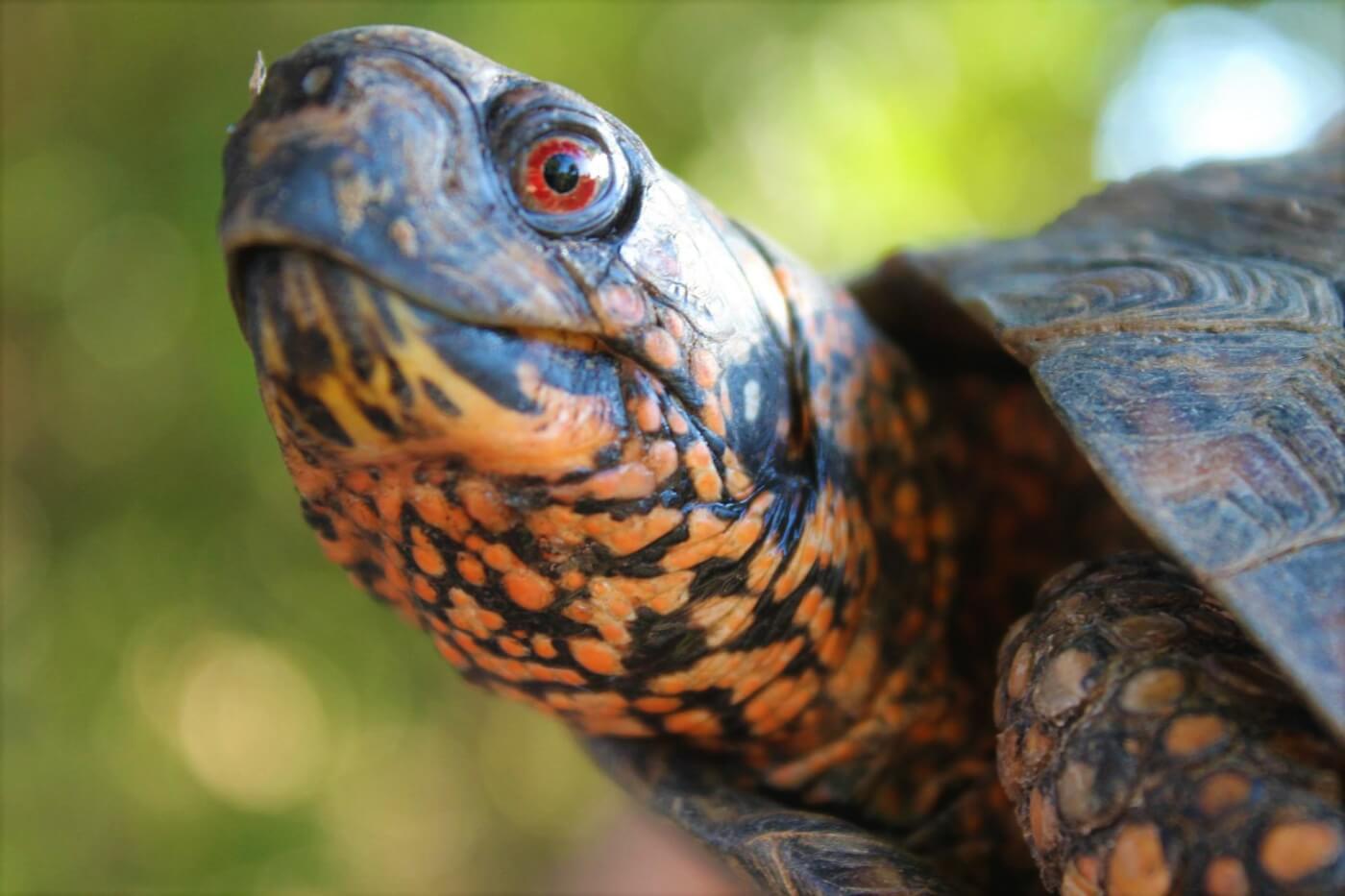 10. We celebrated another huge victory after over 100,000 PETA supporters responded to our action alert "EGYPTAIR: Stop Shipping Monkeys to Their Deaths!" A senior official from EGYPTAIR sent us an e-mail in August announcing that the airline would no longer transport monkeys to laboratories.
This victory followed three months of vigorous worldwide campaigning. PETA entities coordinated dozens of actions in which supporters flooded EGYPTAIR with more than 100,000 e-mails and hundreds of telephone calls asking it to stop shipping monkeys to laboratories, where they would be tormented and killed in experiments.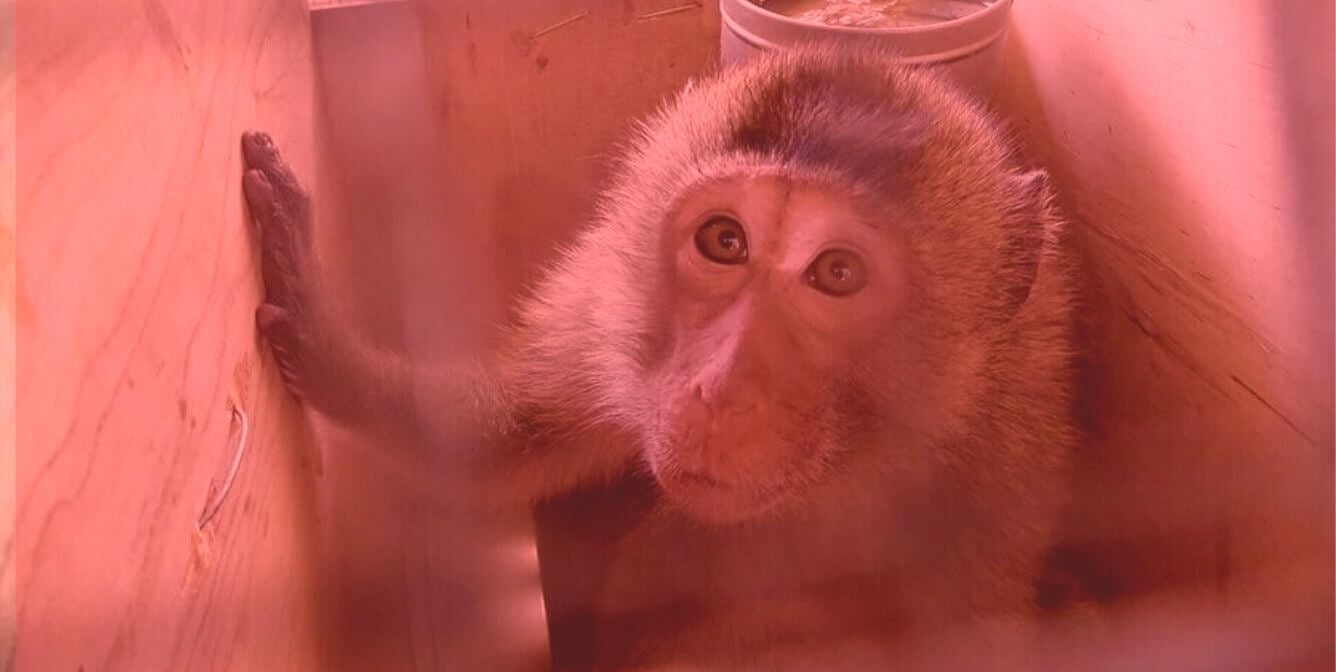 We celebrated many other PETA victories in 2022, including these: Sam's Club no longer sells tickets to SeaQuest, Victoria's Secret and Overstock.com dropped cashmere, American Greetings ended sales of damaging chimpanzee cards, and we rescued 72 animals from Tri-State Zoological Park. We hope you'll read more about them and get even more engaged by taking action online, making phone calls, signing up for our texts, attending our demonstrations, and more.
End of Year and New Year's Goal: Be a PETA Supporter Who Gets Active for Animals
Help us finish 2022 with effective action. And let's make 2023 "Twenty Twenty-We" by working together to achieve more victories than ever before. We encourage you to take action on our site and share action alert pages you use with everyone you know so we can continue to grow our database of PETA supporters.
While you're at it, check out our most urgent action alerts by clicking below. Here's to a compassionate new year filled with plenty of new animal defenders!