Update (July 7, 20022): The Alamo Mission Museum of Franklin County in Mount Vernon, Texas, has canceled its annual Turtle Derby & Cookout. Thank you to everyone who spoke out in behalf of these shy, reclusive animals and to the museum for its compassionate decision.
Disappointingly, The Alamo Mission Museum of Franklin County in Mount Vernon, Texas, has apparently been encouraging folks to remove turtles from nature, decorate them, and then "race" them at its annual Turtle Derby & Cookout, which is scheduled for July 9.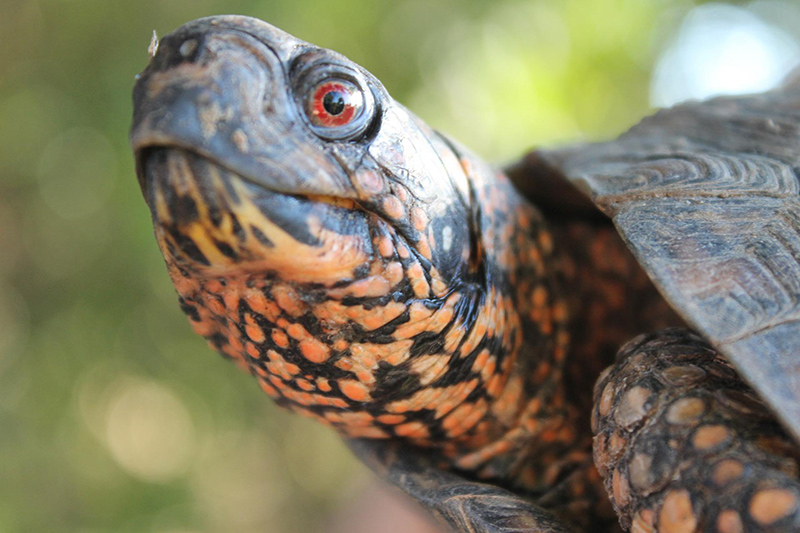 Turtle-racing events typically involve removing wild turtles from their habitats, keeping them confined, changing their diets, otherwise traumatizing them, and either releasing them or killing them once the events are complete. Competitors at the races make loud noises to scare them in an effort to encourage them to move faster. Turtles only move quickly when they believe their lives are in danger. Although we don't know exactly what would become of those used at this specific "derby," turtles exploited in such events typically aren't returned to the same place they were found, which decreases their likelihood of survival. Passing turtles around among humans or housing them together, a common practice when they're used for such events, risks infection. Painting a turtle's shell can significantly damage their lungs and respiratory system, hinder their exposure to sunlight (which they need to produce vitamin D), leak toxic chemicals into their bloodstream, and harm them in other ways.
Please politely urge museum officials to scrap this cruel event and leave the turtles in peace in nature, where they belong!
Please feel free to use our sample letter, but remember that using your own words is always more effective.