Update (June 7, 2022): Victory! After hearing from PETA and thousands of concerned shoppers, Walmart has cut ties with Chaokoh!
Please keep the momentum going by urging 99 Ranch Market to reconsider its business relationship with Chaokoh.
Update (March 29, 2022): Supermarket chain Jewel-Osco has ended sales of Chaokoh brand coconut milk following more than 200,000 e-mails from PETA supporters and a PETA campaign against its parent company.
Update (June 17, 2021): Grocery giant Kroger has suspended its purchases of Chaokoh coconut milk following PETA's campaign and investigations into forced monkey labor.
Update (May 11, 2021): Raley's supermarkets have joined Albertsons and Target in dropping Chaokoh after hearing from PETA about monkey labor in its supply chain.
---
It may come as a surprise to many that monkeys are forced to pick the coconuts used in many coconut milk products. In 2019, PETA Asia investigators visited farms in Thailand where monkeys—typically pigtail macaques—are forced to pick coconuts and went to several monkey-training facilities and a coconut-picking competition. Thousands of monkeys have been captured from their natural homes and forced to pick coconuts. They're fitted with rigid metal collars and kept chained or tethered for extended periods. PETA Asia investigators returned in 2020 and found that monkeys are still being used and that Chaokoh and the Thai ambassador to the United States have not only failed to take meaningful action to end the use of forced monkey labor but are instead touting a misleading and inadequate audit system to lie to companies and consumers about the extent of forced monkey labor in the Thai coconut industry. Inspections are virtually pointless since monkeys may only be taken to the farms during harvesting.
The monkeys' miserable existence is perpetuated by the Thai government's failure to hold the industry accountable.
Wild pigtail macaques live in large family groups. They share meals, groom each other, and have an intricate communication system.
When forced to harvest coconuts, these keenly intelligent primates are denied the opportunity to move about freely and socialize with others. Driven to desperation, they pace and circle endlessly on the barren, trash-strewn patches of dirt where they're chained.
Ethical Grocers Take a Stand
Despite being alerted to the ugly origins of Chaokoh coconut milk, Walmart continues to sell Chaokoh products.
This refusal to take a position against cruelty to animals stands in contrast to the decision made by more than 33,000 stores to cut ties with coconut milk brands that use coconuts picked by monkeys. After being alerted to the situation by PETA, Kroger, Target, Super King Markets, Wegmans, Nam Dae Mun, and Cost Plus World Market decided to stop selling the Chaokoh brand of coconut milk.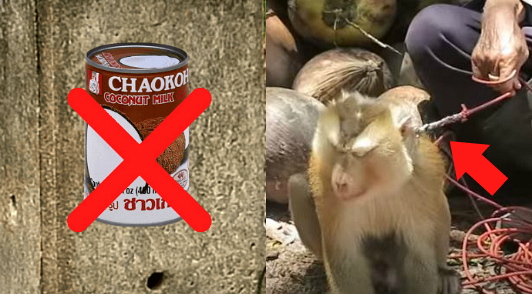 Humane Methods in Play
Other coconut-growing regions—including Brazil, Colombia, and Hawaii—harvest coconuts using humane, non-animal methods such as tractor-mounted hydraulic elevators, willing human tree-climbers, rope or platform systems, or ladders, or they plant dwarf coconut trees. Studies have shown that these methods are superior to using monkeys, who can't distinguish between ripe and unripe fruit, and the ripe coconuts get bruised when the animals drop them to the ground.