Declawing has already been banned in many countries as well as in some U.S. cities and states. In Europe, it's recognized as a cruel and unnecessary amputation, and as widespread conversation about it flourishes in North America, the list of places where declawing is illegal keeps growing.
What Is Declawing?
"Declawing" is a deceptively named surgical mutilation of cats' paws usually performed electively on healthy cats for human convenience. Although the term may sound innocuous, it's a barbaric procedure—cats' claws are integrated into their fingers, and removing them is the equivalent of cutting off a human's fingers at the top knuckle.
This typically unnecessary and cruel amputation requires that cats relearn how to walk. Walking on the affected legs remains painful for the rest of their lives and permanently disables them, affecting their balance and climbing abilities. As a result of their chronic pain and weakened defenses, declawed cats suffer from mental anguish and are fearful in situations in which they were once confident.
Thankfully, more and more people understand the grave harm declawing presents to animals, and no veterinarian worth their salt would ever declaw cats.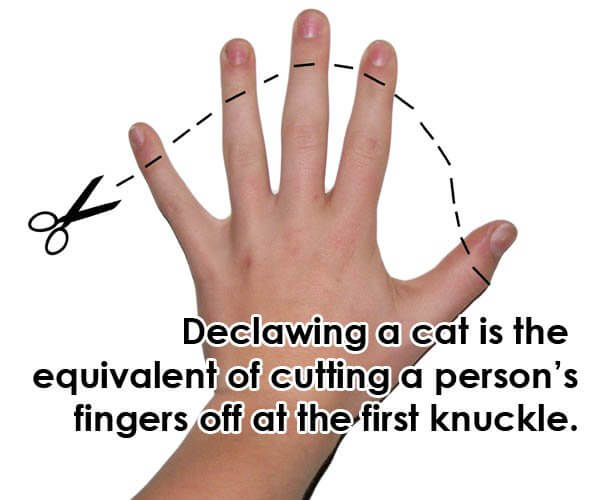 U.S. States With Declawing Bans
Only two states in the U.S. have successfully passed declawing bans so far—Maryland (2022) and New York (2019). But the tide is turning, and several states are making progress on introducing legislation that would make declawing illegal.
Cities in the U.S. With Declawing Bans
These U.S. cities have become leaders in compassionate cat care by outlawing declawing procedures:
Allentown, Pennsylvania
Austin, Texas
Berkeley, California
Beverly Hills, California
Burbank, California
Culver City, California
Denver, Colorado
Los Angeles, California
Madison, Wisconsin
Pittsburgh, Pennsylvania
St. Louis County, Missouri
St. Louis, Missouri
San Francisco, California
Santa Monica, California
West Hollywood, California
Countries Where Declawing Is Illegal
In these countries, declawing operations are either illegal or only available in cases of "severe injury or disease of the claw," in which case the procedure would help the animal regain comfort in a disabled paw and promote good health:
Australia
Austria
Belgium
Bosnia and Herzegovina
Brazil
Bulgaria
Cyprus
The Czech Republic
Denmark (does not apply to Greenland or the Faroe Islands)
England
Finland
France
Germany
Greece
Ireland
Israel
Italy
Latvia
Lithuania
Luxembourg
Macedonia
Malta
Montenegro
The Netherlands
New Zealand
Northern Ireland
Norway
Portugal
Romania
Scotland
Serbia
Slovenia
Spain
Sweden
Switzerland
Turkey
Ukraine
Wales
Where Is Declawing Banned in Canada?
Canada has made great progress on declawing bans, as eight of its 10 provinces have banned the procedure:
Alberta
British Columbia
Manitoba
New Brunswick
Newfoundland and Labrador
Nova Scotia
Prince Edward Island
Saskatchewan
Québec (effective February 2024)
Learn More About Cats' Needs
Cats need vocal advocates in places where declawing hasn't been banned yet. Unless it's medically necessary, declawing should never be done. If you ever have the opportunity to intervene in someone's decision to put their feline companion through this hell, start a conversation.
Most people are horrified when they discover what declawing really is. Declawing bans are a direct consequence of people learning more about cats—most loving human companions don't want to mutilate their friends.
---
When it comes to understanding cats, there are many feline cues we humans miss. PETA President Ingrid Newkirk's book 250 Vital Things Your Cat Wants You to Know: The Cat Guardian's Bible has plenty of valuable advice that will help you better understand the felines in your life.
As an Amazon Associate, PETA earns from qualifying purchases. If you buy something after clicking the Amazon links on this page, a percentage of the qualifying purchase will be donated to PETA and help us protect more animals from exploitation.