BREAKING: Millennium Hotels and Resorts—one of the Iditarod's last major sponsors—has confirmed that 2022 is the last year it will sponsor the death race. This huge victory for dogs, who deserve better than being run to death for mushers' prize money, follows a tenacious PETA campaign that we couldn't have won without your support.
From worldwide protests & ad campaigns, to emails & phone calls from supporters, the hotel chain couldn't ignore our voices.

Thank you @Millennium_USA for ending your sponsorship of the cruel #Iditarod. pic.twitter.com/tLIAOEOUJc

— PETA (@peta) February 9, 2022
Millennium Hotels had sponsored the Iditarod for nearly 30 years. But with ads placed from Alaska to New York and protests held from Paris …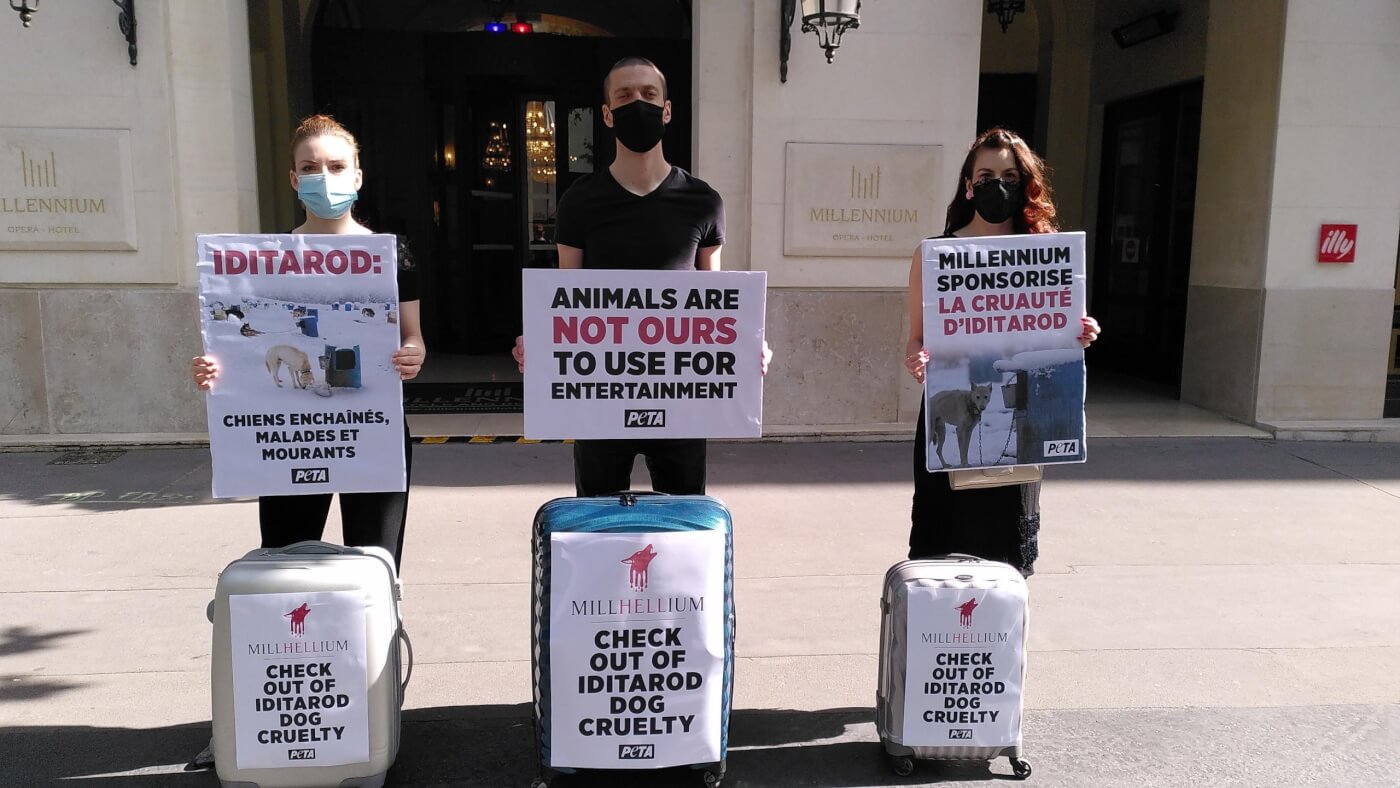 … to Manila …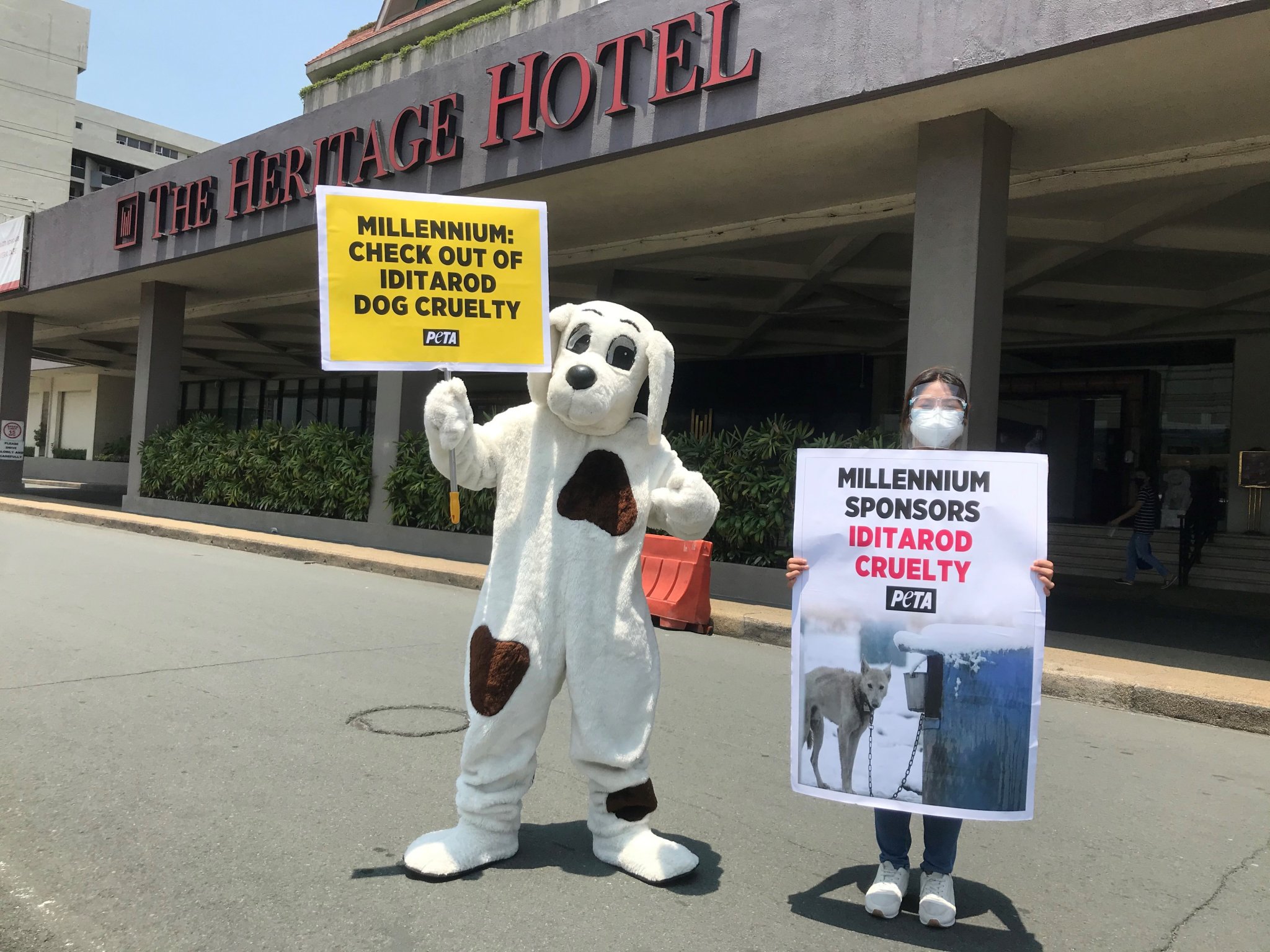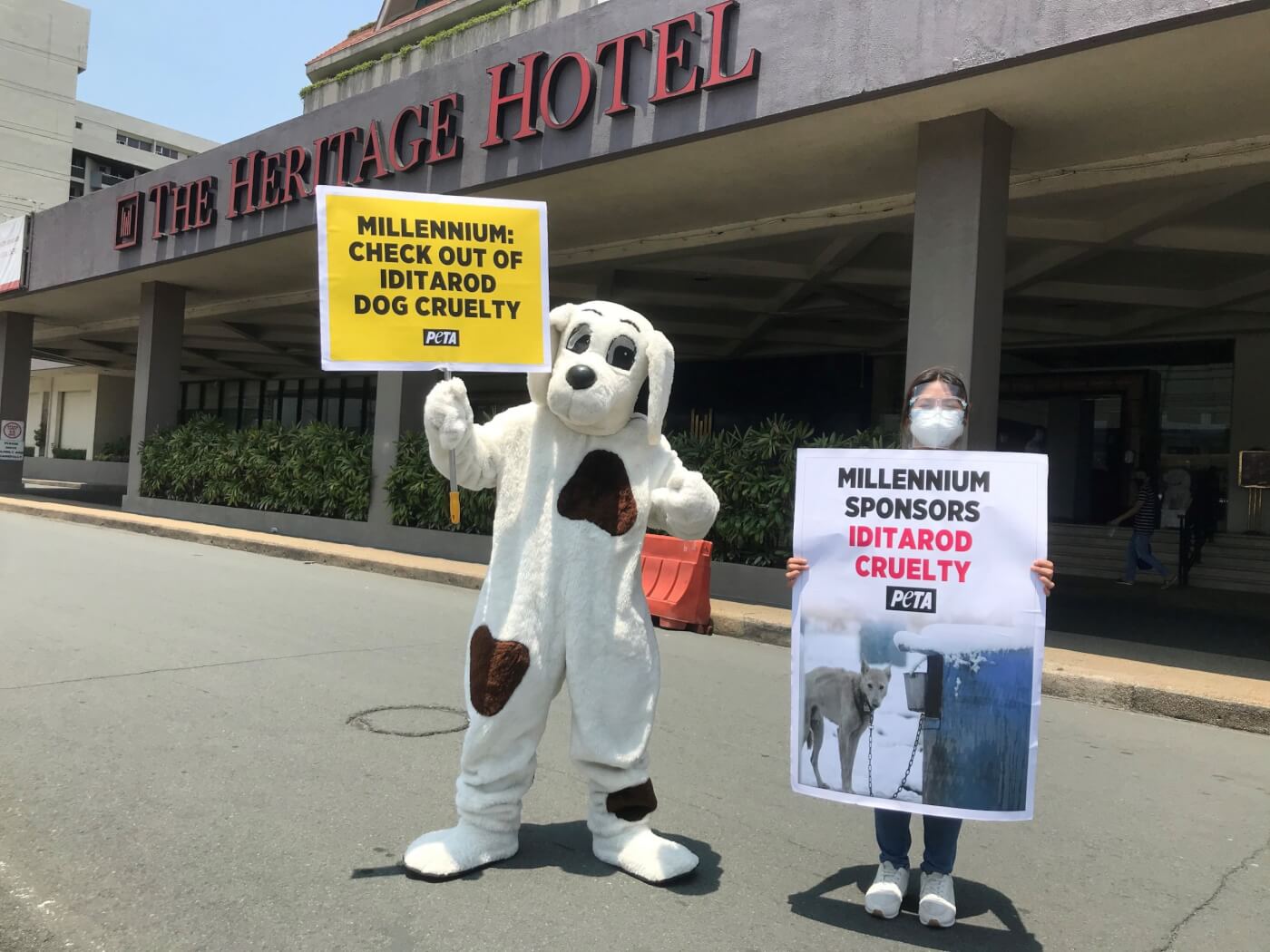 … and with the help of hundreds of thousands of supporters like you, we put the hotel chain on blast. And it worked! Together, we made the Iditarod's cruelty to dogs impossible to ignore and gave Millennium Hotels no choice but to end its support of the deadly event. We put up bus ads in Anchorage, Alaska, ahead of the race …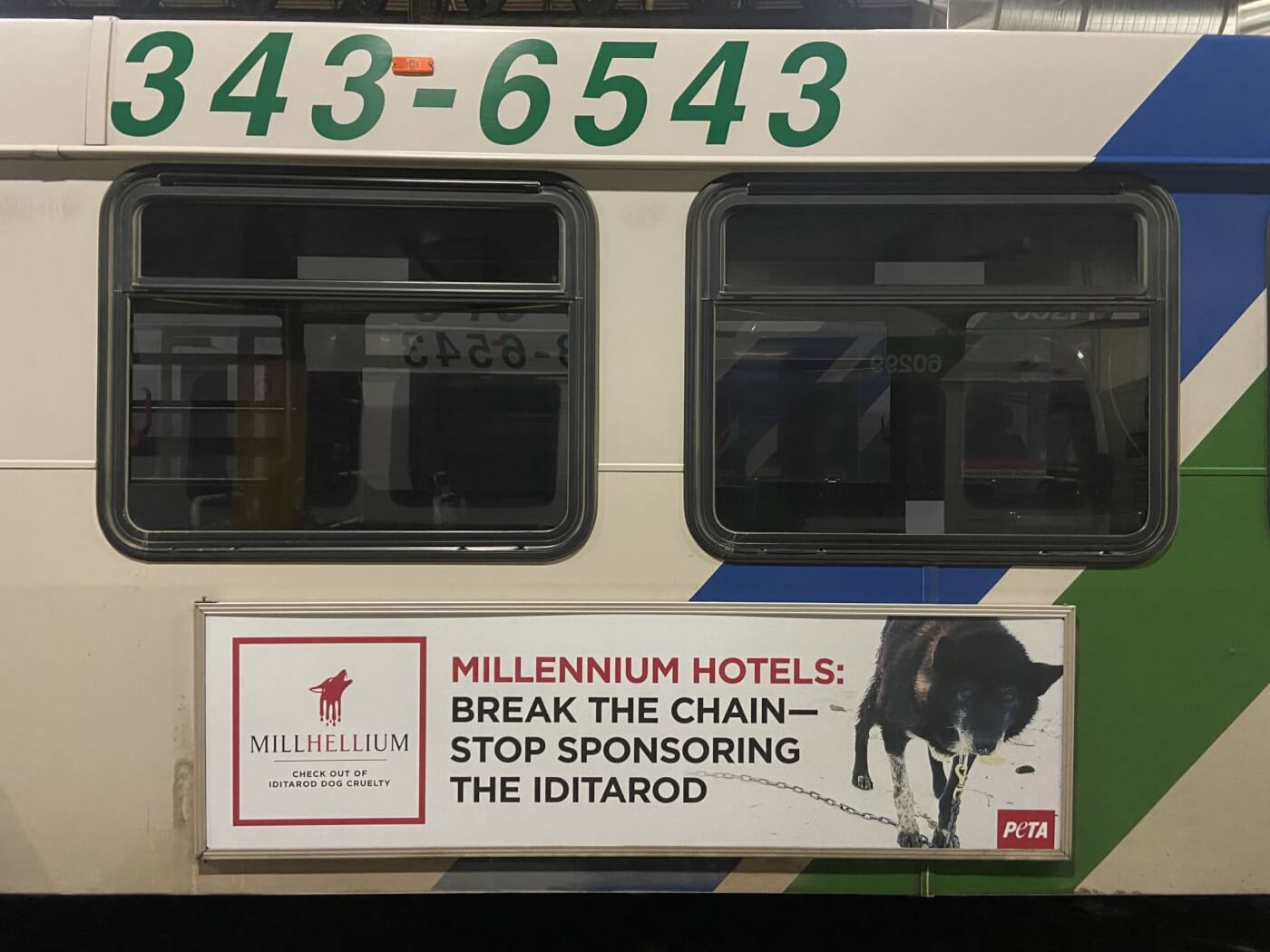 … placed print ads in hospitality magazines, erected a billboard near the chain's New York City Times Square hotel …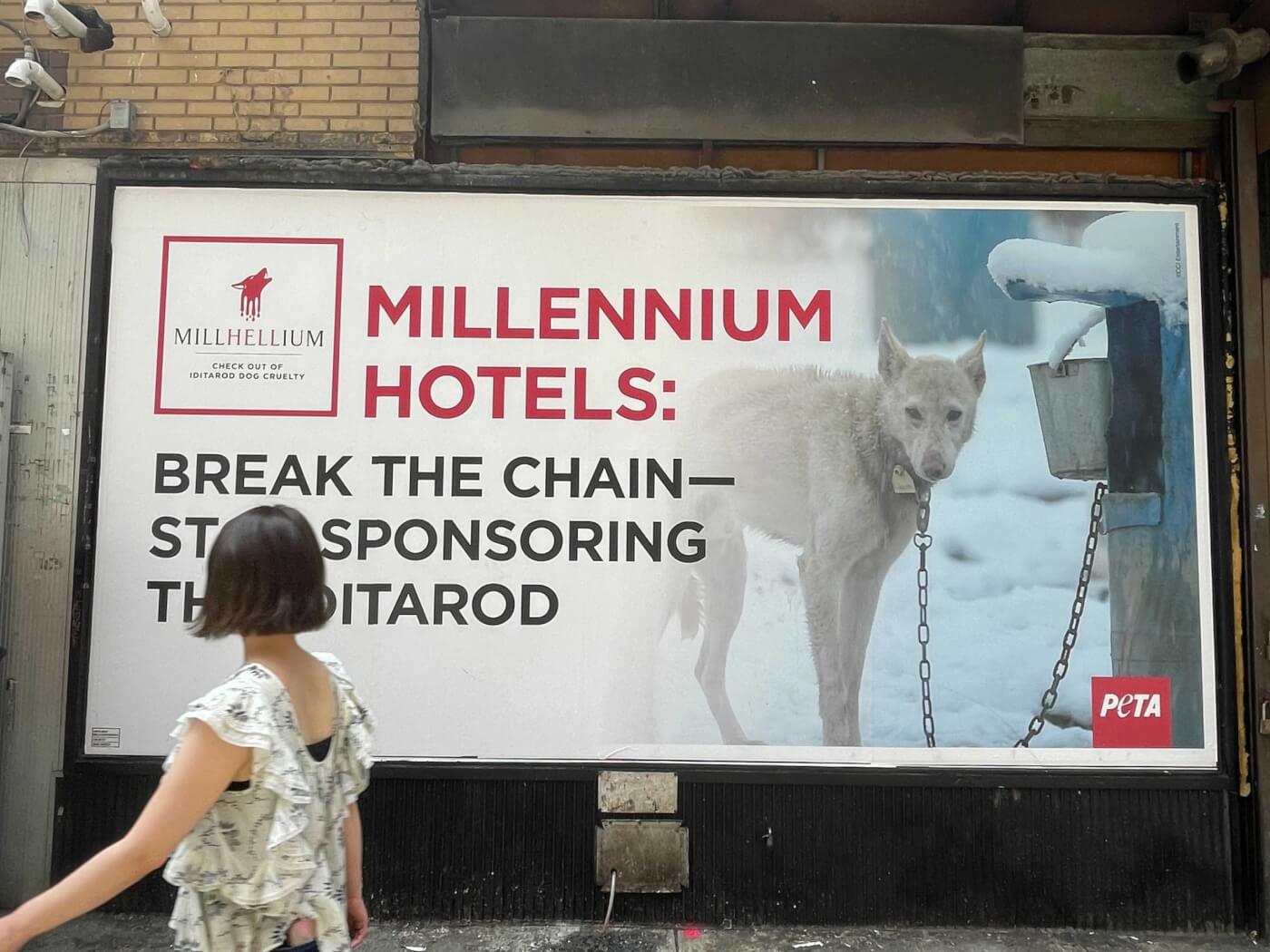 … and launched a flyposting campaign with the street artist Praxis: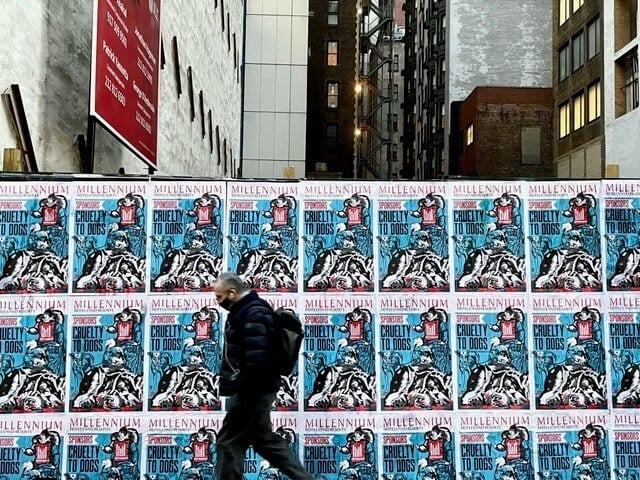 We held dozens of spirited protests at Millennium hotels worldwide, including in Anchorage …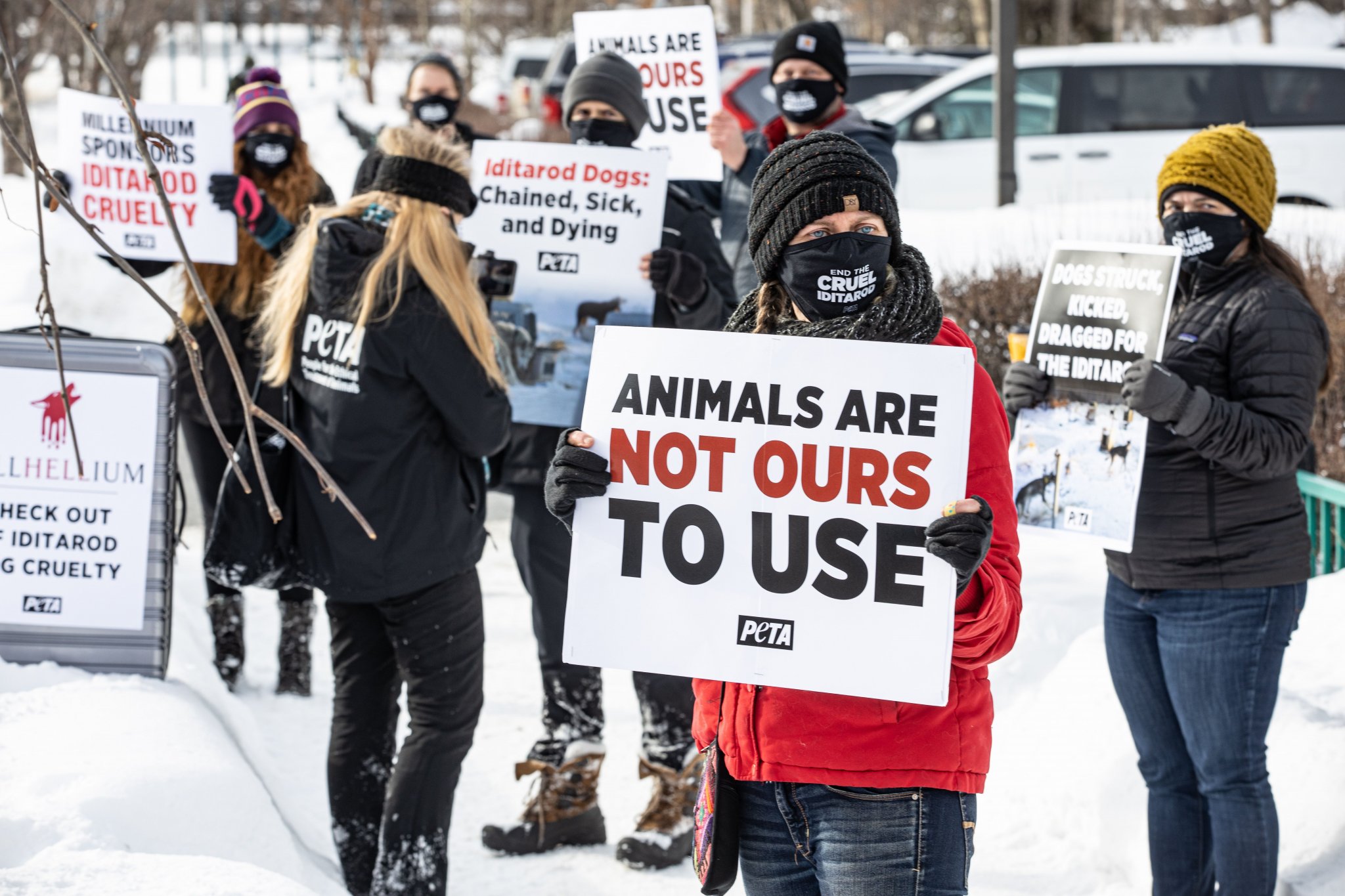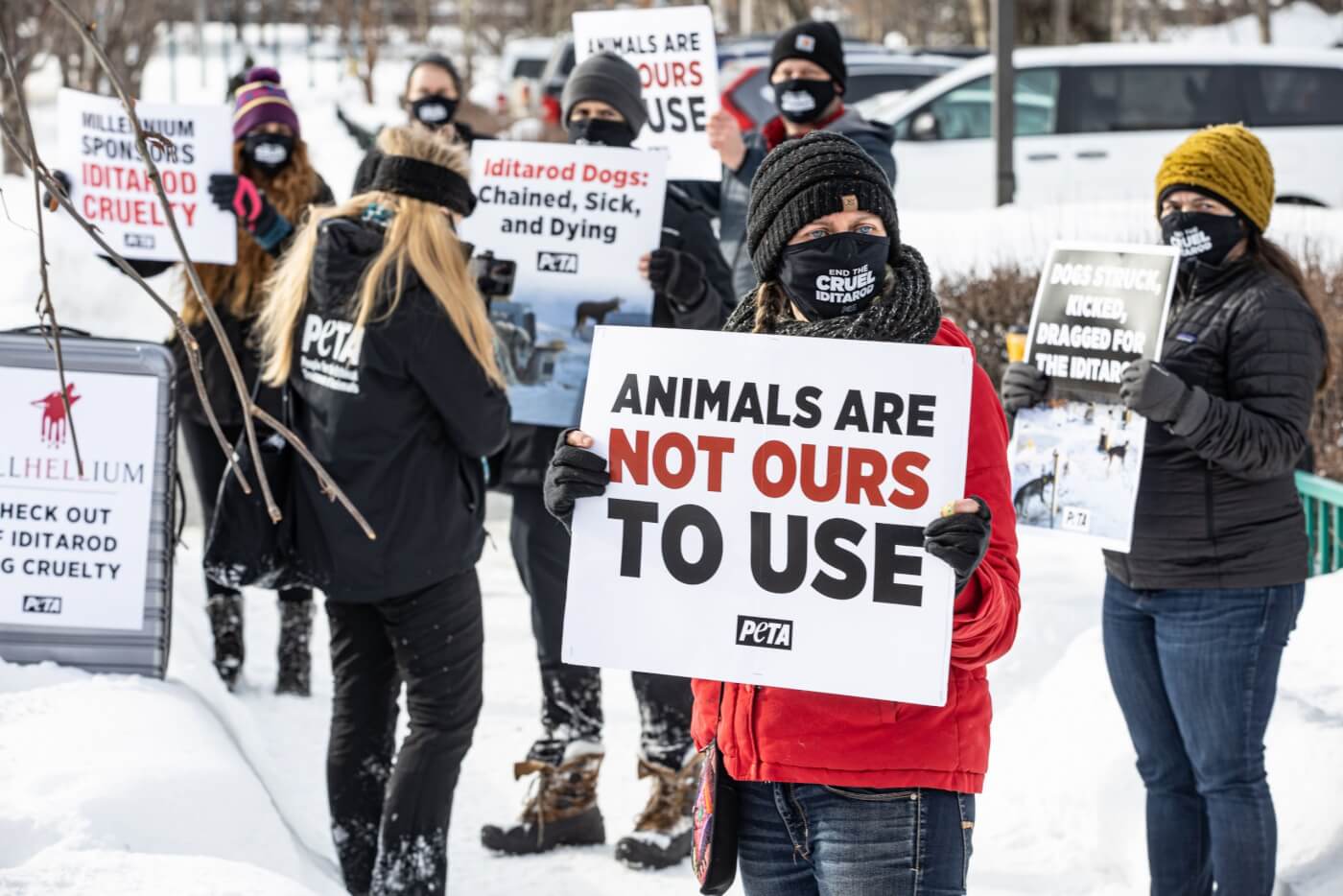 … and Boulder and Avon, Colorado …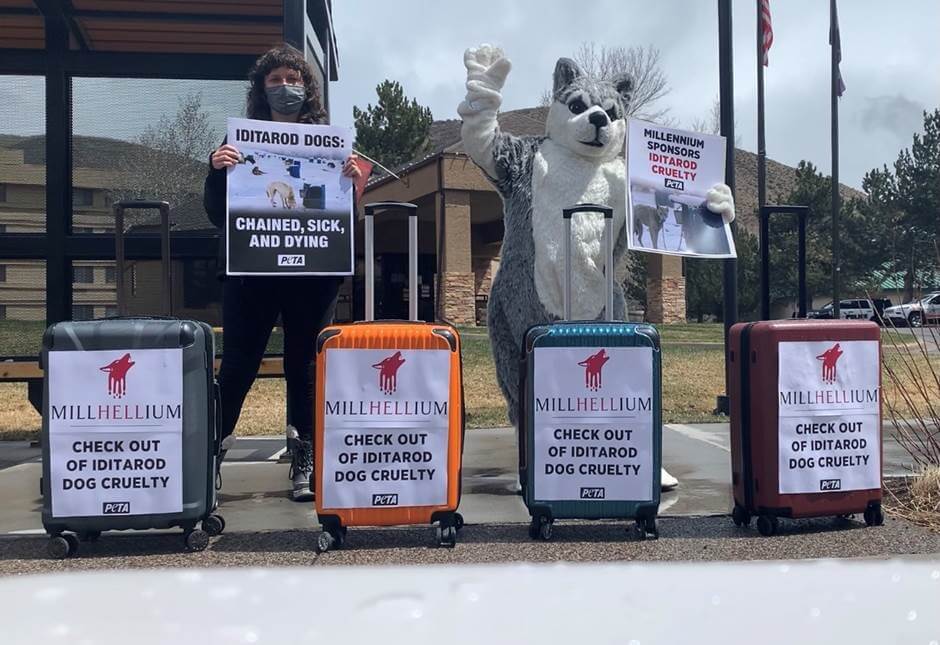 … as well as in Boston; Durham, North Carolina; Los Angeles …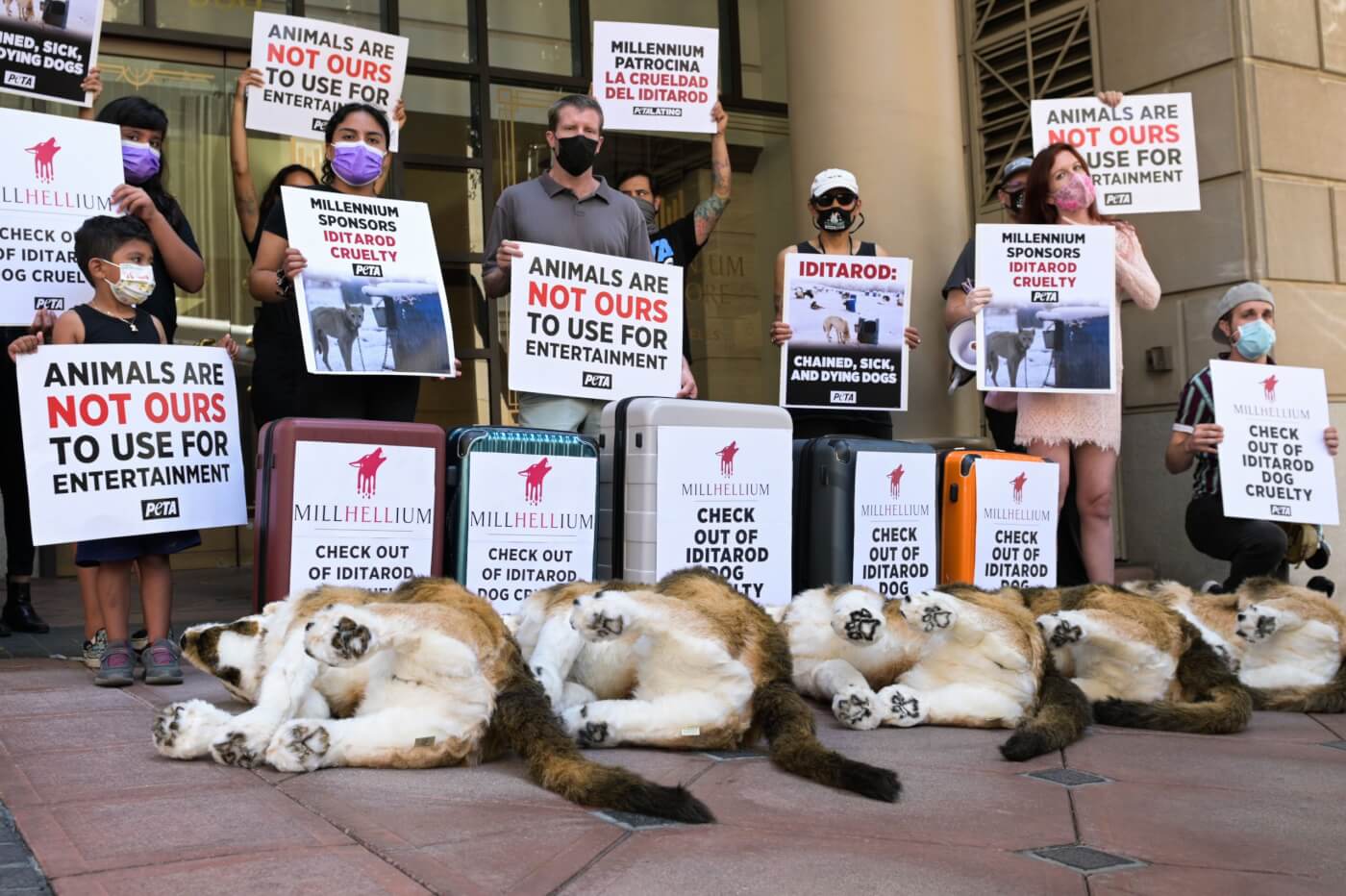 … Minneapolis; Nashville, Tennessee; Scottsdale, Arizona; and New York City.
We took to the Internet to keep the pressure on the chain, too, including by urging our millions of followers to take action for dogs …
Over 150 dogs have died because of the Iditarod.

Tell @millennium to pack its bags & check out of cruelty! https://t.co/a29Vnd2cKl

— PETA (@peta) August 16, 2021
… and by holding a week of action: "Let's make sure Millennium is the next to drop its sponsorship!" we said last year. And because of your help, we got there. Millennium Hotels will soon join the growing list of companies (including ExxonMobil, Chrysler, Alaska Airlines, Coca-Cola, and Jack Daniel's) that have listened to PETA and the public and stopped supporting a cruel industry in which dogs are chained up, dogs like Snickers, whom a PETA eyewitness observed limping and suffering from chronic, painful arthritis during an exposé …
… and forced to run so far and so fast that their bodies break down, their paws bleed, or they die after inhaling their own vomit.
In response to the news that Millennium Hotels is ending its sponsorship, PETA turned a planned February 10 protest at the Millennium Knickerbocker Hotel Chicago into a victory party! PETA and Chicago Alliance for Animals supporters in party hats celebrated and rallied passersby to give a round of appaws to Millennium Hotels: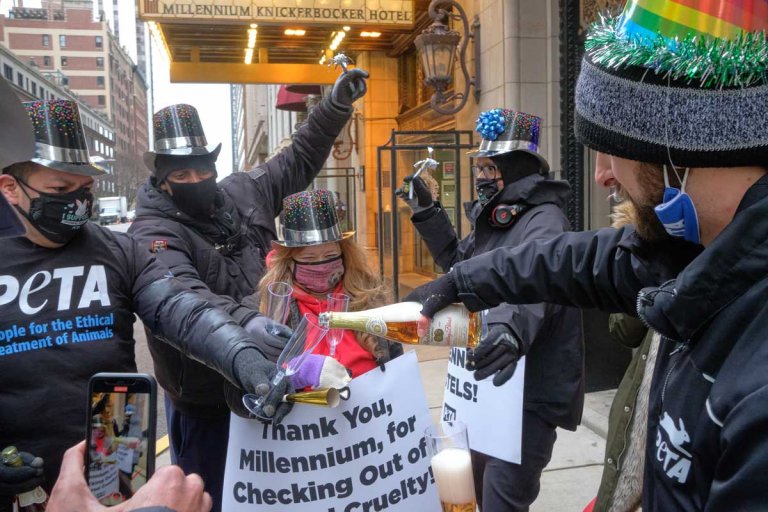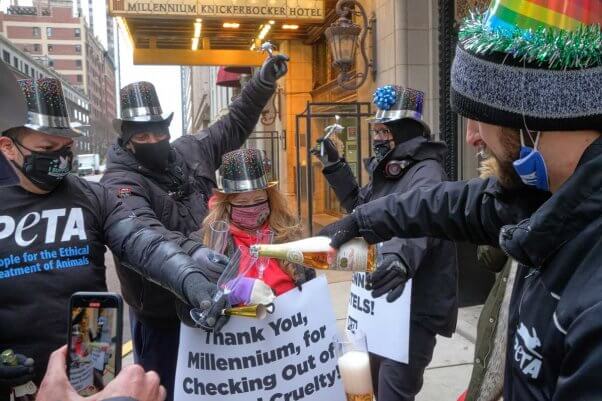 PETA Executive Vice President Tracy Reiman weighed in ahead of the bash:
The champagne corks will be popping in the Windy City tomorrow over the news that Millennium Hotels and Resorts is checking out of the Iditarod's cruelty to dogs. PETA is celebrating this huge blow to the vile dog-sled industry and will now turn its attention to the shrinking number of sponsors that are still willing to bankroll a race that has run dogs to their deaths.
More than 150 dogs have died during the Iditarod since it began, and that doesn't include those who died in the off-season or who were killed because they weren't fast or fit enough to make the grade. Dogs used in the race are forced to pull heavy sleds across approximately 1,000 miles of grueling terrain, through blinding blizzards and subzero temperatures. During the 2021 race alone, nearly 200 dogs were pulled off the trail because of exhaustion, illness, injury, or other causes. However, despite the death toll and a public outcry—and even though ex-sponsors have been running for the hills—CEO Rob Urbach and his colleagues still plan to hold the cruel event in less than a month.
Together, we've persuaded Millennium Hotels to stop funding cruelty. With your help, we can make even more of a difference for vulnerable dogs.
Wells Fargo, State Farm, Panasonic, and others have ended their support of the Iditarod after hearing from PETA and you—so let's put the pressure on GCI, owned by Liberty Media, to follow suit. Click below to urge the internet service provider to do the right thing for dogs: