"Hug a Shed and Take a Selfie" Day
"Sneak Some Zucchini Into Your Neighbor's Porch" Day (We actually support this one because it's vegan!)
Out of all the ridiculous "days" that pop up on social media throughout the year, it's National Cheese Day that really makes us gag—because cheese is essentially moldy stomach lining, and like all animal-derived dairy products, it contains pus from cows whose udders get bacterial infections when they're treated like milk machines by the dairy industry. Cows are loving mothers who celebrate the birth of their calves and express anxiety and sorrow when they're separated. In the dairy industry, cows' milk and babies are stolen from them so that humans can consume dairy "products." In addition to being extraordinarily cruel, this is also extremely unhealthy for humans and terrible for the environment.
Despite the myths some folks like to believe, vegans are in no way deprived of indulgences. In fact, there are more vegan cheese options than ever before, as major chains from Whole Foods to Trader Joe's now carry an abundance of vegan brands.
To celebrate National [Vegan] Cheese Day PETA-style, we're drawing inspiration from some of the most beautiful and beloved figures in Hollywood, sports, and music who will be opting for only animal-free cheese, today and all the other days of the year.
Natalie Portman
Natalie Portman is one of Hollywood's most dedicated vegans, and she loves sharing healthy, animal-friendly recipes on her popular Instagram account:
Tabitha Brown
The queen of TikTok and of our hearts, Tabitha Brown shows her millions of social media followers just how easy and delicious eating vegan can be. Check out her easy recipe for a vegan sausage, egg, and cheese sandwich:
Two of Hollywood's biggest talents on screen, this vegan pair often use their time off screen to speak up for animal rights (see, for instance, Phoenix's epic Oscar acceptance speech calling out the dairy industry):
Jermaine Dupri
This hip-hop legend goes above and beyond when it comes to encouraging his family, friends, and fans to go vegan:
Jessica Chastain
This A-lister has been cheese-free for over 14 years and even managed to get her mother to go vegan after she saw how great it made her feel:
will.i.am
The founding member of The Black Eyed Peas calls himself "violently vegan" and has even started dropping vegan references in his latest tracks:
Kyrie Irving
This NBA star and Beyond Meat ambassador was crowned one of PETA's Most Beautiful Vegan Celebrities in 2019:
https://twitter.com/peta/status/1101211950741184513?s=20
Madelaine Petsch
This Riverdale redhead has been vegan since she was 14, and she starred in a gorgeous PETA campaign ad urging fans to "turn over a new leaf" by ditching dairy, eggs, and animal flesh: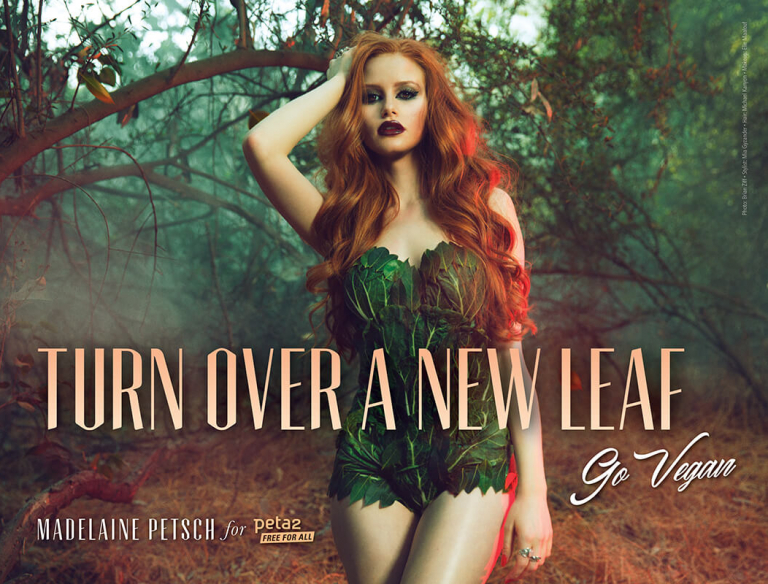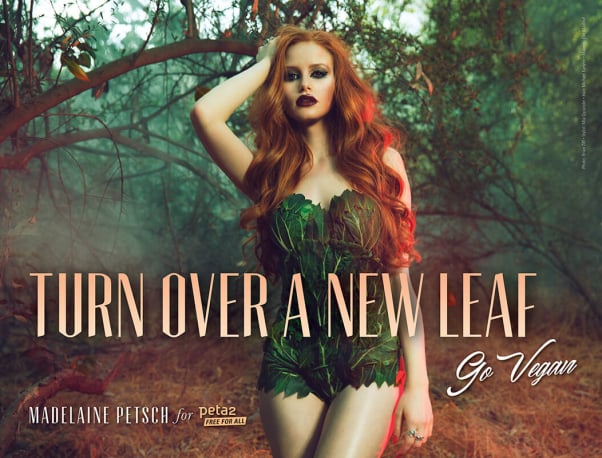 Ava DuVernay
The barrier-breaking filmmaker of 13th and When They See Us, who was also PETA's Most Beautiful Vegan Celebrity in 2018, views going vegan as a social justice issue:
Ava DuVernay is a barrier-breaking filmmaker and one of PETA's Most Beautiful #Vegan Celebrities of 2018. Her dedication to social justice issues is inspiring ❤️ #BlackVegansWhoInspire #BlackHistoryMonth @ava pic.twitter.com/FgQnDjADAi

— PETA (@peta) February 16, 2019
Woody Harrelson
The beloved star once said that "if people ask me about dairy I'll go on a little dissertation." The Texas native also showed compassion for pigs when he joined PETA to urge the state's governor to ban cruel "wild hog catch" events:
RZA
The rapper, producer, filmmaker, and vocal vegan knows that humans are no different from animals in any important way: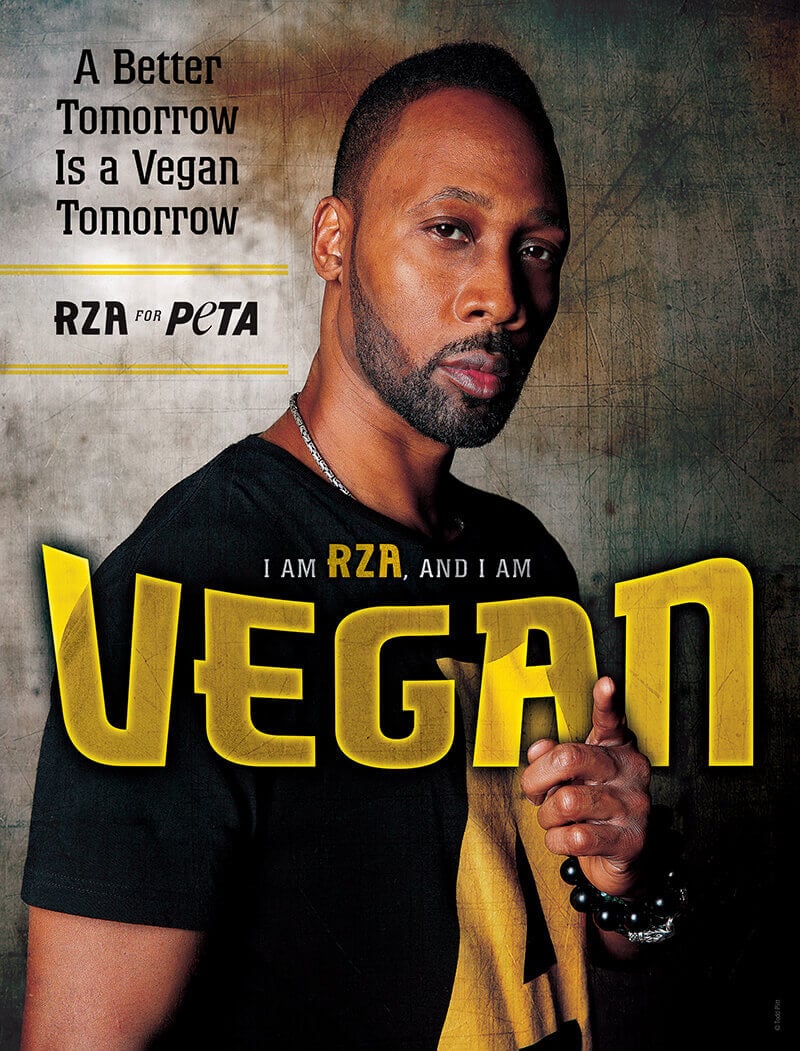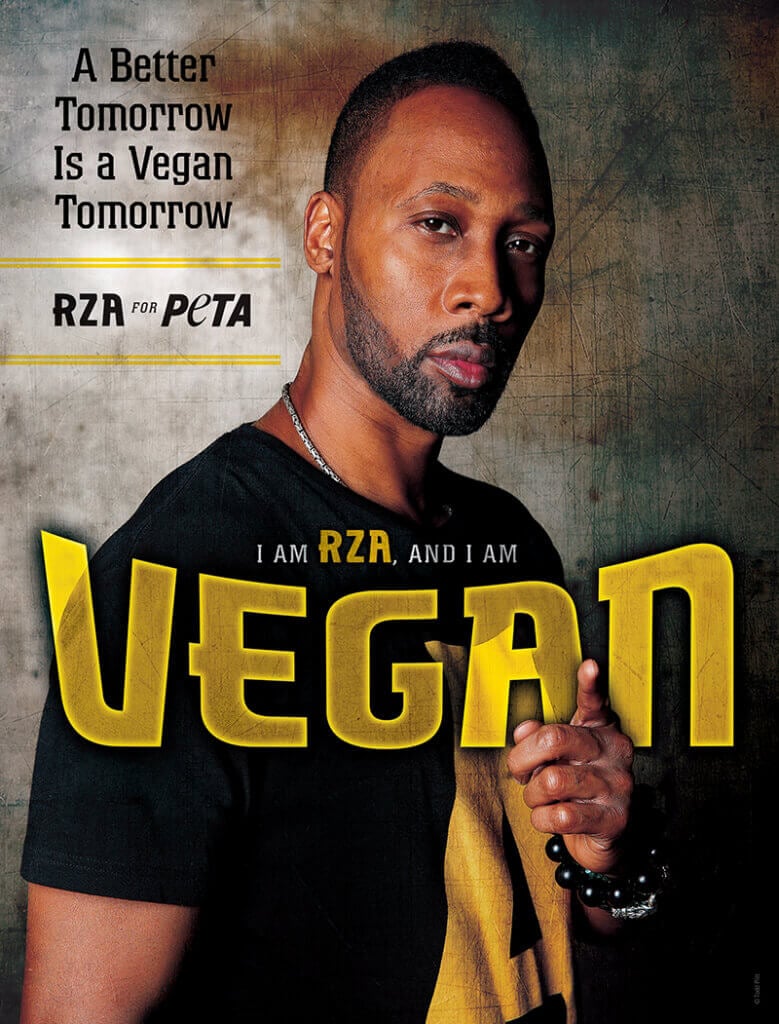 Sadie Sink
The 18-year-old Stranger Things actor was inspired to go vegan by her Glass Castle costar Woody Harrelson and told Elle UK, "I realized what goes on in the egg industry, and the dairy industry, so then I was like, 'That's it! Going vegan!'":
Chris Paul
The nine-time NBA All-Star and Beyond Meat ambassador told the Houston Chronicle that he gave up eating animals in the summer of 2019:
"What I put in my body matters now more than ever." See why @CP3 chooses to #GoBeyond.

— Beyond Meat (@BeyondMeat) January 3, 2020
Julio Torres
The Salvadoran comedian, actor, and activist, known for his very dry delivery, often talks about his vegan lifestyle in his standup act and hilarious Twitter feed:
I always get vegan ice cream from this place that I KNOW makes it too sweet bc honestly complaining is half the fun 🙂

— julio torres ~* (@juliothesquare) September 17, 2016
Cynthia Erivo
The Nigerian-British actor and singer is on her way to getting an EGOT and was also awarded an Oscat from PETA:
Her powerful portrayal of legendary freedom fighter Harriet Tubman made waves around the world.

For being a badass both on and off screen, #vegan actor @CynthiaEriVo wins the #PETAOscats Best Actor award! pic.twitter.com/NrJdzOvh8h

— PETA (@peta) January 30, 2020
Lewis Hamilton
The British Formula One driver's Instagram bio says it all: "[Plant] Based Diet. Love Animals." PETA U.K.'s 2018 Person of the Year is helping the world cut out dairy and all animal-derived foods by backing the world's first international vegan burger chain and producing vegan documentaries like The Game Changers:
https://twitter.com/peta/status/1220452183264714759
Kate Mara
Kindness clearly runs in the Mara family, as Kate shares her sister Rooney's compassion for animals. The new mom knows that cows make milk for their babies, not for humans. She also loves vegan cheese so much that Bon Appétit wrote an entire article about it:
Jenna Dewan
This vegan mom and former PETA campaign star knows that cow's milk is for baby cows, not humans:
Russell Brand
The British comedian and podcast host said that in addition to his respect for animals, he was "nudged" to go vegan by the meat and dairy industry lobbying highlighted in the documentary What the Health: