The 2020 awards season is underway, and this year, it's all about animals! From the Golden Globes, Critics' Choice, and SAG awards shows all going vegan to films using computer-generated imagery (CGI) instead of real animals, 2019 was a good year for animal rights in Hollywood.
For the third year running, PETA's Animals in Film and Television Division is honoring the filmmakers, performers, and crewmembers who showed compassion for animals with the annual PETA Oscats. This year's awards include traditional categories like Best Picture and Best Actor as well as some unique categories like Best "Bad Guy" and Best Movie Starring Cats Without Using Any Cats. (We leave it to you to guess which film won that one.)
Don't look at us — we advocate for #SpayAndNeuter. #CatsMovie pic.twitter.com/nbEoGxDSgn

— PETA (@peta) December 21, 2019
And now, the Oscat goes to …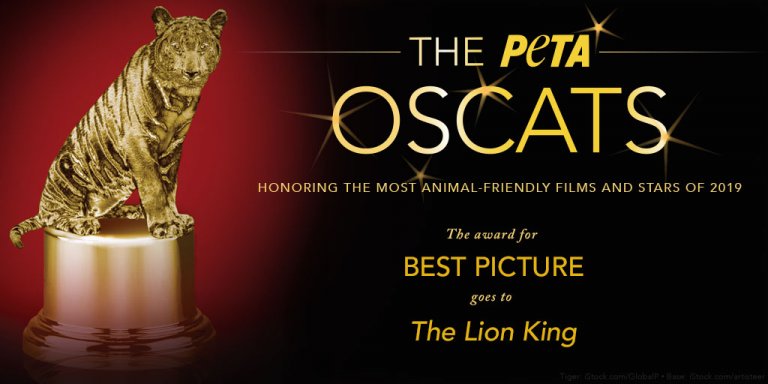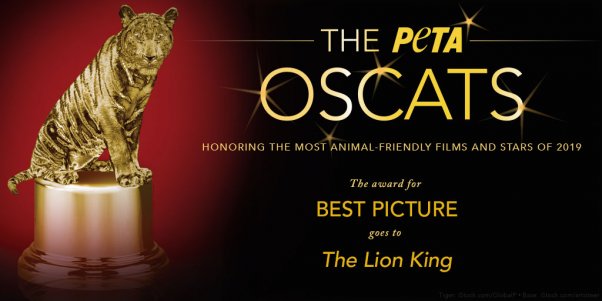 Lions, warthogs, meerkats, and other animals are singing "Hakuna Matata," thanks to director Jon Favreau's use of breathtaking computer-generated animals instead of real ones in this spectacular remake. A real lion named Louie, who was rescued from the entertainment industry, is also feeling the love: To thank Favreau for his compassionate choice, PETA sponsored Louie's care at a sanctuary, where he's treated like the king he is!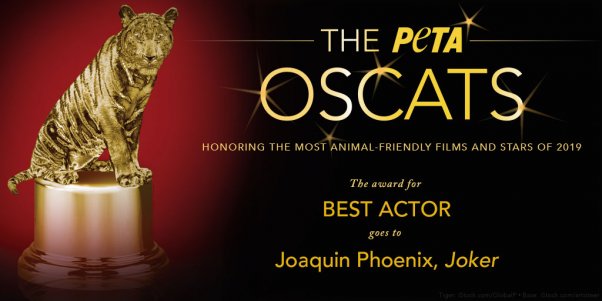 Best actor, best activist, best friend to animals—Joaquin Phoenix is triple threat. A vegan since he was 3 years old, Phoenix has been advocating for animals nearly his entire life. "When we look at the world through another animal's eyes, we see that inside we're all the same—and that we all deserve to live free from suffering," he says.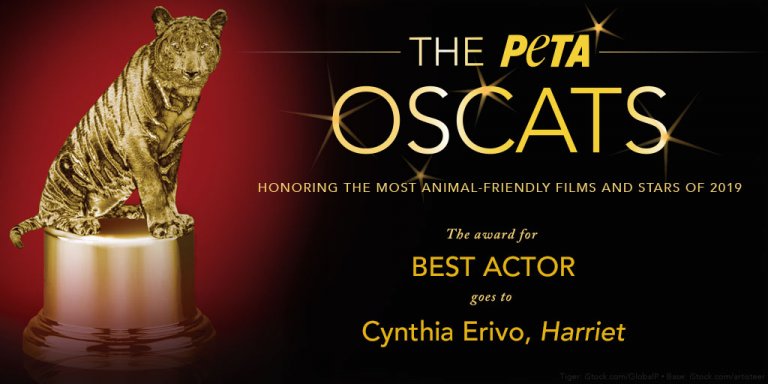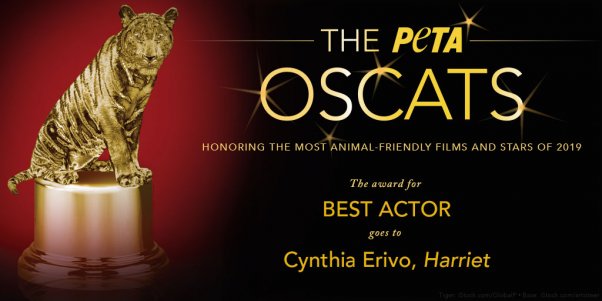 Cynthia Erivo emboldened our spirits with her portrayal of freedom fighter Harriet Tubman—but she inspires fans off-screen as well. As a vegan, the pint-sized "workout warrior" saves the lives of hundreds of animals every year by refusing to eat them. Erivo's stirring performance as Tubman and her own compassionate lifestyle remind us to fight oppression in all its forms.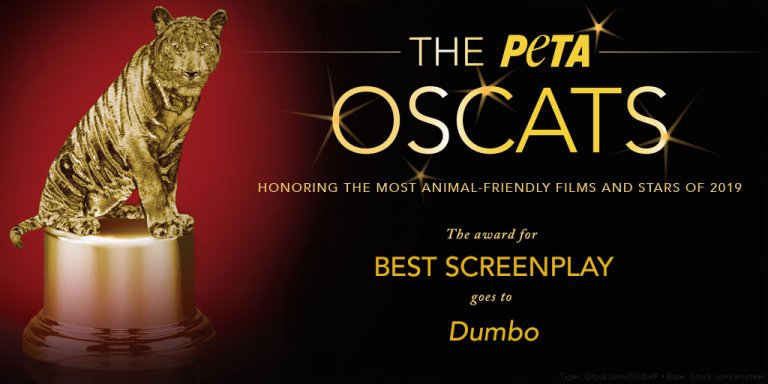 Not only does Tim Burton's Dumbo feature stunningly lifelike computer-generated animals, this famous heart-tugging tale also now has a happy ending. After PETA sent a letter urging Burton to give the story an updated and humane conclusion—instead of leaving Dumbo and his mother imprisoned to be exploited by the entertainment industry—the director came through with flying colors. Everything works out as it should for Dumbo in the end (but don't be fooled—it'll still make you cry). "It's funny, but I truly never liked the circus," Burton said. "You've got animals being tortured, you've got death-defying acts, and you've got clowns. It's like a horror show. What's to like?"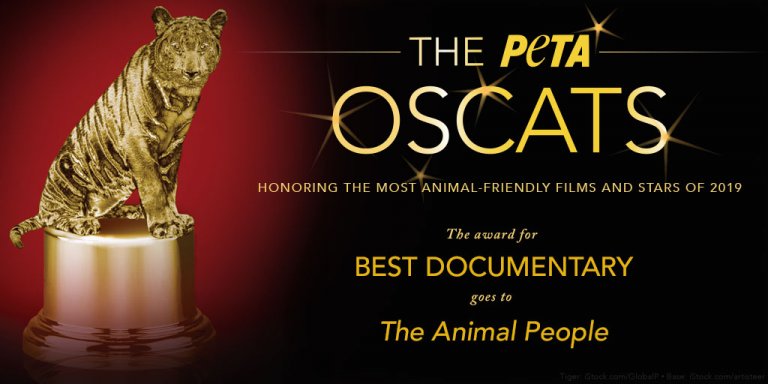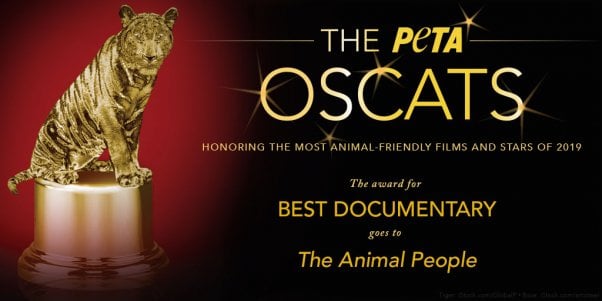 Produced by PETA's 2019 Person of the Year, Joaquin Phoenix, The Animal People is the inspiring David vs. Goliath story of a small band of activists who rewrote history, unleashed a firestorm, and even lost their own freedom when they dared to take on one of the world's largest animal-testing laboratories. It gives viewers a chilling look at the powerful forces that advocates often have to face in the fight for animal liberation.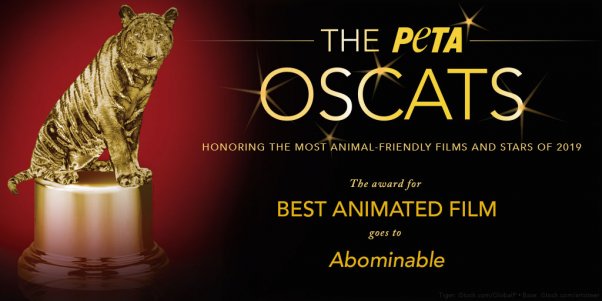 It's the experimenters, not the yeti, who are abominable in this heartwarming tale. After escaping from a laboratory, a friendly yeti named Everest sets out in search of his family, accompanied by a trio of human friends. His captors are determined to catch him for their own greed. But like many former experimenters, one of the villains has a change of heart after he realizes how remarkable Everest is. The other abuser eventually gets what she deserves, leaving theaters full of kids cheering. Animals are not ours to experiment on—something Abominable shouts from the highest mountain.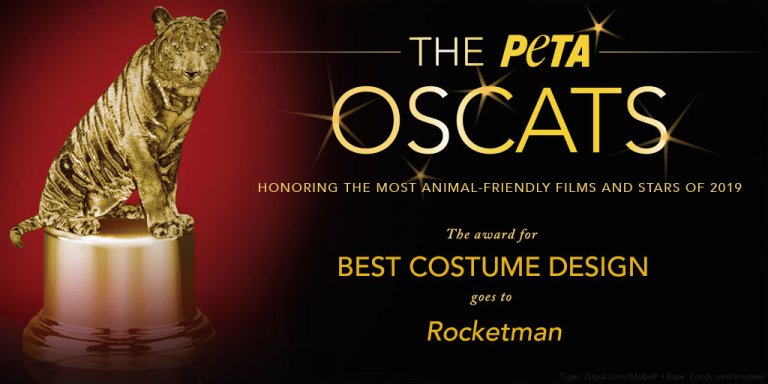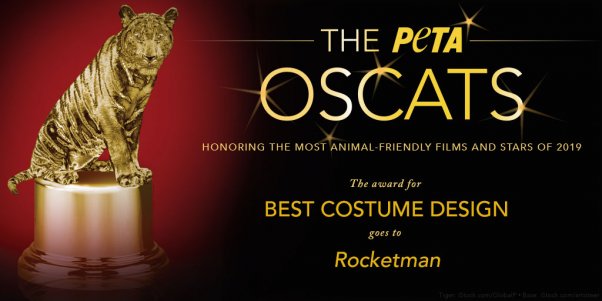 Elton John's flashy fashions were almost as memorable as his songs, so naturally, they play a prominent role in the rocker's long-awaited biopic. With over 85 wardrobe changes throughout the film, costume designer Julian Day had his work cut out for him, but he never compromised his ethics: All the furs in the movie—including a floor-length piano-key number—were cruelty-free, eco-friendly faux furs from House of Fluff. "We were thrilled they decided to go faux," said House of Fluff CEO Kym Canter. "No animal lost [his or her] life for the sake of vanity or a movie."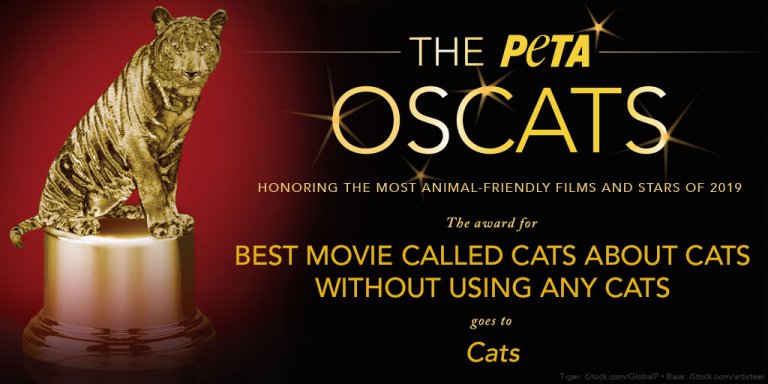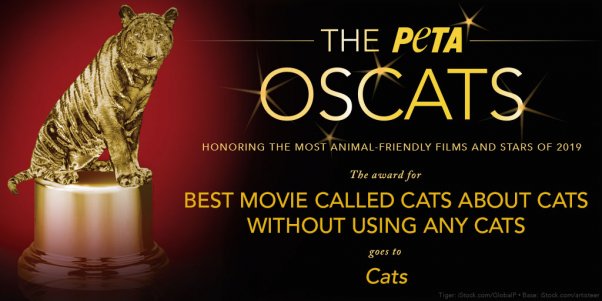 How do you make a movie called Cats without using any real cats? With willing actors and awe-inspiring computer-generated imagery (CGI), that's how. T. S. Eliot would no doubt applaud the high-tech innovations that are making the confinement, neglect, and deprivation of cats in the entertainment industry nothing more than an unpleasant "Memory."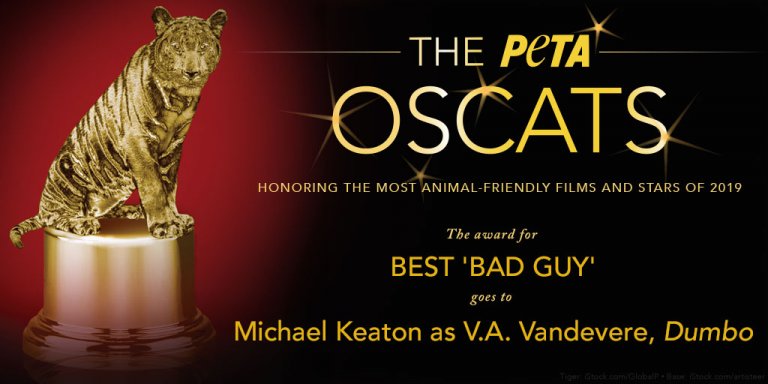 In Dumbo, Michael Keaton plays an opportunistic businessperson who's keen on exploiting the young elephant. But real-life Keaton is an animal champion who speaks out against using bear cubs and other vulnerable animals as photo props. "I just don't like when their respect is taken away," the actor said in a video interview. "[And] I really don't like when people treat them as a kind of prop or something for our entertainment." Props to Keaton for being one of the good guys and for showing viewers just how cruel the circus is.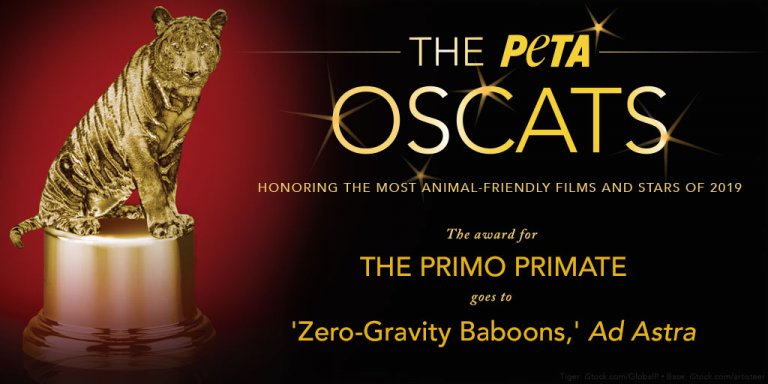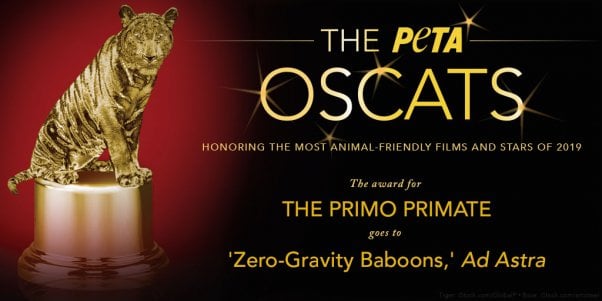 Films featured an impressive lineup of CGI monkeys this year—including endearing Boots from Dora and the Lost City of Gold, mischievous Abu from Aladdin, wise Rafiki from The Lion King, the cheeky capuchin from Dumbo, and the macaques from Velvet Buzzsaw. But in the end, the terrifyingly lifelike "zero-gravity baboons" in Ad Astra starring Brad Pitt did the best job of showing off the out-of-this-world advances in CGI technology that have left no space for abusing primates for entertainment.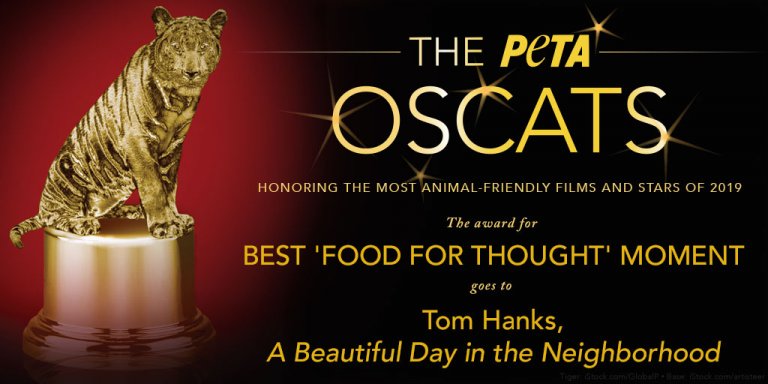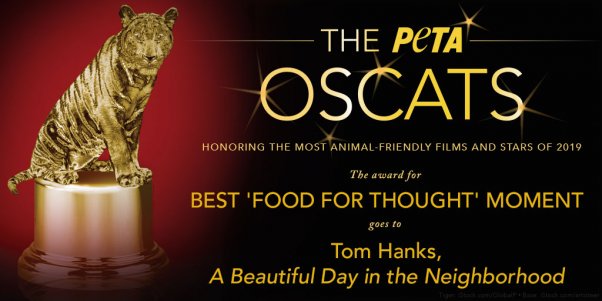 Fred Rogers embodied what it means to be a good neighbor to everyone, including animals. As an ethical vegetarian, Rogers simply explained, "I don't want to eat anything that has a mother." During a pivotal scene in A Beautiful Day in the Neighborhood, Tom Hanks, who plays Mister Rogers, explains his kind lifestyle in much the same way, giving moviegoers food for thought—and even more reason to love him.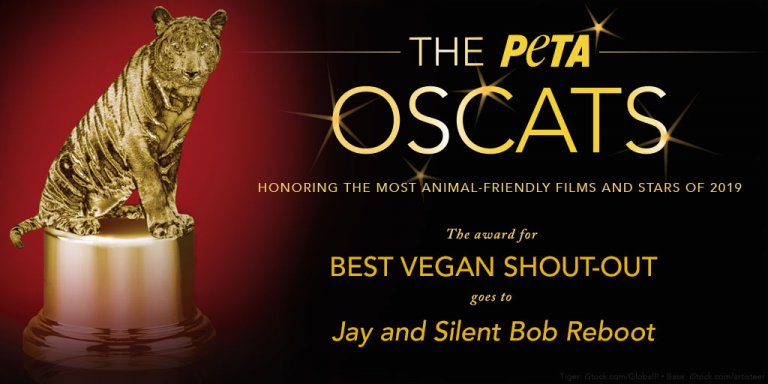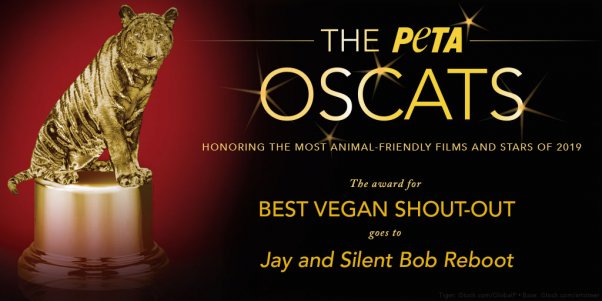 Silent Bob never says a word, but writer, director, and actor Kevin Smith (who plays Bob) can't keep quiet about his decision to go vegan, which he credits with saving his life and helping him drop 70 pounds after his massive, near-fatal heart attack in 2018. So it's no surprise that the slimmed-down and healthy Smith wove into the film not one, not two, but three shout-outs about the many benefits of going vegan. Even his daughter, Harley Quinn Smith, got in on the action and didn't mince words, saying, "We're vegan, bro!" at a fast-food drive-through in this quirky reboot. In the immortal words of Jay, "Snoochie boochies!"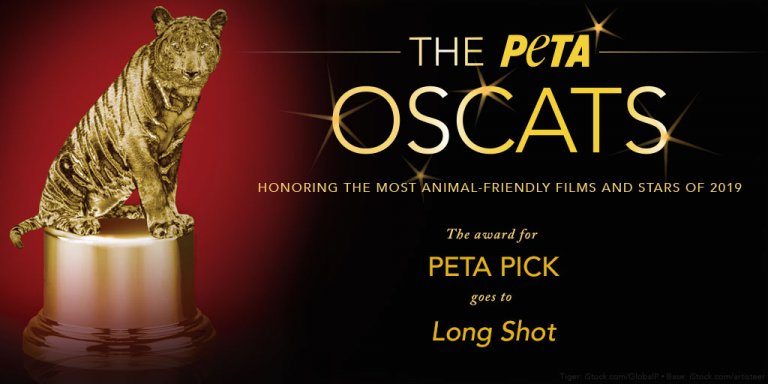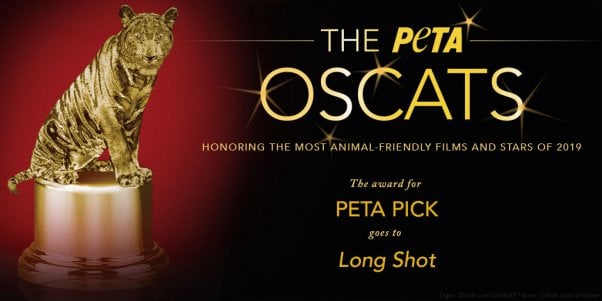 It's hard to imagine that any movie starring the hilarious Seth Rogen and the hugely talented and compassionate Charlize Theron could be considered a long shot. As expected, there are laughs aplenty in this rom-com, but it doesn't stoop to making unwilling animals the butt of the jokes. Animal advocates Theron and Rogen prove that forcing animals to perform is as unnecessary as it is cruel and outdated, and they have our vote for making Long Shot animal-free.
What You Watch Matters
Today, we have an abundance of captivating films and shows at our disposal, available 24/7 on our favorite network or streaming service. It's easy to support the ones that don't use real wild animals—and even easier to avoid the ones that do. Be sure to contact your favorite networks and studios and share your support of their animal-friendly content and use of CGI—or let them know why you're no longer watching their productions. If you see an animal being used for a current film or television show, report it to PETA right away by e-mailing [email protected].
Note: "Oscar," "Oscars," "Academy Award," and "Academy Awards" are registered trademarks of the Academy of Motion Picture Arts and Sciences, which isn't affiliated or associated with PETA, nor does it endorse, sponsor, or otherwise approve of PETA's Oscats.