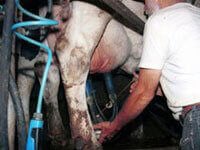 Cows Used for Their Milk
Cows produce milk for the same reason that humans do: to nourish their young. In order to force them to continue producing milk, factory farm operators typically impregnate them using artificial insemination every year. Calves are generally torn away from their mothers within a day of birth, which causes them both extreme distress. Mother cows can be heard calling for their calves for days. Male calves are destined to end up in cramped veal crates or barren feedlots where they will be fattened for beef, and females are sentenced to the same sad fate as their mothers.
After their calves have been taken away from them, mother cows are hooked up, two or more times a day, to milking machines. Their reproductive systems are exploited through genetic selection, despite the negative effects on their health. Artificial insemination, milking regimens, and sometimes drugs are used to force them to produce even more milk—the average cow today produces more than four times as much milk as cows did in 1950.
Cows may be dosed with recombinant bovine growth hormone (rBGH), which contributes to an increased incidence of mastitis, a painful inflammation of the udder. (In the U.S., rBGH is still used, but it has been banned in Canada and the European Union because of concerns about human health and animal welfare.) According to the U.S. Department of Agriculture, 16.5 percent of cows used for their milk suffer from mastitis, which is one of the leading causes of death in adult cows in the dairy industry.
A cow's natural lifespan is about 20 years, but cows used by the dairy industry are typically killed after about five years because their bodies wear out from constantly being pregnant or lactating. A dairy-industry study found that by the time they are killed, nearly 50 percent of cows are lame because of standing on concrete flooring and filth in intensive confinement. Cows' bodies are often turned into soup, food for dogs and cats, or ground beef because they are too "spent" to be used for anything else.
Calves Used for Veal
Male calves—seen as "byproducts" of the dairy industry—are generally taken from their mothers when they're less than a day old. Many are shipped off to barren, filthy feedlots to await slaughter. Others are kept in cramped pens or tiny crates, where they're prevented from moving much so that their flesh will stay tender. In order to make their flesh white, the calves are fed a diet that is low in iron and has little nutritive value. This heinous treatment makes them ill, and they frequently suffer from anemia, diarrhea, and pneumonia.
Frightened, sick, and alone, these calves are killed after only a few months of life so that their flesh can be sold as veal. All adult and baby cows, whether raised for their flesh or their milk, are eventually shipped to a slaughterhouse and killed.
The good news is that removing dairy products from your diet is easier than ever. Today, there are many vegan dairy products on the market, such as soy, rice, oat, and almond milk and soy- and coconut-based ice cream. Check out a list of our favorite dairy and meat alternatives.