Dogsled Racing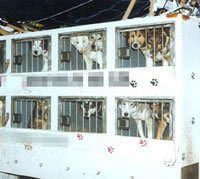 Imagine "racing your dog from Orlando to New York, depriving him of sleep to complete the course as quickly as possible, mushing though waist-deep water and ice, with the dog losing about 10 pounds through the ordeal." Or put yourself in the animal's position and imagine being tethered "to 15 other runners on a 50-foot gangline while pulling 400 pounds. Imagine flipping on your back and being dragged down an icy incline." That's how two sports columnists have described the Iditarod Trail Sled Dog Race, a grueling expedition from Anchorage to Nome, Alaska, which kicks off every March.
It's only one of several such races in which mushers, or dogsled drivers, compete for thousands of dollars and other prizes. The dogs, who are viewed as little more than snowmobiles with fur, are lucky if they finish the race alive and without serious injuries.
The Most Notorious of Races
About 1,500 dogs start the Iditarod, but more than one-third are flown out every year because they become sick, injured, or exhausted. The dogs are forced to run for hours through jagged mountain ranges, frozen rivers, dense forests, and desolate tundra in biting winds, blinding snowstorms, and temperature fluctuations from 40° above to 60° below zero.
The dogs, usually husky mixes weighing only 40 to 45 lbs., are generally tethered to 15 other runners and a sled weighing 400 lbs. They must run about 125 miles per day, often racing as many as six hours at a time with just a few hours' sleep each day. The race can take nine to 14 days.
The dogs' feet become bruised and bloodied, cut by ice, and just plain worn out from the tremendous stretch of ground that they cover. Many dogs pull muscles, suffer stress fractures, or become sick with intestinal viruses or bleeding stomach ulcers. Scott Moore, a volunteer veterinarian for the race, "saw dogs with torn Achilles tendons, dehydration, diarrhea, hypothermia, hyperthermia, inflammation in the wrists and soreness in shoulders from the harnesses."
At least one or two dogs die every year from causes ranging from strangulation in towlines and internal hemorrhaging to being trampled by moose or suffering from liver injuries, heart failure, or pneumonia. Wolf, a 5-year-old dog in musher Lance Mackey's team, died when he regurgitated food and choked on it. Takk, a 7-year-old dog on musher Kjetil Backen's team, died of blood loss associated with gastric ulcers.
At least 120 dogs have died during the Iditarod since 1973, and that does not include dogs who died after the race. Dr. Paula Kislak, president of the Association of Veterinarians for Animal Rights, has stated, "With a buildup of lactic acid and other chemicals from muscle degradation as a result of extreme exercise, toxicity in the liver and kidneys may not cause death for days or weeks after a race."
A study published in the American Journal of Respiratory and Critical Care Medicine found that of 59 dogs who were observed 24 to 48 hours after a race, 81 percent had "abnormal accumulations" of mucous or cellular debris in their lower airways. The lung damage was classified as moderate to severe in nearly half the dogs.
There are other grueling and deadly (although lesser-known) endurance races, including the Flambeau International Sled Dog Classic, the Copper Basin 300, Sky Sled Dog Race, and the Yukon Quest International Sled Dog Race.
Suffering Behind the Scenes
Thousands of dogs are bred to run in sled races, but not every puppy is born a fast runner. Those who do not make the grade are "culled." Some are sold or given away, but many are euthanized, abandoned, shot, bludgeoned, or drowned. Musher Lorraine Temple justified shooting dogs in a 1999 interview by saying, "They can't keep a dog who's a mile an hour too slow."
Frank Winkler, a two-time Iditarod racer, was charged with 14 counts of cruelty to animals after an animal control officer found a crate of dead and dying puppies in a truck. Winkler, who claimed he couldn't afford to take the animals to a veterinarian to be euthanized, allegedly bludgeoned the puppies with the blunt end of an ax. According to court documents, Winkler said that he shot some of the dogs and was just following advice from fellow mushers.
At the largest tourist dogsled operation in the U.S., Krabloonik Kennel in Aspen, Colorado, as many as 35 dogs have been killed annually by gunshot to the head, according to a former employee. Krabloonik's manager defended the killings, saying, "[Culling dates] back hundreds of years. This is nothing new. … This is part of the circle of life for the dog-sled dog."
When they aren't running, most dogs are kept tethered on short ropes or chains or confined to tiny spaces, where they are deprived of everything that is natural and important to dogs: exercise, mental stimulation, and companionship. More than 60 "neglected underweight dogs … kept in an area strewn with feces" were found at the Klondike Dreams kennel, which offered dogsled rides to tourists. Nearly 30 malnourished dogs were seized from David Straub, who has run the Iditarod three times. Straub was charged with 17 counts of cruelty to animals.
What You Can Do
Do not patronize dogsled races or tourist attractions that include dogsled rides.
If you are planning a trip to Alaska, tell your travel agent that you do not want any packages that include dogsled rides.
Tell sponsors of dogsled races that you don't support businesses that condone such cruelty. Companies such as Nestlé, Rite Aid, Iridium World Communications, Safeway, Maxwell House, True Value Hardware, BP Amoco, Sherwin-Williams, Upjohn, Tropicana, Pizza Hut, Costco, and Pfizer Pharmacia have canceled their sponsorship of dogsled races after hearing from people who were opposed to the races that they sponsored.
Support human-sled races! Lowell, Massachusetts, hosts the National Human Dogsled Championships in February, in which dozens of teams of humans dress up in crazy costumes and race for the finish line. In New York City, the "Idiotarod" features some 500 human racers who push shopping carts across the Brooklyn Bridge into Manhattan.