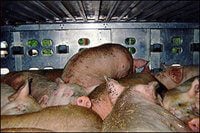 Transport Terror
When allowed to live out their natural lives, pigs live for an average of 10-15 years, but factory farmed pigs are sent to slaughter after just six months of life. In order to get the terrified pigs onto the trucks bound for the slaughterhouse, workers may beat them on their sensitive noses and backs or stick electric prods into their rectums.
Crammed into 18-wheelers, pigs struggle to get air and are usually given no food or water for the entire journey (often hundreds of miles). They suffer from temperature extremes and are forced to inhale ammonia fumes and diesel exhaust. A former pig transporter told PETA that pigs are "packed in so tight, their guts actually pop out their butts—a little softball of guts actually comes out."
According to a 2006 industry report, more than 1 million pigs die each year from the horrors of transport alone. Another industry report notes that, in some transport loads, as many as 10 percent of pigs are "downers," animals who are so ill or injured that they are unable to stand and walk on their own. These sick and injured pigs will be kicked, struck with electric prods, and finally dragged off the trucks to their deaths.
In winter, some pigs die frozen to the sides of the trucks. In summer, some die from heat exhaustion. Some fall and suffocate when additional animals are forced to pile in on top of them. All are in a panic—screaming and desperately trying to get away—and some die of heart attacks.
One worker reports, "In the wintertime there are always hogs stuck to the sides and floors of the trucks. [Slaughterhouse workers] go in there with wires or knives and just cut or pry the hogs loose. The skin pulls right off. These hogs were alive when we did this."
In 2004, a transport truck owned by Smithfield Foods and loaded with 180 pigs flipped over in Virginia. Many pigs died in the accident, while others lay along the roadside, injured and dying. PETA officials arrived on the scene and offered to humanely euthanize the injured animals, but Smithfield refused to allow the suffering animals a humane death because the company could not legally sell the flesh of animals who had been euthanized. After an accident in April 2005, Smithfield spokesperson Jerry Hostetter told one reporter, "I hate to admit it, but it happens all the time."
Slaughter
The unloading at the slaughterhouses is as ugly as the loading. After being kept in an immobile state all their lives, their legs and lungs are so weak that the pigs can barely walk. But when they see space ahead of them, some of them begin running for the first time in their lives.
Like fillies, they jump and buck, overjoyed with their first feel of freedom. Then, suddenly, they collapse and cannot get up. They can only lie there, trying to breathe, their bodies racked with pain from abuse and neglect on the factory farms.
A typical slaughterhouse kills up to 1,100 pigs every hour. The sheer number of animals killed makes it impossible for them to be given humane, painless deaths. Because of improper stunning, many pigs are alive when they reach the scalding tank, which is intended to soften their skin and remove their hair.
The U.S. Department of Agriculture (USDA) documented 14 humane-slaughter violations at one processing plant, where inspectors found hogs who "were walking and squealing after being stunned [with a stun gun] as many as four times."
According to one slaughterhouse worker, "There's no way these animals can bleed out in the few minutes it takes to get up the ramp. By the time they hit the scalding tank, they're still fully conscious and squealing. Happens all the time."
The best way to help put an end to this cruelty is to stop eating animal products. Order PETA's free "Vegetarian/Vegan Starter Kit" and we will help you make the transition to an animal-friendly vegan diet.