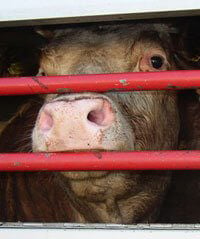 Transport to the Slaughterhouse
Cattle who survive feedlots, dairy sheds, and veal farms face a hellish trip to the slaughterhouse. They are crammed onto trucks where they typically go without food, water, or rest for the duration of the journey, which can sometimes be days. Many cows collapse in hot weather; in the cold, cows sometimes freeze to the sides of the truck until workers pry them off with crowbars.
By the time the exhausted cows reach the slaughterhouse, many are too sick or injured to walk. These cows, known to the meat and dairy industries as "downers," often have ropes or chains tied around their legs so that they can be dragged off the trucks.
Of those animals who arrive at the slaughterhouse healthy enough to walk, many are frightened and don't want to leave the truck, so they are shocked with electric prods or dragged off with chains. "Uncooperative animals are beaten, they have prods poked in their faces and up their rectums," says a former USDA inspector.
In the summertime, when it's 90, 95 degrees, they're transporting cattle from 1,200 to 1,500 miles away on a trailer, 40 to 45 head crammed in there …. [In the winter], can you imagine if you were in the back of a trailer that's open and the windchill factor is minus 50 degrees, and that trailer is going 50 to 60 miles an hour? The animals are urinating and defecating right in the trailers, and after a while, it's going to freeze, and their hooves are right in it. If they go down—well, you can imagine lying in there for 10 hours on a trip. 
—Former U.S. Department of Agriculture (USDA) veterinary inspector Dr. Lester Friedlander
Slaughter: 'They Die Piece by Piece'
After they are unloaded, cows are forced through a chute and shot in the head with a captive-bolt gun meant to stun them. But because the lines move so quickly and many workers are poorly trained, the technique often fails to render the animals insensible to pain. Ramon Moreno, a longtime slaughterhouse worker, told The Washington Post that he frequently has to cut the legs off completely conscious cows. "They blink. They make noises," he says. "The head moves, the eyes are wide and looking around. … They die piece by piece."
Another worker, Martin Fuentes, told the Post that many animals are still alive and conscious for as long as seven minutes after their throats have been cut. "The line is never stopped simply because an animal is alive." Because the industry makes more money the more animals it kills, workers who stop to alert officials to abuses at their slaughterhouse risk losing their jobs. The meat industry thrives on a workforce made up largely of impoverished and exploited workers, many of them immigrants who can never complain about poor working conditions or cruelty to animals for fear of being deported.
The best way to help put an end to this cruelty is to stop eating meat and other animal products. Order PETA's free vegetarian/vegan starter kit today for great tips and free recipes to help you make the transition to an animal-friendly diet.