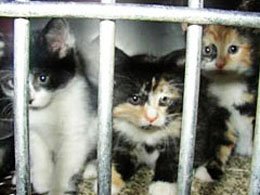 The single most important thing that we can do to save cats and dogs from all the suffering and death that their overpopulation causes is to spay and neuter them. Spaying and neutering are routine, affordable surgeries that can prevent thousands of animals from being born, only to suffer and struggle to survive on the streets, be abused by cruel or neglectful people, or be euthanized in animal shelters for lack of a loving home.
Spaying and neutering makes a big difference: Just one unaltered female dog and her offspring can produce 67,000 puppies in only six years. In seven years, one female cat and her offspring can produce an incredible 370,000 kittens!
Sterilized animals live longer, happier lives. Spaying eliminates the stress and discomfort that females endure during heat periods, eliminates the risk of uterine cancer, and greatly reduces the risk of mammary cancer. Neutering makes males far less likely to roam or fight, prevents testicular cancer, and reduces the risk of prostate cancer. Altered animals are less likely to contract deadly, contagious diseases, such as feline AIDS and feline leukemia, that are spread through bodily fluids.
Communities spend millions of taxpayer dollars each year coping with problems that a failure to spay and neuter causes. The one-time cost of spaying or neutering is far lower than the expense involved in rounding up strays, feeding and housing abandoned animals, and euthanizing those for whom homes can't be found.
Cities and counties all over the country are aggressively addressing the animal overpopulation crisis, requiring everyone who chooses not to spay or neuter to pay a hefty breeder's fee. Areas with mandatory spay-and-neuter laws have reported a significant reduction in the number of animals who are taken to their facilities and subsequently euthanized.
Many communities have low-cost or free spay-and-neuter clinics that make it easy for everyone to do the right thing and have their animals sterilized. Call 1-800-248-SPAY to find your nearest low-cost spay-and-neuter clinic.
If you would like a spay-neuter ordinance in your community, please visit PETA's Action Center for free information on how you can help pass animal-friendly legislation.
Spay-and-Neuter FAQs
Will my animal's personality change after spaying or neutering?
Spaying and neutering will only reduce or eliminate the behaviors that you don't want, such as aggression and urine marking. Neutered males are less likely to roam, fight, or mark their territory with urine, and spayed females experience less hormone-related moodiness. In exchange, your companions will likely become more interested in you (rather than finding a mate) and will still protect your family.
Will spaying and neutering affect my animal's weight?
No. Cats and dogs become overweight and inactive because their guardians feed them too much and exercise them too little, not because they are sterilized.
Why should I have my male cat or dog neutered?
Male animals contribute to the companion animal overpopulation crisis even more than females do. Just one unsterilized male animal can impregnate dozens of females, creating dozens upon dozens of unwanted offspring. Neutering also eliminates male animals' risk of testicular cancer and reduces unwanted behaviors such as biting.
Should I let my female animal have one litter before having her spayed?
It's best to spay animals before they reach sexual maturity in order to reap the full health benefits. Spaying your female companion animal before her first heat cycle means she will have one-seventh the risk of developing mammary cancer. Spaying also eliminates female animals' risk of diseases and cancers of the ovaries and uterus, which are often life-threatening and require expensive surgery and treatment.
How can I teach my children about the 'miracle of birth'?
Allowing your animal to reproduce only teaches your children irresponsibility. Every year, 3 to 4 million animals are killed in U.S. animal shelters, most simply because of a lack of good homes. Bringing more animals into a world that is already short of homes means that animals in animal shelters will die. Numerous books and videos are available to help you teach your children about reproduction responsibly.
What if I can find homes for all my animal's puppies or kittens?
Even if you manage to find loving, lifelong homes for all the puppies or kittens, that means that there will be that many fewer homes for puppies and kittens in animal shelters who desperately need to be adopted. And unless you ensure that every puppy or kitten you place is spayed or neutered before going to his or her new home, they can go on to produce litter after litter of offspring themselves. Just one female dog and her puppies can result in 67,000 dogs in six years, and one female cat and her kittens can lead to 370,000 cats being born in seven years.
Is sterilization safe?
Spay and neuter surgeries are the most commonly performed animal surgeries. Most animals experience relatively little discomfort (anesthesia is used during surgery, and pain medication is generally given afterward) and are back to their normal activities within a day or two.
How Many Animals Does PETA Spay or Neuter?
Via our Mobile Clinics Division, PETA spays and neuters hundreds of companion animals every week in southeastern Virginia. Each of our clinics is capable of sterilizing up to 30 animals per day. The staff consists of a licensed veterinarian, a licensed veterinary technician, a veterinary assistant, and an assistant who checks in each animal. The clinics operate an average of six days a week, and the mobile clinics travel from Virginia's Eastern Shore to Gloucester County and from the Border Station in Chesapeake to Emporia and locations in between. Since the program's inception in 2001, PETA's mobile clinics have spayed or neutered more than 213,700 companion animals, preventing the births and inevitable suffering of hundreds of thousands of unwanted dogs and cats in Virginia and North Carolina, all through low-cost or free sterilization surgeries. PETA staffers go into underserved neighborhoods to distribute flyers about our low-cost spay/neuter program. The mobile clinics park in these neighborhoods, which makes it easier for residents to take in their animal companions for surgery. If someone doesn't have transportation, we offer to transport the animal to and from surgery at no cost.