On any given day in the U.S., an estimated 70 million homeless dogs and cats are struggling to survive. They are a result of people's failure to have their animal companions spayed or neutered, allowing them to bring more animals into a world that already has more dogs and cats than there are loving homes for them.
The single most important thing that we can do to spare cats and dogs all the suffering and death that their overpopulation causes is to have them spayed or neutered. Spaying and neutering are routine, affordable surgeries that can prevent thousands of animals from being born only to suffer and struggle to survive on the streets, be abused by cruel or neglectful humans, or be euthanized in animal shelters for lack of a loving home.
Every February, World Spay Day celebrates the importance of animal birth control and encourages all guardians of dogs and cats to have them spayed or neutered.
In honor of World Spay Day (February 22 this year), we've gathered a few of our favorite celebrity campaigns promoting animal birth control. See which stars have spoken up to spread this important message.
Stop the Line of 'Succession'—Always Spay/Neuter
Cox knows that companion animal overpopulation is no laughing matter and that sterilization is the most effective way to end animal homelessness.
Sia Takes a Bite out of Animal Overpopulation
Take it from Sia: Spaying or neutering and adopting from animal shelters are the only ways we can "take a bite out of animal overpopulation."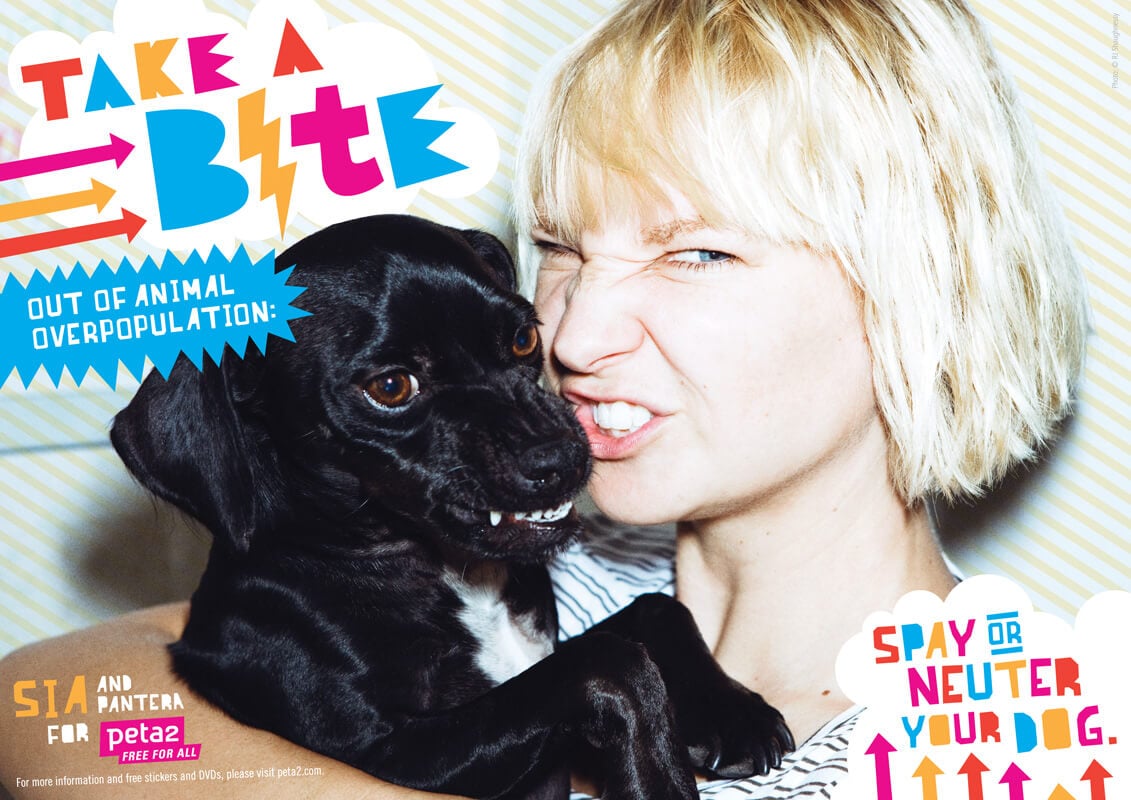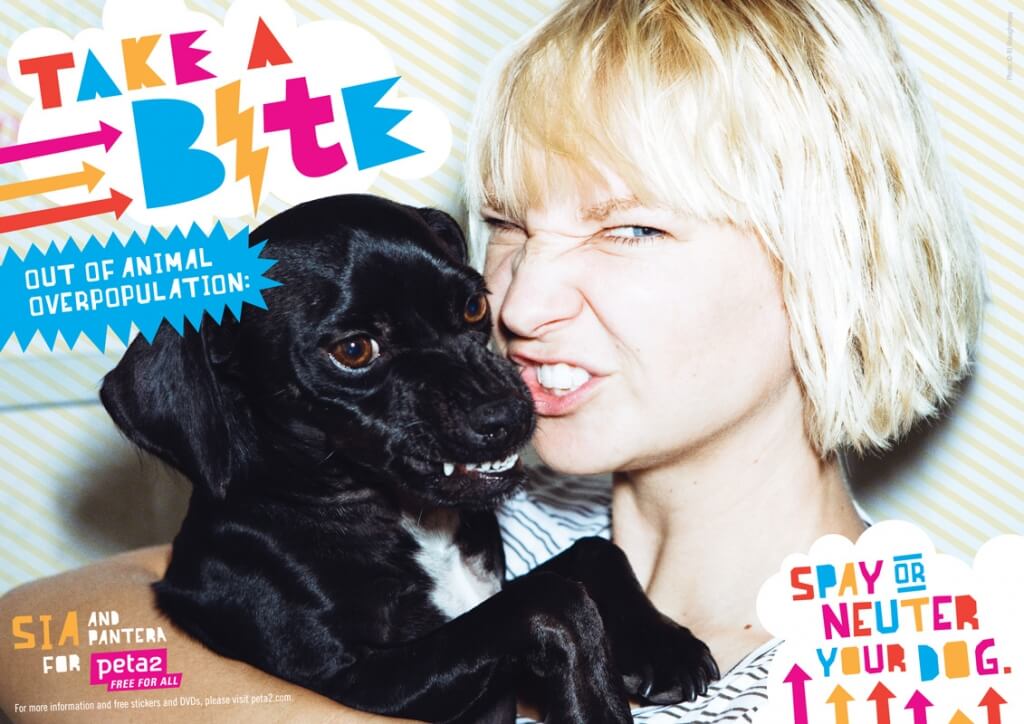 Cats and Dogs Are Family—Take Care of Them!
There are far more cats and dogs in need of a caring family than there are kind humans, like Jesse and Joy, who are willing to provide them with a good permanent home.
https://www.youtube.com/watch?v=kzngjOCdN-k
Tom DeLonge: 'Have the Balls to Fix Your Dog!'
If everyone did their part and had the balls to have their dog or cat "fixed," we might one day see an end to animal homelessness. As Tom DeLonge says, "It just ends up becoming a really sad state when animals are running around that have no families to be a part of. Spaying and neutering the animals keeps the happy animals with happy families and doesn't create too many lonely ones out there." Check out what else he told us in our exclusive interview.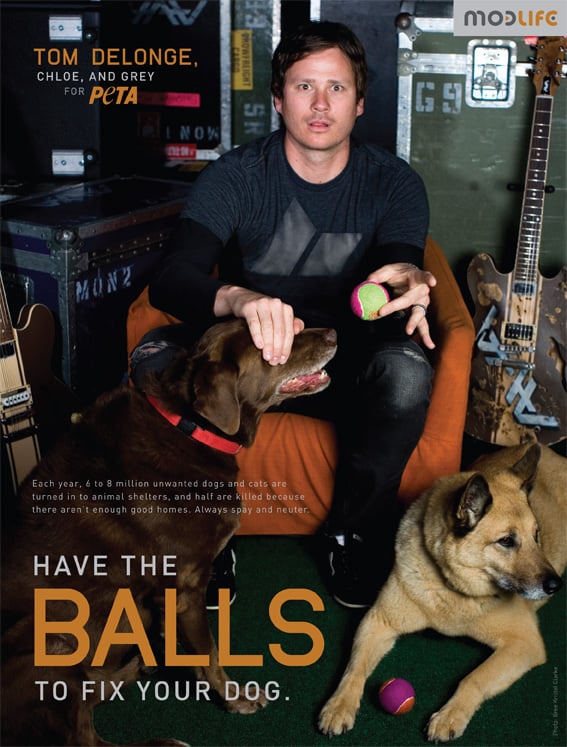 Dr. Drew's Cure for Animal Homelessness
In his behind-the-scenes interview, Dr. Drew Pinsky noted, "I think it takes just a little bit of attention to be responsible, and you can have a dramatic impact on this crisis." Hear why he thinks ending the homeless-animal crisis is everyone's responsibility.
¡Muy chingón! George Lopez Wants You to Save Dogs!
In his ad for PETA, the beloved sitcom star and Los Angeles native—along with his adopted dog, Owen—says it's "chingón" (or "f*cking great!") when people take the one simple step that can significantly help his canine friends in the shelter system while mitigating the homeless-animal overpopulation crisis in the U.S.: having their animal companions spayed or neutered.
'Have the Cojones to Fix Your Dog,' Says Mickey Rourke in ABC Ad
In the tongue-in-cheek ad, Mickey Rourke and Jaws urge people, "Have the cojones to fix your dog. When dogs get knocked up, puppies get put down because there aren't enough homes for them."
Patricia Arquette Poses for PETA Spay/Neuter Ad
Academy Award–winning actor Patricia Arquette might have played psychic Allison DuBois in the NBC hit drama Medium, but she knows it doesn't take psychic abilities to see that companion animal homelessness is a serious problem worldwide.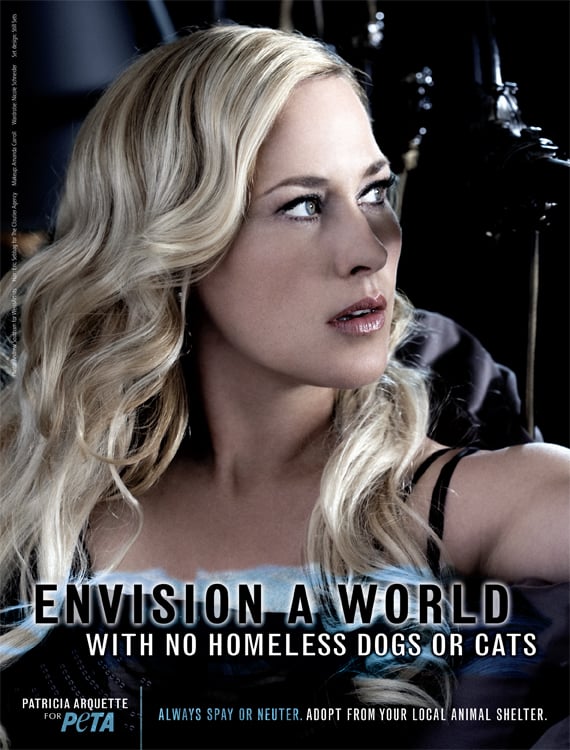 Cloris Leachman's Important Message About Safe Sex
Cloris Leachman promoted safe sex—for animals—and urged all dog and cat guardians to have their animals spayed or neutered.
You Can Help End the Companion Animal Overpopulation Crisis
Many communities have low-cost or free spay/neuter clinics that make it easy for everyone to do the right thing and have their animals sterilized. Call your local open-admission shelter or animal control agency to find your nearest spay/neuter options, and click below to do more: