Dr. Drew Pinsky has spent nearly three decades curing patients in his internal medicine and addiction practice and inspring others to seek treatment through his television and radio programs, including Dr. Drew, Loveline, Dr. Drew's Lifechangers, and Celebrity Rehab. Now, Dr. Drew is using his influence as one of the most listened-to physicians in America to help remedy the animal overpopulation crisis. In his new ad for PETA, he says that keeping animals from reproducing is a snap: All it takes is a snip.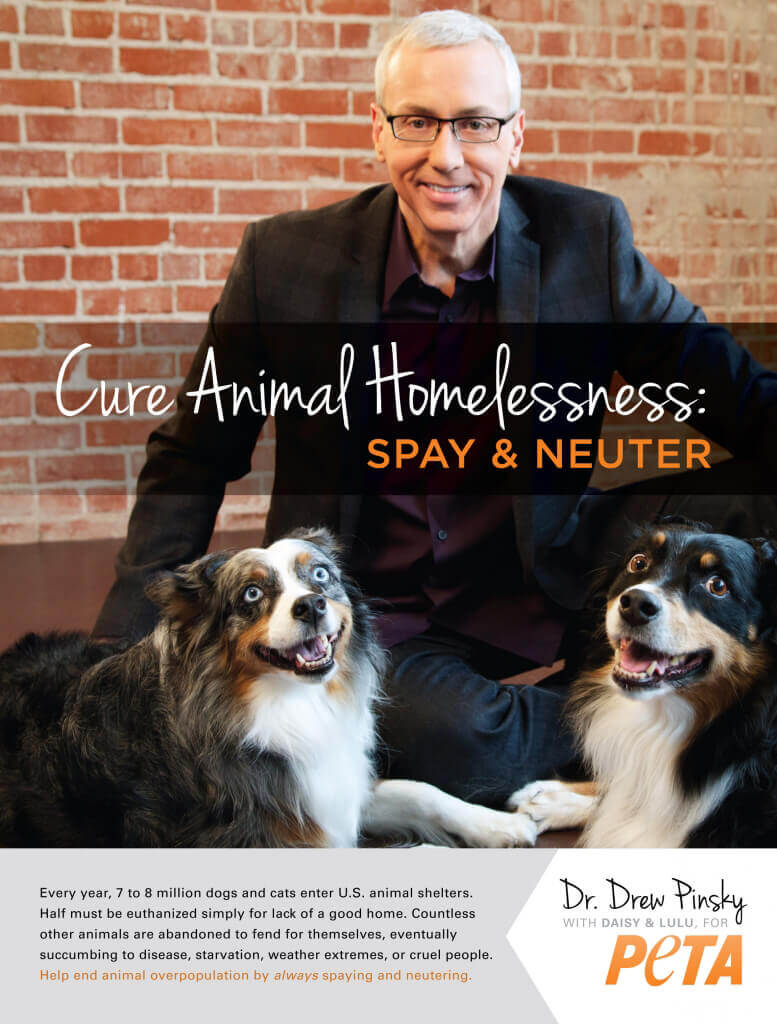 Every year, more than 6 million abandoned, lost, or unwanted dogs and cats enter animal shelters. Half are euthanized because there simply are not enough homes for them all. Animals who aren't fortunate enough to be taken to a shelter struggle to survive on the streets and suffer from starvation, dehydration, diseases, parasites, or injuries or are tortured by cruel people.
In his behind-the-scenes interview, Dr. Drew noted, "I think it takes just a little bit of attention to be responsible, and you can have a dramatic impact on this crisis." Hear why he thinks ending the animal homelessness crisis is everyone's responsibility:
https://www.youtube.com/watch?v=cTHDiPQ5Y44
We sat down with Dr. Drew and asked him what he thought about animal homelessness. Check out his answer in this video.
Aside from always spaying and neutering, here are more ways that anyone can help end the animal overpopulation crisis:
Always adopt from a shelter—never buy from a pet store or breeder.
Encourage friends and family who are considering adopting to think about the lifetime commitment that animals require so that the animal won't end up back at the shelter.
Pledge to end animal homelessness today!
Celebrate adopted animals with a special #AdoptDontBuy hashtag on Twitter. Follow @peta on Twitter and then tweet us why you love your rescued friend.