Golden Globe–nominated Australian songbird and vegetarian Sia Furler has collaborated with some of the music industry's biggest names, including Flo Rida, David Guetta, Christina Aguilera, and Zero 7. Now, Sia and her adorable canine companion Pantera are teaming up with PETA to help end the animal homelessness crisis by urging her fans to spay and neuter their animals.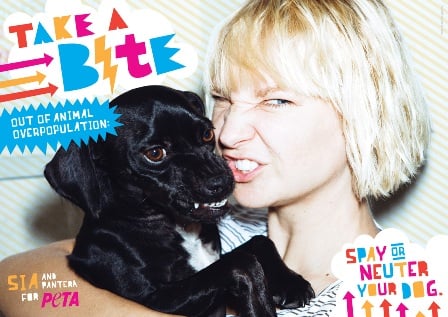 Why are Sia and her pup snarling mad? Every year, up to 8 million dogs and cats end up in U.S. animal shelters, and half of them must be euthanized simply because of a lack of good homes. Countless less fortunate dogs and cats never make it to a shelter and instead suffer and die on the streets after facing weather extremes, starvation, diseases, traffic, and encounters with cruel people. Take it from Sia: Spaying and neutering, along with adopting from animal shelters, is the only way that we can "take a bite out of animal overpopulation."
Ready to join Sia in taking a bite out of animal overpopulation?