Beloved actor Brian Cox is known for taking on intimidating roles in film and television—case in point, his Succession character Logan Roy's popular catchphrase is "f*ck off." But in real life, the actor is as kind as can be—and he has a soft spot in his heart for cats!
Want proof? Watch this:
As a celebrity, Cox is used to being the one in the hot seat. So PETA asked him to flip the script and take on the role of the interviewer for this fun PSA. His subject? Patches, an adorable cat who was up for adoption at London's Mayhew animal shelter (and has since found a loving home!). In addition to asking some light-hearted questions, Cox explains why adoption is so important when bringing an animal companion into your home and why guardians must always spay or neuter.
"The thing I love about cats is their independence. They can take it or leave it, and that's their power. That's their strength," Cox says in the video. "They're very dependable. They have an instinct about what you need, and sometimes you don't always know, and then a cat comes, and then you go, 'Oh, thank you.'"
For the Family Members You Can Choose—Always Adopt
For those of you who haven't binge-watched Succession yet, the show revolves around the power struggle between a wealthy media mogul (Cox) and his adult children. In a nod to the ongoing family drama in the series, Cox's print ad reminds fans that you can choose some family members—as he did when he adopted his two cats. He also urges people to do right by cats like Patches by always adopting from animal shelters and never buying from pet shops or breeders, which profit at animals' expense by churning out litters into a world already flooded with homeless animals. For every puppy or kitten "produced" by any breeder (remember, there is no such thing as a "responsible breeder"), an animal awaiting adoption at a shelter loses his or her chance at finding a home.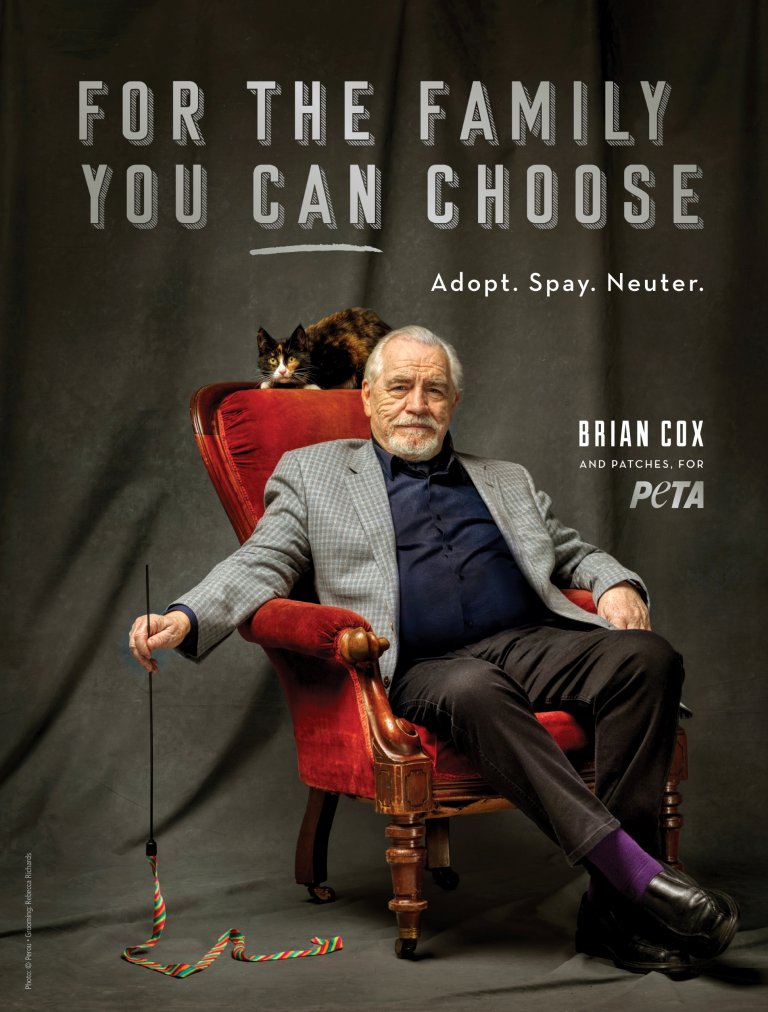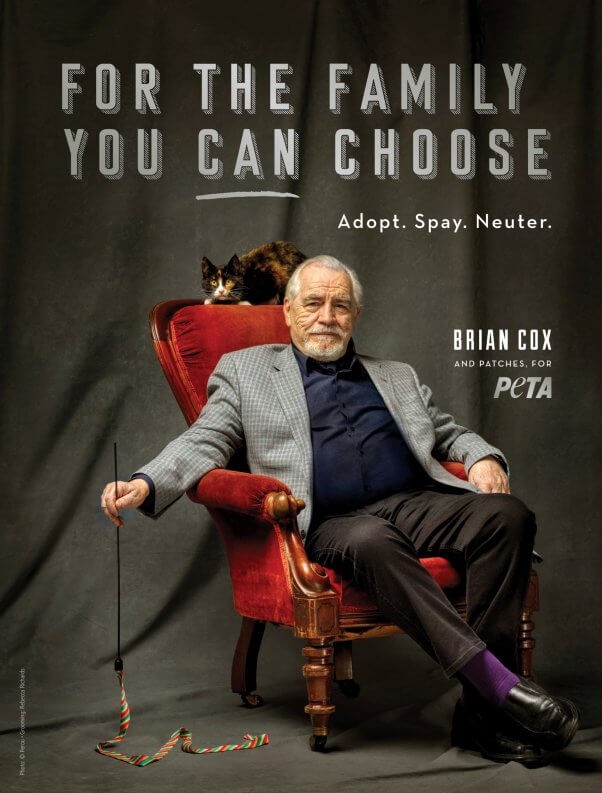 Stop the Line of 'Succession'—Always Spay/Neuter
Cox knows that animal overpopulation is no laughing matter and that spaying and neutering are the most effective ways to end animal homelessness. They also prevent cats and dogs from suffering and dying. Every year in the U.S., more than 6 million lost, abandoned, or unwanted dogs and cats enter shelters—and roughly half of them must be euthanized, many simply because there aren't enough good homes for them.