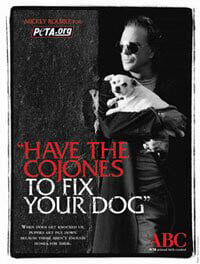 Acclaimed actor and former professional boxer Mickey Rourke is legendary for delivering knock-out performances both on- and off-screen. Mickey has carved a niche for himself playing gritty and troubled "tough guys" and has starred in a string of memorable movies, including one of his most talked-about movies, The Wrestler.
Known as one of Hollywood's most notorious bad boys, Mickey—never one to pull punches or back down from a fight—is also a champ for animals. When the hard-hitting actor with a soft spot for animals got a chance to work with his beloved Chihuahua, Jaws, he couldn't resist. Mickey and Jaws star in PETA's latest ABC ad promoting spaying and neutering. In the tongue-in-cheek ad, Mickey and Jaws urge people to "[h]ave the cojones to fix your dog. When dogs get knocked up, puppies get put down because there aren't enough homes for them."
PETA's ABC campaign is aimed at knocking out animal overpopulation. Every year, millions of unwanted dogs and cats are left at extremely crowded animal shelters, where most are put to death. Less fortunate unwanted animals are abandoned on the streets to fend for themselves and often become victims of traffic, disease, starvation, and extreme weather. Some are stolen by laboratory dealers or used as bait by dogfighters. Two simple surgeries—spaying and neutering—are the solution.
Support PETA's work to improve the lives of dogs, cats, and all animals who are suffering from cruelty and neglect, and sign PETA's pledge to end animal homelessness today!