It's that time of year again—PETA's Oscat Awards are back and better than ever with new categories and exciting winners whose creativity and compassion in 2021 films prove that there's no need to abuse animals for entertainment.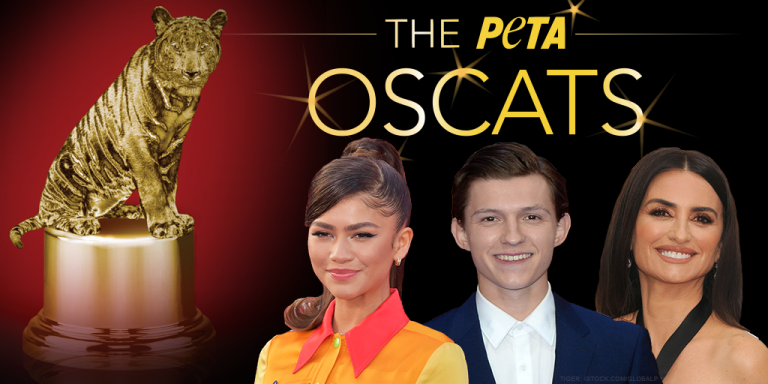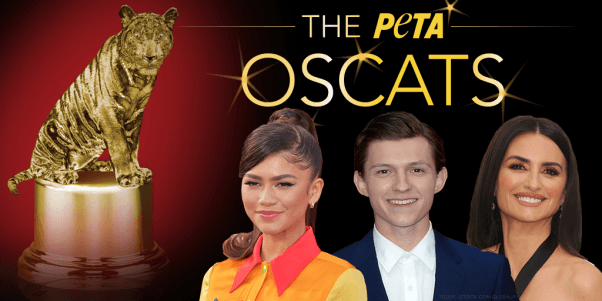 © StarMaxInc.com
Last year's winners included Sound of Metal, Mank, Pete Davidson, and Gunda. Read on to find out whose cinematic animal rights activism had our Oscat committee meowing for more this year.
Lights, camera, action!
Most Animal-Friendly Ensemble: Stars of Spider-Man: No Way Home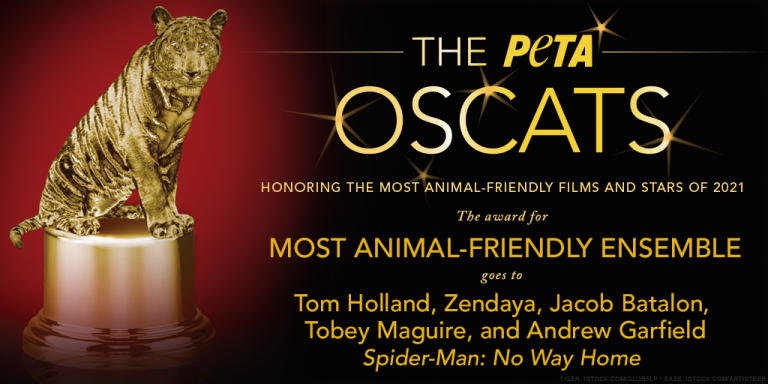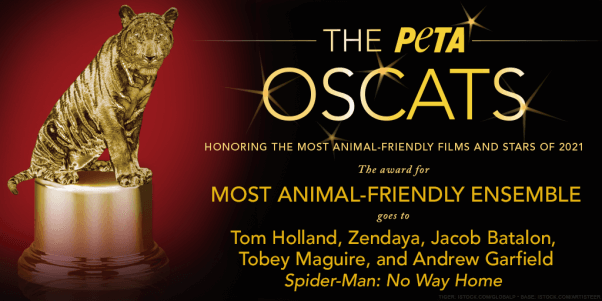 This powerhouse cast of animal allies—Zendaya hasn't eaten meat since she was 9, Tom Holland helped Stephen Colbert find homes for puppies in shelters and saved a lost dog, Jacob Batalon stays fit by eating animal-free meals, Tobey Maguire has been vegan since 2009, and Andrew Garfield fostered and adopted a dog—is unrivaled. Peter Parker discovers what it truly means to be Spider-Man, and this knockout cast shows the world how to be kind to animals.
Best Director: Nia DaCosta for Candyman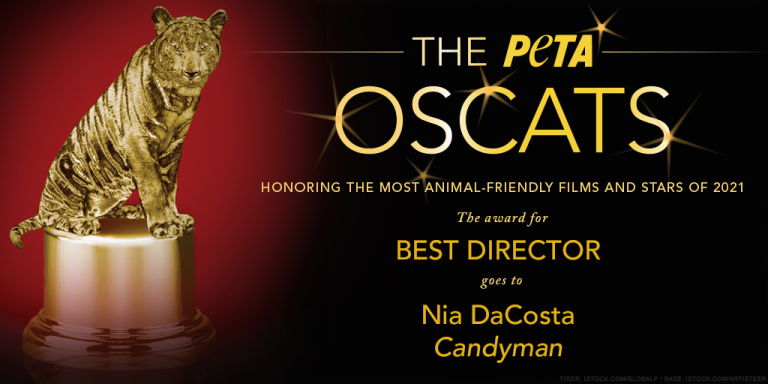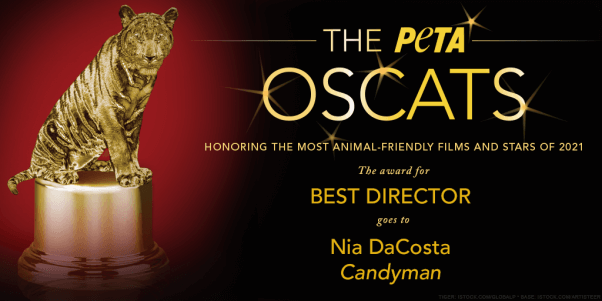 This buzzworthy sequel from the queen of her hive Nia DaCosta showed the first film how it's done: Instead of using 200,000 live honeybees and causing the death of several of them, she employed computer-generated imagery (CGI) for her honeybee swarms. And rather than filming a reenactment of the dog beheading in the first film, which used a commercial animal supplier, DaCosta artfully used intricate, innovative shadow puppetry to recount the gruesome scene. We love to see filmmakers think outside the box when it comes to cruelty-free portrayals of animals in film. Thanks, Nia!
Best Picture: Seaspiracy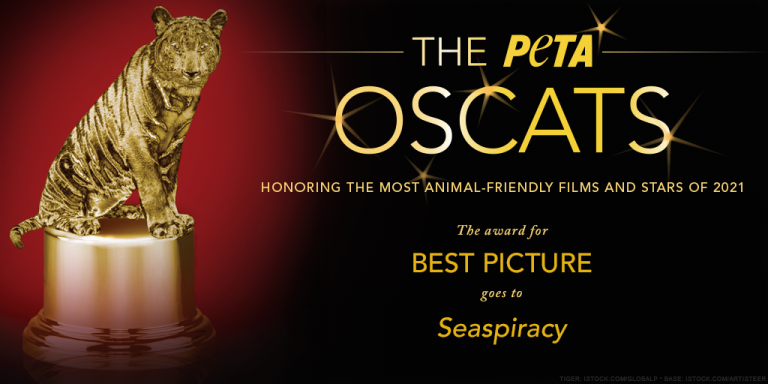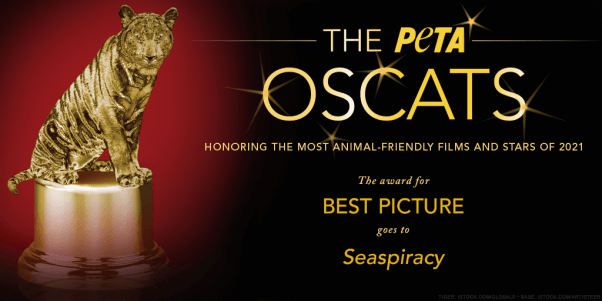 Fins down, this is the most important film of 2021. It blows the cruel, corrupt, and destructive global fishing industry out of the water. Created by one of the masterminds behind the groundbreaking feature Cowspiracy, Seaspiracy dives deep to show viewers how fishing devastates marine animals and our oceans' ecosystems and causes immense suffering and what will happen if humans continue to consume sea life. Bottom line: Don't take the fishing industry's bogus bait.
Best Actor: Jenna Ortega in The Fallout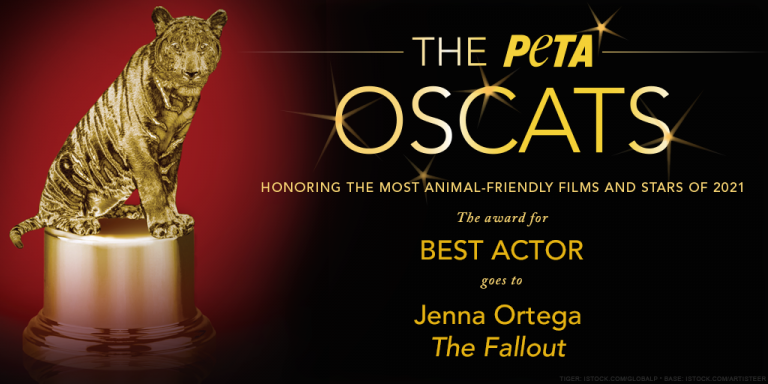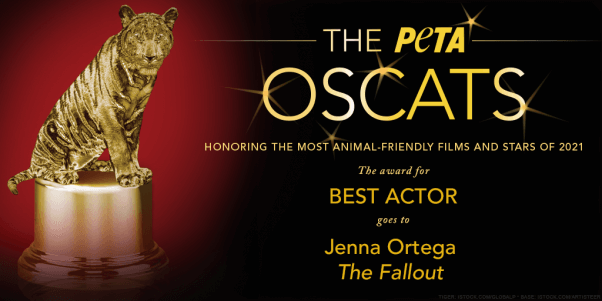 In The Fallout, which was written and directed by PETA supporter Megan Park (who didn't force animals to perform in this HBO flick), Ortega—who doesn't eat meat—plays a student named Vada navigating her way through her trauma after a mass shooting at her school. Ortega delivers Vada's rants against poaching elephants and using real animals for troubling stunts in films like Homeward Bound with bravado. Kudos to the progressive actor for pledging to "tell stories that need to be heard, or that will make some sort of impact."
PETA Pick: Parallel Mothers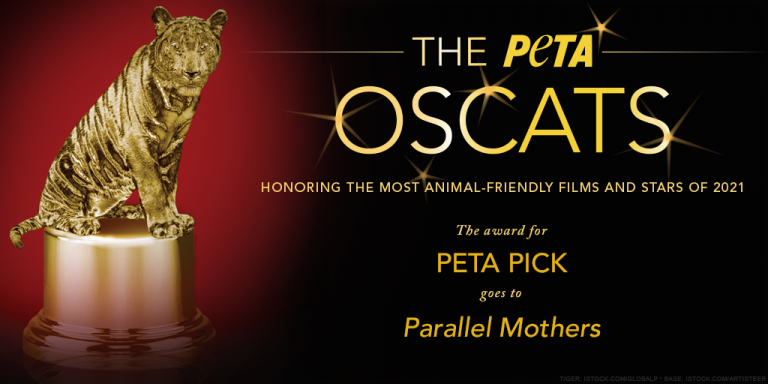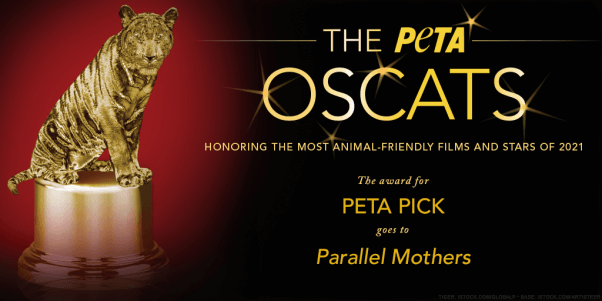 Where Penélope Cruz goes, PETA will follow. The Academy of Motion Picture Arts and Sciences may have snubbed Pedro Almodóvar for his latest masterpiece, but PETA's Oscats calls them like we see them. We came for Cruz, a friend to animals who has starred in multiple anti-fur ad campaigns for PETA and adopts companion animals, and we stayed for the beautifully told, heart-wrenching story—making Parallel Mothers this year's top PETA Pick!
Best Ode to Oat Milk: Swan Song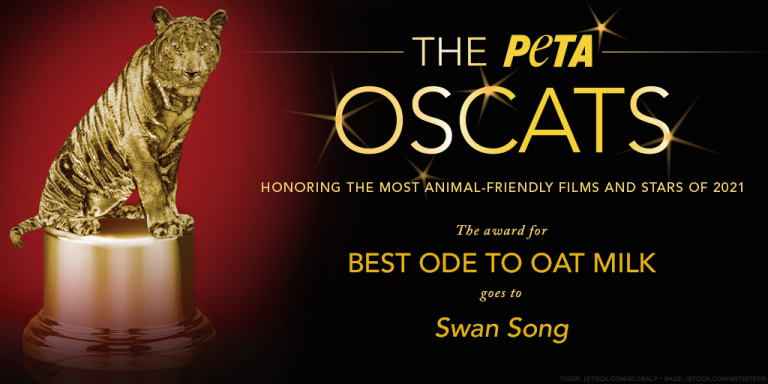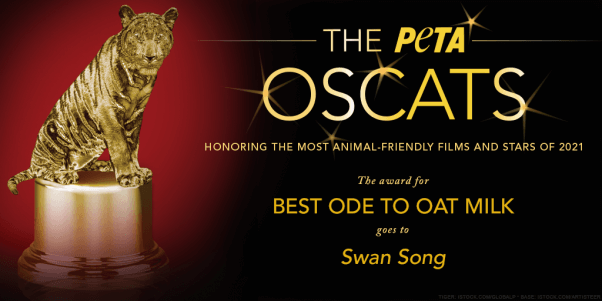 It's not often that a film wins us over right away, but when a robot served Cameron (Mahershala Ali) an oat milk latte in the opening scene of the futuristic Swan Song, we gave it a standing oatvation. Of course nondairy milks are the future—they help protect cows from being repeatedly raped and separated from their babies, humans from disease, and the environment from devastation. So take a cue from Swan Song and add a splash of kindness to your coffee.
Best Costume Design: Malgosia Turzanska for The Green Knight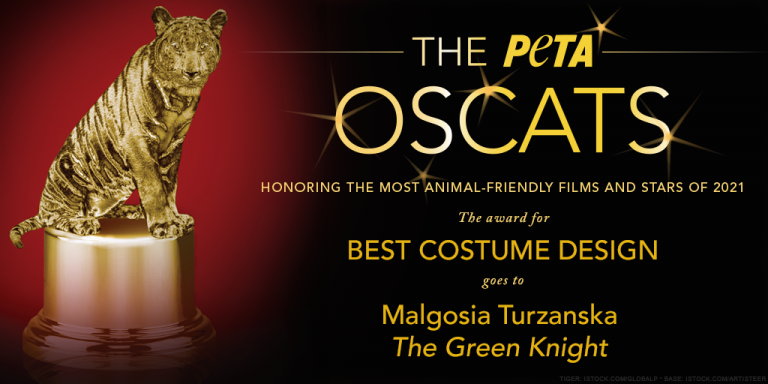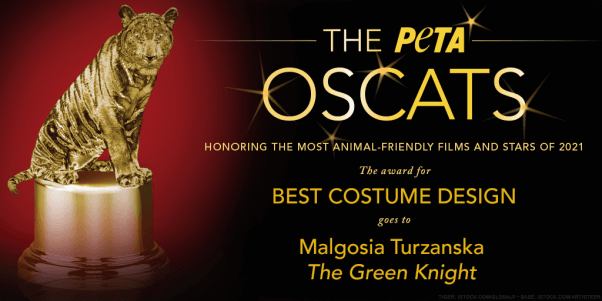 It's no surprise that director David Lowery's latest film, The Green Knight, featured so many "green" costumes. To outfit the cast of this fantasy adventure, costume designer Malgosia Turzanska relied on innovative vegan materials, such as pineapple leather and tree bark, which spared countless animals agony and death and the environment further destruction. More and more filmmakers are committing to animal advocacy as Lowery, a 26-year vegan, has. He's said, "I've always loved animals. I don't eat them, I don't wear them, I just try to love them."
Best Animated Feature: PAW Patrol: The Movie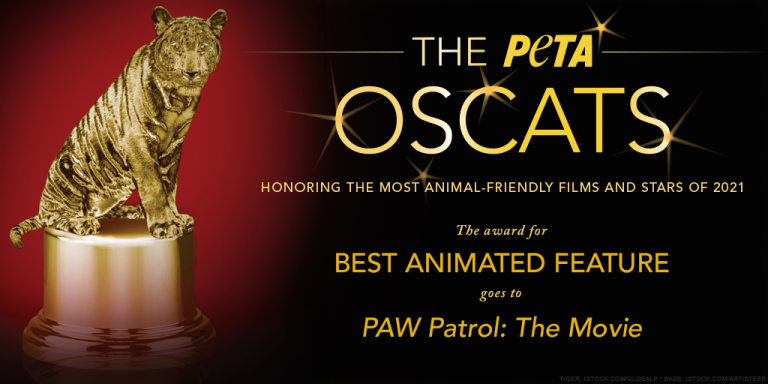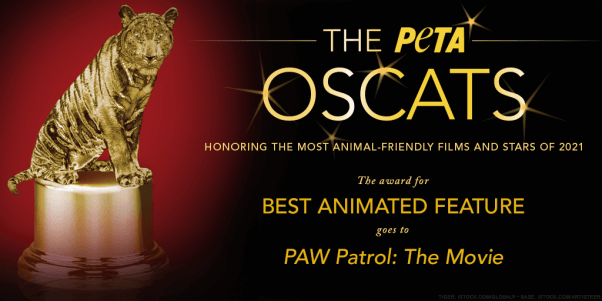 Any movie that teaches children to be kind to animals and promotes animal adoption is a winner in PETA's book, and PAW Patrol: The Movie had our tails wagging with glee. The PAW Patrol crew goes up against their biggest rival, Mayor Humdinger, to stop him from destroying Adventure City and save its citizens with help from a homeless pup, Liberty. The pups' human pal, Ryder, tells his companion canine Chase that he adopted him because he has so much potential, and Ryder finds Liberty a pawesome family to live with—the PAW Patrol.
Close, but No Award: Don't Look Up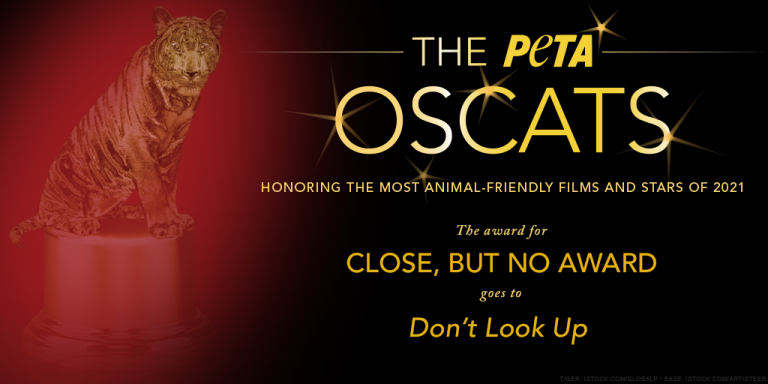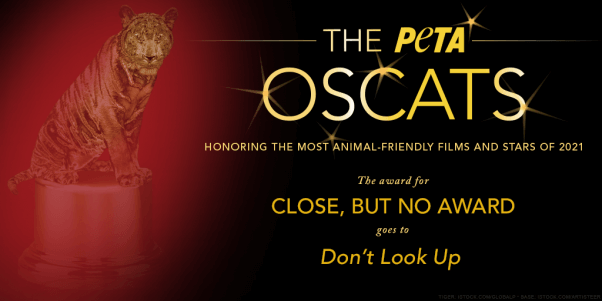 The only looking Don't Look Up did was overlooking the facts about animal agriculture's effects on the climate catastrophe and the opportunity to raise awareness that going vegan is the single most effective way to reduce one's impact on Earth. PETA celebrates the film's humane use of stock footage for many of the animal scenes, but it's not a comet that we're worried about destroying the planet—it's the meat, egg, and dairy industries that are on a one-way track to ruining us all. Look up Eating Our Way to Extinction instead.
Best Food for Thought Film: Eating Our Way to Extinction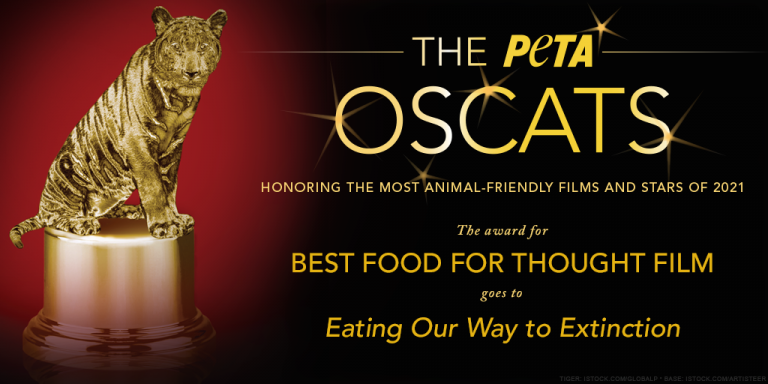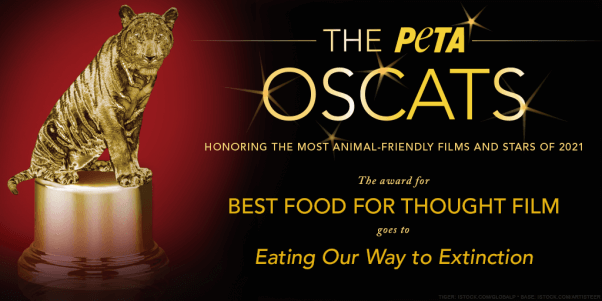 This profound feature documentary is catnip to the Oscats. Narrated in English by PETA pal Kate Winslet (who doesn't eat meat) and in Spanish by PETA Latino celebrity supporter Marco Antonio Regil, Eating Our Way to Extinction compellingly explains how animal agriculture is decimating the planet, with easily digestible demonstrations and graphics and unforgettable imagery. The film makes the crucial, undeniable point that going vegan is the only choice that humans can make to help reverse the ecological damage caused by the global animal agriculture industry.
Rising Star: Saniyya Sidney in King Richard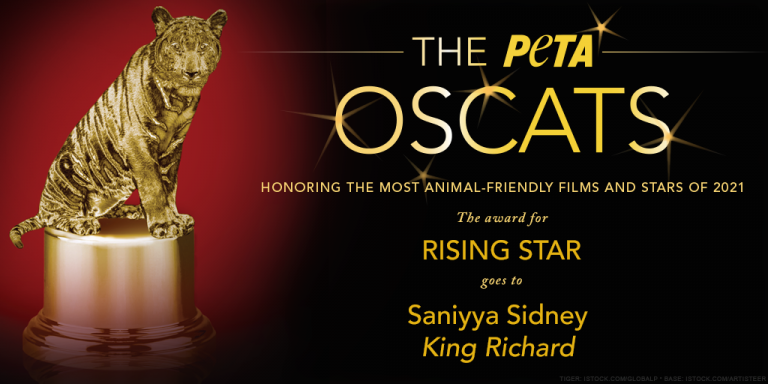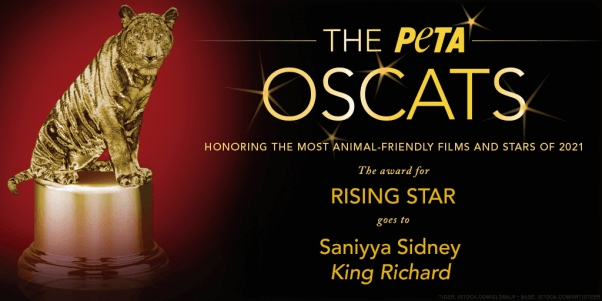 All hail Saniyya Sidney, who is vegetarian and serves up an ace of a performance in the sports drama King Richard, which lobs tennis superstars Venus and Serena Williams' life story up onto the silver screen. Saniyya plays Venus—who in real life is mostly vegan—and she rocks a faux-fur coat as the sisters' father succeeds in his quest to make them the best in the sport. Saniyya also said in an interview that she supports "alleviating animal endangerment"—game, set, match!
Teeth Off My Tentacles: The Lost Daughter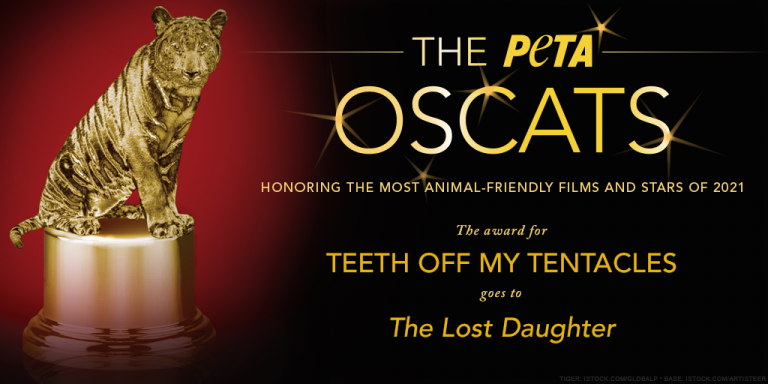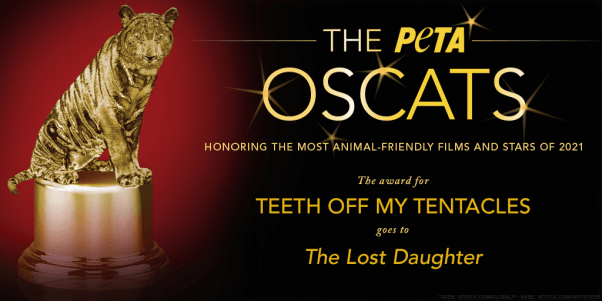 The film adaptation of Elena Ferrante's book The Lost Daughter drew us into its artful tentacles by including a nuanced scene that depicts two deeply flawed and selfish characters bonding over the murder of an octopus, a remarkably intelligent, sensitive, and resourceful animal. In the film, Lyle (Ed Harris) boasts about his octopus kill, saying, "It was swimming an hour ago," before he and Leda (Olivia Colman) feast on the animal's flesh during a lunch in which it's revealed that at least in earlier days, the two weren't very nice people. PETA appreciates how the film highlights that those who eat octopuses still have some character flaws to work on.
Not a Rodent Was Used, Not Even a Mouse: A Boy Called Christmas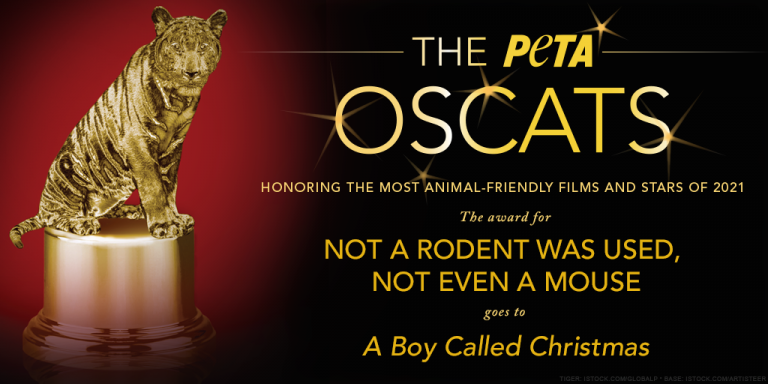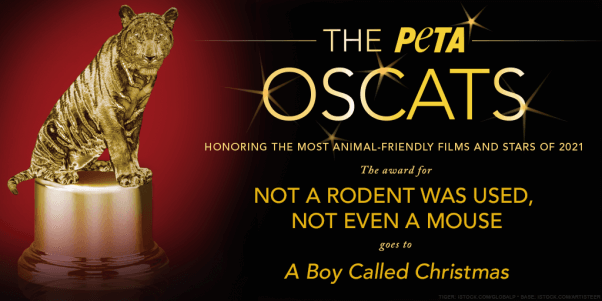 Some film productions still force rodents to perform on set, but this heartwarming tale about an ordinary boy with a mouse best friend who journeys to find his father in the fabled village of Elfhelm and becomes Father Christmas was different. A Boy Called Christmas used CGI instead of a live mouse, landing it on the Oscat Awards' "nice" list. The magical holiday film also features a CGI reindeer and bear instead of live ones, which protects animals from a life of deprivation and exploitation.
Monkey Scene? Monkey Didn't! Shang-Chi and the Legend of the Ten Rings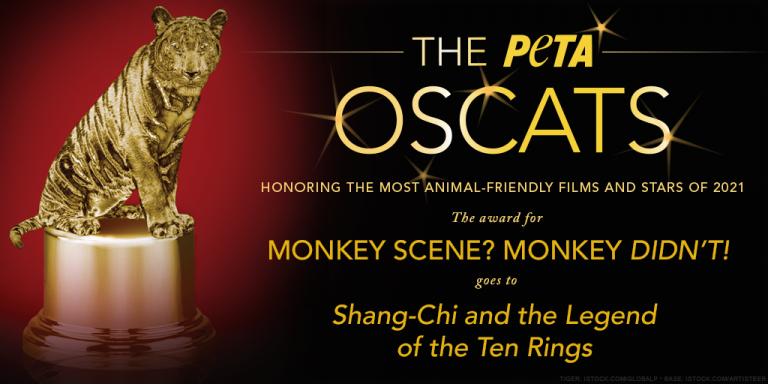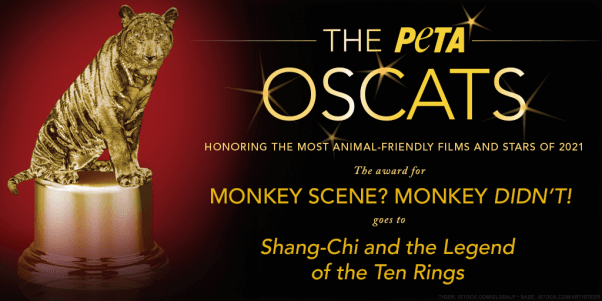 Marvel fans went wild for Shang-Chi and the Legend of the Ten Rings, as did PETA. We saw the monkey in some of the comics but didn't see a monkey in the film, earning this action adventure, which packs an animal-friendly punch, a golden feline. Monkeys used in films are typically separated from their mothers prematurely and subjected to abusive training sessions and deplorable conditions—but not on Shang-Chi's watch.
Best Liberapetion: Godzilla vs. Kong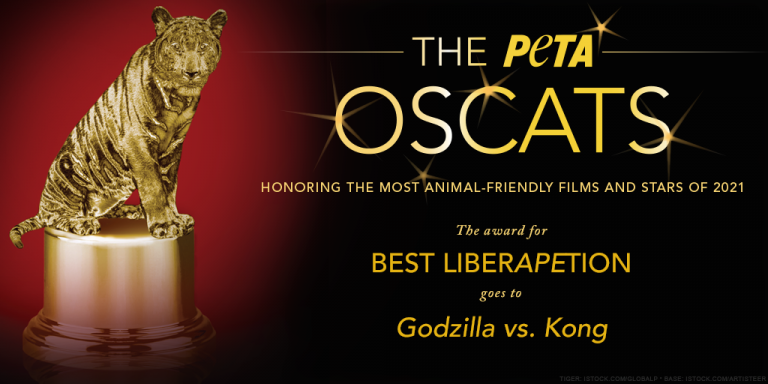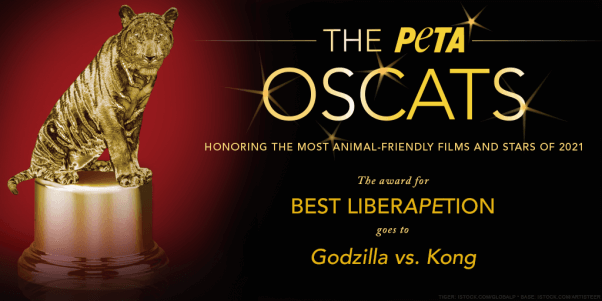 The Oscats went bananas for this long-awaited face-off between two cinematic icons. Initially, King Kong is being held captive and seen as a monster, but humanity needs the great ape to protect the planet from Godzilla's destruction. After witnessing the unbreakable bond between Kong and his human companion Jia and seeing Godzilla and Kong unite forces to destroy a greater evil, the humans realize the error of their speciesist ways. By the end, Kong is freed, left to rule his homeland and respected as an individual, as all animals should be.
Honey Is for Bees: Sing 2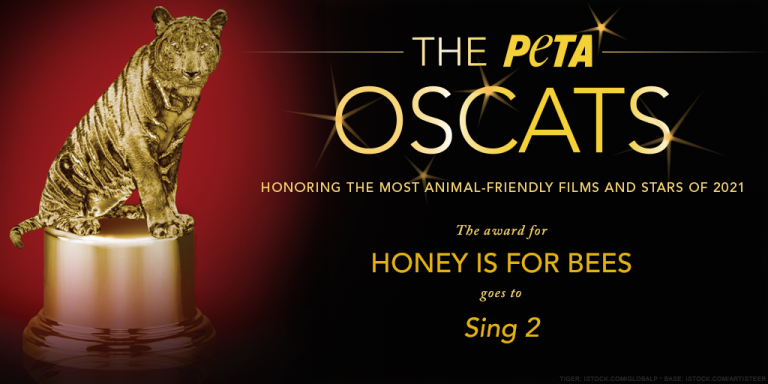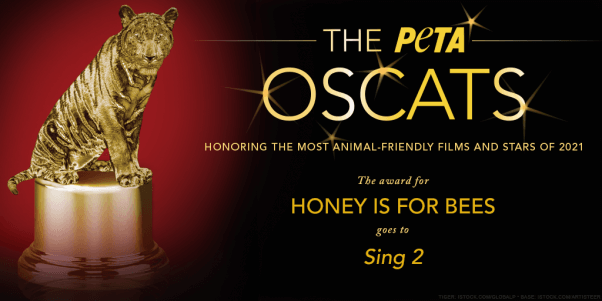 Here's the tea on Sing 2: Not only is this film, which is about animals in entertainment, done the right way because the animals are animated, one of the main characters, reclusive rock star Clay Calloway (a lion voiced by Bono), also says he doesn't like honey in his tea, which had us buzzing with delight. Many don't realize that honey comes from factory-farmed bees who are condemned to life in filing cabinets and are victims of genetic manipulation and stressful transportation. Bees need their honey, because it provides vital nourishment, especially during the winter, so keep your teacup cruelty-free, like Clay, sans honey.
Cut Class, Not Frogs: Separation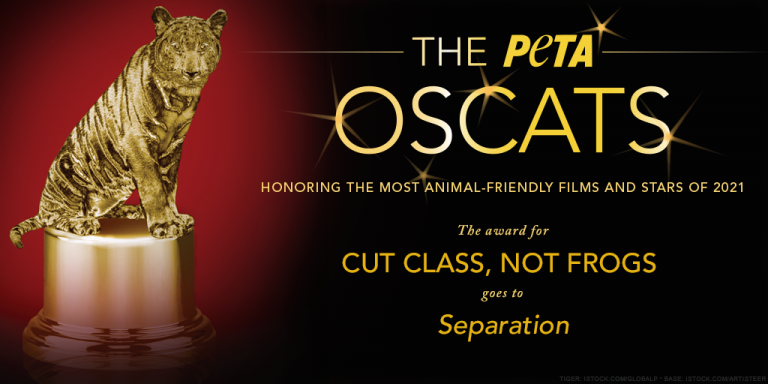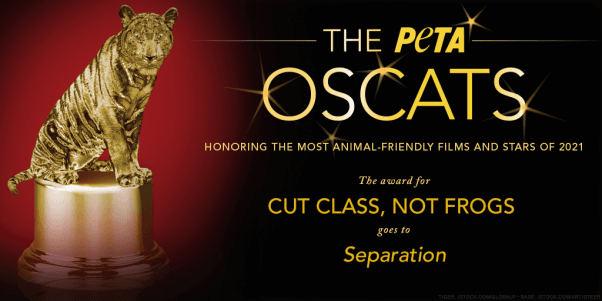 The irony that one of the main characters from this horror film wears a vintage "Cut Class, Not Frogs" PETA tee was not lost on the Oscats committee—forcing students to dissect dead animals is absolutely horrifying! We're honored that one of our T-shirts was featured in Separation, which also costars PETA supporter Brian Cox, and that Jenny (Violet McGraw) agrees that cutting up animals teaches kids to disrespect them, which is frightening.
*****
We encourage everyone to follow in these award winners' footsteps by speaking up for animals whenever they need help. If you witness or hear about animal abuse on film or television sets, report it to PETA.