Do you have your picks circled for the Oscars? What about the Oscats? Every year, PETA celebrates outstanding achievements in animal advocacy through film with our Oscat Awards. Previous winners include Bradley Cooper, Black Panther, Natalie Portman, Tom Hanks, The Lion King, and Charlize Theron in a mix of traditional categories and some that are unique to the Oscats.
So who's taking home a golden feline this year? Without further ado, here are PETA's Oscats Award Winners for 2020.
Best Animated Feature: Wolfwalkers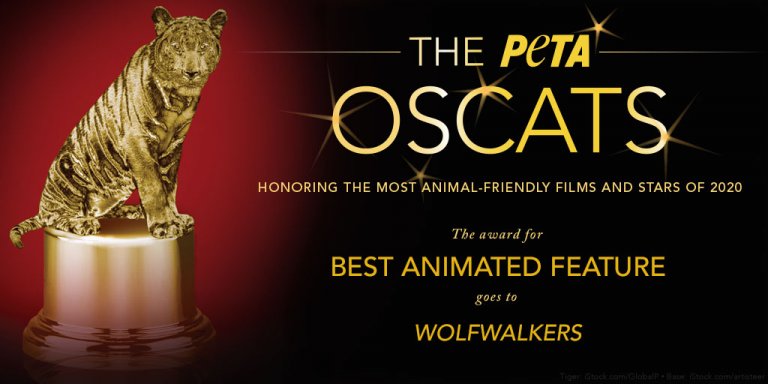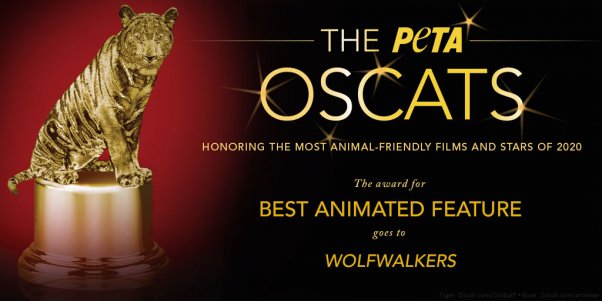 Co-written and co-directed by vegan filmmaker Tomm Moore, this Irish animated feature follows a family of wolves as they fight to defend their pack against the humans who want to eradicate them and bulldoze their forest home. Wolfwalkers challenges the toxic belief that humans are superior to other species (i.e., speciesism)—something Moore spoke to in an interview: "As an animal rights advocate, I feel the current crisis is largely from a broken and out of kilter attitude we, as a global society, have developed towards animals, and 'Wolfwalkers' speaks to that at a certain level."
Monkey Scene, Monkey Didn't: Mank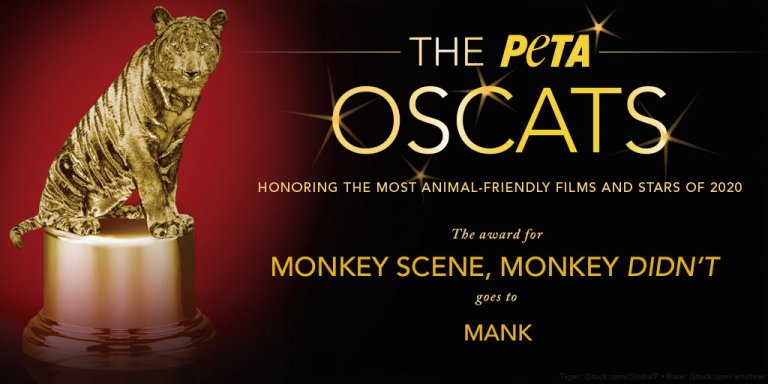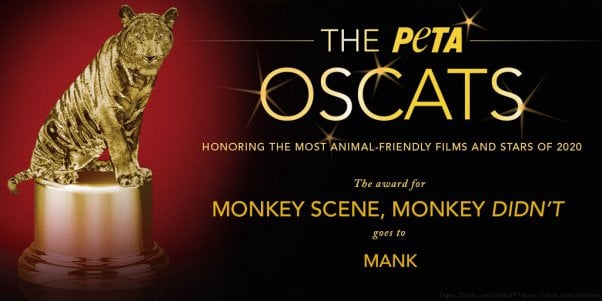 The critics loved Mank, and the Oscats do, too. The capuchin monkeys, giraffes, and elephants used in the film were all rendered using stunning computer-generated imagery (CGI), nabbing a second PETA award for director/producer and husband/wife duo David Fincher and Ceán Chaffin. Their first was an Elly Award, celebrating TV stars and shows that promote kindness to animals, for Mindhunter in 2018. This time, they've recreated old Hollywood without the old cruelty!
Best Costume: Pete Davidson's 'Hunt Mushrooms Not Animals' Shirt (The King of Staten Island)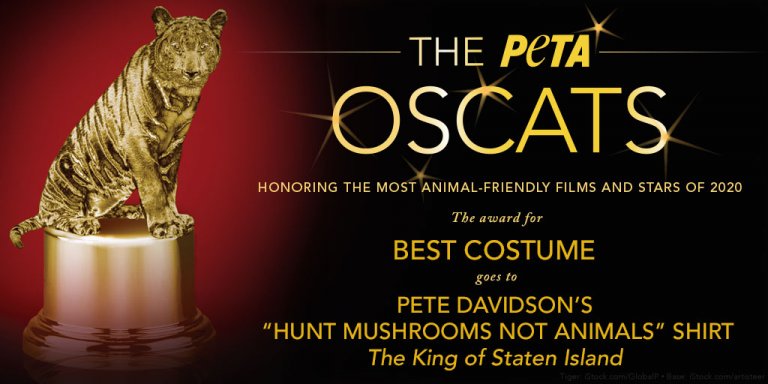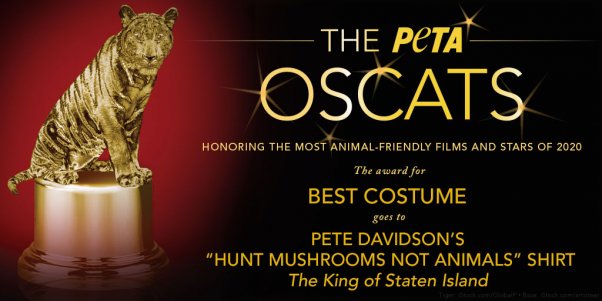 Kudos to costume designer Sarah Mae Burton and writer/actor Pete Davidson for The King of Staten Island's nod to animal rights, as Davidson's character sports a "Hunt Mushrooms Not Animals" shirt in the film. (And if Davidson wants to put his tattoos to good use before having them removed, we might know of an animal rights organization that does "Ink, Not Mink" ads.)
Best Adapted Screenplay: The One and Only Ivan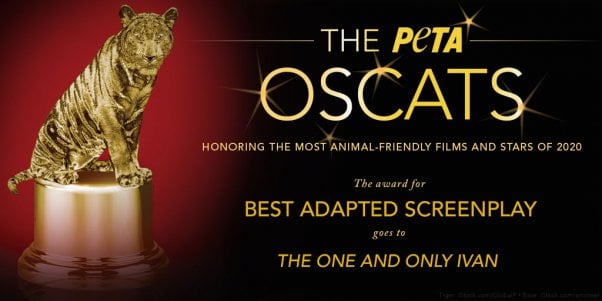 Leave it to the one and only Mike White to make a captivating film about wild animals without using a single one. The writer, actor, director, and longtime PETA friend brought the award-winning book The One and Only Ivan to Disney+ fans around the world, letting actors and astoundingly lifelike CGI animals—even the dogs!—bring to life this powerful tale that illustrates why everyone deserves to be free. This is The One and Only Ivan's second PETA award win. Disney also scored a Free the Animals Award for the film.
Best Bear Who Wasn't There: The Call of the Wild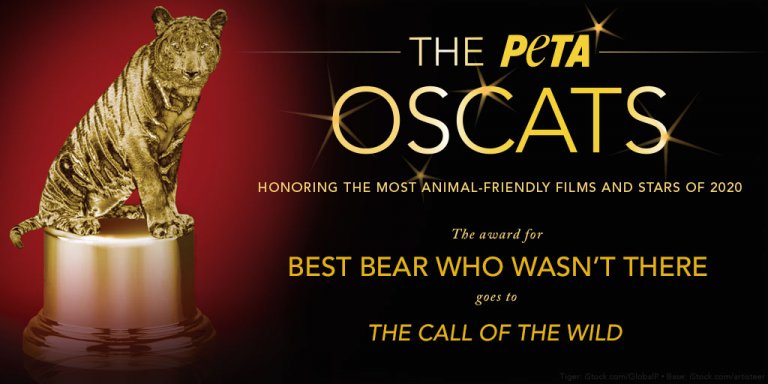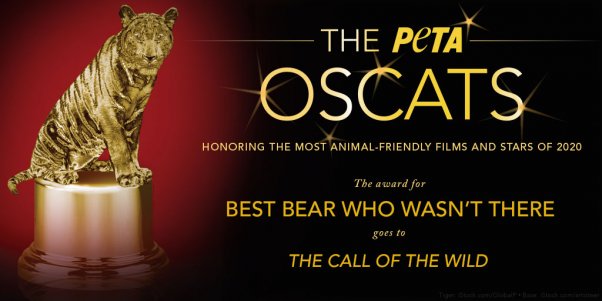 Disney's The Call of the Wild introduced a new generation to the Jack London classic and to the magic of CGI, thanks to convincing digital animals, including a bear and a dog. Real bears used in movies and TV are torn away from their mothers as babies and forced to endure lives of exploitation, so we're absolutely wild about Disney's compassionate decision here!
Sticking It to Meat: Sound of Metal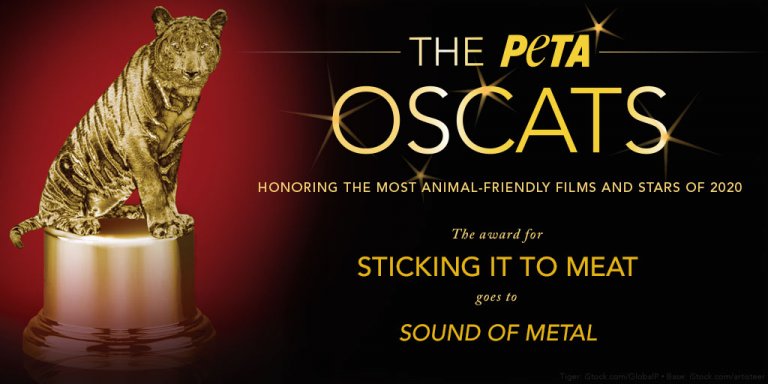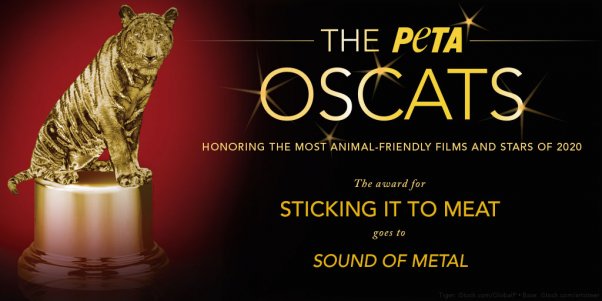 This awards season frontrunner nabbed an Oscat as well, owing to the "Meat Is Murder" sticker displayed on the main character's fridge. Sound of Metal might have been drowned out by the sound of us cheering when our favorite set design appeared.
Best Documentary: Gunda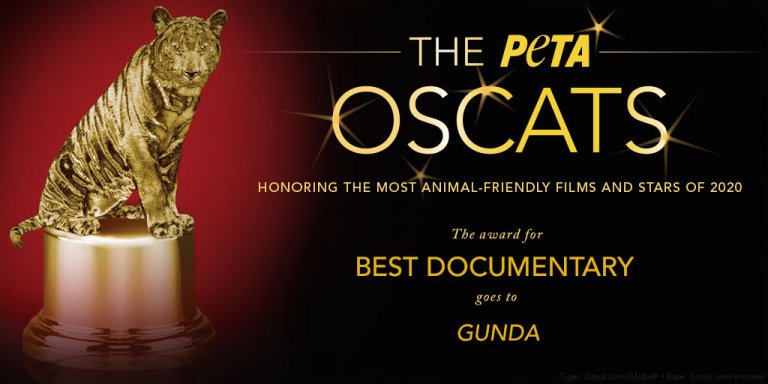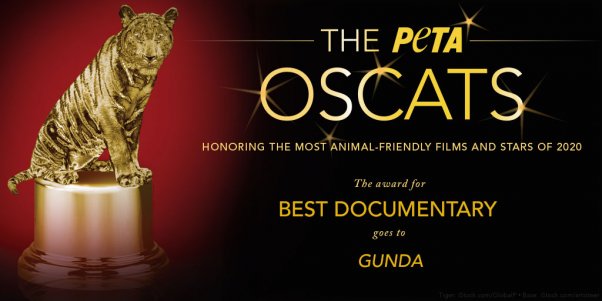 Gunda may be the real-life Charlotte's Web. With stunning black-and-white cinematography, the documentary tells the stories of mother pig Gunda and her piglets, along with two crafty cows and a "scene-stealing" one-legged chicken. Produced by PETA's 2019 Person of the Year, Joaquin Phoenix, and directed by Victor Kossakovsky, Gunda has been called "mesmerizing," and according to acclaimed filmmaker Paul Thomas Anderson, it's "more like a potion than a movie."
Tech, Not Terror: Dolittle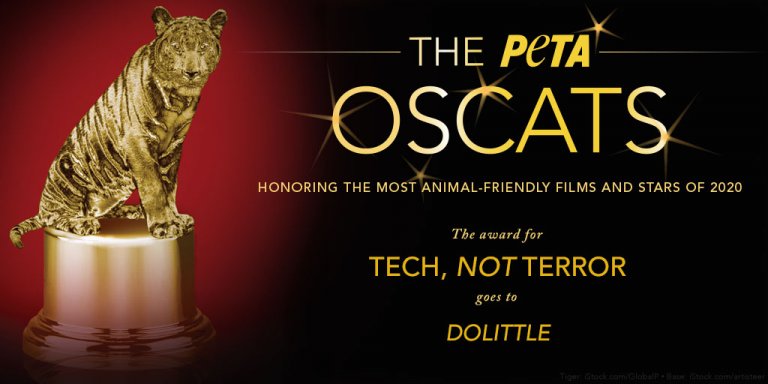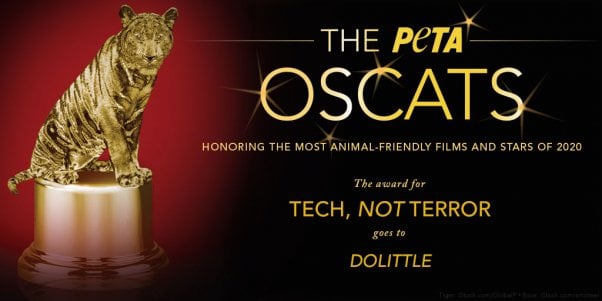 Pay no mind to the critics and escape with Dolittle, a funny film that actually did a lot to part with the animal exploitation of its previous iterations by showcasing brilliant technology and an all-star cast. You can do[a]little more for animals, too, by avoiding any movie or TV show that forces terrified animals on set!
Best SeaWorld Snark: Unbreakable Kimmy Schmidt: Kimmy vs. the Reverend, Writer and Creator Robert Carlock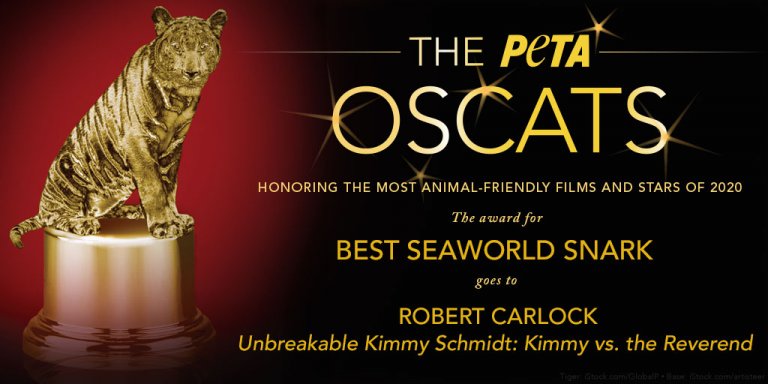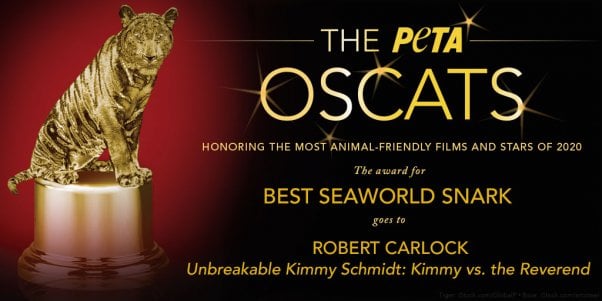 Robert Carlock has always had a knack for slipping in lines that encourage compassion for animals—in 30 Rock, Unbreakable Kimmy Schmidt, and Mr. Mayor, just to name a few. So we weren't surprised when we watched Kimmy vs. The Reverend to hear Kimmy utter this reminder that SeaWorld sucks: "And what about that SeaWorld documentary we thought was going to be fun but was not?"
Meta Meat-Free Moment: I'm Thinking of Ending Things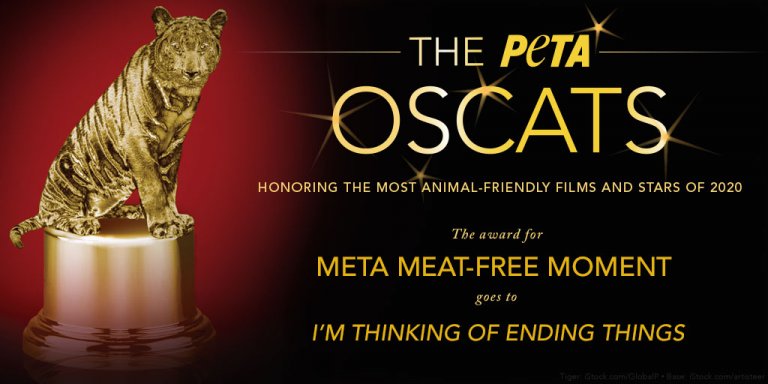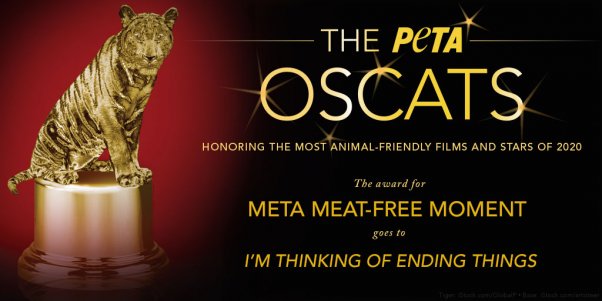 Among the many reasons to cue up Netflix's I'm Thinking of Ending Things, our favorite is the clever movie-within-a-movie that has one character doing what we've all wished we would: shouting an animal rights message in the middle of a crowded diner. Don't miss the scene in which the love interest of a waitress yells, "Look, man, she's a vegan … what you don't know about this amazing woman in front of you is that she is not a waitress. Well, she is a waitress, but only to put herself through school so that she can become an animal rights lawyer. No, not a crumb of meat or dairy has crossed her lips since she was 5 years old. And she realized that a … that a hamburger is just a ground-up cow. She spent the rest of her life trying to make the world a better place for animals, and I love her!" We love her, too.
In Memoriam Award: Cloris Leachman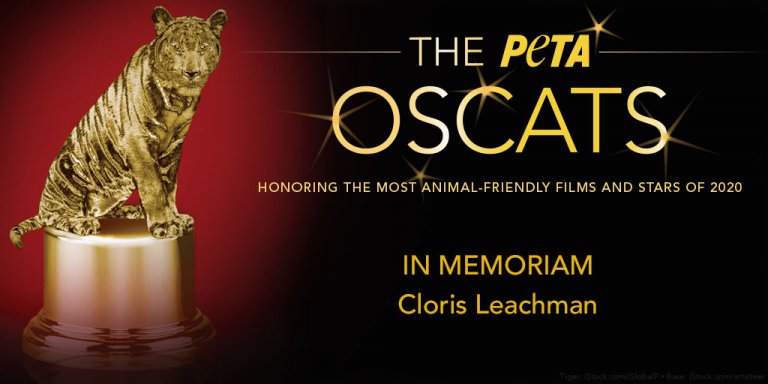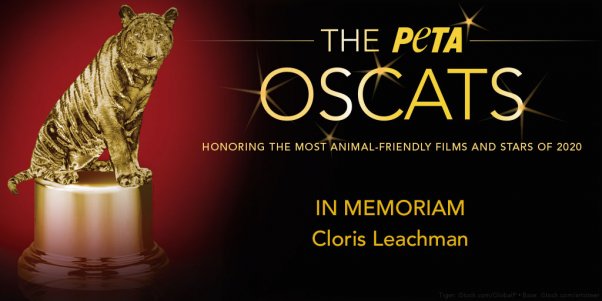 It was bittersweet hearing the familiar voice of our friend Cloris Leachman starring alongside fellow PETA supporter Peter Dinklage in The Croods: A New Age. For years, Cloris was using that funny and irreverent but always kind voice to advocate for those whose voices are ignored. She promoted plant-based eating, tried to halt "ag-gag" laws, worked to free animals from circuses and marine parks, and urged everyone to spay and neuter, earning her a PETA Lifetime Achievement Award. A vegetarian since the 1950s, she enjoyed remarkable longevity in life and in her career, and her passing left a void in Hollywood and at PETA that will not soon be filled.
We encourage everyone to follow in her footsteps by speaking up for animals wherever they need help. If you witness or hear about abuse of animals on film or television sets, report it to PETA.