Update: January 29, 2021
At Trident Seafoods, one of Alaska's largest fish slaughterhouses and a supplier to Long John Silver's, nearly 20% of workers—135 of 700, with testing only partially finished—tested positive for COVID-19. The state epidemiologist said that the company has only tested about half of its workforce and predicted that the outbreak would go on "for a while"—but Trident officials announced a measly three-week closure. Two other fish slaughterhouses in the area, UniSea and Alyeska Seafoods, also shut down because of COVID-19 outbreaks.
Update: August 28, 2020
Local health officials reportedly ordered a Foster Farms slaughterhouse in Livingston, California, to shut down after eight workers died of COVID-19 and more than 350 other employees tested positive for the novel coronavirus.
CORONAVIRUS LATEST: California health officials are ordering a Foster Farms poultry plant closed after eight workers died of COVID-19 and at least 358 employees tested positive for the virus. https://t.co/KgVGdb4lI8

— CBS Evening News (@CBSEveningNews) August 28, 2020
NBC News reported that, as of the morning of August 28, the chicken slaughterhouse was still open and operational.
"Nobody can ignore the facts: It's time to hit the reset button on Foster Farms' Livingston plant," State Attorney General Xavier Becerra reportedly said in a statement.
It's time to hit the reset button on our way of eating and eliminate all meat, eggs, and dairy—Foster Farms and the slew of incidents below prove that anything less is playing with animals' and humans' lives. Health experts have been warning that the next pandemic is inevitable if we don't change the way we treat animals. Foster Farms and every other slaughter company must take this advice into account and stay relevant by giving themselves and their product lines a vegan makeover, before it's too late.
Don't wait for slaughter companies to get it together—go vegan already.
Update: April 21, 2020
Ahmed and his wife, Neela, have dealt with the ramifications of Smithfield Foods' questionable decisions during the COVID-19 pandemic at firsthand. Although both emigrated from Ethiopia, the two met at Smithfield's Sioux Falls, South Dakota, slaughterhouse, where they both worked. Neela, who is now eight months pregnant, stopped working in December. Ahmed, feeling the pressure to continue working, was terrified that he would contract COVID-19 at work and infect his pregnant wife. His fears were realized when he began exhibiting symptoms and was later confirmed COVID-19 positive.
"Smithfield—they don't care about employees," said Neela. "They only care about their money."
Ahmed is one of more than 600 people with confirmed Smithfield-related COVID-19 infections (which account for more than 50% of South Dakota's cases) and is part of the "large immigrant population" a Smithfield spokesperson seemingly blamed for the company's coronavirus catastrophe.
"Living circumstances in certain cultures are different than they are with your traditional American family," she told BuzzFeed News, apparently blaming the multimillion-dollar company's overworked, underpaid employees for its Sioux Falls slaughterhouse outbreak getting so out of hand.
As of a few days ago, the slaughterhouse had become the number one coronavirus hotspot in the U.S. And if you ask employees, their union representatives, or local officials, the tragedy that has befallen the company was indeed avoidable.
"There could have been more transparency by [Smithfield] on the measures they were taking. The message to the public didn't match the actual plan," said Sioux Falls Mayor Paul TenHaken.
Although there's no undoing the damage that the pig-killing company has done, we do have a suggestion for Smithfield going forward: Reopen as a producer of healthy and 100% humane vegan pork.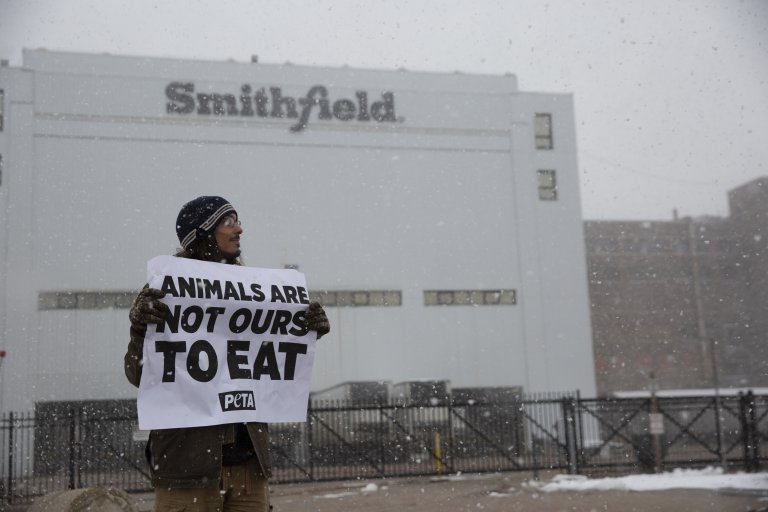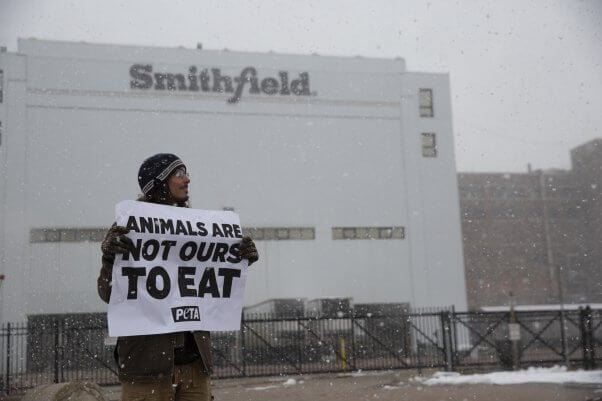 We're even offering to help cover the cost of retraining any of the company's employees who don't already have experience making its existing vegan meat products.
Update: April 10, 2020
Despite having a fever—one of the symptoms of COVID-19—55-year-old Annie Grant was told to return to work by her superiors at a Tyson slaughterhouse in Camilla, Georgia. "My mom said the guy at the plant said they had to work to feed America. But my mom was sick," said Willie Martin, one of Grant's sons. Although her sons begged her to stay home, Grant returned to work. Days later, after spending more than a week on a ventilator, she was dead.
Slaughterhouses don't just claim the lives of chickens, cows, and sheep—they're killing human workers, too.
Hundreds of slaughterhouse workers, if not more, have tested positive for the novel coronavirus. Despite the disturbing statistics, many animal-killing and -packing operations are conducting business as usual.
"How many more have to fight for their life, how many more families got to suffer before they realize we are more important than their production?" one of Grant's coworkers, Tanisha Isom, asked.
Slaughterhouses and other animal-killing operations—crammed with humans, live animals, and bloody flesh and bearing a disturbing resemblance to "wet markets"—should take the commonsense step of closing down (and remain closed even once the COVID-19 crisis subsides) before anyone else, human or animal, is killed.
Update: April 6, 2020
We said it weeks ago: As long as meat companies continue to endanger both humans and other animals, it's a matter of when—not if—the next worker will become infected. Last week, that when became now. After 10 workers at a JBS meatpacking plant in Colorado tested positive for COVID-19, about 1,000 other employees—sick of being forced to work in crowded, filthy conditions (without safety gear) and denied sick pay to self-quarantine—walked off the job.
"People work pretty much elbow to elbow. There's no 6-feet distancing there," the employees' union representative said of slaughterhouse working conditions.
Even before the coronavirus crisis, working on a kill floor was a dangerous, dirty, dead-end job. Slaughterhouses are sick, unsanitary places that typically show about as much concern for their employees as they do for the animals killed there. Staff are often obligated to keep up with dangerous slaughter speeds and stomach unethical, revolting practices. Many become mentally unwell, even suicidal, and workplace safety records indicate that U.S. slaughterhouse employees are three times more likely to sustain serious injury than the average American worker. All this, and now they have to worry about becoming infected with COVID-19 as well.
So, to give the slaughterhouse workers who walked off the job a chance to reinvent themselves, PETA has offered to cover the cost of job training for them in the pleasant, nonviolent field of flower arrangement.
We're happy to help budding flower arrangers flee the meat industry for the sake of animals and their own mental health.
If you want to avoid influenza viruses and other pathogens, too, go vegan. The meat industry isn't likely to change, but we can, simply by choosing what we put on our plates.
Originally published March 26, 2020:
While the trajectory of the COVID-19 pandemic remains unpredictable, one thing is certain: Unless they close down, slaughterhouses and other animal-killing operations—in which dangerous viruses and other animal-borne pathogens flourish—will continue to put everyone at enormous risk. Among those most exposed to danger are slaughterhouse employees.
On Monday, a worker at Sanderson Farms (one of the largest producers of chicken flesh in the U.S.) in McComb, Mississippi, allegedly tested positive for COVID-19, a disease that has reportedly been traced back to other animals who were closely confined, shipped, killed, and eaten. Sanderson Farms plans to continue packaging up dead chickens (chickens, who enjoy sunbathing as much as the next human does) at its McComb slaughterhouse and distributing their flesh to supermarkets around the country.
Sanderson Farms isn't the only animal-flesh processor with coronavirus woes. The same day that a slaughterhouse worker in McComb tested positive for COVID-19, Perdue Farms workers in Kathleen, Georgia, staged a walkout over their own growing concerns.
"We're not getting nothing—no type of compensation, no nothing, not even no cleanliness, no extra pay—no nothing. We're up here risking our life for chicken," said Perdue employee Kendaliyn Granville.
Granville and other Perdue workers said that they feel unsafe at the plant, working next to people who may have been exposed to coronavirus.
It's no surprise, really, that slaughterhouses aren't prioritizing their employees' (or the public's) welfare, even during these distressing times. The unsafe and unsanitary working conditions of these gruesome facilities are nothing new. But in an industry in which "sick leave is rare and even bathroom breaks are considered a perk ," employees often feel that they've been left with no choice but to stick it out.
Filthy farms, slaughterhouses, and meat markets threaten the health of workers and every human being on the planet by providing a breeding ground for diseases such as COVID-19, SARS, bird flu, and swine flu. A September 2019 Nature.com article by Cassandra Willyard even predicted this new coronavirus almost to a T:
Modern farms are particularly vulnerable to devastation from influenza. … But there is an even greater fear: that these ever-changing viruses will give rise to the next human pandemic.
We can't just blame wet markets and the wildlife trade in Asia, because one of the animals most commonly connected to viral outbreaks in humans is the chicken. And the U.S. is home to farms (such as Perdue) where chickens are crammed together in small cages as well as slaughterhouses (like Sanderson) where they're killed on floors soaked with blood, urine, and other bodily fluids. This is happening to chickens, who experience rapid eye movement (REM) sleep, which means that they dream, just as we humans do.
For everyone's sakes, these dangerous operations should take the commonsense step of closing down—yes, even after the COVID-19 crisis subsides.
Even without the connection to coronavirus, animal flesh is one of the most cruelly obtained and unhealthy things you could consume. Eating meat has been conclusively linked to heart disease, cancer, obesity, and other health issues—and according to the United Nations, animal agriculture is responsible for nearly a fifth of human-induced greenhouse-gas emissions. But each person who goes vegan won't just help fight climate change—they'll also save the lives of nearly 200 animals a year, animals who, just like us, don't want to be killed. Don't wait for COVID-20—forget freezer meat and go vegan now:
Click on the link below to urge others to take the connection between meat and the coronavirus seriously:
Stay up to date with PETA's work during the current outbreak at PETA.org/COVID19.