A whistleblower has provided PETA with photographs and videos from inside a Nebraska slaughterhouse owned by JBS S.A., the world's largest meat producer. Even though federal slaughter laws require that cows be stunned (such as with a captive-bolt gun) prior to being slaughtered, the whistleblower alleged that, because of faulty equipment, the placement of the bolt gun on the animals' heads is "almost always abnormal." The whistleblower described seeing conscious cows—who were capable of feeling pain—hoisted upside down and their throats slit.
Animal handling expert Dr. Temple Grandin agreed that the images showed improper placement of the bolt gun. When asked about the videos, she stated:
"The stunning video showed normal operation. The blinking animal that was hanging on the rail should have been re-stunned. Spontaneous natural blinking is a sign that an animal is conscious. The stunner operator needs to be more careful and make sure that cattle are properly stunned BEFORE they are discharged from the restrainer. It is better animal welfare to do a second shot in the restrainer than taking the risk of hanging a conscious animal on the rail. Trying too hard to never do a second shot increases the probability of hanging a conscious animal. Hanging a conscious animal is much worse than a quick second shot. The video definitely showed an animal that was showing signs of consciousness while hanging on the rail."
A veterinarian agreed that the cow was "without a doubt" still conscious.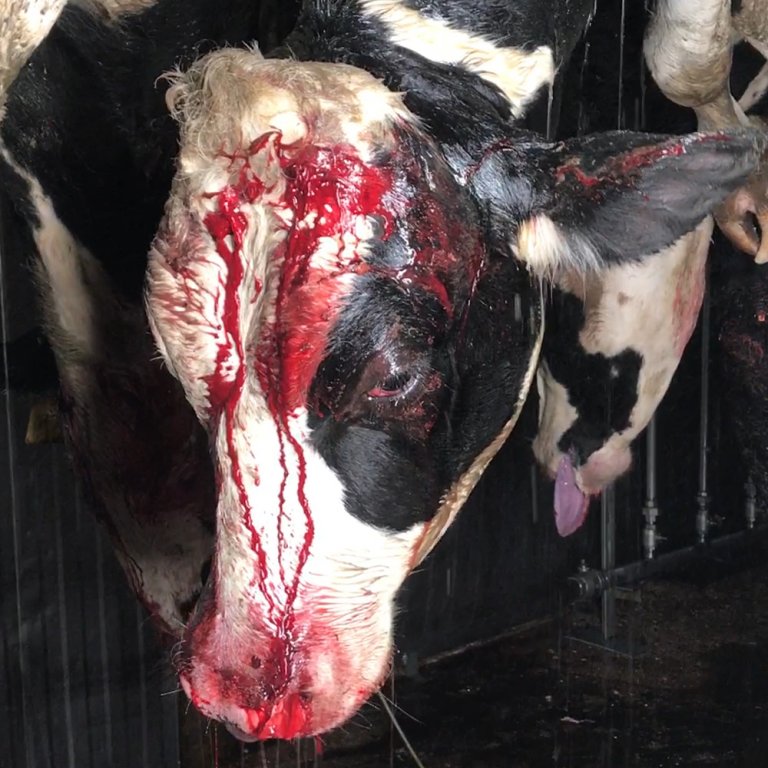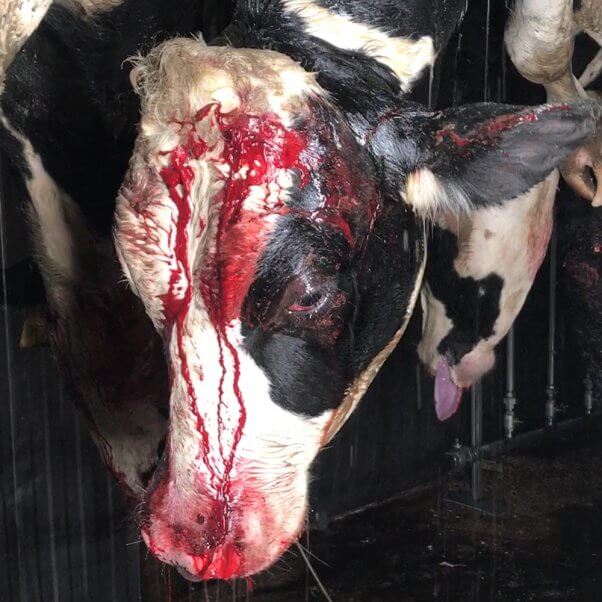 JBS is the parent company of Smithfield Beef, Pilgrim's Pride, Swift, and other well-known meat brands. It's also fast becoming known for animal welfare violations. The U.S. Department of Agriculture (USDA) has suspended operations at this slaughterhouse four times since April 2016 after workers shot cows and steers multiple times with captive-bolt guns in inept stunning attempts and has found numerous alarming violations at many other JBS facilities, as PETA has reported.
Every violation means even more suffering for a thinking, feeling animal. And every animal in the meat industry knows personally that the only truly humane meal is a vegan one.