Glowing mom-to-be Mena Suvari joins forces with PETA—and a strategically placed avocado—to show off her baby bump and encourage everyone to "go vegan, baby!"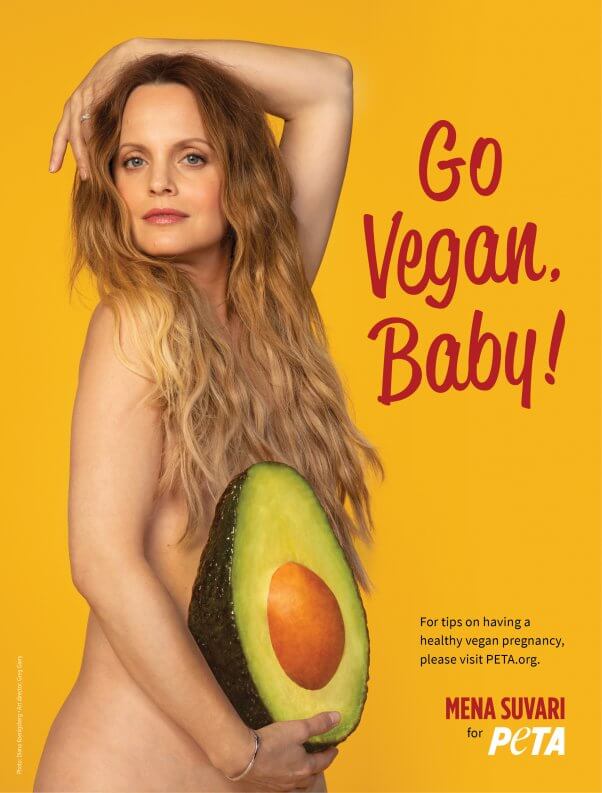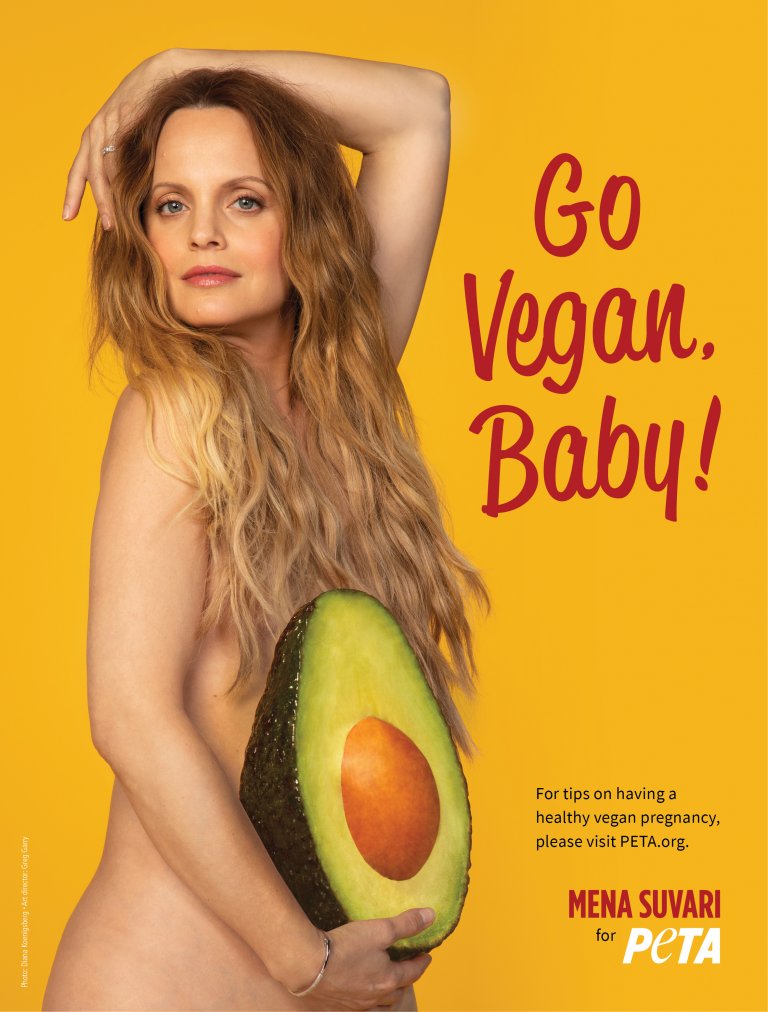 For Mena, who has been vegan since 2017, a plant-powered pregnancy was a no-brainer. Known for her characters in iconic films like American Beauty and American Pie, she is now gearing up for the lifetime role of "mom" and is committed to raising her child with empathy and kindness.
"With everything I know about the cruelty of the meat industry and the health benefits of going vegan, I knew I wanted to raise my son to be a kind, loving, and empathetic person, and I think that can start with how we eat as a family," she says.
https://www.tiktok.com/@officialpeta/video/6929915367720537349
Here Are 8 Vegan Baby Foods to Nurture Your Little Ones Without Hurting Animals!
The Academy of Nutrition and Dietetics says that being vegan is appropriate for all stages of life, from childhood to adolescence to mature adulthood (including pregnancy), and acknowledges that going vegan can provide health benefits for the prevention and treatment of certain diseases. Mena joins a long list of PETA pals—including Laura Clery, Daniella Monet, Emily Deschanel, and her American Woman costar Alicia Silverstone—who have been outspoken about the benefits of a healthy vegan pregnancy. If you're expecting, always be mindful of getting proper nutrients and consult with a physician about any dietary decisions or questions that you have during pregnancy.
Some animal-derived foods are actually considered unsafe for pregnant people, including many products containing dairy cheese. But good news! Vegan cheese is safe for almost anyone's enjoyment—whether they're expecting or not. Soft "cheeses"—like those from PETA favorites Kite Hill, Treeline Treenut Cheese, and Miyoko's Kitchen—are delicious, animal-friendly, and completely pregnancy-safe. Plus, who can relate more to cows used in the dairy industry than pregnant mothers?
Mena and PETA are calling on everyone to go vegan. Doing so can help save nearly 200 animals each year and combat both climate change and world hunger. For many, being vegan improves their health by avoiding foods that contribute to the risk of suffering from heart disease, cancer, or strokes. In addition, by refusing to support the meat and dairy industries, you are showing solidarity and support for slaughterhouse workers, who are often forced to work in extremely dangerous conditions.
Check out PETA's free vegan starter kit: