UPDATE: Mena Suvari isn't backing down. On behalf of the American Woman star, PETA challenged Bed Bath & Beyond executives at the company's annual shareholder meeting, urging the brand to stop selling cruelly sourced mohair and down feathers. A PETA representative read her statement, reminding the crowded room how goats and birds suffer for these materials, before asking this hard-hitting question:
Bed Bath & Beyond claims that it's committed to being responsible and mindful of the resources it uses, but as long as it sells down and mohair, those are empty words. … Knowing of the suffering that animals endure in the production of its down and mohair items, when will Bed Bath & Beyond stop selling animal-derived down and mohair?
Mena is right: Bed Bath & Beyond can make a difference for animals by ditching mohair and down and switching to cruelty-free alternatives. To date, more than 210 top retailers worldwide have banned mohair, because they know that consumers want to support companies that share their socially conscious values. Shoppers also seek comfortable, lofty bedding that's ethical, easy to maintain, allergen-free, and machine-washable and -dryable. Down alternatives fit that bill.
Originally posted on June 25, 2018:
A short video in which a goose screams in pain as his or her feathers are ripped out by the fistful: That's all it took to persuade actor, model, and activist Mena Suvari to ditch down forever.
I admit I had NO idea. But after watching this DISGUSTING DISGRACEFUL… https://t.co/CRENJK51Kn

— ᴍᴇɴᴀsᴜᴠᴀʀɪ (@MenaSuvari) September 21, 2017
https://twitter.com/peta/status/910599561001013248
A committed vegan who buys only cruelty-free cosmetics, Mena had never seen the suffering behind every pillow, comforter, and jacket stuffed with down feathers. The second that she did, she immediately trashed every down-filled item in her home and began searching for compassionate alternatives.
https://twitter.com/mena13suvari/status/910718549441650688
She was clearly still shaken up by the cruelty that she had seen when she sat down with PETA to discuss her decision to stop buying down. In the video below, she encourages everyone to inform themselves about the suffering of birds used for down. Watch her powerful testimonial now:
Mena also posed for a stunning new print ad urging people to spare birds a terrifying life—and death—by refusing to buy anything made with down.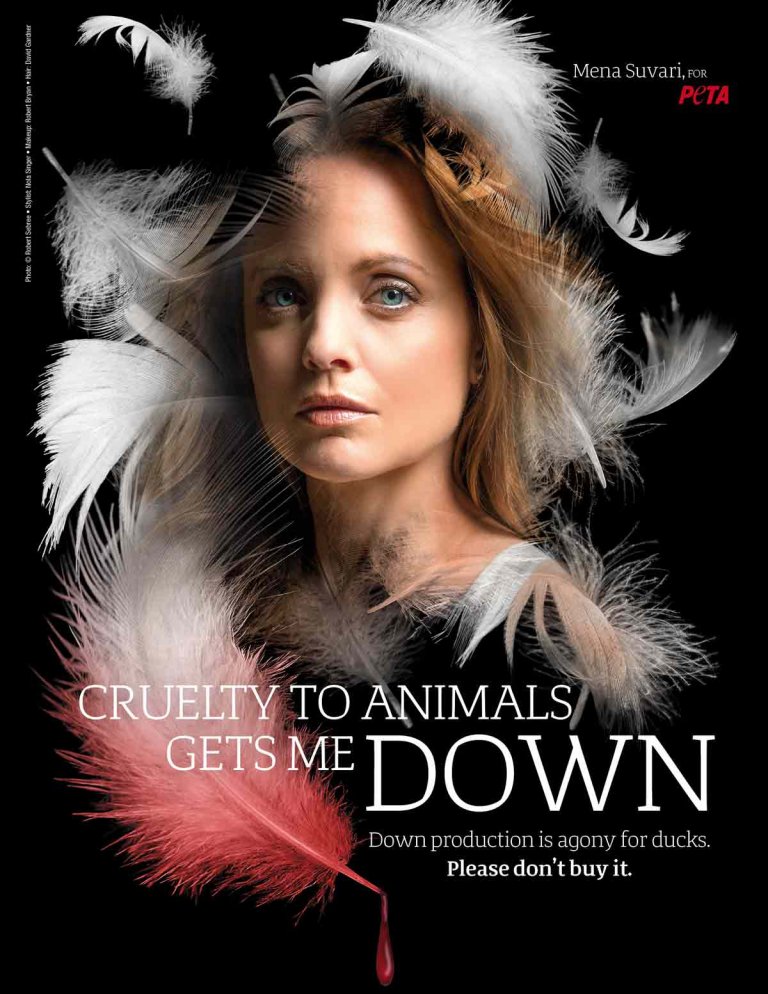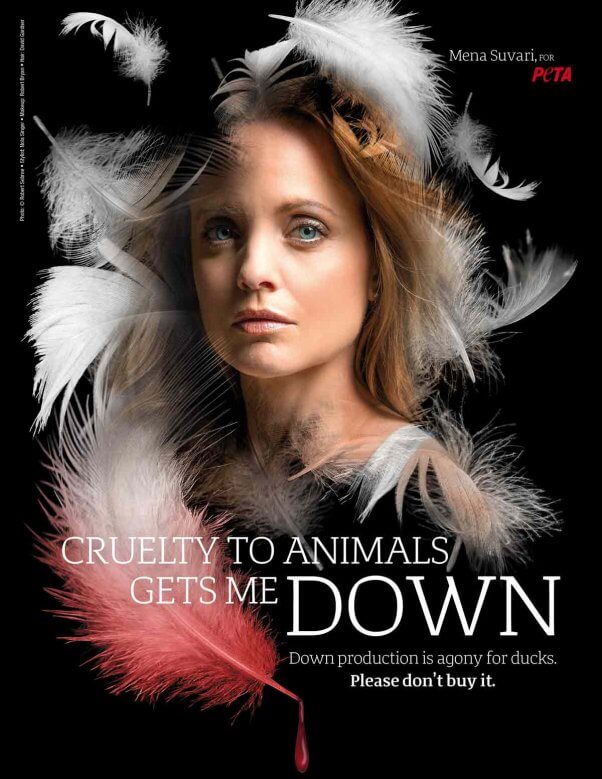 Sleeping on and under soft, warm down alternatives is a bed of roses for this American beauty.
From bedding to outerwear, down alternatives are easy to find. If you, like Mena, don't want to support the cruelty of the down industry, check out these great down-free coats for men and women. Then, share her story with your friends, family, and social media followers. Let them know that going down-free is as easy as (American) pie.