PETA doesn't hesitate to call out abuse when we see it in Hollywood. Whether we're slamming HBO for forcing abused elephant Tai onto the set of Westworld or exposing American Humane's woefully inadequate oversight of the use of animals for film and television, PETA has always worked to defend animals exploited on the big and small screens.
This year, PETA is taking it a step further and celebrating the TV stars and shows that have promoted kindness to animals. The Elly Awards recognize compassionate actors and TV series for their inclusion of animal-friendly storylines and for entertaining viewers without exploiting wild animals.
In addition to traditional awards for Best Lead in a Comedy or Drama Series, the Ellys include honors for animal-specific categories, such as Best "Captivity Sucks" Moment and Best "Accidentally Vegan" Message. While PETA's Animals in Film and Television division works to end the abuse and exploitation of animals used for movies and TV by encouraging producers to employ the stunning and realistic technological alternatives that exist today, such as computer-generated imagery, it also urges productions to make sure that scripts promote pro-animal messages. PETA is happy to celebrate some of the shows that did just that with these special categories.
For the first annual Elly Awards, PETA is honoring the following television shows and stars:
BEST LEAD IN A COMEDY SERIES
LILY TOMLIN, GRACE AND FRANKIE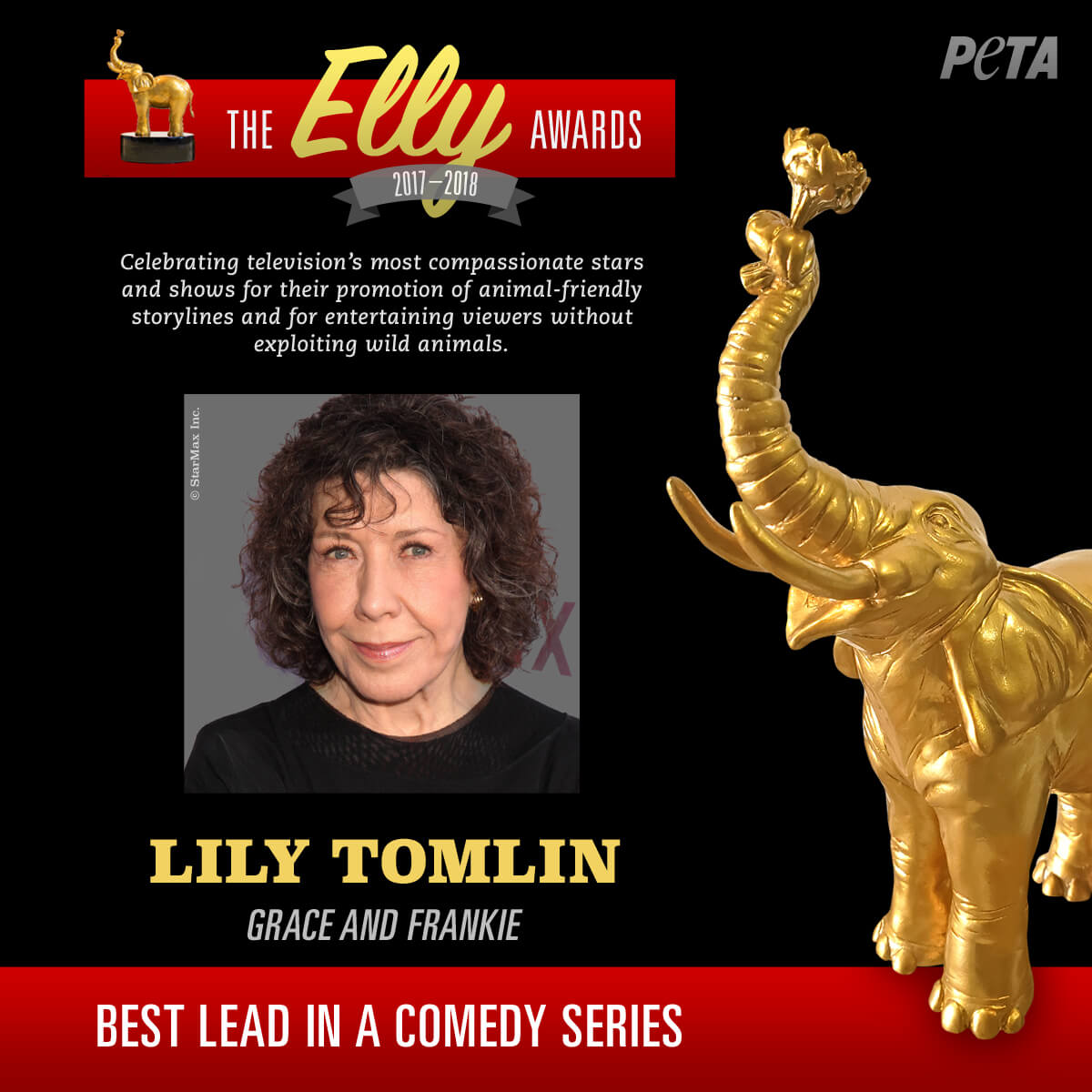 Free-spirited Frankie is sometimes forgetful, but she never misses a chance to speak up for animals—just like Lily Tomlin, the actor who portrays her. The real-life Tomlin reprised her classic role as Ernestine the telephone operator for a hilarious anti-SeaWorld PETA video and even contacted 5,000 staffers at Texas A&M University to protest the school's cruel experiments on dogs.
BEST LEAD IN A DRAMA SERIES
CHRISSY METZ, THIS IS US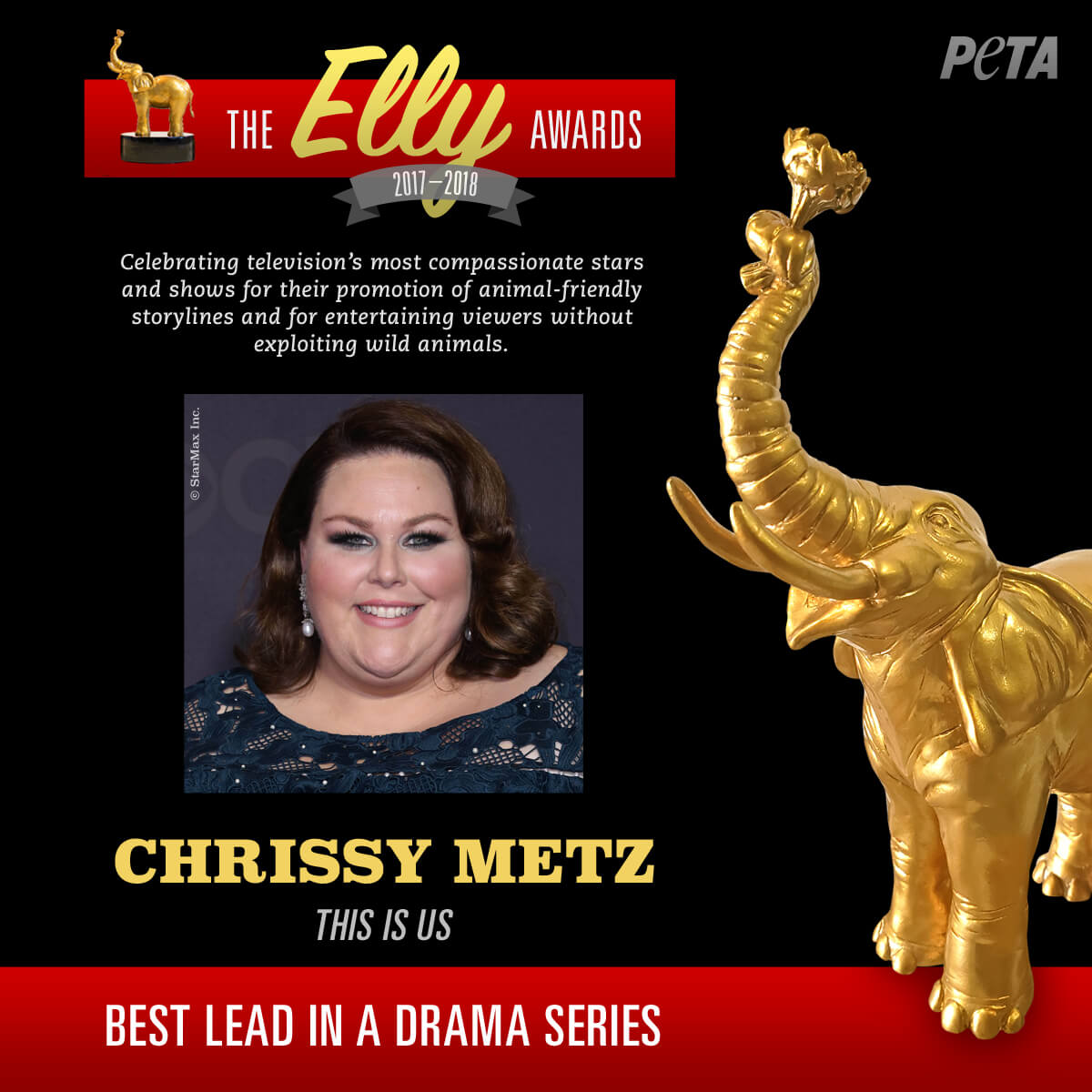 This Is Us always tugs at viewers' heartstrings, but our favorite pass-the-tissues moment is when Chrissy Metz's character, Kate, and her husband, Toby, choose to adopt a canine companion named Audio from a shelter. It's a redemptive moment for them all.
BEST LEAD IN A DRAMA SERIES
GATEN MATARAZZO, STRANGER THINGS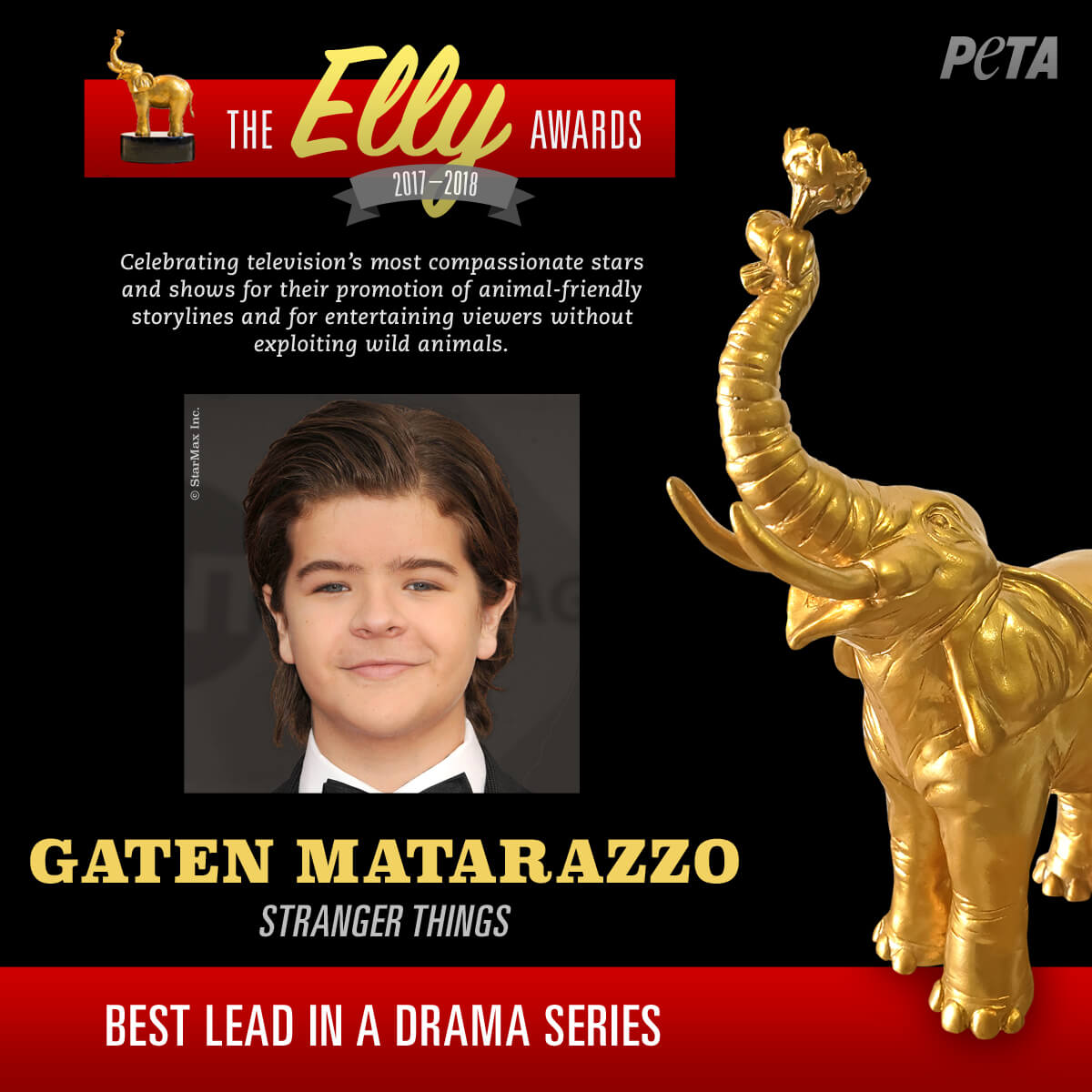 Lovable Dustin Henderson, portrayed by Gaten Matarazzo, has a heart as big as his smile: He saves "Dart" the Demogorgon and hides him from his friends to keep him safe. Later, Dart returns the favor by choosing not to attack Dustin—proving that kindness is magical. In real life, Matarazzo is just as compassionate: He's a vegetarian!
BEST LEAD IN A LIMITED SERIES
BILL PULLMAN, THE SINNER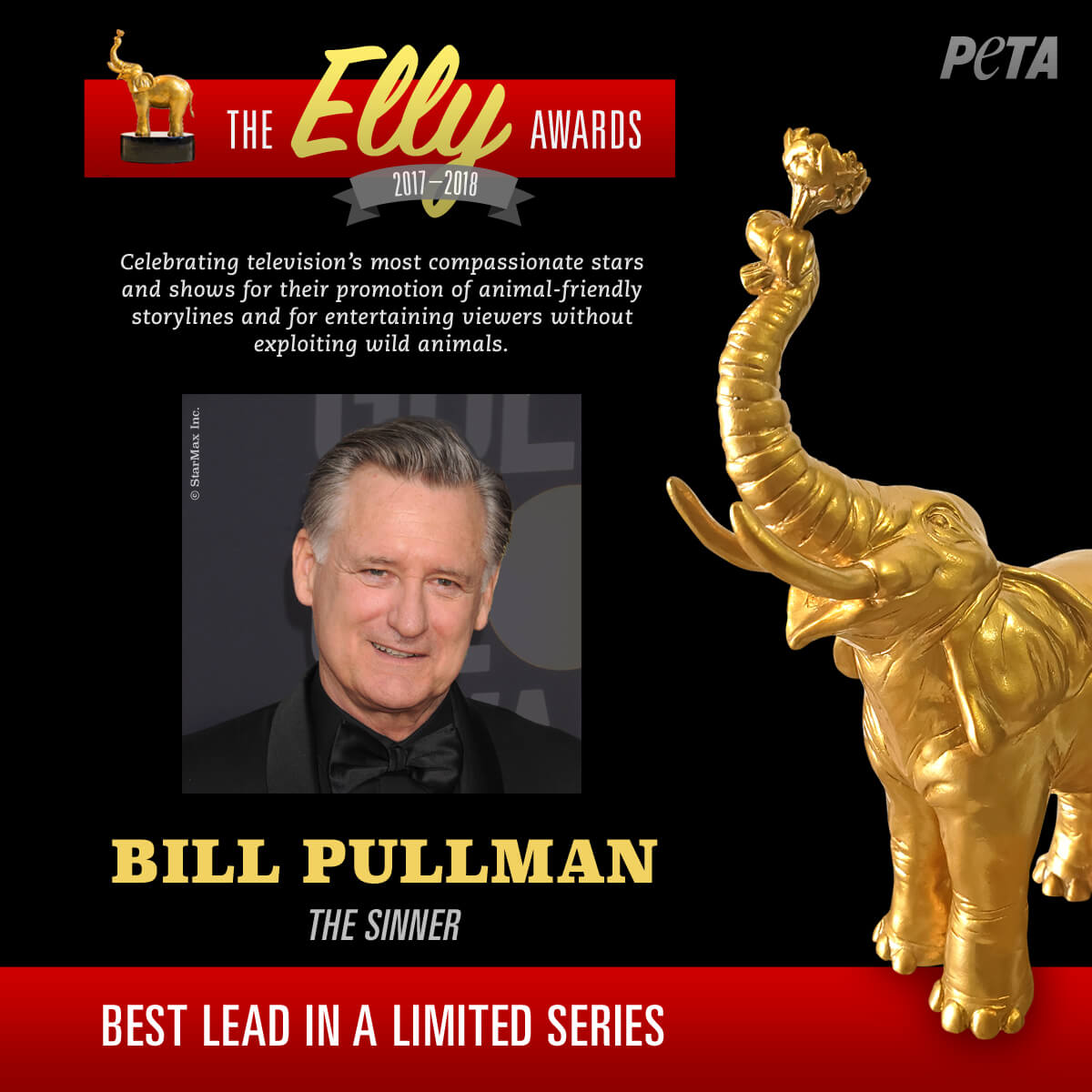 Bill Pullman's character, detective Harry Ambrose, is a saint to animals: When a little bird slams into a window while he and his wife are eating dinner, he gently picks up the bird and whispers, "Come back." The bird soon recovers and flies away.
BEST COMEDY SPECIAL
RICKY GERVAIS, HUMANITY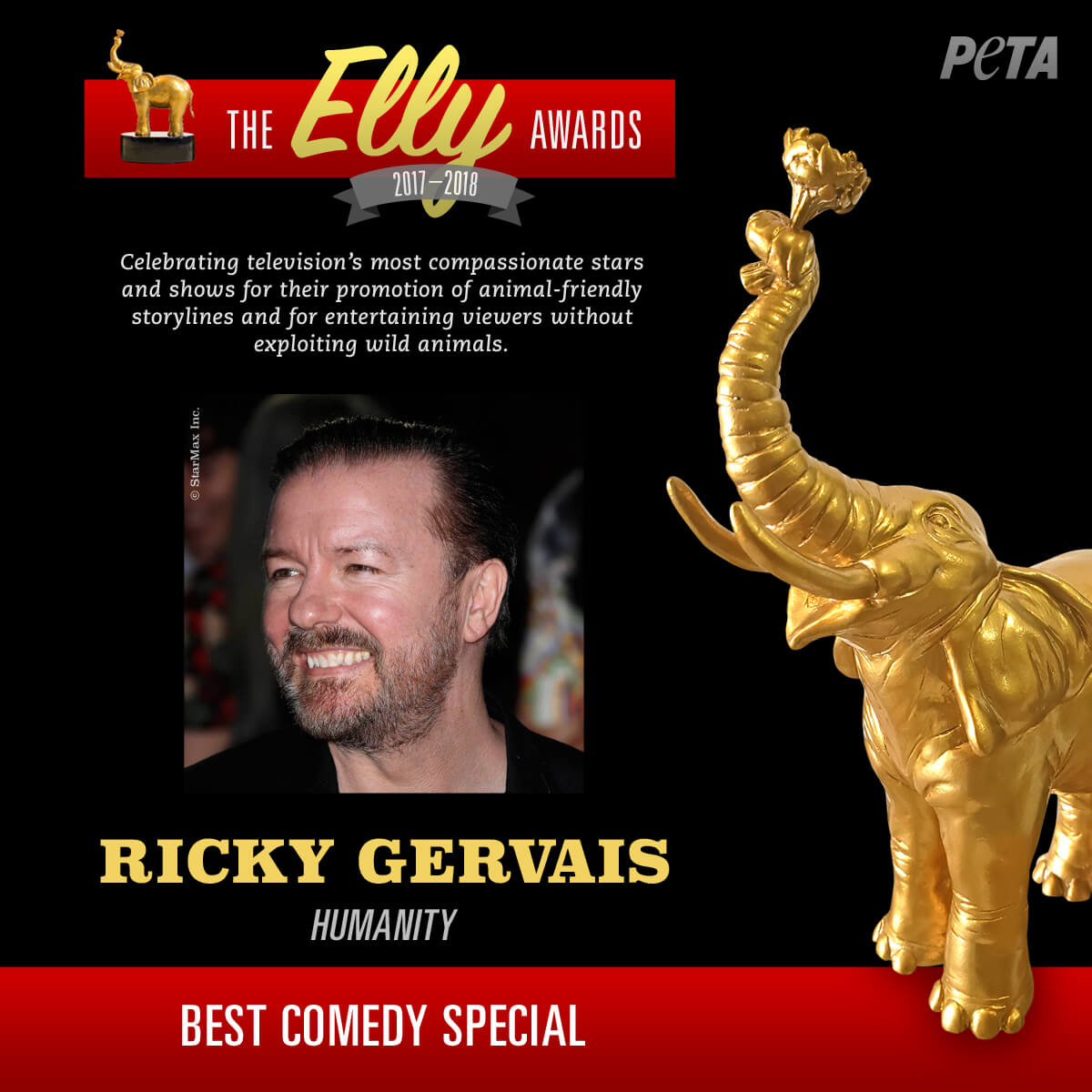 Comedian Ricky Gervais is dead serious when it comes to animal rights. On his hugely popular Twitter account, he spares no sympathy for trophy hunters, bullfighters, or anyone else who hurts animals, and in his recent standup special, Humanity, he encourages others to get involved, too. "I've been involved in many campaigns where people have signed petitions and the law has been changed," he says. "So thank-you to anyone who has ever retweeted anything to do with animal cruelty because it really makes a difference."
BEST ACCIDENTALLY VEGAN MESSAGE
THE HANDMAID'S TALE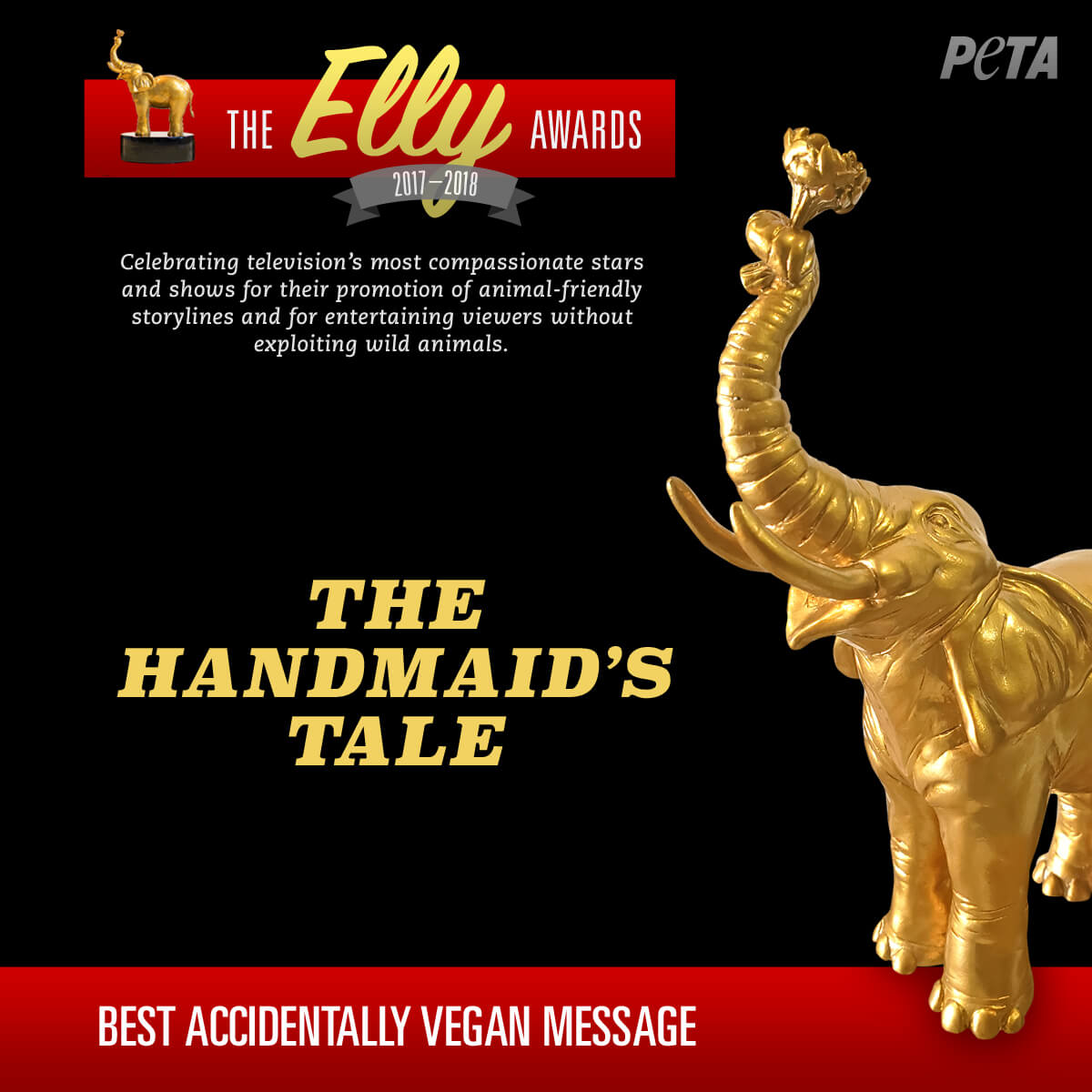 Labeled with an ear tag. Jabbed with electric prods. Impregnated. Chained. Their babies stolen. Led to slaughter. These are moments from The Handmaid's Tale that could easily be mistaken for real-life abuses on a typical dairy farm. In one scene, June Osborne tells a man who's trying to help her escape, "Do you know what this is? Do you know what happened here? It's a slaughterhouse." The Handmaid's Tale powerfully makes a case against treating anyone—women or cows—as nothing more than objects to be exploited and discarded.
BEST CGI
A SERIES OF UNFORTUNATE EVENTS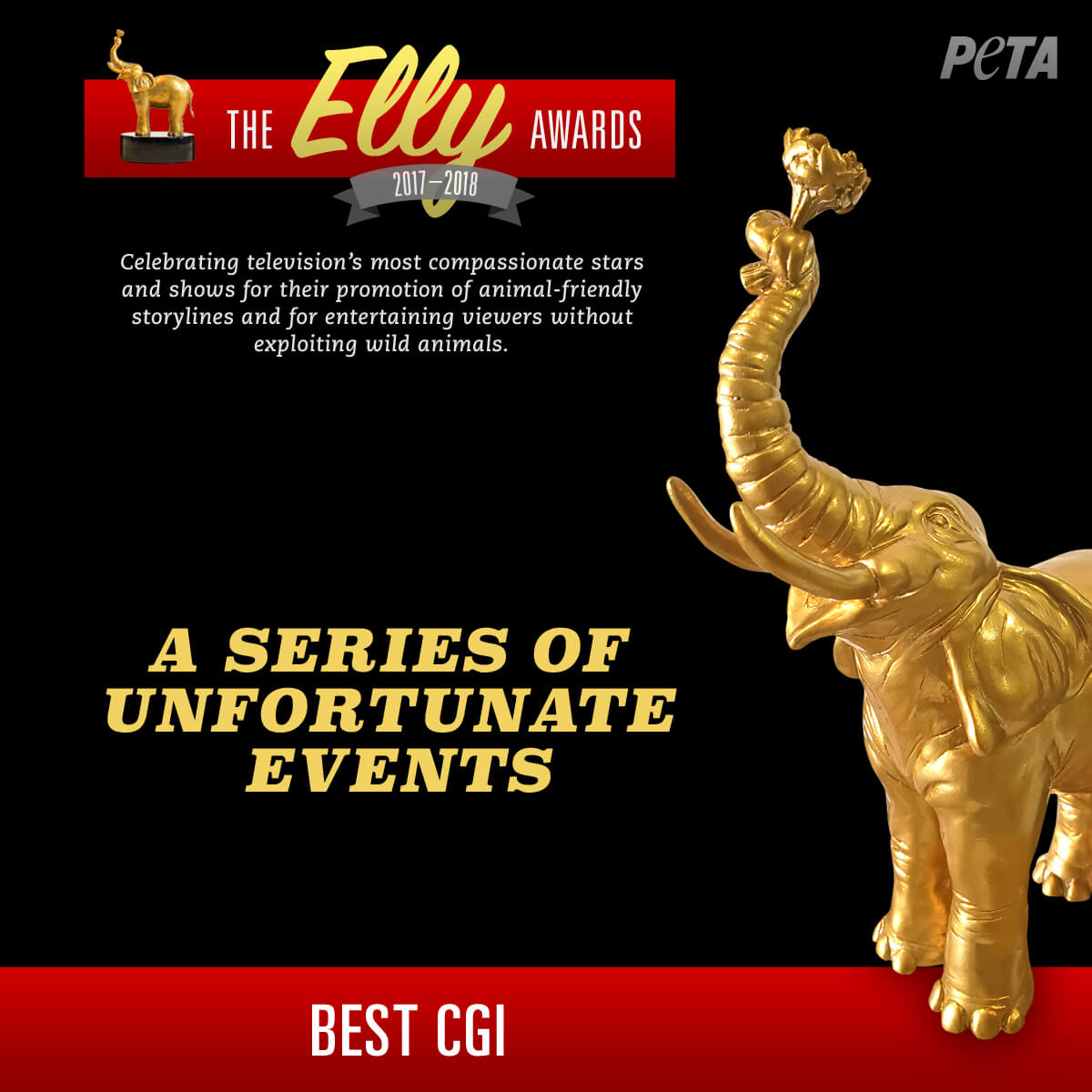 Fortunately for big cats, the producers of A Series of Unfortunate Events used computer-generated imagery (CGI) to create the hyper-realistic lions featured in one perilous and unforgettable scene, instead of exploiting real animals. The fictional Baudelaire children may be held captive by the evil Count Olaf, but there's no reason for real animals to be kept in captivity and abused for any TV show or movie.
BEST CGI
THE WALKING DEAD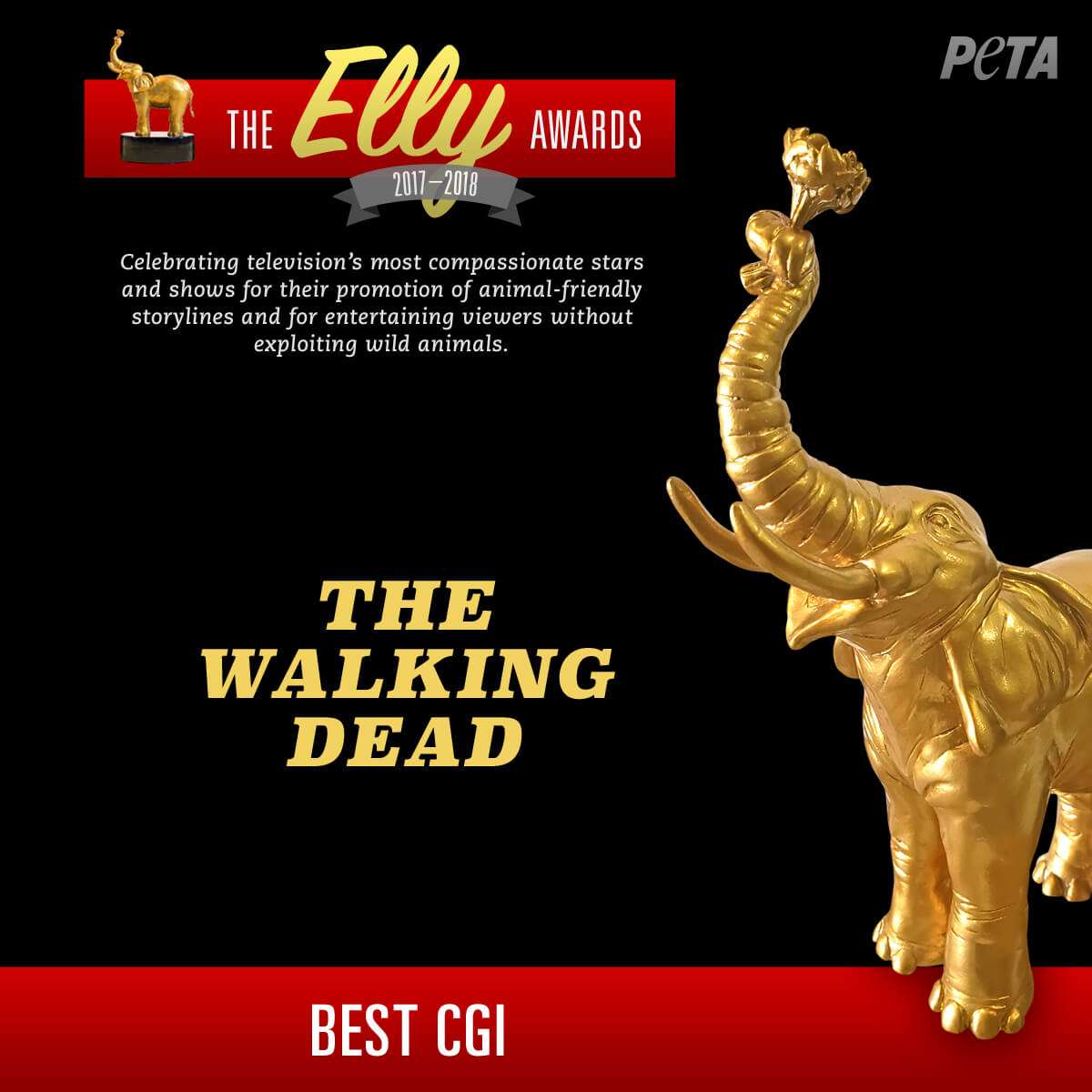 Fans of The Walking Dead are still mourning the death of one of the show's most beloved characters, Shiva the tiger. But they can rejoice that no real animals were harmed to portray King Ezekiel's beloved companion: The stunningly realistic Shiva was created entirely from CGI and animatronics. The show also included a great pro-animal message, when a character commented that Shiva had obviously not been used in a circus because she loved her guardian and circuses are not good to animals.
BEST 'CAPTIVITY SUCKS' MOMENT
THE ORVILLE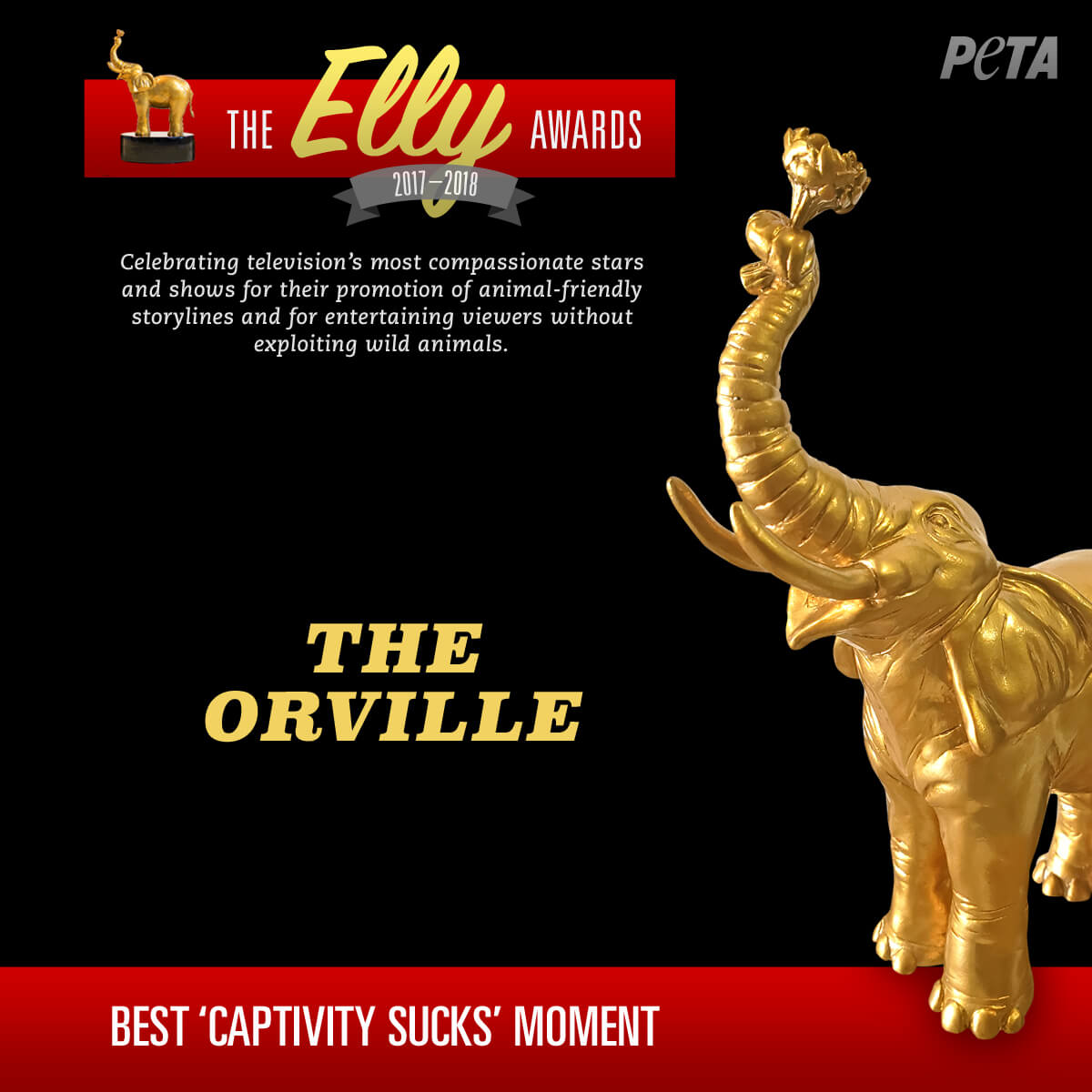 Seth MacFarlane has spoken out against cruelty to animals on film sets, and his current project, the space adventure series The Orville, sends a strong anti-captivity message. In a what-goes-around-comes-around twist, an alien species called the Calivon captures humans and displays them in zoos for members of their own species to gawk at. After Seth's character, Captain Ed Mercer, and his first officer, Kelly Grayson, are captured, Grayson makes this painfully accurate observation: "There was a time when humans imprisoned animals for entertainment, wasn't intended to be cruel, we just felt as the higher species we had the right."
BEST TEACHABLE MOMENT
MINDHUNTER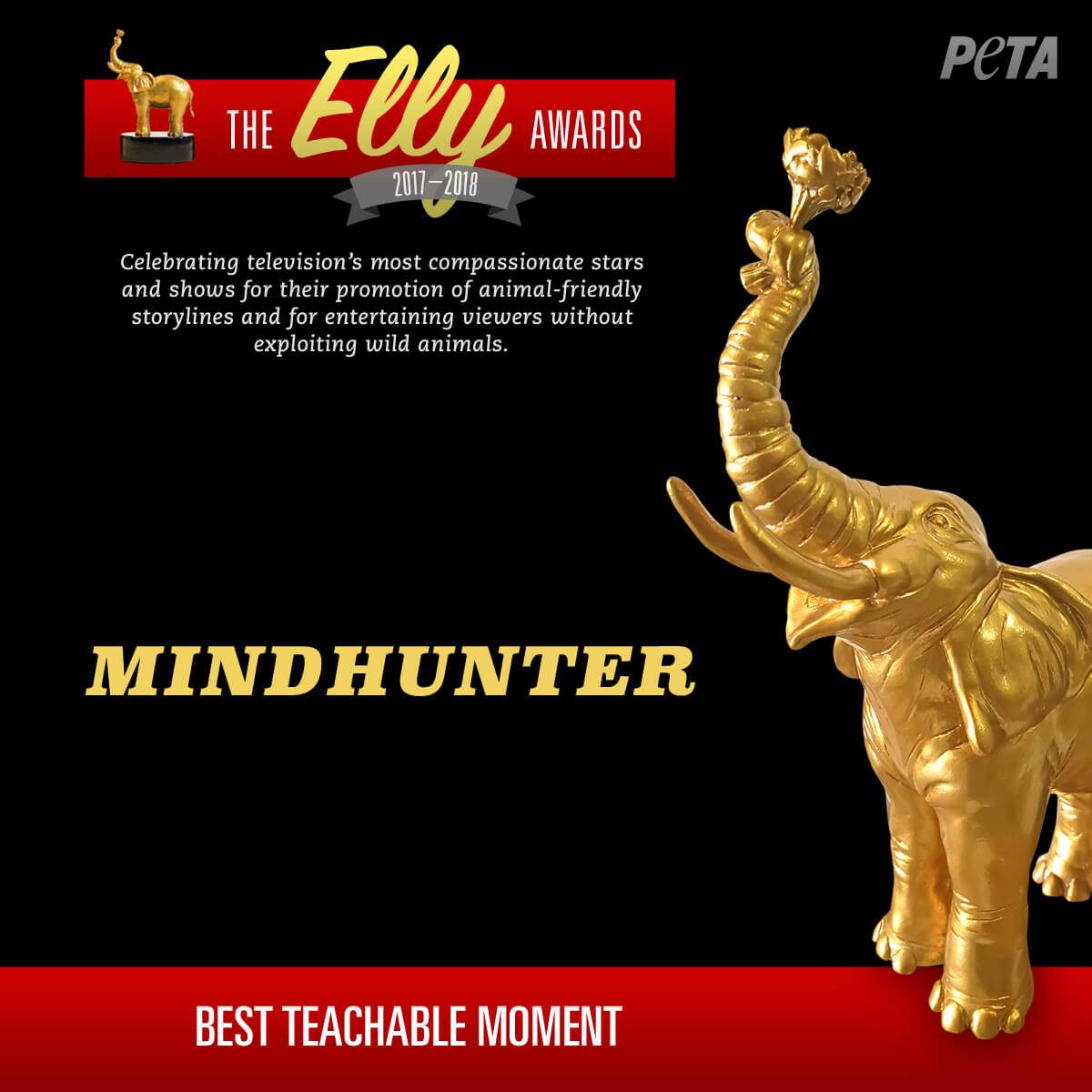 Mindhunter chronicles the origins of the FBI's Behavioral Analysis Unit, which profiles serial killers. So, naturally, FBI agent Holden Ford, played by Jonathan Groff, warns his students at Quantico that harming animals can lead to harming humans: In fact, the FBI now lists cruelty to animals in its warning signs of potentially violent offenders.
BEST VARIETY SKETCH
SATURDAY NIGHT LIVE, "DINER LOBSTER"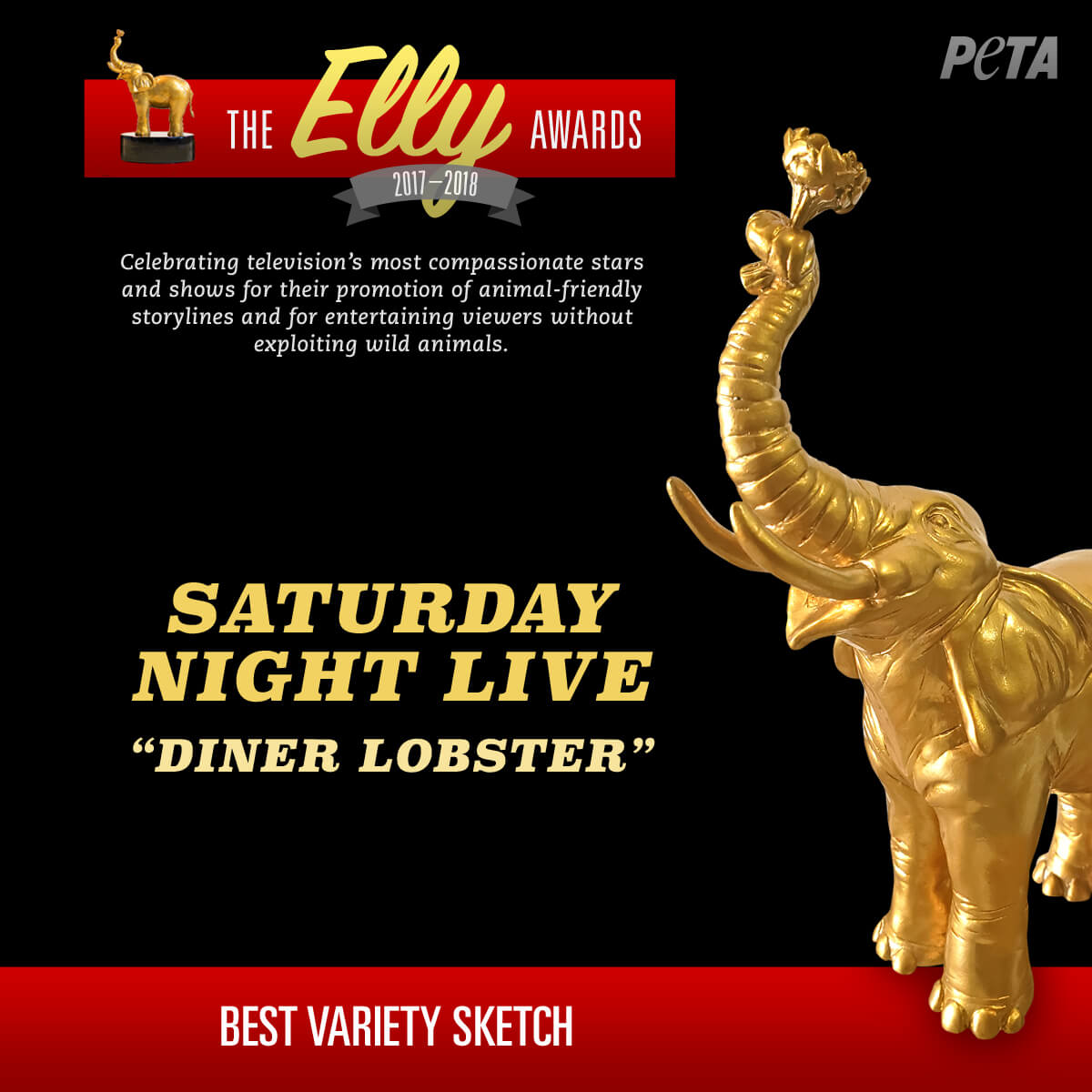 In the tradition of Justin Timberlake's instant classic "Veganville," Saturday Night Live makes another musical plea to save animals from being placed in the pot with a surreal Les Misérables–inspired sketch starring a singing giant lobster. "Why am I condemned to boil alive?" laments the lobster, who ultimately wins a reprieve in a skit that hilariously and poignantly makes the point that lobsters are sentient beings who don't want to die.
MOST ANIMAL-FRIENDLY ENSEMBLE
RIVERDALE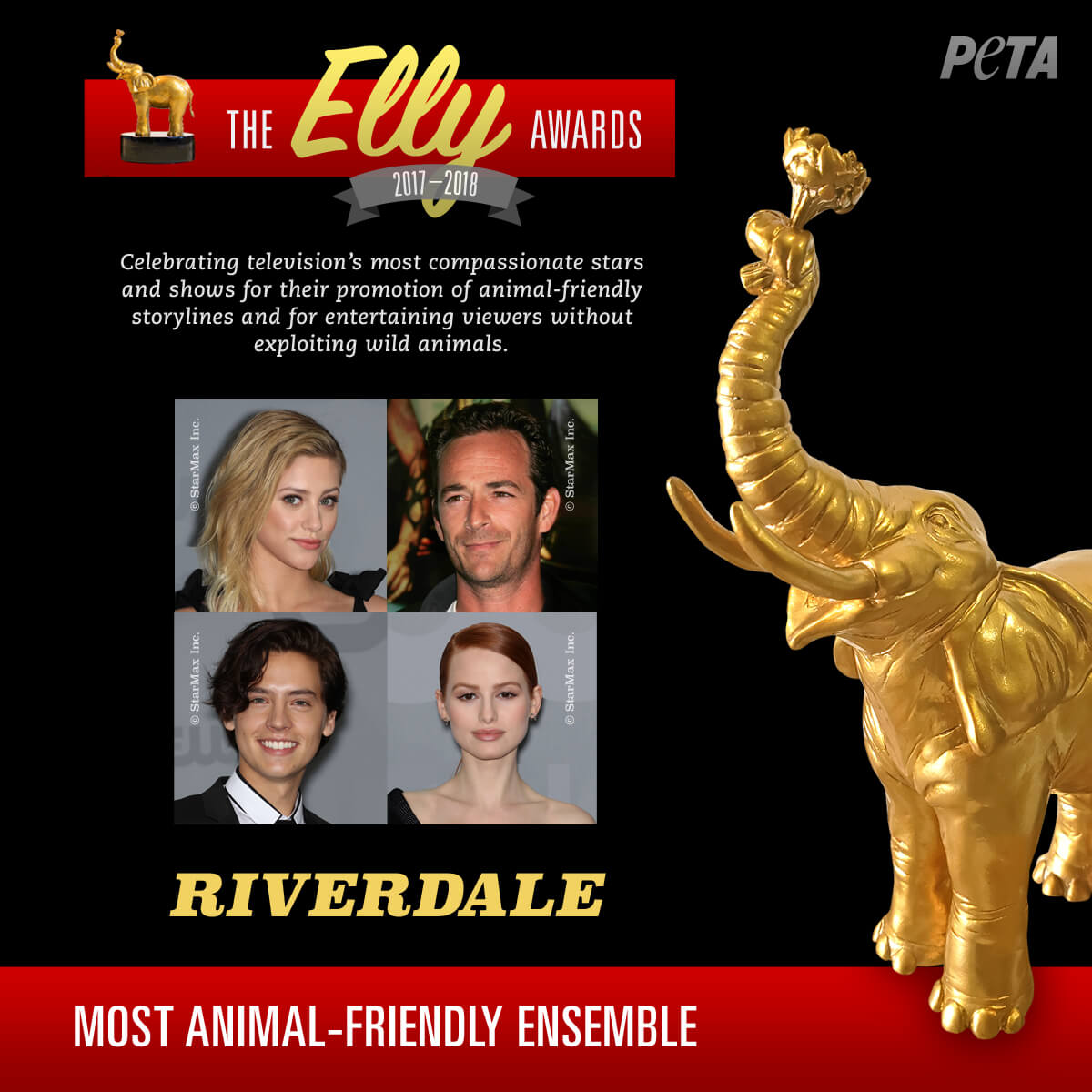 Riverdale may just be the most animal-friendly town in America, at least judging by the cast of Riverdale. K.J. Apa, Lili Reinhart, Cole Sprouse, and Luke Perry frequently post animal-friendly messages on social media, while Mark Consuelos is often seen walking his dog in Central Park. Madelaine Petsch, a vegan who starred in her very own PETA campaign and was named peta2's Hottest Vegetarian Celebrity in 2017, has teamed up with co-star Vanessa Morgan to post vegan baking videos online. Not to be outdone, Charles Melton will star soon in a yet-to-be released PETA ad campaign … stay tuned for that! These "Archies" all sound as sweet as "sugar, sugar"!
'WHO WE CAN'T GET ENOUGH OF' AWARD
ZAZIE BEETZ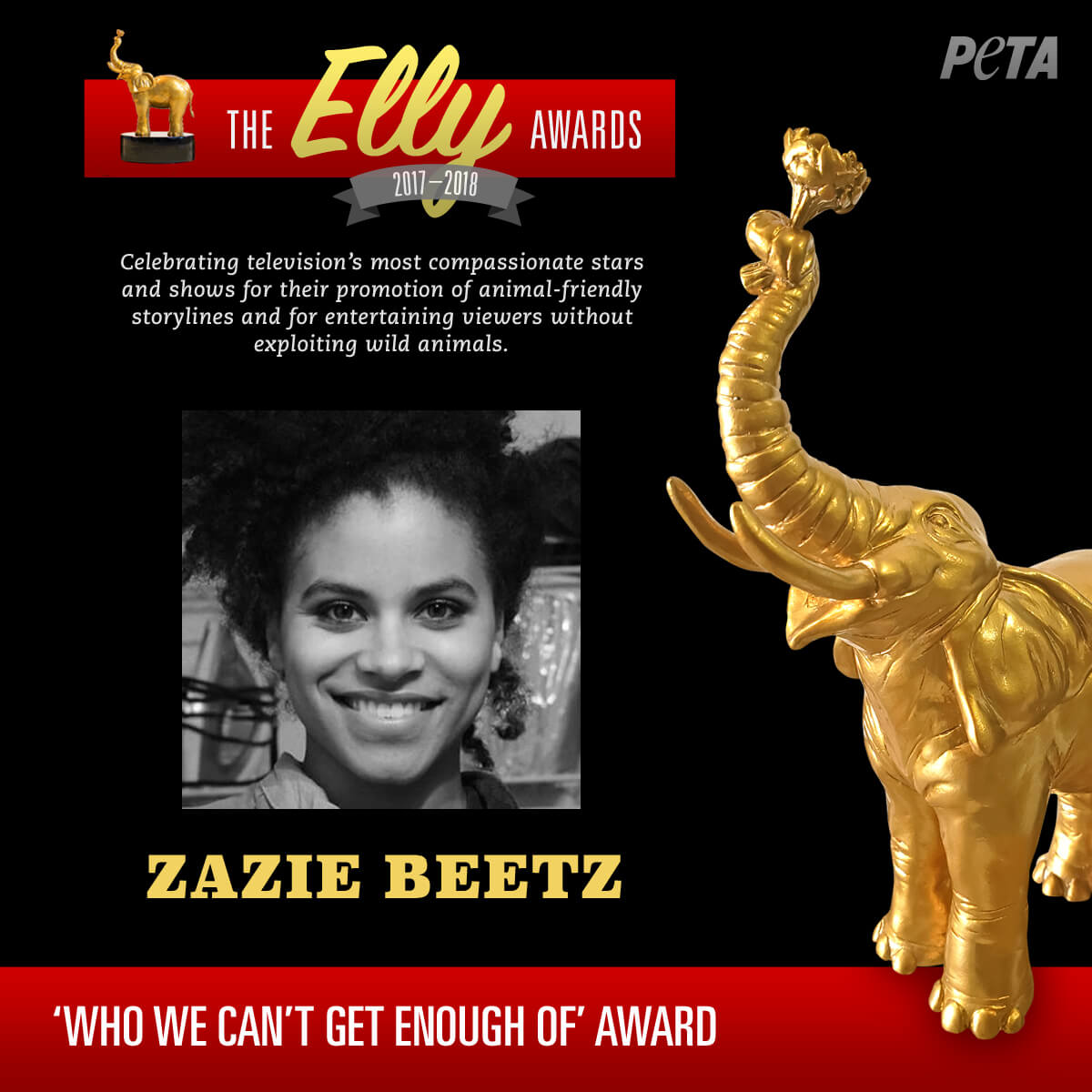 What the world needs now is more people like actor and model Zazie Beetz, best known for her roles as Van in the FX comedy Atlanta and as the mutant mercenary Domino in Deadpool 2. Beetz is a vegan because she cares about the planet and the beings who inhabit it. "I've realized that the body, the world, and the mind are all one thing. I've begun feeling that my responsibility is to the Earth," she says. "Our generation's war is climate change, so I've really been modifying how I eat and what I eat. … Agriculture is one of the biggest causes of greenhouse gases in the atmosphere."
BEST REALITY SHOW
THE VOICE
Unlike other reality TV shows such as America's Got Talent, Survivor, and The Bachelor, The Voice leaves animals out of the act and instead focuses on the willing performers—human contestants. We'll vote for that!
PETA PICK
EDIE FALCO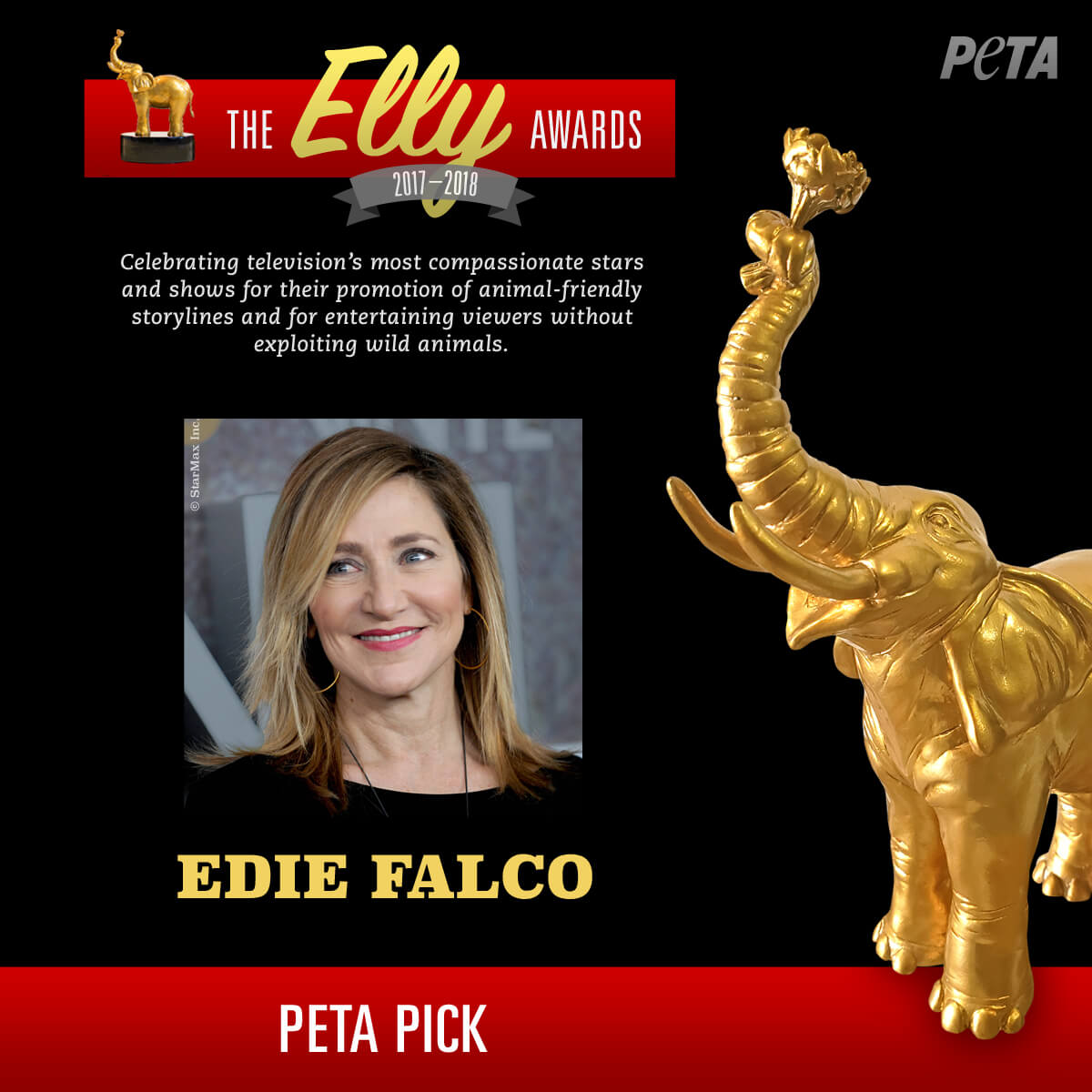 From her award-winning roles on The Sopranos and Nurse Jackie and this year's Law & Order True Crime: The Menendez Murders to her defense of animal rights, Edie Falco speaks her mind on screen and off. She has spoken passionately against horse-drawn carriages, the abuse of elephants in circuses, and SeaWorld's cruelty to orcas. The longtime vegan has also traveled several times to Washington, D.C., on PETA's behalf to urge members of Congress to support legislation that would end cruel military trauma training exercises in which animals are stabbed, shot, and killed.
PETA PICK
CRAIG ROBINSON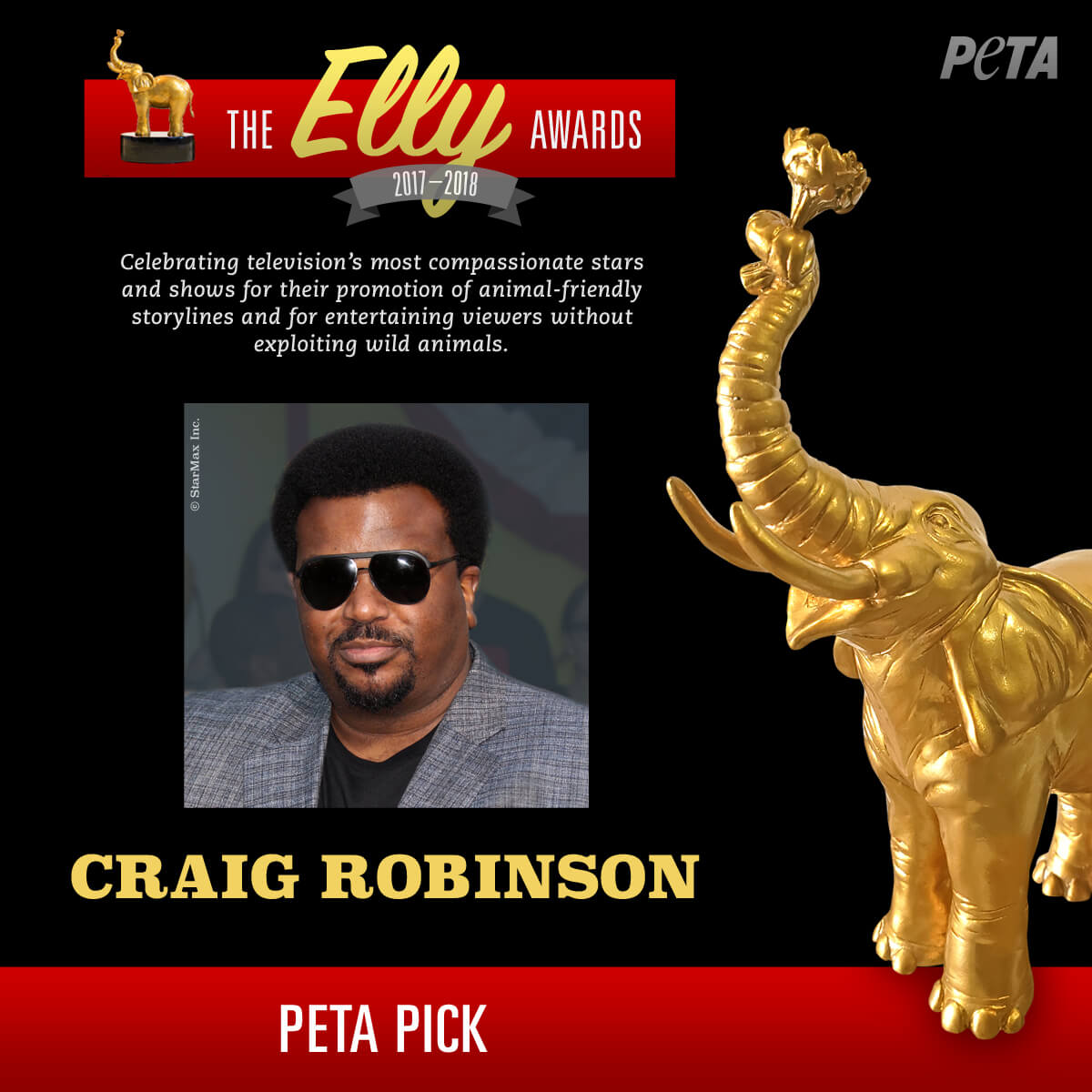 Craig Robinson has played some memorable roles in his career, including Darryl Philbin on The Office, Matheson in Pineapple Express, and streetwise former detective Leroy Wright on the Fox series Ghosted. But the role we're the biggest fans of is that of vegan. "It's amazing," Robinson says of his switch to meat-free eating, which he credits with helping him lose 50 pounds. "There are so many great vegan restaurant[s] and dishes. It's much easier than I thought it would be." He showed off his fit physique when he helped PETA crown L.A. the "Most Vegan-Friendly City" at a news conference at Moby's vegan bistro, Little Pine.
The deserving Elly recipients will be awarded with a custom gold-painted statuette of a free elephant grasping a bouquet of flowers, mounted on an engraved marble base.
What you watch matters.
It's 2018. We have an endless supply of quality television shows at our disposal, available 24/7. It's easy to support the ones that refuse to use real wild animals in their productions—and even easier to avoid the ones that do. Be sure to contact your favorite networks and share your support of their animal-friendly messaging—or let them know why you're no longer watching their programs.
Note: "Emmy" and "Emmys" are registered trademarks of the Academy of Television Arts & Sciences and the National Academy of Television Arts & Sciences, Inc., which aren't affiliated or associated with PETA and do not endorse, sponsor, or otherwise approve of PETA's Elly Awards.