The Walking Dead's seventh season is bound to be gory—but it won't be cruel. (Heads up: minor spoilers ahead!) Upcoming episodes of AMC's hit zombie show will feature Shiva the tiger—a fan favorite from the comic books—and series creator Robert Kirkman recently confirmed that CGI and animatronics will be used to create the stunningly realistic animal. To thank The Walking Dead for using its brains (and cutting-edge technology) rather than exploiting a live tiger, PETA presented the show with its Innovation in Television Award.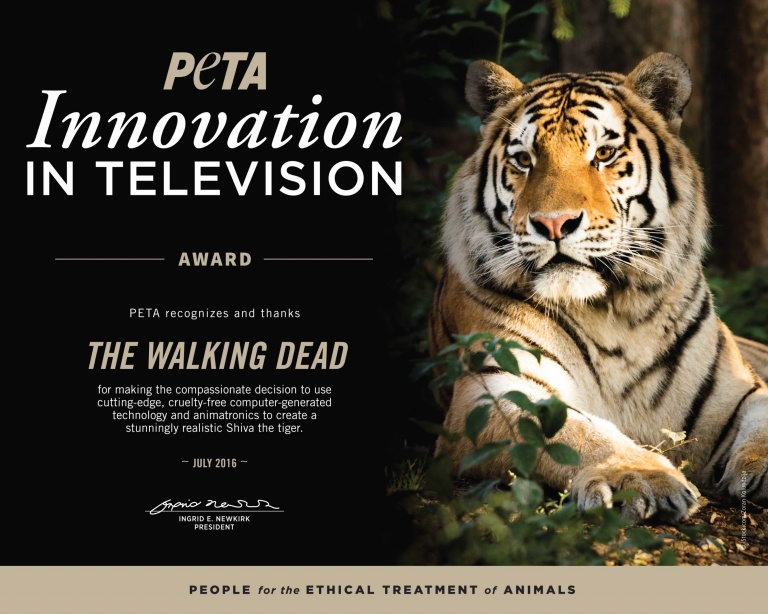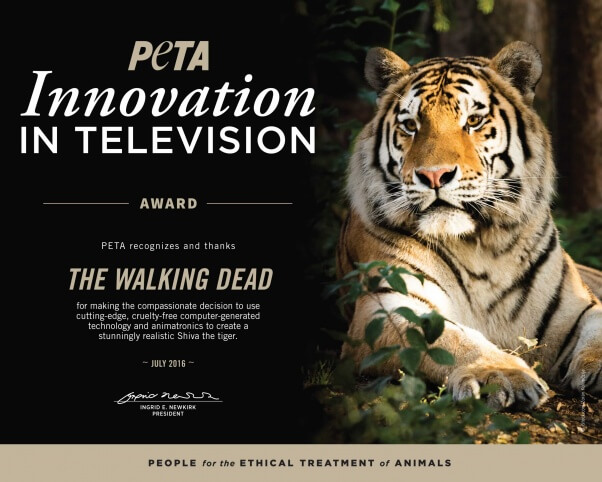 But not all television shows treat animals with compassion. Despite learning from PETA that wild animals used on TV suffer behind the scenes and are frequently abused during training, and despite hearing from more than 60,000 supporters who have called on the network to stop exploiting animals, CBS continues to do so on its show Zoo.
Past Zoo episodes have included big cats, wolves, baboons, and even a polar bear—a threatened species that's particularly prone to intense psychological distress when forced to live in captivity. The show has also worked with abusive animal-training companies and only dropped plans to work with notorious trainer Michael Hackenberger after PETA alerted producers to the fact that he had been caught on camera savagely whipping a tiger. As the ratings for Zoo continue to drop, it's never been clearer that exploiting live animals for entertainment is bad for business.
The Walking Dead's use of CGI (and Zoo's refusal to do so) proves that for tigers and other wild animals, the real horror show isn't on AMC—it's on CBS.
What You Can Do
Visit The Walking Dead Facebook page to thank the show for its compassionate use of CGI and animatronics, and urge CBS and Zoo to follow suit.