Update: March 18, 2021
The last musher in the 2021 Iditarod, Victoria Hardwick, has just been pulled across the finish line at Deshka Landing, Alaska, by a team of exhausted dogs, which means that this year's cruel event is officially over. PETA's work for dogs, on the other hand, continues, which is why we're compiling the many incidents this year that show why we and other concerned people everywhere want this race to end:
Musher Dallas Seavey—who has raced dogs who've tested positive for opioids, operates a kennel accused of killing dogs who didn't make the grade, and owns property where a whistleblower reported finding dying puppies—finished first after four dogs he pushed beyond the breaking point had to be removed from the race.
Musher Martin Buser apparently put an injured dog back in the harness and forced him or her to continue racing, despite video footage showing the dog limping at the Rainy Pass checkpoint.
PETA's warning came true: Musher Gunnar Johnson tested positive for COVID-19 and was removed from the race. It was then revealed that he had shared a tent with two other mushers—whom Iditarod officials were apparently unable to identify—before testing positive. Other COVID-19 risks included checkpoint cabins where, in at least one incident, almost a dozen unmasked volunteers and pilots crowded together inside.
Musher Brenda Mackey admitted that she pulled out of the race after the dogs she forced to run suffered from "the most awful diarrhea I've ever seen," violently vomited, and ended up with aspiration pneumonia, which is the leading cause of death for dogs in the Iditarod. Two dogs had to be hooked up to IVs.
"I watched my team violently vomit one after another. … [T]he dogs can get aspiration pneumonia very quickly, which is what progressively and rapidly happened …. I saw Spark lead every step of the way despite having the most awful diarrhea I've ever seen," Mackey confessed in a blog post.
Nearly 200 dogs were pulled off the trail during this year's race because of exhaustion, illness, injury, or other causes.
Musher Pete Kaiser stopped racing after the dogs he was forcing to run became ill, apparently only because he didn't consider his "team" to be competitive.
The nearly 200 exhausted, sick, and injured dogs pulled off the trail this year are that many more reasons why the Iditarod must end. Join us in calling for this reckless, disease-spreading race to be the last—urge Liberty Media/GCI to take a page from Millennium Hotels' book and sever its ties with the death race:
Keep scrolling for full coverage of the events described above and to learn how else you can speak up for dogs forced to race:
Update: March 15, 2021
Dallas Seavey just crossed the 2021 Iditarod finish line, but his record of animal mistreatment—which is as long as the Iditarod trail—proves that no one wins in a death race. He left behind four dogs he pushed beyond the breaking point during the race, dogs he has raced have tested positive for opioids, his kennel was accused of killing dogs who didn't make the grade, and a whistleblower reported finding dying puppies on his property.
Early this morning, the first musher crossed the finish line of the #Iditarod, and PETA activists were there with a not so warm welcome.

So far this year, over 150 dogs have been pulled off the trail and a musher has tested positive for #COVID19 — this must be the last race! pic.twitter.com/7uYIDXtibY

— PETA (@peta) March 15, 2021
Given that at least 150 presumably exhausted, injured, or ill dogs have been pulled from the Iditarod so far; a lame dog was apparently forced to continue racing; and PETA's warning about COVID-19 has come true, any musher who crosses the finish line of this reckless spectacle should be ostracized, not given accolades.
Update: March 13, 2021
Musher Pete Kaiser scratched from the 2021 race after many of the dogs he was forcing to run became ill. When he started the race in Wasilla, Alaska, on March 7, he had 14 dogs with him—and at the McGrath checkpoint on March 13, he had 10. The former Iditarod "champion" reportedly said that "he could have completed the race, but didn't consider his team to be competitive."
New details about the 2021 Iditarod's COVID-19 catastrophe have emerged, too. At a trail checkpoint where mushers stopped to rest and where volunteers spent time, it appeared that there was almost no regard for COVID-19 safety protocols:
"Just about the only place to warm up was an old cabin. Almost a dozen volunteers and pilots were crowded inside at lunchtime, waiting for a man with a long beard to finish cooking halibut tacos," Zachariah Hughes of the Anchorage Daily News reported. "No one inside wore a mask, despite news the previous evening that musher Gunnar Johnson withdrew from the race after testing positive for the coronavirus in McGrath. Boxes of disposable blue surgical masks sat unopened in the cabin's cramped Arctic entry."
We're hardly surprised, though, that a race that has been a deadly disaster for the dogs forced to take part in it is now all but flaunting its disregard for its human participants, staffers, volunteers, and local residents, too.
Update: March 11, 2021
PETA's warning is coming true: The 2021 Iditarod—a race whose origins ironically go back to a diphtheria outbreak in 1925—is today spreading the coronavirus that can cause COVID-19. Yesterday evening, it was reported that veteran Iditarod musher Gunnar Johnson had tested positive for COVID-19 and has been removed from the race.
Iditarod: Musher Gunnar Johnson tests positive for Covid in dog race https://t.co/cOXCYTqcfE

— BBC North America (@BBCNorthAmerica) March 11, 2021
Then it was revealed that Johnson (whose exposure has since been traced to a March 5 interaction with a dog handler) shared a tent with two other mushers on March 9, the night prior to testing positive for the virus. What's more, Iditarod officials are still trying to identify the two mushers who shared a tent with him. "We have that group (narrowed) down but not finalized," admitted an epidemiologist who is assisting with the race's apparently faulty COVID-19 mitigation plan.
Iditarod officials are trying to identify two mushers who shared a tent with Gunnar Johnson, the musher who was pulled from the race this week after testing positive for COVID-19https://t.co/Sy95Ni8SWK

— ADN Iditarod (@ADNIditarod) March 12, 2021
As we pointed out months ago, dogs can carry the virus on their coats. Now, since the 2021 race's start just four days ago, more than 60 dogs have already been pulled off the trail, likely because of illness, exhaustion, or injury, leaving the remaining ones to work even harder. Since dogs can't socially distance and 81% of those who finish the race end up with lung damage, the result of a positive COVID-19 test could be dire. PETA warned the Iditarod Trail Committee directly that the virus can spread between species, but the reckless spectacle went on, proving once again that it lacks concern for the animals it puts at great risk.
Keep scrolling to learn how else the death race has failed dogs and humans, and check back here and on Twitter for more updates.
Update: March 10, 2021
On the same day that officials announced that veteran musher Aliy Zirkle had sustained a concussion and other serious injuries as a result of her race-ending fall on March 8, a graveyard of dead dogs haunted VUit's New York office today—the entertainment app has been streaming the 2021 Iditarod, in which more than 150 dogs have died. So PETA supporters—with a few telling headstones—held a vigil for Flash, Deacon, and all the other dogs who've died in the history of the race.
No one wants to watch an event that has run hundreds of dogs to exhaustion, illness, and even death. Join us in urging VUit to stop streaming the 2021 Iditarod death race.
Update: March 9, 2021
The video footage below from the Rainy Pass checkpoint in the 2021 Iditarod shows an apparently limping dog who was forced to pull musher Martin Buser's sled. From the looks of it, Buser put an injured dog back in the harness—and the Iditarod, which calls some dog deaths an "unpreventable hazard," didn't stop him.
PETA wants this dog removed from the race before the Iditarod's death toll of more than 150 dogs climbs any higher. Keep reading to learn how you, too, can speak up for dogs forced to race, and check back for more news—we'll continue to update this post as the 2021 Iditarod unfolds.
Update: March 7, 2021
The Iditarod's usual ceremonial start may have been called off, and the death race may have been rerouted because of COVID-19, but until the event is ended for good, PETA's route isn't changing: We're determined to make this year's race the last. Our supporters gathered at the start of the 2021 Iditarod in Wasilla, Alaska, early today, ramping up the pressure on the race …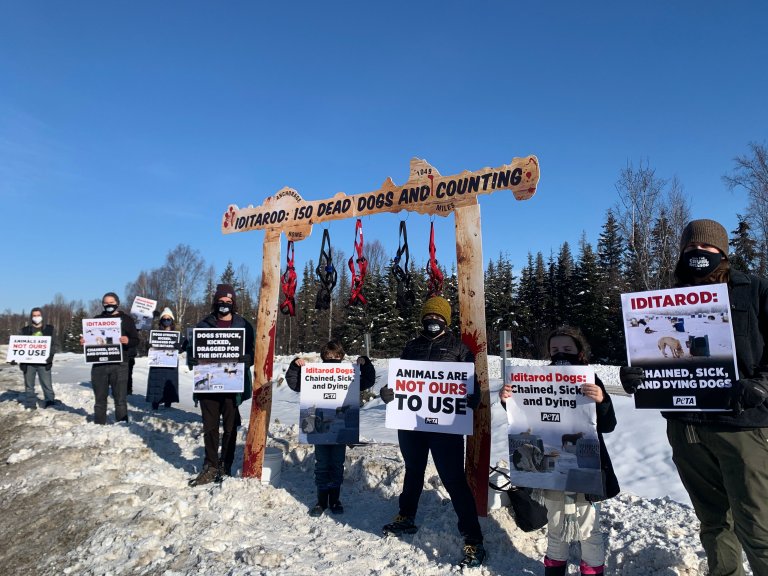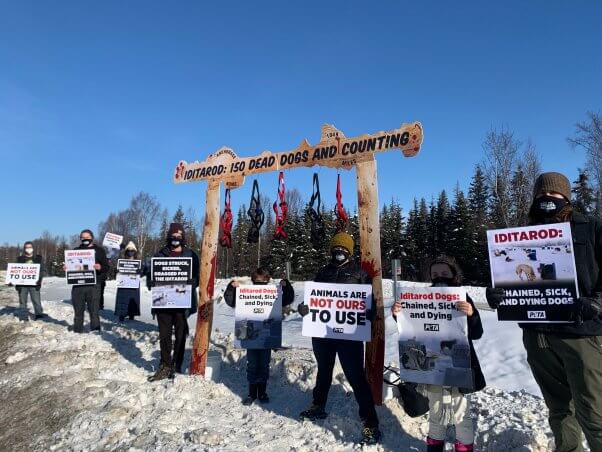 … which has killed more than 150 dogs since it began.
https://twitter.com/peta/status/1369681502859051015
Already this year, ExxonMobil and three other Iditarod sponsors confirmed that they're cutting ties with the cruel race—victories that were affirmed after these companies heard from PETA and hundreds of thousands of activists like you! So while PETA protests the Iditarod in person, join us online in speaking out: Put pressure on Liberty Media to follow in ExxonMobil's footsteps.
We'll continue to keep an eye on the dogs throughout the entirety of the race. Check back—this story will be updated as the 2021 Iditarod continues—and be sure to follow @peta on Twitter for the latest.
Originally published on March 5, 2021:
The 2021 Iditarod death race is just days away from its March 7 kickoff, which means that PETA's already hit the ice protesting. Carrying suitcases sporting a spoof "Millhellium" logo, activists descended on the Millennium-owned Lakefront Hotel (Millennium Hotels and Resorts still sponsors the Iditarod) today …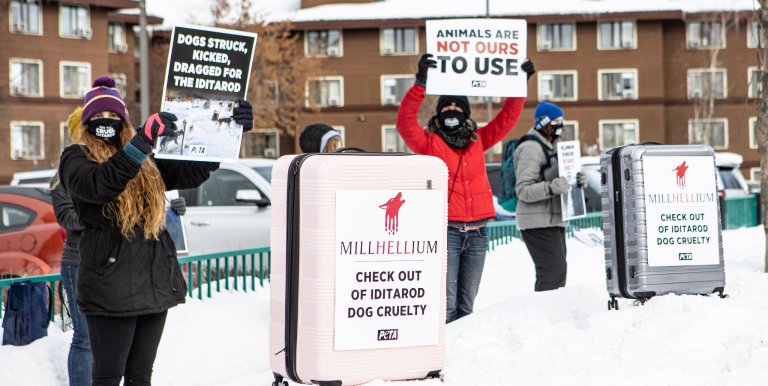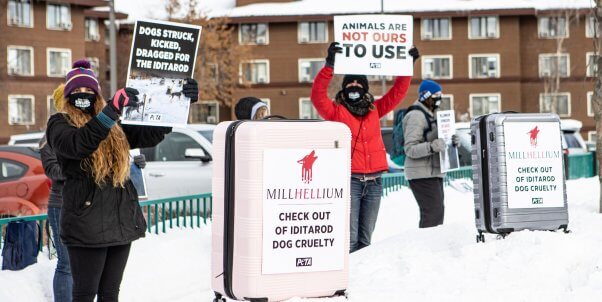 … driving home the message that Millennium should be disgusted at the thought of supporting a race that has run 150 dogs to their deaths and countless more to the brink of collapse.
Up to half the dogs who start the Iditarod don't finish it, and during the 2020 race alone, more than 220 dogs were pulled off the trail because of exhaustion, illness, injury, or other causes. The leading cause of death for dogs made to race in the Iditarod is aspiration pneumonia—caused by inhaling their own vomit. Many more have died during the off-season while chained up outside in subzero temperatures or were killed because they weren't considered fast enough. Thanks to a PETA investigator, the world was given a glimpse of what it's like for some of these dogs, including Snickers—she was kept chained near the icy sea, limping, crying, and left to pace in circles all day.
For Birch, Snickers, and countless other victims of the Iditarod, PETA will continue to protest the event's cruelty—expect to see activists at the start of the Iditarod on March 7 in Wasilla, Alaska. We'll be monitoring this year's death race, so check back—this story will be updated as the 2021 Iditarod continues.
Dogs Deserve Better Than the Iditarod—They Need Our Help
Chained dogs, starved dogs, dead dogs—it's no wonder that so many major companies, including ExxonMobil, Chrysler, Alaska Airlines, Coca-Cola, Jack Daniel's, State Farm, and Wells Fargo, have listened to PETA and dropped their sponsorships. So tell Liberty Media to quit dragging its feet and cut its ties now:
If you're planning a trip or cruise to Alaska, please don't buy any packages or excursions that include dog-sled rides or visits to dog kennels. Ask your friends and family not to, either:
Learn more about the abuse of dogs in the Iditarod: Watch the documentary Sled Dogs—which shines a spotlight on the dogs who are forced to run until their bodies break down or who are killed if they don't measure up—available now on Prime Video and Plex.
PETA is a participant in the Amazon Services LLC Associates Program, an affiliate advertising program designed to provide websites with a means to earn advertising fees by advertising and linking to Amazon.com.