It was a freezing-cold winter day in 2018, and I was headed to Alaska. Normally, I try to avoid traveling into subzero temperatures, but this wasn't a vacation. I was going to work as a PETA eyewitness. I would be working with Iditarod champions in their dog yards.
This wasn't exactly an easy decision for a person with a huge weakness for dogs. But these dogs were being used like heavy equipment. They were being raced to their deaths. And someone needed to shine a light on it.
So I soon found myself shivering above the Arctic Circle at Team Baker Kennel, where past Iditarod champion John Baker and four-time Iditarod musher Katherine Keith kept their dogs. I suspected that you don't win a dogsled race by being kind to dogs, but I was still longing for them to prove me wrong.
I guess I should clarify that I'm using the term "kennel" loosely. The dogs are outdoors all the time. When they weren't being "trained," they were kept chained to rickety wooden boxes or plastic barrels. Even though these "doghouses" did little to help with the cold, the dogs who had them were the lucky ones. Some of the wooden boxes had fallen apart or collapsed, forcing dogs to sleep in the snow.
One of my jobs was to help feed the animals. But this wasn't anything like watching the dogs at home wag their tails and bounce while I was laying down gleaming bowls full of food. The main form of both food and water for these dogs was what Baker and Keith called "stew." It was usually a watery vat of raw meat that had gone bad and was rotten or moldy. I would at least try to find a clean patch of snow to set it on. At times, it was so foul that the dogs wouldn't eat it. I would try to comfort them, especially the ones whose ribs and hip bones were jutting out.
When Baker won the Iditarod in 2011, one of the lead dogs who gave him that victory was Snickers. She was still there, but now, she was limping severely. Baker told me that she had chronic arthritis and that she'd even had it back when he was driving her to pull his sled. He said that she was "in a lot of pain" and he needed to shoot her but that he didn't have anywhere to bury her. She had no shelter at all and stood next to the frozen sea, howling in the wind. I couldn't take it—I made her a wooden box for shelter and filled it with straw so she would at least have that. She immediately went inside and curled up.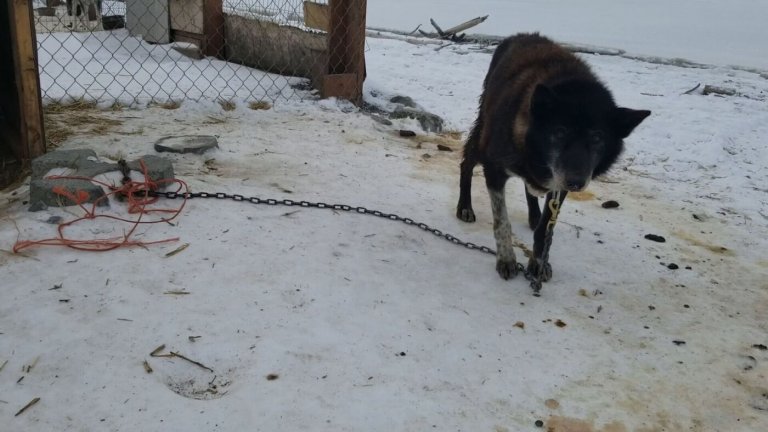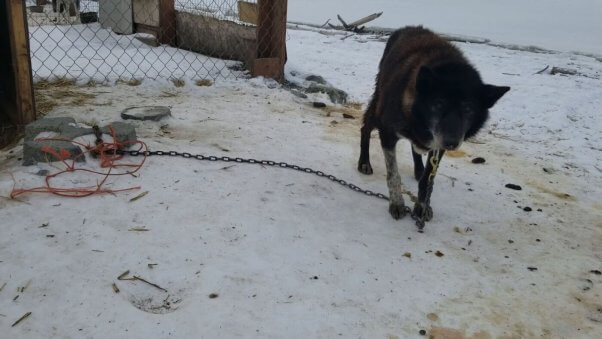 An injured puppy named Birch was later chained to that box. She could barely pull herself in and out of it. She had suffered what was likely a serious spinal injury while trying to escape from a pen and could barely move her back legs. Baker and Keith refused to take her to a veterinarian and instead just left her chained to the box. I begged for her. I begged them to let me take her to a vet, offered to foot the bill, offered to adopt her. Baker kept telling me no. He said that if anyone saw Birch, they would figure out that they were "being real hard on 'em."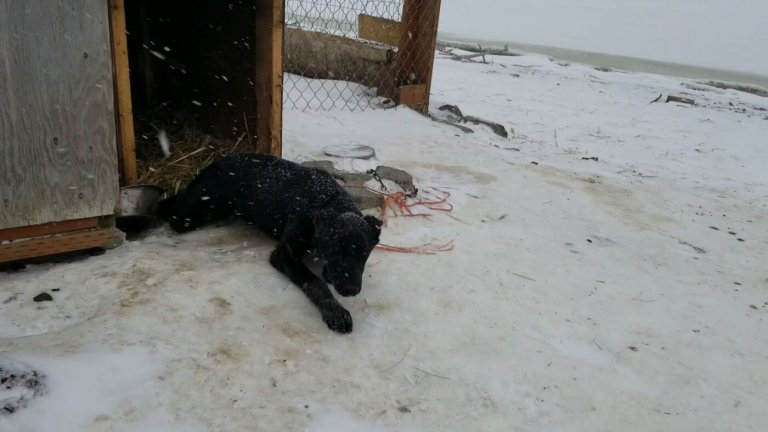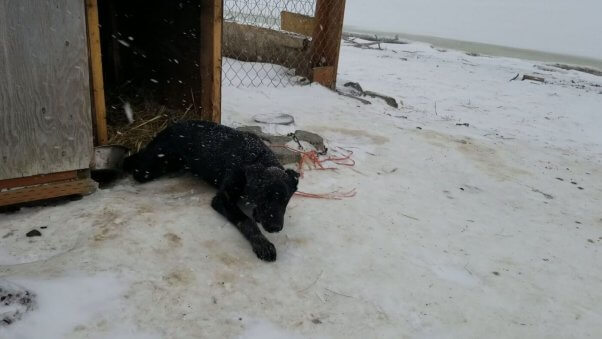 They definitely were "real hard on 'em." Dogs were tied to a Jeep and forced to run for 50 miles. Injuries—even leg injuries—didn't matter. They couldn't stop for anything—not for exhaustion and not to relieve themselves. If they slowed down, Baker let them be dragged across the ice in front of the Jeep. He said it would be better to run them over than to have a slow dog.
Eventually, my time at Team Baker Kennel was up and it was time to hand in my resignation. But my job wasn't over. The 2019 Iditarod was coming up.
Three-time champion Mitch Seavey is well-known in Iditarod circles. I was headed to his operation next. "Please let it be better," I thought. "Please let it be better."
But again, there were chained dogs and barren plastic barrels in the snow. Again, there were dogs who needed veterinary care and didn't get it. One of the dogs, Bedlam, had a wound on his muzzle that had become so infected that his entire neck was swollen. Seavey didn't take him to a vet, though. He made him keep running.
Another dog, Captain, had open, infected wounds on his neck, too—apparently caused by his collar, which chafed his neck constantly. The smell coming from his neck was terrible, but instead of taking him to a veterinarian, one of the workers just squeezed out the pus and yanked out pieces of infected tissue while telling me that the dog yard manager, Ryan Santiago, "hates this dog."
The Iditarod race is approximately 1,000 miles long. That's the equivalent of about 36 marathons that dogs are forced to run.
At Seavey's dog yard, the training was just as grueling as the race itself. Workers hit dogs in the face to force them to line up in front of the sleds and hit them more to make them "listen." Dogs had to run and run day after day, sometimes for hundreds of miles, "training" and giving rides to tourists—even when their paws were torn open and bleeding. Their tongues froze to the metal harness lines and the skin was torn off. One dog was reportedly dragged to death.
As the 2019 Iditarod began, I could only watch and hope for the best for the dogs Seavey was forcing to race across nearly 1,000 miles of frozen wilderness. I was scared of what condition they were going to come back in—if they came back at all.
As the race progressed, sick, injured, and exhausted animals were pulled from the sleds at checkpoints—but not before they'd already been made to continue running for who knows how long. Pilot, an aging dog who wasn't in the best health, sustained the same injury that he'd sustained in the race the year before. He was sent back to the yard, where workers immediately chained him back up. I never saw him get veterinary care.
A dog named Rudder was pulled from the race because his breathing was labored and he likely had pneumonia, which kills many of the dogs. All the dogs' feet were, as one worker put it, "chewed up" and "hamburgered." But even though the animals had paws with open, bloody wounds, Seavey made them keep running, even through saltwater. They were all frighteningly skinny. I guess they were lucky. A lot of dogs die on the trail.
But it would be back to the "kennel," back to the barrels, back to the chains. There were tourists to give rides to and money to be made. I struggled as I prepared to leave them behind.
All I could think about was that dogs don't deserve this. No animal does. Please, don't support this cruelty by buying a ticket for a dogsled ride. And join dog advocates around the world in calling on Millennium Hotels and Resorts to stop endorsing the Iditarod and the suffering that goes with it.