Update: February 13, 2019
Here at PETA, we're toasting with cans of Coke to celebrate The Coca-Cola Company's move to leave the cruel Iditarod in the dust. Its decision to end its sponsorship follows months of pressure from PETA, including protests outside Coke's headquarters and annual meeting, plus e-mails from more than 205,000 PETA members and supporters.
BREAKING: @CocaCola has ended its sponsorship of the cruel and deadly Iditarod dog race ❤️ This comes after PETA protests and more than 205,000 emails from PETA supporters! pic.twitter.com/6MAz1Ks1hL

— PETA (@peta) February 13, 2019
Coke joins a long list of companies—including Costco, Jack Daniel's, Maxwell House, Pizza Hut, Rite Aid, Safeway, State Farm, and Wells Fargo—that have cut ties with the deadly dog race. Dogs used in the Iditarod are forced to run up to 100 miles a day across treacherous ice and in subzero temperatures. They sustain bloody paws, stress fractures, and other painful injuries. More than 150 dogs have died during the race's history, and that number doesn't include the countless ones who died during the off-season while chained to a post or who were killed simply because they couldn't run fast enough.
Tell Chrysler to join Coke by pulling its funding from the Iditarod:
Originally posted on April 26, 2018:
Coca-Cola's executives and shareholders probably weren't prepared for what greeted them as they arrived for the annual meeting on Wednesday. PETA supporters erected a dog graveyard outside the company's Atlanta headquarters to represent the more than 150 dogs who have died for the abusive Iditarod sled race.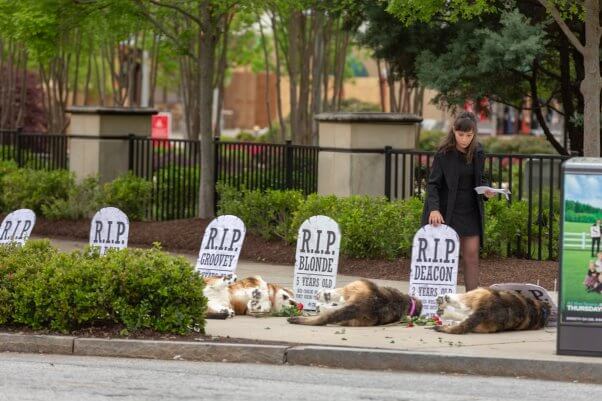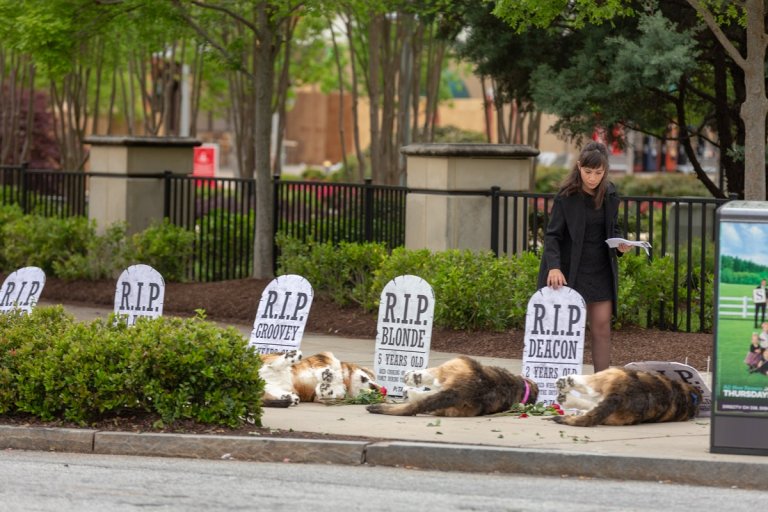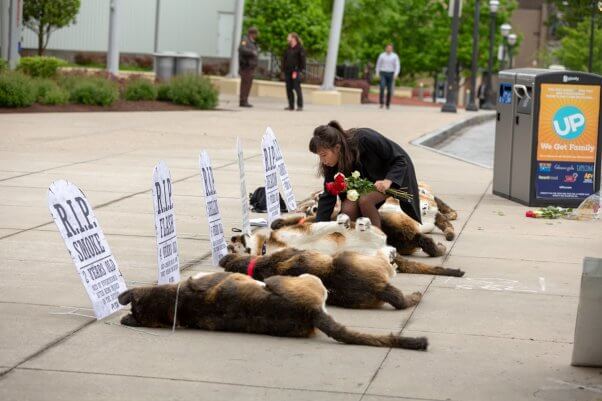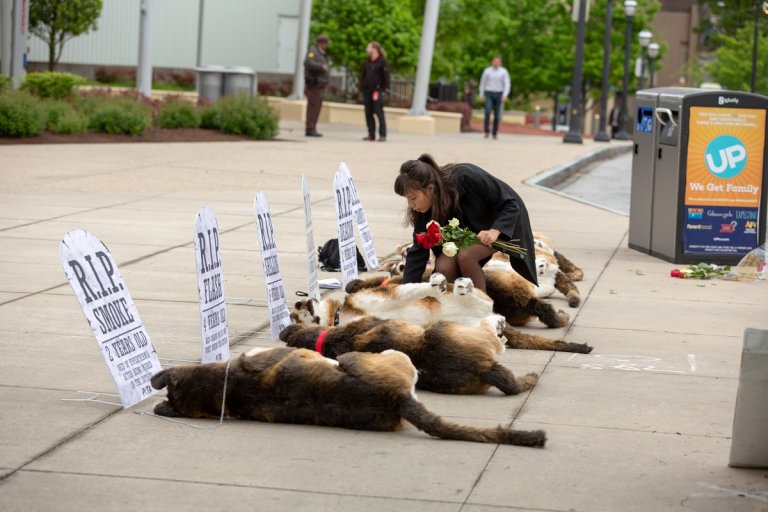 And animal advocates were just getting warmed up. Inside the meeting, a member representing PETA president and longtime Coca-Cola shareholder Ingrid Newkirk asked this pointed question of the other shareholders:
Coca-Cola's continued sponsorship of the Iditarod is indefensible. Whether this support originates at the local level is irrelevant, since the endorsement reflects poorly on Coke's entire brand. More than 150 dogs have lost their lives in this deadly spectacle, and that number does not include the countless others who died during training or while chained up outdoors in extreme weather—or who were killed simply because they weren't deemed fast enough.

Dogs used in the Iditarod are forced to run approximately 100 miles a day for days on end. Their feet often get cut on the ice or become bruised, bloodied, or raw. Many pull muscles, incur stress fractures, develop pneumonia, or suffer from viruses or bleeding ulcers. Up to half the dogs who start this inhumane race don't finish. Just this year, at least 350 were dropped from the event, likely as a result of illness, exhaustion, or injury. One of them, Blonde, later died of aspiration pneumonia—meaning that he probably choked to death on his own vomit—a common cause of death in this type of race. Five dogs died in less than a week as a result of last year's race.

Major brands—including Costco, Guggenheim, State Farm, Wells Fargo, Maxwell House, Nestlé, Pizza Hut, Rite Aid, and Safeway—have cut ties with the Iditarod, because supporting such an obviously cruel industry is both unethical and bad for business. Consumers don't differentiate between Coke the corporation and its independent bottlers. When members of the public see Coke as an event sponsor, they associate the entire brand with the Iditarod's cruelty.

My question is this: When will Coke stop supporting the abuse of dogs and withdraw its sponsorship of the deadly Iditarod?