The end of the Iditarod is near. PETA protests, ads, and action alerts and the determined efforts of our supporters have prompted major sponsors to cut ties with the deadly dogsled race. Almost a dozen businesses—including Fortune 500 companies—no longer sponsor it after learning about its cruelty from PETA.
Dogs are loving individuals who deserve to have a warm home and proper care. Yet those exploited in the Iditarod are forced to run a thousand miles in the snow, hauling heavy sleds, even with raw and bleeding paw pads. This extreme exertion causes many to suffer from painful conditions—such as lung damage, stress fractures, or bleeding stomach ulcers—that go untreated. Hundreds of dogs are pulled off the trail every year because they're too exhausted, ill, or injured to continue.
And those are the ones who live. Over 150 dogs have died in the race in years past, most commonly from aspiration pneumonia (caused by inhaling their own vomit). Countless others die during the off-season while being chained up outside like bicycles in freezing temperatures, with nothing but inadequate plastic barrels or dilapidated wooden boxes for shelter. Sweet and sensitive dogs have been killed because they lacked the rare combination of speed and stamina required to make the grade.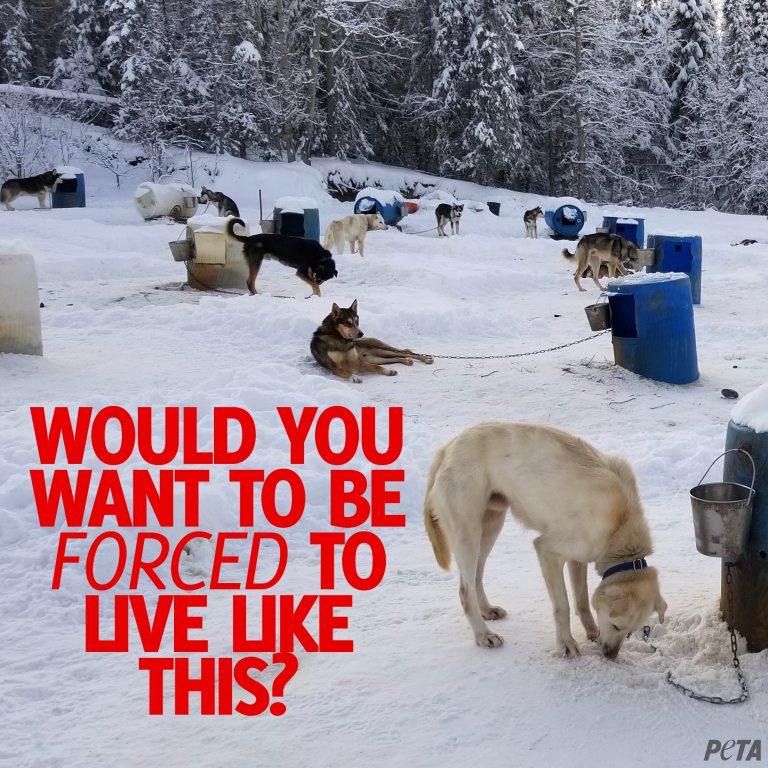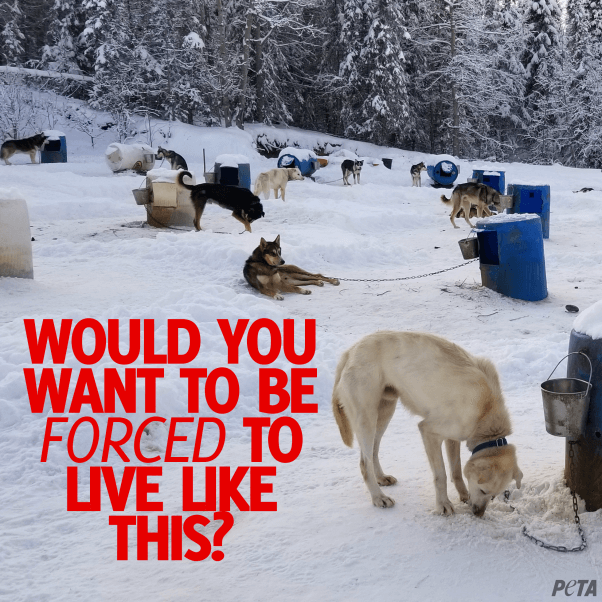 PETA condemns the dogsledding industry and will keep campaigning against the cruel Iditarod until it ends. What's the driving force behind our successful campaigns? Supporters like you. ❤️  Here are some of the giants we've toppled together!
PETA has persuaded the following companies to put the brakes on this death race:
Cue Health and Greenbrook TMS Centers of Alaska
After hearing from PETA and over 40,000 of our supporters, Cue Health confirmed in January 2023 that it had made the compassionate decision to stop sponsoring the cruel Iditarod. Another healthcare company—Greenbrook TMS Centers of Alaska—also heard from PETA supporters and was removed from the Iditarod's sponsorship page. Both companies were new sponsors ahead of the 2022 Iditarod but, thankfully, are no longer backing the race.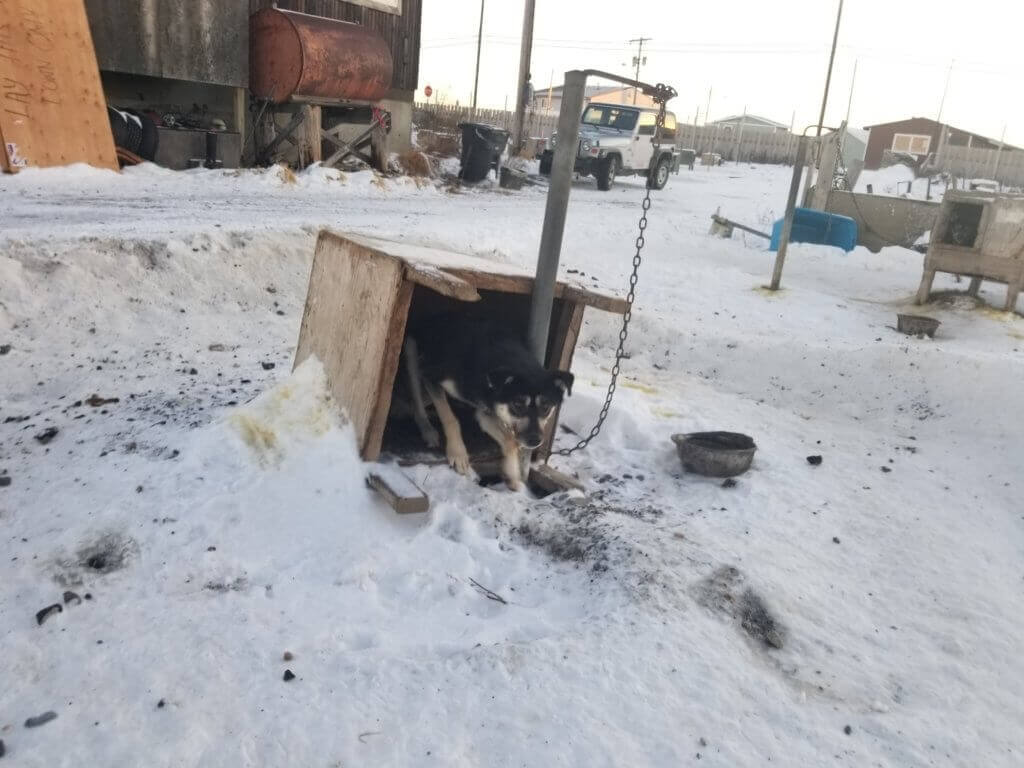 As shown below, dozens of companies—including Alaska Airlines, Chrysler, Coca-Cola, ExxonMobil, and Millennium Hotels and Resorts—have cut ties with the race. This list will only grow as other companies follow suit.
With each exciting victory, PETA is keeping our attention on the shrinking number of sponsors that are still willing to bankroll a race that runs dogs to their deaths. Will you help us? Keep scrolling to discover how easy we've made it for you to speak out!
In February 2022, less than one month before the start of the Iditarod, champagne corks popped around the world because Millennium Hotels and Resorts announced that it would be checking out of the Iditarod's cruelty to dogs.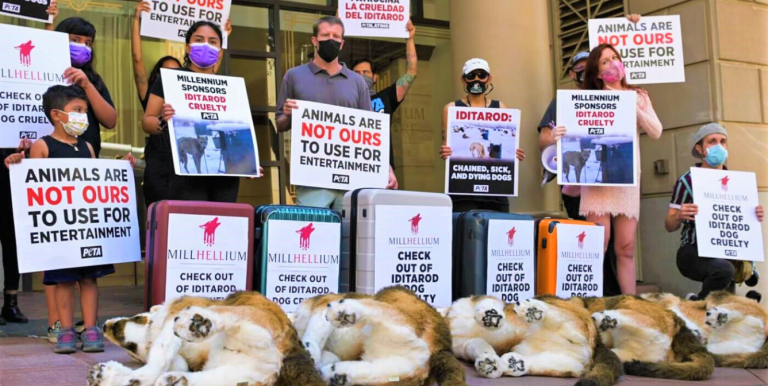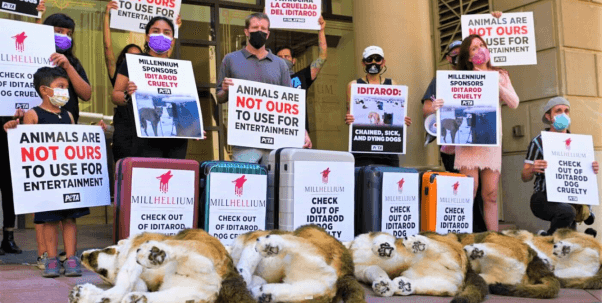 Nutanix
After hearing from PETA, computer software company Nutanix quickly confirmed that its new sponsorship of the Iditarod will end. It joins ExxonMobil—a former major sponsor that had paid the race $250,000 a year—as well as Millennium Hotels and Resorts and dozens of other companies in cutting ties with the death race. As of the start of the 2022 Iditarod, only a few major corporate sponsors remain—and PETA is upping the ante against those to push them to drop their sponsorship.
Artisan Travel
PETA U.K. is getting in on the "end the Iditarod" victory action, too! In January 2022, U.K. winter activity and adventure travel company Artisan Travel confirmed that it had stopped offering Iditarod tours. The announcement came after the company heard from PETA U.K. that the event is a deadly nightmare for dogs forced to race.
ExxonMobil—which has sponsored the Iditarod since 1978 and has recently been pumping $250,000 a year into this deadly spectacle—confirmed that 2021 will be the last year that it sponsors the race. This huge victory for dogs, who deserve better than being run to death for mushers' prize money, follows a tenacious PETA campaign that we couldn't have won without your support.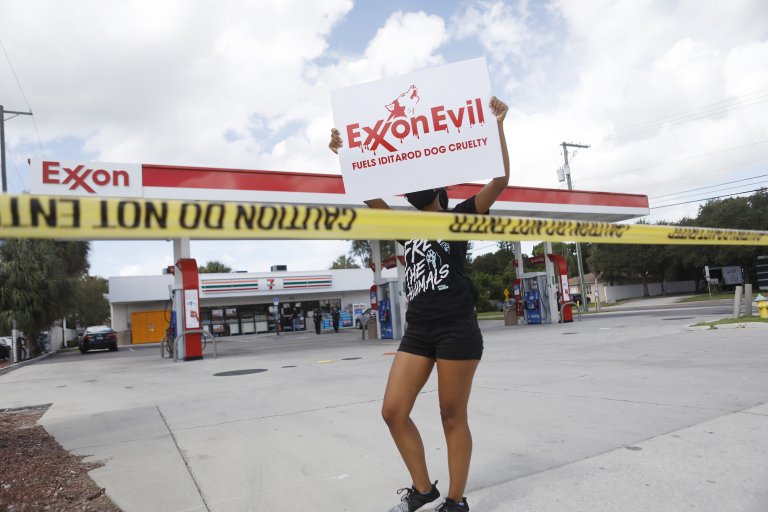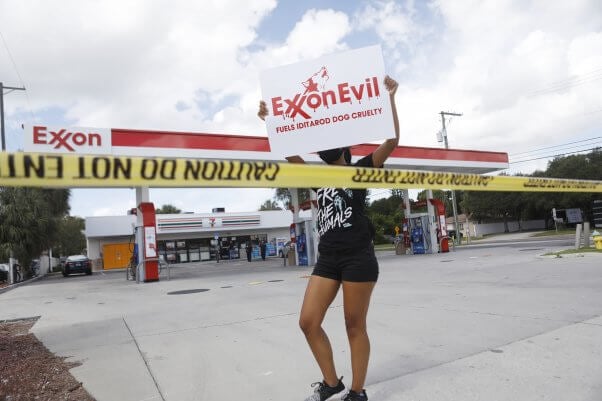 Anchorage Distillery
Taking a page from Craft Sportswear's and Medical Park Family Care's books, Anchorage Distillery dropped its Iditarod sponsorship like a hot potato. This victory was achieved only after the spirits company heard from more than 100,000 PETA supporters who urged it to stop supporting the death race.
Craft Sportswear
All it took were communications from PETA—including details of our investigation into the Iditarod's cruelty to dogs—for Craft Sportswear to make the responsible and compassionate decision to pull the plug on its only days-old sponsorship of the race. This is why we're turning up the heat on holdouts like Liberty Media/GCI to back away from the spectacle of suffering, too.
Medical Park Family Care
Now that the public knows that the Iditarod forces dogs to run until their bodies break down and they inhale their own vomit—and that some of them die on the trail—the race can't seem to hold onto its sponsors. Medical Park Family Care in Anchorage, Alaska, is one that confirmed (after hearing from PETA and more than 50,000 of our members and supporters) that it's not sponsoring the 2021 race.
Nine days into the 2020 Iditarod, Chrysler confirmed that its Anchorage dealership would finally cut ties with the dogsled race. This huge victory came after PETA supporters sent more than 250,000 e-mails to the company urging it to end its sponsorship.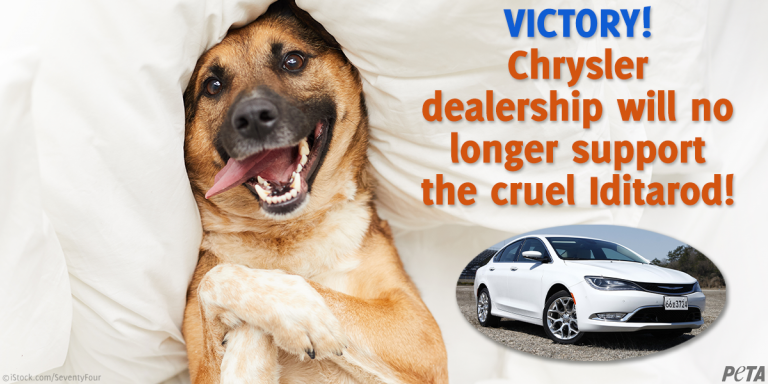 Supporters also helped organize over a dozen eye-catching protests across the country, in which activists were chained to Chryslers and costumed "dogs" smashed cars.
After hearing from PETA representatives and nearly 100,000 of our supporters, the airline confirmed that its support ended after the 2020 race. This Fortune 500 company—the fifth-largest airline in the U.S.—had sponsored the Iditarod for over 40 years. Another exciting victory, thanks to activists like you!
Following communications with PETA about the immense suffering that dogs endure for the race, the international firm announced the end of its sponsorship in 2020. The financial services giant, which manages more than $235 billion in client assets, finally dropped the death race.
(The three huge corporations directly above cut ties with the race in one month as a result of a major push from PETA.)
This major retailer stopped funding the Iditarod in 2019, after protests during Coke's annual meeting and e-mails from more than 205,000 PETA supporters. Activists erected a "dog graveyard" outside the company's Atlanta headquarters to represent the more than 150 dogs who have died in the abusive race.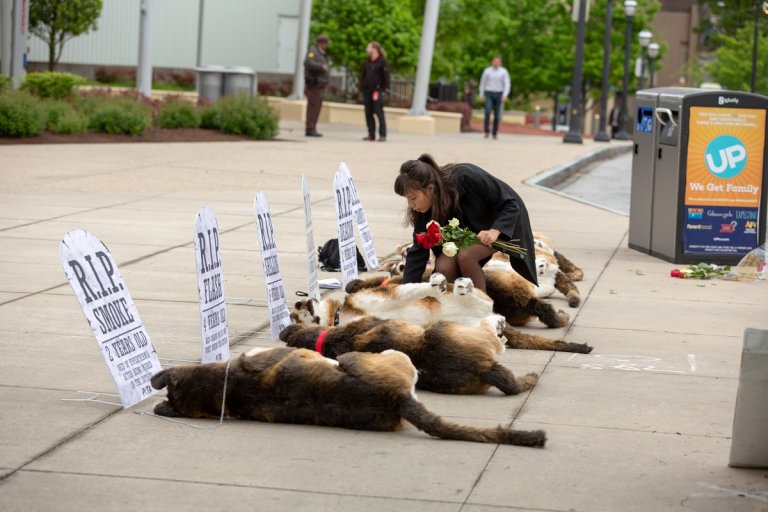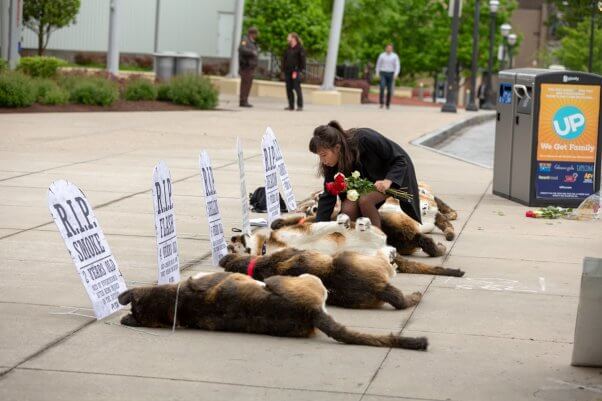 After PETA supporters urged Brown-Forman to end its 15-year sponsorship of the Iditarod, the parent company of the popular whisky maker stopped funding it in 2018. PETA toasted the company's business-savvy decision to leave the death race in the dust.
Following outreach from PETA, Wells Fargo decided to forgo funding the race in 2017. Its decision was a welcome sign of changing public sentiment against the use and abuse of animals for human entertainment.
This financial firm stopped funding the cruel event the very same month as Wells Fargo. After talks with PETA, Guggenheim Partners ended its sponsorship in one more win for dogs.
Also in 2017, this well-known insurance company severed ties with the event. PETA supporters contacted executives urging them to stop sponsoring it, and State Farm listened.
Panasonic
In 2007, the president of Panasonic personally thanked PETA and ended the company's one-year sponsorship, citing "very real concerns about the race itself and its impact on the animals involved." After our outreach, the company decided to start implementing a "more serious and broader review" of future business associations.
YOU prompted these companies to stop funding cruelty, and the list is only growing. Never doubt that your voice makes a difference for defenseless dogs.
Urge Other Companies to Stop Sponsoring the Iditarod, Too
These companies also stopped sponsoring the pain and torment of the Iditarod Race:
Costco
Maxwell House
Nestlé
Pizza Hut
Rite Aid
Safeway


Neglect at Former Iditarod Champions' Kennels
PETA's groundbreaking exposé of former Iditarod champions' kennels details the neglect and loneliness that dogs endure every day. Dogs were chained to plastic barrels with only a handful of straw for warmth, if that. Some kennel workers didn't bother to check whether their drinking water had frozen in Alaskan temperatures, which can fall below minus 20 degrees (-29C) in winter months. Can you imagine leaving your animal companion outside in subzero temperatures?
These dogs, born and bred for the death race, are sometimes forced to run with painful injuries. Many are denied proper care or medical attention for serious health issues. A paralyzed puppy named Birch had to drag herself around on the snow to reach her food. One Iditarod musher, who said that Birch should be "put out of her misery," refused to allow her to be taken to a veterinarian.
As long as the Iditarod continues, thousands of dogs will endure lives of misery and be deprived of the basic necessities of proper shelter and care.
You Can Help Prevent Dogs From Suffering
Dogs are loyal individuals who deserve a loving home, and none of them would ever choose to run to their death in the Iditarod. Your actions make a difference in their lives. Please never take dogsled rides or buy excursions that include visits to dog kennels and sign our petition below. Help us put pressure on top sponsor GCI and other companies to stop supporting this blood sport:
Urge Liberty Media/GCI to Stop Sponsoring the Deadly Iditarod
Urge Clothing Companies to Stop Supporting Iditarod Dog Abuse