BREAKING: ExxonMobil—one of the Iditarod's last major sponsors—has confirmed that 2021 is the last year it will sponsor the death race. This huge victory for dogs, who deserve better than being run to death for mushers' prize money, follows a tenacious PETA campaign that we couldn't have won without your support.
BREAKING: Following pressure from PETA & nearly 100,000 of our supporters, @exxonmobil is ending its decades long sponsorship of the #Iditarod.

No one should support a race that forces dogs to run 1,000 miles in subzero temperatures until they collapse. https://t.co/DmlQj68qiz pic.twitter.com/UiViV4pY0D

— PETA (@peta) January 22, 2021
ExxonMobil has sponsored the Iditarod since 1978 and has given the race $250,000 per year for the last several years, so to get the gas giant's attention, we pulled out all the stops. Together, we stuck it to Exxon at its gas stations …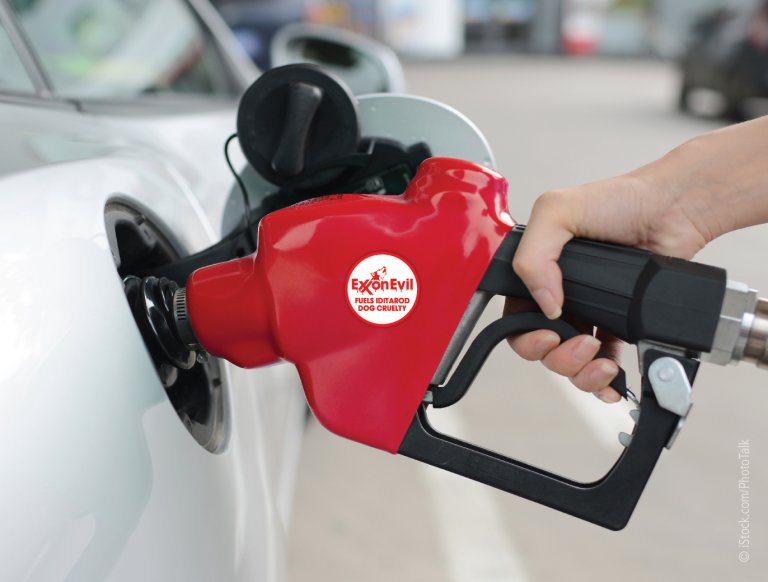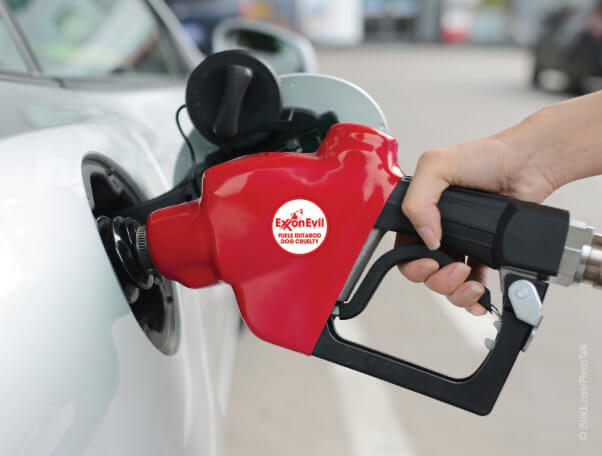 … in more ways than one …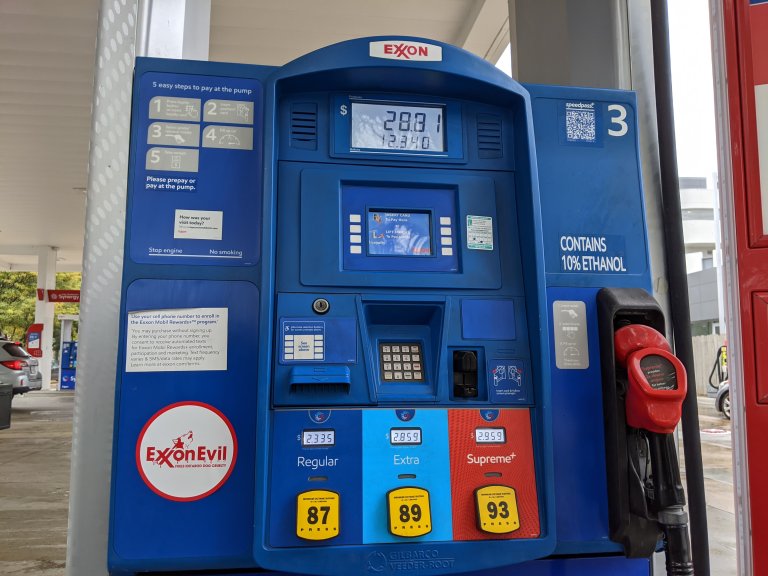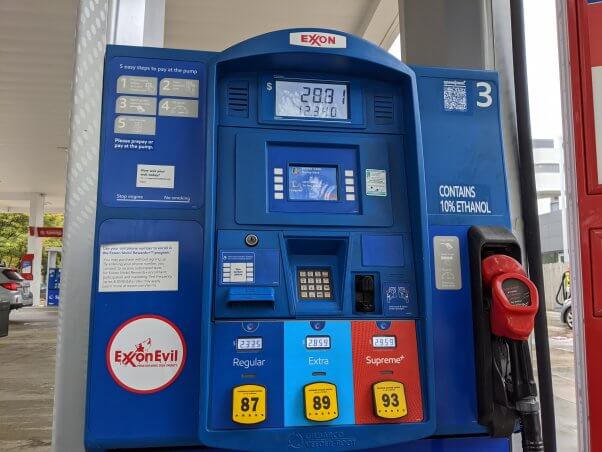 … erected a billboard near ExxonMobil's Irving, Texas, headquarters; placed bus ads near the Iditarod's start in Anchorage, Alaska; slammed the company on Twitter; sent it more than half a million e-mails; called it hundreds of times; and held protest …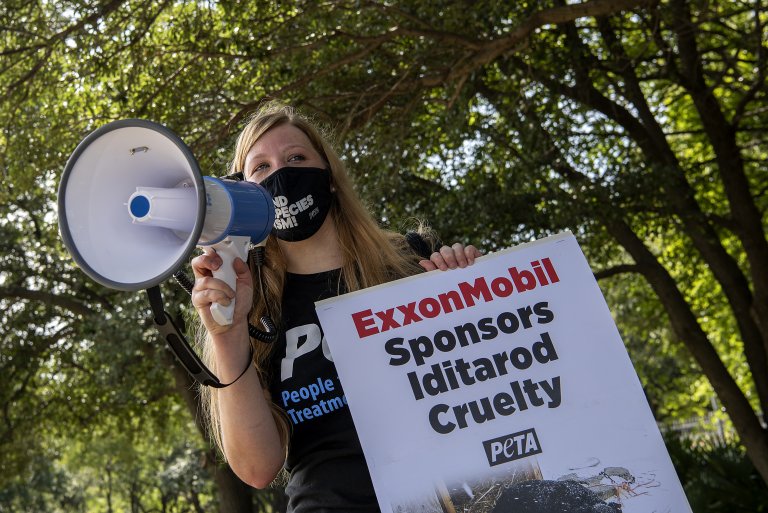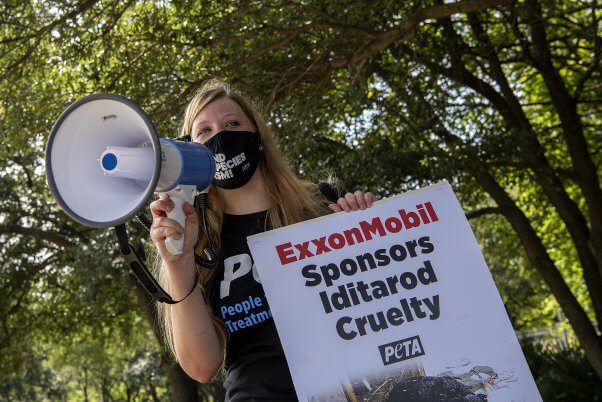 … after protest …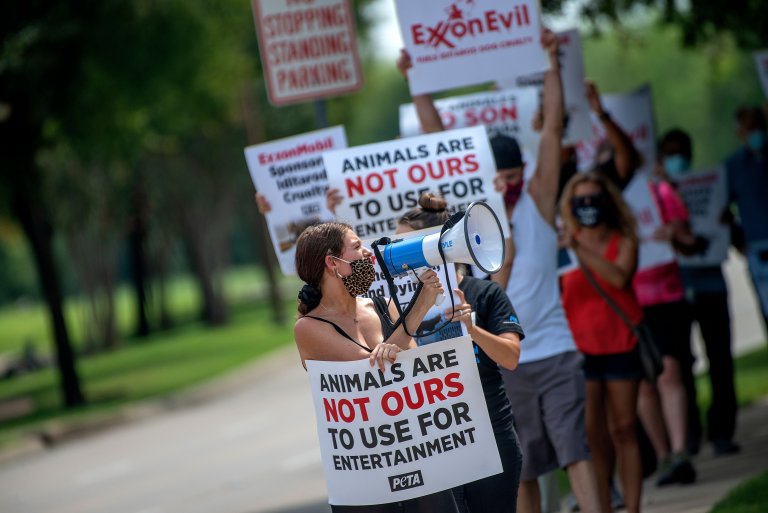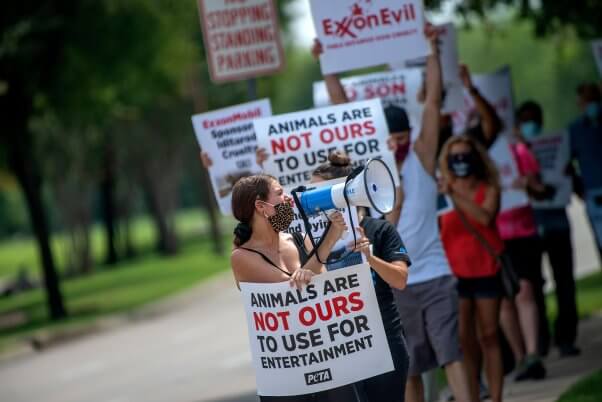 … after protest.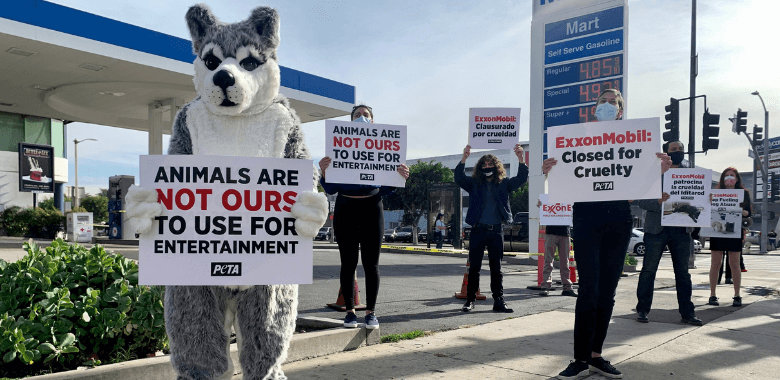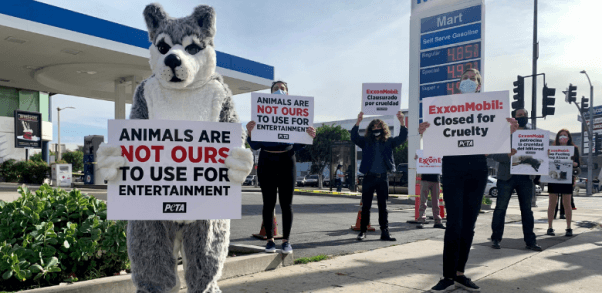 And it has all paid off. ExxonMobil will soon join the growing list of companies (including Chrysler, Alaska Airlines, Coca-Cola, and Jack Daniel's) that have listened to PETA and the public and stopped supporting an evil industry in which dogs are chained up like old bicycles …
… and forced to run so far and so fast that their bodies break down, their paws bleed, or they die after inhaling their own vomit.

In response, PETA has canceled upcoming ads—featuring a spoof "ExxonEvil" logo and a twist on the company's "Tiger in Your Tank" campaign—that it had planned to run in the Anchorage Daily News and the Texas edition of the Wall Street Journal next week. After meeting with executives, the group has agreed to withdraw its 2021 shareholder resolution (the action that was apparently the final straw), which asked ExxonMobil to end all sponsorship of activities in which animals are used, abused, and killed.
More than 150 dogs have died during the Iditarod since it began, and that doesn't include those who died during the off-season …
… or who were killed because they weren't fast or fit enough to make the grade. Dogs used in the race are forced to pull heavy sleds across approximately 1,000 miles of grueling terrain, through blinding blizzards and subzero temperatures. During the 2020 race alone, more than 220 dogs were pulled off the trail because of exhaustion, illness, injury, or other causes. However, despite the death toll and a public outcry—and even though ex-sponsors have been running for the hills and a veterinarian has warned Iditarod CEO Rob Urbach that if the race is held during the COVID-19 pandemic, "the result could be dire"—Urbach and his colleagues still plan to hold the death race in less than two months.
Together, we persuaded ExxonMobil to stop funding cruelty. With your help, we can make even more of a difference for vulnerable dogs.
Wells Fargo, State Farm, Panasonic, and others have ended their support of the Iditarod after hearing from PETA and you—so let's put the pressure on Liberty Media to follow suit. Click below to urge the hotel company to do the right thing for dogs: