Who knows what 2020 has in store for fall (our bet is on an alien invasion or a giant meteor). But this Halloween, whatever you do, we have the perfect costume for this pandemic-ridden year—a tofu "blockhead"!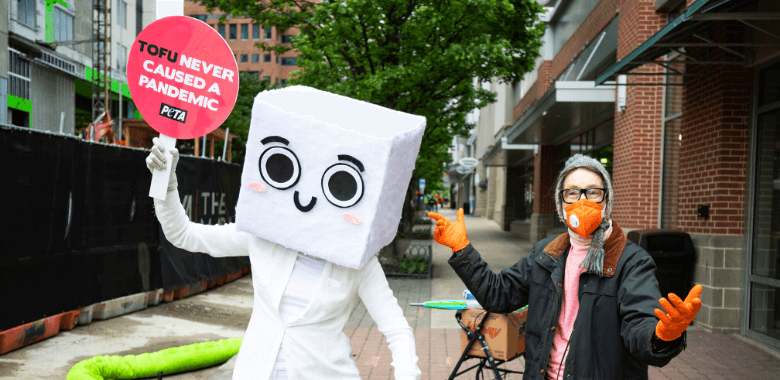 As many regions of the U.S. experience a resurgence of COVID-19 cases, PETA's limited-edition Halloween costume points out the obvious to blockheads who still eat animals: The meat industry breeds killer pathogens like the novel coronavirus, but tofu never caused a pandemic.
Each costume includes a big, white cube head and a lollipop-shaped sign reading, "Tofu Never Caused a Pandemic." We also include 25 pamphlets featuring delicious vegan recipes for tofu scramble, General Tso's tofu, and chocolate mousse pie. Hand these leaflets out at Halloween parties or to trick-or-treaters (if either of those will even be a thing this year)—or leave them in magazine racks at the grocery store.
This unique, head-turning, eye-catching costume is available for pre-order right now. We recommend wearing white pants and a white long-sleeved top with it, for maximum impact.
Eat as if everyone's life depends on it, because it does.
Deadly outbreaks of mad cow disease, swine flu, and other zoonotic diseases have stemmed from capturing or farming animals. The novel coronavirus may have originated in a live-animal market in China—but when it comes to spawning dangerous pathogens, animal markets and slaughterhouses around the world all pose a danger.
No animal chooses the butcher's knife over life. Pigs want to cuddle with their babies, not be slaughtered. Cows want to raise their calves and spend time with their friends, not be killed. Chickens want to engage in their natural social structures, not be crammed together with hundreds of other suffering birds.
Speciesism, a human-supremacist worldview, deprives animals of their dignity—and we've seen firsthand how this can lead to devastating consequences.
Tofu is the perfect food for humans.
Not only is tofu cheaper than meat, it is also more versatile, is jam-packed with protein, and has a far smaller carbon footprint than animal flesh. Tofu contains zero cholesterol and can help lower your risk of heart disease, diabetes, cancer, and numerous other life-threatening health issues.
Plus, it won't cause a pandemic that brings society to its knees.
PETA's website offers hundreds of tasty, simple tofu-based recipes, including tofu-spinach lasagna, garlicky-ginger tofu triangles, and Buffalo tofu-scramble breakfast tacos.
Give actual food—rather than dead flesh—a try, and influence others to go vegan, too. Order a free vegan starter kit. You can make a real difference and save nearly 200 animals a year—simply by not eating them!