Vegan
Garlicky-Ginger Tofu Triangles From 'The Friendly Vegan Cookbook'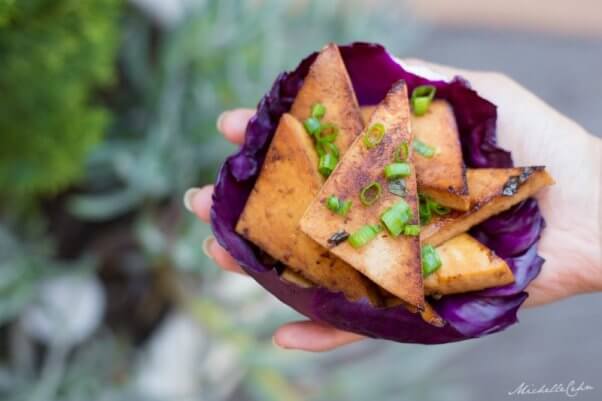 Print
Ingredients
12 oz.

extra-firm tofu, drained

2

garlic cloves, minced

2

Tbsp. soy sauce

3

green onions, thinly sliced, plus more for garnish

Juice of 1 small lemon

2 Tbsp.

brown sugar

1 1/2 tsp.

grated fresh ginger

1/4 cup

water

Oil, for frying
Instructions
Cut the tofu into 1/3-inch thick triangular slices and place in a large casserole dish.
Thoroughly mix together the remaining ingredients (except the oil) in a medium bowl and pour over the tofu. Marinate for a minimum of 2 hours, or overnight for a richer taste. Flip halfway through.
Place a large pan over high heat. Add just enough oil to coat the bottom of the pan. Add as many tofu slices as will fit in one layer. Cook until browned on the bottom, about 2 to 3 minutes. Flip and brown on the other side, about 2 minutes. Pour in the marinade mixture and cook until the tofu darkens slightly, about 45 seconds, then flip. Repeat with the remaining tofu slices.
Garnish with the remaining green onion and enjoy!
Makes 4 servings
For more recipes, download The Friendly Vegan Cookbook. When you use the link provided, 40 percent of the proceeds will be donated to PETA.