Update (November 4, 2022): VICTORY! Texas A&M University has confirmed that it will release the nine healthy golden retrievers it had transferred from its failed canine muscular dystrophy laboratory to the veterinary school!
This momentous news comes after PETA's hard-fought campaign that began with our shocking exposé of the school's deplorable laboratory. Our relentless pressure ended its cruel breeding of dogs to develop this crippling disease and led to the release of more than 50 dogs.
But we never gave up on these nine betrayed golden retrievers. We campaigned hard—and now the dogs will be in homes before the end of the year.
You can read more about our win for the nine dogs here.
Update (August 19, 2020): It seems that Texas A&M University (TAMU) takes a while to learn a lesson. PETA is suing the school for the second time over its deletion of comments made on its Facebook page as well as deletions made on its YouTube page during its virtual graduation ceremonies this year.
The comments came from compassionate supporters who urged the school to shut down its failed canine muscular dystrophy laboratory and allow the dogs who are being warehoused there, many of whom are healthy, to be adopted into loving homes.
Imagine if one of the 29 dogs trapped in @TAMU's lab were yours.

You would undoubtedly be devastated. https://t.co/O1ETSQ0HTb

— PETA (@peta) August 11, 2020
In a move that reveals how much the school fears the truth, TAMU chose to delete these comments.
The lawsuit comes on the heels of our victory earlier this year (keep reading below), when the school agreed to stop using a filter that automatically deleted similar comments on its Facebook page, which is a "public forum" (meaning that any censorship of comments there is a violation of free speech rights).
TAMU needs to stop censoring comments and stop tormenting dogs.
Tell the school to close down the laboratory and release the remaining dogs so that they can live out their lives in the comfort of a loving home.
Originally published on February 3, 2020:
In a win for free speech, Texas A&M University (TAMU) has agreed to remove all settings blocking or filtering comments critical of its muscular dystrophy experiments on dogs as part of a settlement of PETA's First Amendment lawsuit.
From censoring Facebook comments to banning a man with muscular dystrophy from campus, Texas A&M has done everything in its power to silence activists who want to help dogs suffering in its lab.

We must get @TAMU to #ShutTheDogLabDown! https://t.co/bL75JCwaJd pic.twitter.com/hjUwIdmbWx

— PETA (@peta) September 13, 2019
PETA's federal lawsuit, filed in May 2018, challenged TAMU's use of a filter on its official Facebook page. The filter automatically deleted visitor posts and comments if they contained words such as "PETA," "cruelty," and "lab" and other terms associated with our high-profile campaign against the school's muscular dystrophy experiments on dogs. We're now dismissing the lawsuit after TAMU agreed to remove all settings blocking or filtering comments on its Facebook page and to pay us $75,000 in legal fees.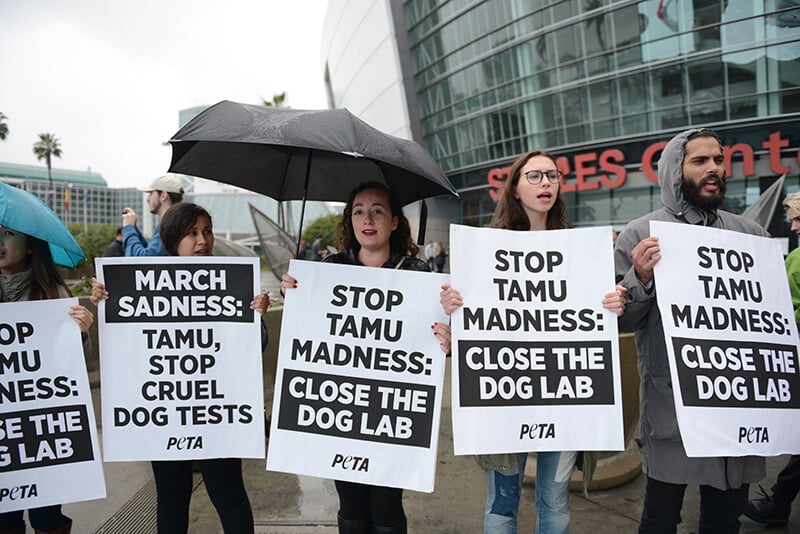 The university can no longer violate our First Amendment rights, and now it should stop tormenting dogs in its laboratory.
How and Why PETA Sued Texas A&M for Facebook Censorship
PETA's lawsuit argued that TAMU's Facebook page constitutes a public forum and that the school's censorship represents viewpoint-, content-, and speaker-based discrimination, which is a violation of PETA's constitutional right to free speech. We were represented in part by attorneys with the Electronic Frontier Foundation (EFF)—a nonprofit advocacy organization dedicated to protecting the privacy and free-speech rights of all people in the digital era—and by Rothfelder & Falick, L.L.P.
"Government censorship of negative comments on its social media sites is rampant at all levels of government," says David Greene, EFF civil liberties director. "Fortunately, because of this lawsuit, Texas A&M has pledged to stop its unconstitutional viewpoint discrimination on its Facebook page. Hopefully, other agencies and officials will not wait to be sued before ending similar practices."
Eyewitness video footage captured inside TAMU's laboratory shows that dogs who were deliberately bred to develop a crippling and painful form of muscular dystrophy were left struggling to walk, swallow, and even breathe.
These experiments have continued for 37 years and haven't resulted in a cure or treatment that reverses symptoms of the disease.
You Can Speak Up—These Dogs Can't
In September, following pressure from PETA, news broke that TAMU's dog laboratory would shut down its breeding program—proof that refusing to be silenced pays off. But there's still work to do to ensure that no more dogs are tormented and killed at the university. Click below to tell TAMU to stop tormenting dogs and wasting taxpayer money on useless experiments. Help us shut the dog lab down now:
---
Learn more about Texas A&M University's unconstitutional attempt to silence critics of its heinous abuse of dogs on The PETA Podcast:
Listen to more episodes on iTunes and Spotify! Subscribe for new episodes.
---