Update (November 4, 2022): VICTORY! Texas A&M University has confirmed that it will release the nine healthy golden retrievers it had transferred from its failed canine muscular dystrophy laboratory to the veterinary school!
This momentous news comes after PETA's hard-fought campaign that began with our shocking exposé of the school's deplorable laboratory. Our relentless pressure ended its cruel breeding of dogs to develop this crippling disease and led to the release of more than 50 dogs.
But we never gave up on these nine betrayed golden retrievers. We campaigned hard—and now the dogs will be in homes before the end of the year.
You can read more about our win for the nine dogs here.
---
Originally posted on May 30, 2019:
Johnathon Byrne—a British business owner who has muscular dystrophy (MD) and uses a wheelchair—has filed a lawsuit against Texas A&M University for violating his civil rights. Byrne visited the university and politely asked to see the dogs there who had been bred to develop canine MD. He is deeply concerned about the suffering of animals, especially the dogs imprisoned in the school's canine MD laboratory.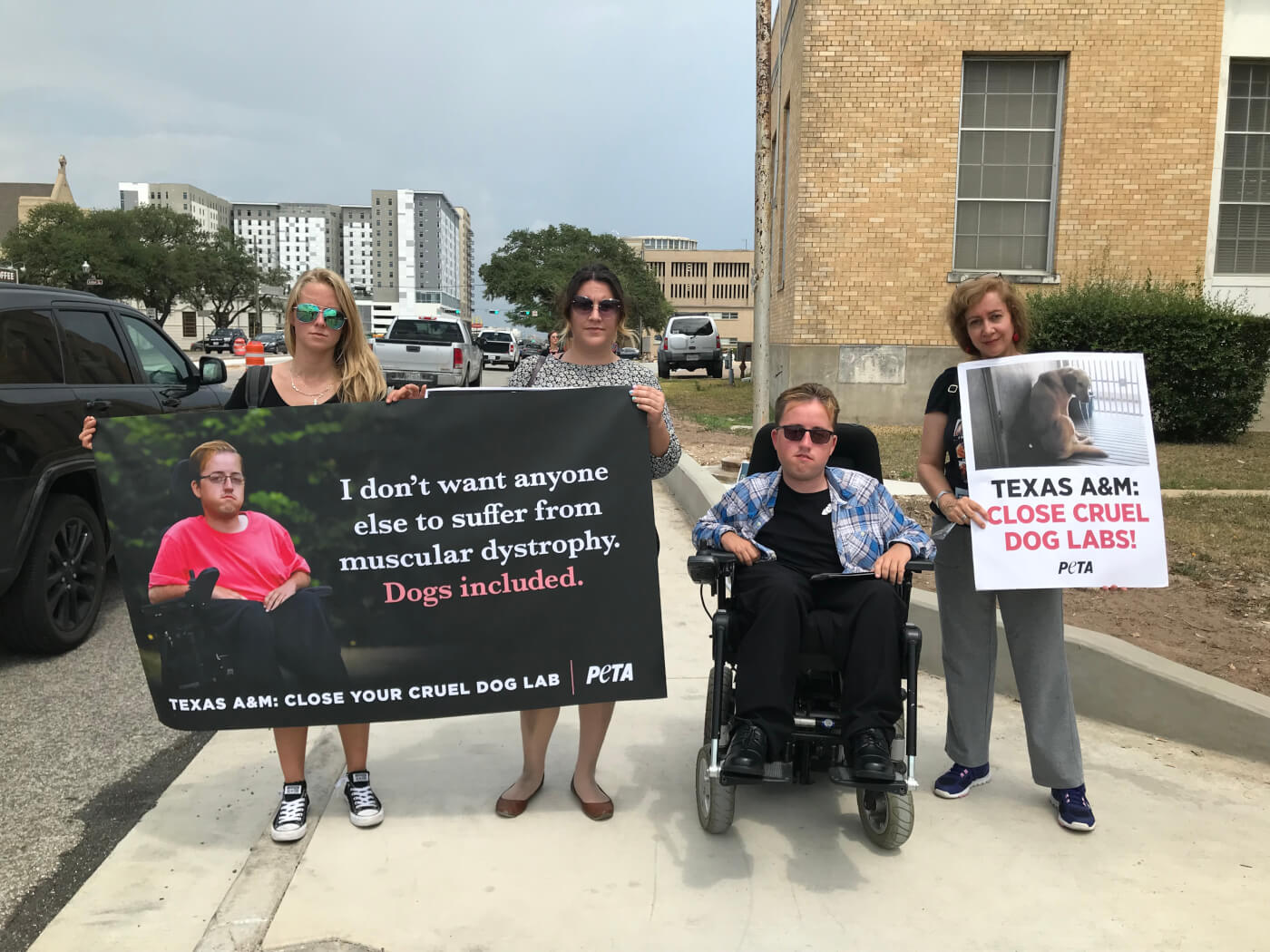 But instead of allowing him to see the dogs or refusing his request in a civil manner, Texas A&M University police detained him, booted him from the premises, and banned him from the campus for two years.
The next day, personnel at the Austin airport separated Byrne from his aide and—under the direction of an unidentified woman—repeatedly demanded that he perform physical tasks that he was unable to do because of his MD. After nearly an hour of physically grueling and invasive screening, two police officers from an unidentified agency insisted on escorting him and his aide to their gate.
---
Hear more from activist Johnathon Byrne on The PETA Podcast:
Listen to more episodes on iTunes and Spotify! Subscribe for new episodes.
---
The lawsuit alleges that Texas A&M University violated Byrne's First and Fourth Amendment rights (which guarantee free speech and protection from false arrest) and demands that the university's president, Michael K. Young, personally rescind the ban.
If Texas A&M University treats humans with MD like criminals, imagine how it treats dogs imprisoned in its laboratory.
PETA has released video footage showing dogs in a Texas A&M University laboratory who suffer from a crippling and painful form of canine MD that leaves them struggling to walk, swallow, and even breathe.
PETA has also filed lawsuits against Texas A&M University, challenging its use of censorship on its Facebook page and seeking records related to dog breeding and to a rumor about the closing of the dog laboratory. Those suits are ongoing.

Demand that Texas A&M University stop the bullying and shut down its pointless dog lab.
Numerous people—including doctors, veterinarians, scientists, Lily Tomlin, Richard Linklater, Ryan Tannehill, and Bill Maher—have teamed up with PETA to speak out against the experiments, and you can, too. Click the button below to urge Texas A&M University to stop funding cruel, wasteful experiments on dogs: