Update: September 27, 2021
File this move under "lame attempts to hide the truth"?
PETA has obtained documents showing that Texas A&M University has renamed Cannoli, a healthy dog born into its failed canine muscular dystrophy (MD) laboratory, in what appears to be an effort to hide the fact that this golden retriever remains imprisoned by the school.
The 3-year-old dog, now named Kahlua, had been put up for adoption but was instead transferred to Texas A&M's veterinary school, where he remains today, along with eight other healthy dogs also born in the MD lab.
Texas A&M has a long track record of attempting to hide its shameful treatment of these animals. The school can lie, rename, and tap dance around the truth all it wants, but none of that will change the reality that these dogs—who have spent their entire lives caged inside laboratories—deserve to be in loving homes. Help get them there by taking action below.
Original post:
At Texas A&M University, experimenters bred golden retrievers to develop canine muscular dystrophy (MD). This disease ravages their bodies, causing progressive muscle wasting and weakness.
Video footage shows that the appallingly thin dogs in the laboratory were caged, sometimes alone, in barren metal cells and struggled to swallow thin gruel—the only food that they could eat, given how easily they could choke. Long ropes of saliva hung from the mouths of those whose jaw muscles had weakened. Even balancing was difficult. Dogs with this condition are also at great risk of contracting pneumonia because they can easily inhale liquid.
To gauge just how much a dog's muscles have deteriorated, experimenters invented a crude technique that could pass for medieval torture: They repeatedly stretch them with a motorized lever in order to cause muscle tears.
Dogs who didn't have the disease but carried the MD gene were used for breeding. Deprived of loving homes, they frantically paced across the slatted floors and bit the bars of the small cages in frustration. They didn't even have the comfort of a blanket.
Forty years of experiments on dogs have failed to produce a cure or even a treatment to reverse MD symptoms in humans.
Following an intensive PETA campaign, in 2019 Texas A&M bowed to pressure and permanently ended its MD laboratory dog-breeding program. The lab appears to have little funding for experiments, and a number of dogs have been released for adoption. Sadly, others have died without ever knowing the love and comfort of a home. (Read more here.)
Peter Nghiem, the laboratory's lead experimenter, has publicly claimed that healthy dogs are adopted out after he's finished using them.  This is a lie. Three such dogs remain in barren metal cages in Nghiem's lab. Nine others were transferred to another Texas A&M laboratory, including Cannoli, who had initially been put up for adoption. But he was betrayed by the school when he was transferred to the second lab.
It's apparent that, rather than admitting defeat, the school prefers to warehouse 19 dogs, even though PETA has offered to take all of them.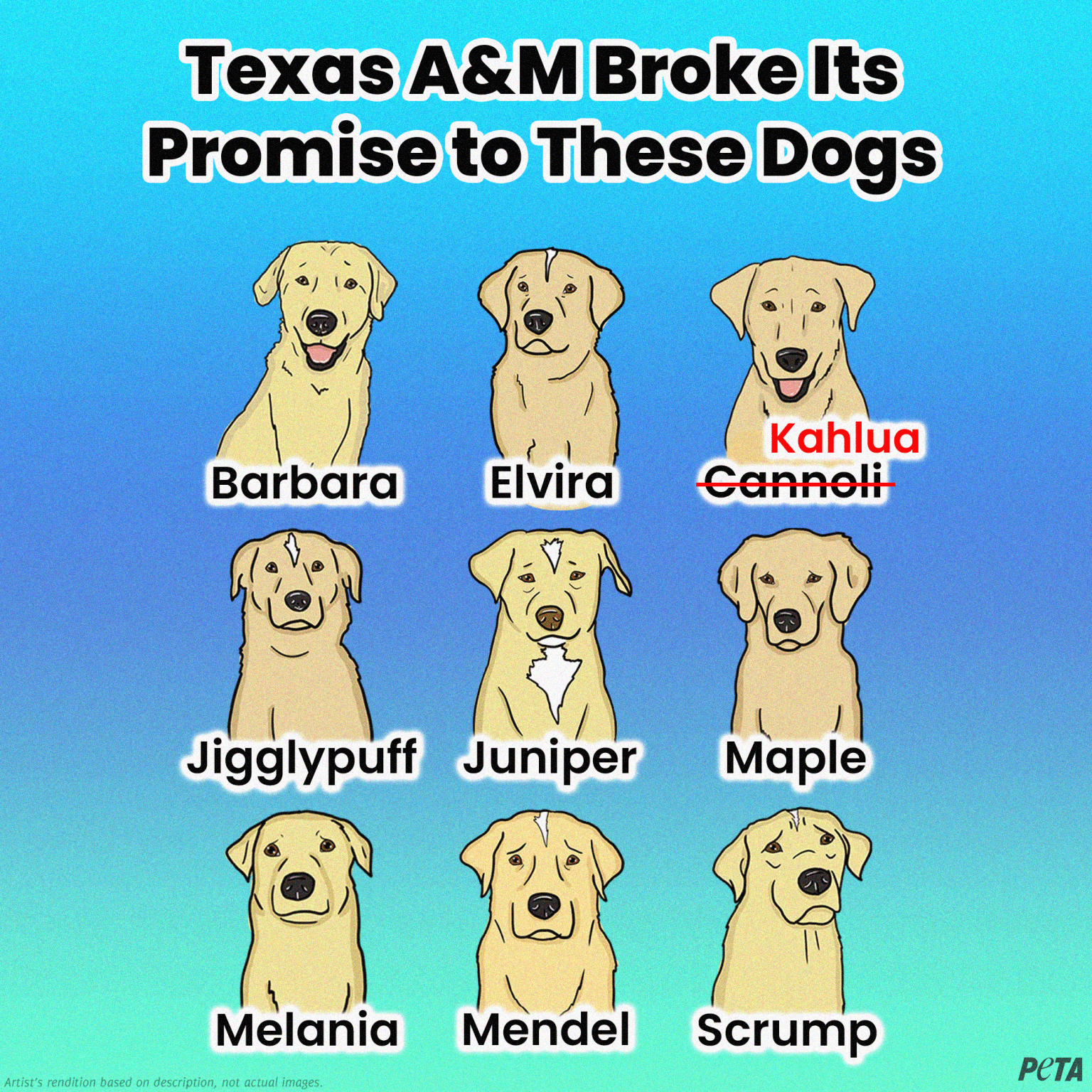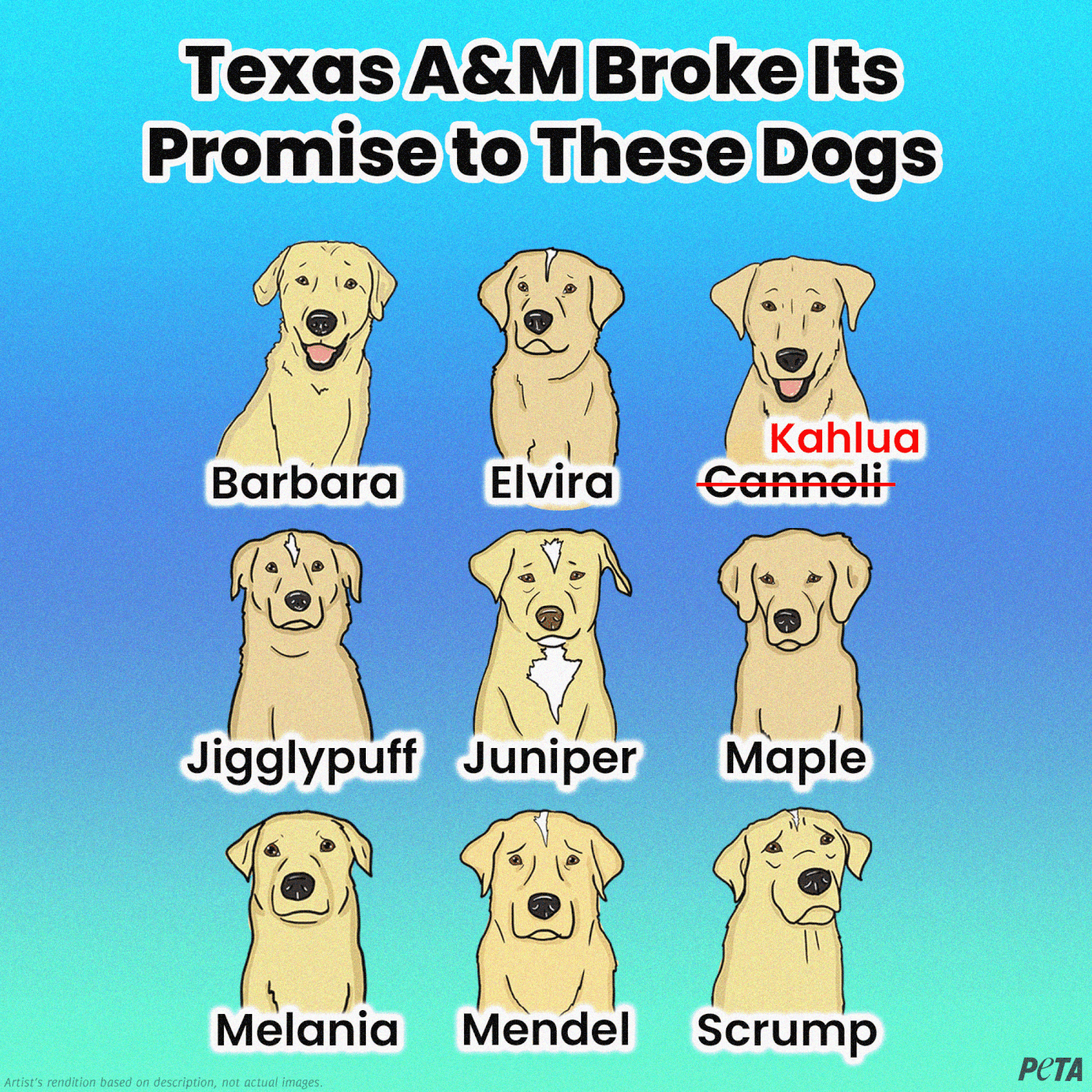 You Can Help Stop This!
Even if you've previously taken action to help these dogs, please do so again to urge the new president to close the laboratory, release all dogs from this lab for adoption into good homes, and redirect resources toward humane research methods.
Please send polite comments to:
M. Katherine Banks, Ph.D.
President
Texas A&M University
[email protected]
Post Polite Comments on Facebook
Leave Polite Comments on Instagram
Please feel free to use our sample letter, but remember that using your own words is always more effective.