Updated December 6, 2019:
You did it! Kalitta Air has banned all shipments of monkeys destined for use in laboratory experiments anywhere in the world.
Your messages to the company made this happen. Thanks to your thousands of e-mails, Kalitta Air has adopted and implemented an official policy not to transport monkeys to laboratories or laboratory suppliers anywhere in the world.
Kalitta Air joins the long list of airlines—including American Airlines, United Airlines, Air China, China Eastern Airlines, China Southern Airlines, Delta Airlines, El Al Airlines, Philippine Airlines, Hainan Airlines, Vietnam Airlines, and dozens of others—that refuse to participate in this sordid trade.
Stop Air France From Flying Monkeys to Labs
---
We've received disturbing reports that Michigan-based airline Kalitta Air has begun shipping monkeys from China to the U.S., where they will be cruelly experimented on in laboratories.
According to multiple credible sources, Kalitta Air reportedly transported crates of live monkeys from China to the U.S. recently. We contacted the airline's executive team multiple times, but they refused to answer our questions about their policy. However, one employee did confirm that the company did bring at least one shipment of monkeys to the U.S. for use in laboratories.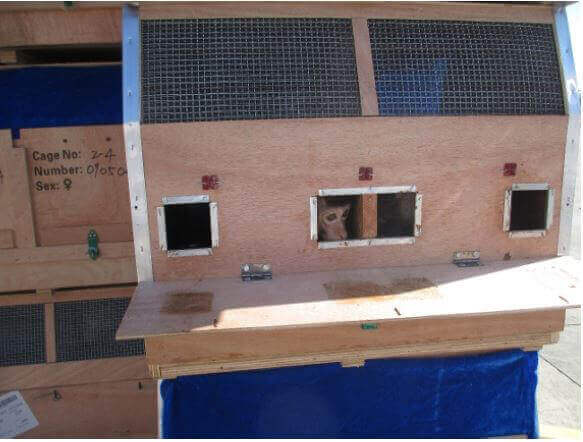 Every year, thousands of monkeys are transported from countries such as China, Mauritius, and Vietnam to the U.S. and the European Union to be imprisoned in laboratories and tormented in experiments. Some are bred in captivity on cramped, squalid monkey factory farms, while others are abducted from their families in the wild. The traumatized monkeys are crammed into small wooden crates and transported in the dark and terrifying cargo holds of planes for as long as 30 hours. When they arrive in the U.S., they're transported to facilities where they're imprisoned in cramped cages and frequently cut open, poisoned, crippled, addicted to drugs, shocked, and killed.