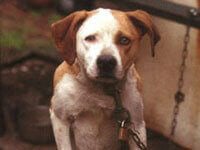 Before founding PETA, Ingrid E. Newkirk spent many years as chief of animal disease control and director of an animal shelter in Washington, D.C. During this time, she initiated the first spay-and-neuter program in our nation's capital. She faced dangerous situations every day in an effort to help abused and neglected dogs, risking her safety countless times in alleys and slums. She rescued pit bulls who had been beaten, starved, chained to metal drums as "guard" dogs, or trained to attack people and other animals. Pit bulls are the most abused breed of dog, and it is the relentless abuse of these dogs at the hands of cruel people that motivates our efforts to stop people from bringing more pit bulls into the world to be hurt and exploited.
Frankly, when shelters are destroying dogs by the tens of thousands, why breed more pit bulls or more of any kind of dog? There are many wonderful dogs in animal shelters who need homes. PETA urges everyone who is able to provide a dog with a permanent, loving home to adopt one or two of these animals and make sure that they are neutered or spayed.
Read more about helping homeless animals.