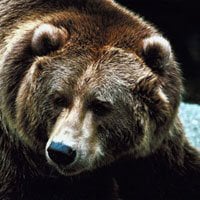 PETA does not support predator-reintroduction programs for myriad reasons. Animals can very often escape artificial boundaries and become a "nuisance," leading to their being poisoned, hit by cars, or shot. In failed attempts to escape, they might become entangled in barbed wire or be shocked by electric fences. Upon introduction to their new homes, their prey scatter, and their lives and behavior patterns are turned upside-down.
Wolves, bears, lynxes, and boars deserve to lead free, natural lives. Reintroduction programs subject wild animals to capturing and handling, which is always very stressful for them and may eventually put them in the line of fire of farmers who are already angry about predator-reintroduction programs.
To capture and transport wolves and other predators to a new area, the animals must first be tranquilized. When they recover from the anesthesia, they are released into unfamiliar terrain. This unnatural process causes a great deal of stress to animals and threatens their physical health and well-being.
Wolves are social animals who live in tightly knit packs. It is nearly impossible to capture and relocate an entire pack, so relocation almost always breaks up a tightly bonded extended family, likely causing loneliness, pining, separation anxiety, depression, and grieving.
Relocated animals often have difficulty determining where they can find food and shelter. Some of the wolves who were reintroduced into Yellowstone National Park have left their new packs because it is difficult to adapt to the new area and function in their contrived "family" units.
Reintroducing wolves and other predators into an environment that has been free of such animals for a long time is also traumatic for the animals who already live there, such as deer, birds, and any other animals who suddenly find themselves being stalked and attacked.
While supporters of predator-reintroduction programs believe in the concept of restoring the "balance of nature," it's not possible to artificially impose this balance. Ecosystems are in a constant state of change, which has been sped up by human expansion and technological advances.
Our species has wiped out predator populations in many areas of the world but must also realize that the system has evolved and recovered to its current state. Rather than attempting to return wilderness areas to some semblance of an undefined previous state and manipulating populations of animals, we need to focus our efforts on alleviating the suffering and promoting the well-being of those who are there now.
Many articles and news reports about the wolf-reintroduction program in the U.S. focus on people's interests—the idea that the absence of wolves makes us miss out on a majestic part of nature. Such reports romanticize hearing "the cry of wolves" one day again in Yellowstone but do not consider the extensive suffering that could be expressed in these cries.
Get additional information on living with wildlife.