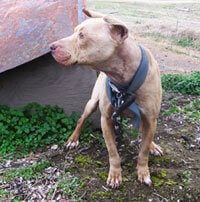 Many people who acquire dogs quickly tire of them and banish them to the back yard, where they are "out of sight, out of mind." Others want "guard" dogs who will bark at intruders. Many of these dogs spend their entire lives in solitary confinement—trapped at the end of a chain or confined to a pen or kennel. They suffer through frightening thunderstorms and all weather extremes and are typically denied vital medical attention and any form of friendship.
Every summer, chained dogs die preventable deaths because of a lack of protection from the heat. Doghouses—although essential for keeping dogs dry during summer thunderstorms (and winter snowstorms)—don't provide much relief from the heat. In fact, a doghouse can act like an oven, trapping hot air inside. Cold weather also spells extra hardship for outdoor dogs, who can suffer from frostbite, exposure, and even dehydration when water sources freeze.
Chained dogs bark out of frustration and loneliness, which can turn into a public "nuisance" and trigger threats from annoyed neighbors. Chained dogs have been shot, poisoned, stoned, set on fire, and tortured in countless other ways.
Chained dogs can injure children or anyone else who might wander into their yards. According to the Centers for Disease Control and Prevention, chained dogs kill more children than do falls from trees and playground equipment and accidents involving fireworks combined. Dogs who spend a lot of time alone in back yards or tied out on chains are more prone to aggression and biting, while dogs who are socialized and enjoy life with their human "packs" are protective without being neurotic.
Dozens of communities have either banned tethering and chaining or have included tethering provisions in their animal protection ordinances. Please make a promise to all dogs who are trapped at the end of a chain in your neighborhood that you will work to add your community to that list.
Download or order our chained-dog brochure.