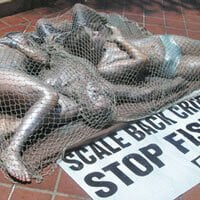 Our aim is to stop animal suffering, and we use every available opportunity to reach people with our messages. Our gimmicks may sometimes seem silly, but they are vital if we are to reach the masses and initiate discussion, debate, questioning of the status quo, and, of course, action. The current situation is critical for billions of animals, and our goal is to make the public aware of the issues—even if it means wearing a funny costume, engaging in a public stunt, or taking our clothes off.
The fact is that in this tabloid era, the media usually do not consider the facts alone interesting enough to cover. Colorful and controversial gimmicks, however—such as jumping on stage at a fashion show to protest a designer's promotion of fur—consistently grab headlines, bringing the animal rights message to audiences around the country and often the world.
Experience has taught us that provocative and controversial campaigns make the difference between allowing important yet depressing subjects to remain invisible and exposing them to the public.
PETA U.S. makes a point of offering something for all tastes—from the most conservative to the most radical and from the most refined to the most outrageous—and this approach has proved very successful. Since PETA U.S. was founded in 1980, it has grown into the largest animal rights group in the world, and PETA entities have more than 9 million members and supporters globally. PETA U.S. has achieved countless victories for animals as a result of both undercover investigations supported by careful documentation and a tireless pursuit of justice through the courts and through colorful demonstrations, stunts, and campaigns that draw international media coverage to previously hidden issues.
Learn more about our vital efforts in behalf of animals everywhere…